We at Connect4Climate thrive on the camaraderie of our team, so living under coronavirus quarantine measures has been a major challenge for us all. Still, we've found creative ways to stay connected, both with one another and with the climate action community worldwide, and discovered unique strategies to keep our morale and motivation up during these uncertain times. We hope you find some comfort and kinship in our stories; feel free to share your own experience with us on Twitter or Instagram!
What follows are small glimpses into the lives of some of the members of our global C4C squad, including our social media specialists, Jenni Philp (Edinburgh, Scotland), Dany Oliveira (Bangkok, Thailand) and Ryan Smith (Washington, DC); our partners team, Sarah Daggett (Silver Spring, Maryland), Bárbara Simões (Buenos Aires, Argentina) and Inês Araújo (Moledo do Minho, Portugal); our communications consultants, Max Bartoli (Veracruz, Mexico), Max Falcone (Rome, Italy) and Roberto Razeto (Milan, Italy); our multimedia content lead, Kaia Rose (Washington, DC); our photographer, Leigh Vogel (Marble, Colorado); our graphic designer, Dani Martinez (Malaga, Spain); our senior advisor, Francis Dobbs (Alexandria, Virginia); and (last but certainly not least) our program manager, Giulia Braga (Milan, Italy).
How We're Staying Safe
For starters, all of us are #stayinghome as much as possible and following the WHO (and, where applicable, CDC) guidelines on social distancing and hand washing. Francis summarizes his routine as "washing, wiping and waiting," while Giulia has turned to housework ("perhaps too often!") to keep her mind busy. Dany is tracking all the latest news and is adhering to Bangkok's curfew.
Kaia washes her hands thoroughly to twenty seconds of "I Want to Wash My Hands" (modified from the Beatles classic) whenever she's at the sink, while Ryan and his roommates regularly disinfect communal surfaces like the dining room table.
Sarah has dedicated her time not just to keeping herself safe, but her extended family as well, making dozens of cloth face masks for loved ones working in healthcare. She's created nearly 100 so far, upcycling materials like bedsheets and old baby blankets. Max Bartoli is following her example, striving to create ten masks a day from cotton t-shirts.
Jenni has been taking care to sanitize her phone (where germs are apt to collect) and is delivering groceries to her grandparents while maintaining a safe distance from others. Inês says it's been tough for her own workaholic relatives to confine themselves to their rooms but that she's been making sure they comply.
Bárbara finds it helpful to remind herself of the end goal of self-isolation. "If we all manage to stick with it," she says, "we have all done our part."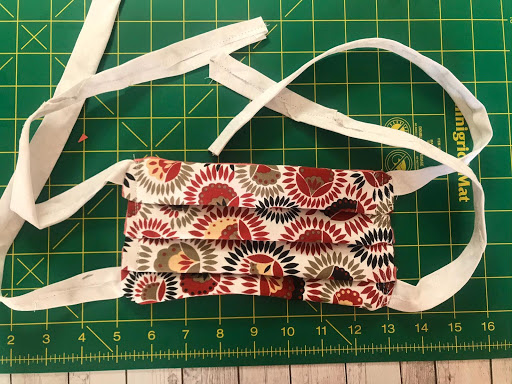 One of Sarah's many homemade masks.
How We're Staying Sustainable
Leigh, a vegan, is experimenting with new recipes and sharing her culinary advice for others online. Max Falcone is ramping up his own vegetarian cooking efforts and is working to build an online network committed to the idea of a "Sustainable Renaissance" in the wake of the COVID crisis.
Max Bartoli is calibrating his thermostat to reduce energy consumption and is looking to invest in window-mounted solar panels. Sarah is getting her son in on sustainability with homemade play dough, cloth diapers, and toys crafted from household items. Roberto is using this opportunity to homeschool his children on the importance of sustainability.
Jenni and her dad are building an "at-home-gym" with textbooks and bags of flour for weights, while Dany is seeing if he can replace plastic trash bags with old newspapers. Kaia is making her own cleaning solutions and carefully composting her organic waste.
Inês, for her part, has long been an expert at working from home and by now has her sustainability routine—bamboo toothbrush, refillable glass bottle, recycling, even homegrown veggies and chickens—down to a fine science. Francis is planting herbs and veggies too.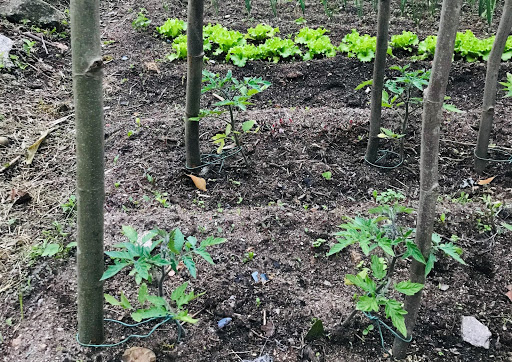 A glimpse at Inês's vegetable garden.
How We're Staying Upbeat
Ryan has been constructing crossword puzzles and playing video games alongside college friends online. He was delighted to learn that Giulia and her brother are getting into gaming as well.
Max Falcone has been finishing books in his reading backlog and doing some writing of his own, while Kaia and her brother (who's in NYC) have been slowly but surely covering gaps in their knowledge of world cinema by watching films simultaneously and calling each other afterwards to discuss. (Kaia's also documenting the #stayhome exploits of an intrepid Lego adventurer.) Francis and his family are sampling classic comedies. Sarah is finding mental wellness through meditation and sewing.
Leigh, in addition to studying French and German, is using her talents with photography to document the changes to our world—small and great—brought on by the quarantine. Dany's keeping positive with a motivational David Goggin audiobook.
Jenni is transporting herself with the magic of piano, which she's relearning after a while away from the keys. For Max Bartoli, uplift comes from a healthy mix of kung fu, yoga, Netflix and HBO.
And Bárbara has provided a home for the world's cutest cat, Milan!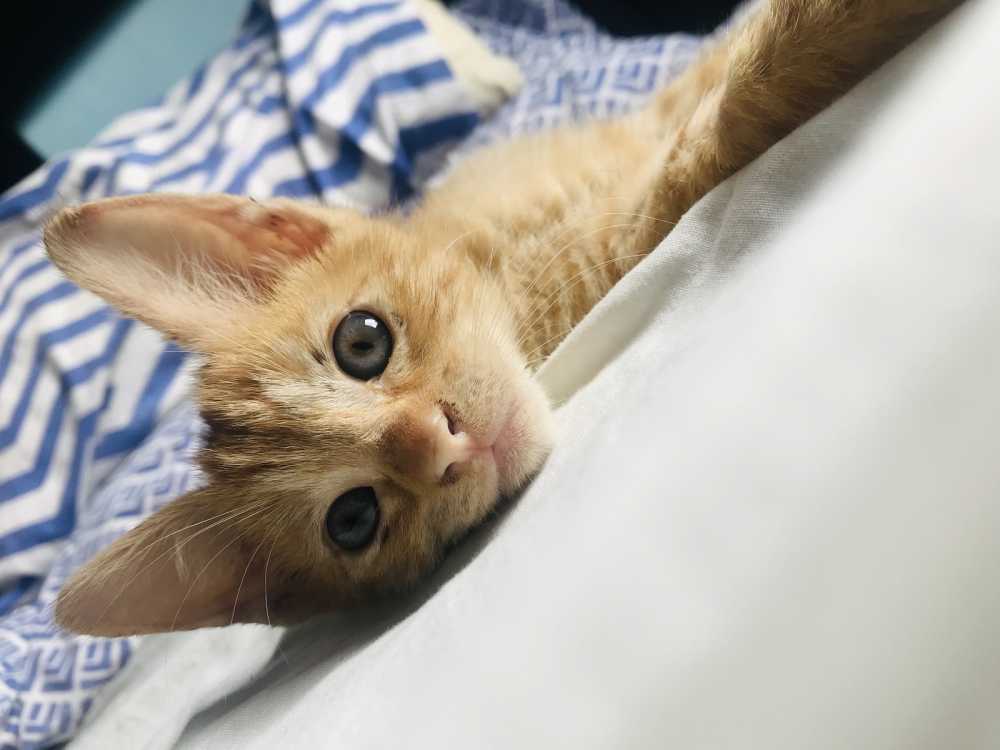 Bárbara's new feline friend is the perfect quarantine companion.
How We're Staying Connected
Our team was built on the principle of connection (it's right there in the name!), so we're all doing our very best to stay in touch with one another and with our friends, followers, and fellow climate advocates amid these challenging times.
We've all been doing a lot of videoconferencing, texting, and posting lately, of course, and we all keep track of the news (while taking care not to let it overwhelm us). But that's just the tip of the iceberg!
Roberto has taken to organizing virtual dinners with friends and family. Jenni's been participating in massive "pub trivia" sessions on Zoom with upwards of 60 teams, and Ryan speed-solved crosswords in a tourney with over 1600 competitors.
Max Falcone has been hosting multidisciplinary discussion groups online, assessing the situation intellectually while engaging with friends and colleagues in the process.
Our whole team came together over WhatsApp to celebrate the birth of Dani's daughter, Gabriela. Congratulations, Dani!
And on the job, of course, we've been doing our best to ramp up our social media presence for you, our climate-conscious readers and supporters! Stay tuned for fun upcoming features like #SustainabilityHacks and climate-themed emoji puzzles, and don't be shy to share your own experiences with us via tags or direct messages. We'd love to hear your stories.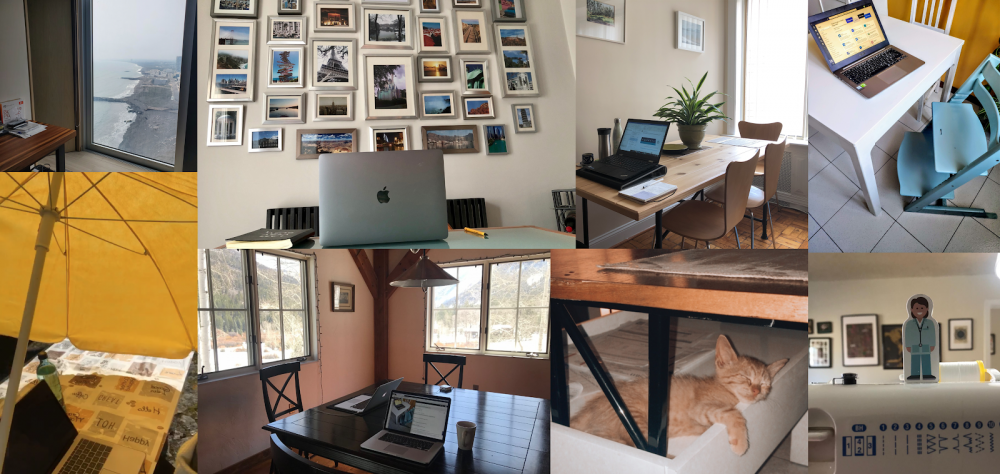 A small selection of our worldwide #AtHome workstations.