The Connect4Climate Global Leader program recently launched to recognize selected leaders of all ages, regions and professions, who represent Connect4Climate and its effort to raise climate change awareness and drive action around the world.
On May 3, 2014, Rokia Traoré performed at a national event in Italy, Cittadinanza in Festa, supported by Connect4Climate, where Rokia presented her latest album, Beautiful Africa. Cittadinanzattiva's first National Day, Cittadinanza in Festa, was dedicated to finding innovative solutions to the world's waste challenge. On this occasion, Rokia Traoré was formally recognized as a Connect4Climate Global Leader for her commitment and dedication to supporting climate change initiatives around the world.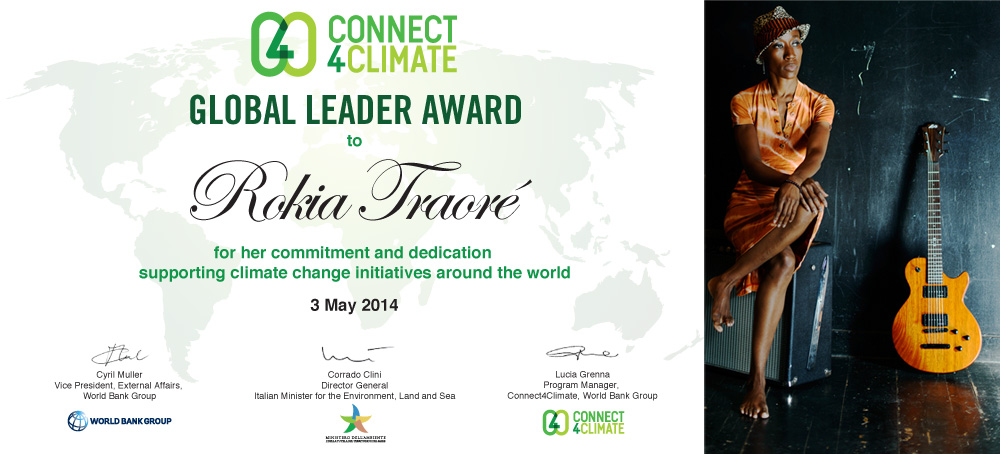 "Rokia Traoré is one of Africa's most innovative singers and songwriters. On behalf of Connect4Climate, we are delighted to welcome her as a Global Leader for our program. We admire her energy and determination to inspire action on climate change around the world. Her appearance at Cittadinanza in Festa is a unique opportunity for visitors to enjoy the extensive power of her voice and the complex variety of her music," said Lucia Grenna, Connect4Climate's Program Manager.

Antonio Guadioso, Walid Norris, Rokia Traoré, and Alessandro Cusso on stage as Rokia receives the Global Leader Award. Photo: Luca Liccione / Cittadinanzattiva
Interview with Rokia Traore on Climate Change