The water sector is energy-hungry, with energy consumption by the sector equivalent to all the energy used by Australia. In 2014, around 4% of global electricity consumption was used to extract, distribute, and treat water and wastewater as well as 50 million tons of oil equivalent of thermal energy.
By 2040, the amount of energy used in the water sector is likely to double due to trends including increased desalination, large-scale water transfers, and increasing demand for wastewater treatment, as well as higher levels of treatment.
The energy used to supply water and clean used water is responsible for around 3–8% of global greenhouse gas emissions. With global demand for water projected to increase by 55% by 2050, a business-as-usual scenario will see emissions increasing by 50% in the same timeframe.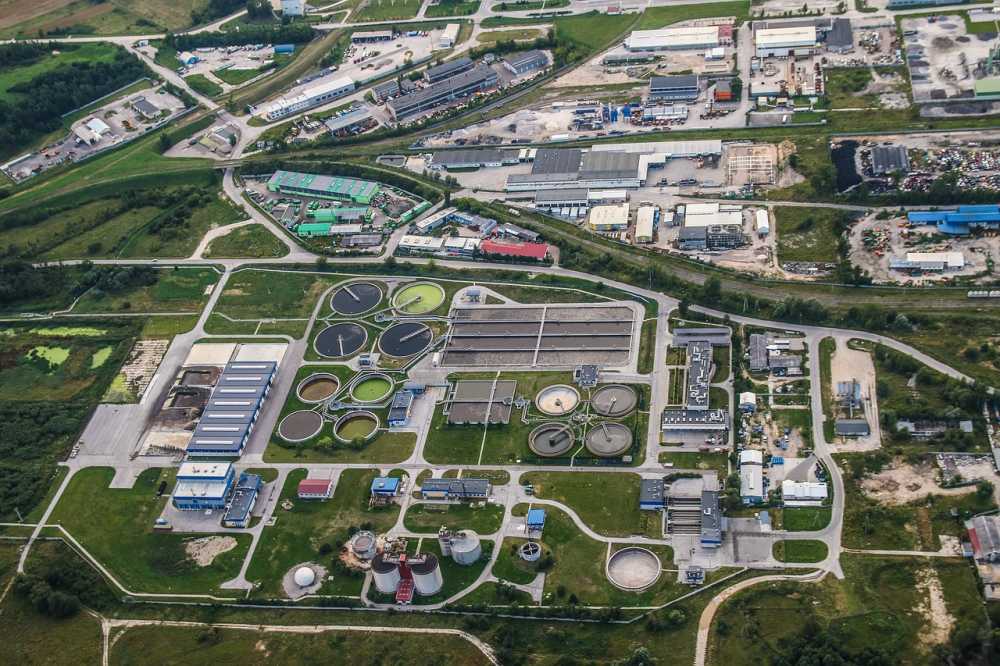 Image by Michal Jarmoluk from Pixabay 
Decoupling Emissions from GDP Growth
As part of the San Diego's Climate Action Plan, which calls for clean and renewable energy to be generated via a combination of on-site and large-scale renewables, San Diego's Public Utilities Department has a forward-thinking renewable energy program that generates more renewable energy from water and wastewater than any other San Diego Gas & Electric customer. In addition to reducing water-energy-climate nexus challenges, the program has contributed towards the city's 21% reduction in greenhouse gas emissions compared to the 2010 baseline (at the same time GDP growth has increased by 35%).
Utilizing Methane
One of the by-products of the wastewater treatment process at Point Loma Wastewater Treatment Plant is methane gas. The gas is used to fuel two continuously running generators that can each produce up to 2,235 kilowatts of electricity. A diesel-powered generator can also burn methane and produce an additional 1,220 kilowatts as a peaking generator. By utilizing the methane gas, it means the site is energy self-sufficient, with excess power generated sold back to the grid.
At the Metropolitan Biosolids Center, which produces dewatered biosolids that are around 30% solids and 70% water, methane produced by the digesters and from the adjacent Miramar Landfill is converted to electricity, which is used to run the facility. Thermal energy produced by the generators is used to heat the plant, as well as for air conditioning of the center.
Image from Pixabay 
The Sun's Power
At three Public Utilities Facilities, solar photovoltaic systems have been installed:
Alvarado Wastewater Treatment Plant has installed a 1.1-megawatt system, producing 1.4 million kilowatt-hours annually
Metropolitan Operations Center III has installed a 30 kilowatt (AC) rooftop solar system that produces 45,000 kilowatt-hours annually
Otay Water Treatment Plant has an 804 kilowatt (AC) system that produces 1.5 million kilowatt-hours annually​
The Takeaway
Water utilities have multiple renewable energy options available to reduce water-energy-climate nexus pressures.
About the Author
Robert is the author of Urban Water Security (Wiley), The Green Economy and the Water-Energy-Food Nexus (Palgrave Macmillan), Blue and Green Cities: The Role of Blue-Green Infrastructure in Managing Urban Water Resources (Palgrave Macmillan), Natural Resource Management and the Circular Economy (Palgrave Macmillan), and Climate Resilient Water Resources Management (Palgrave Macmillan).
He is the editor of the Climate Resilient Societies book series with Palgrave Macmillan. Robert is a contributing author for the World Bank's Water Blog, Asian Development Bank's Blog, United Nations Industrial Development Organization's Making It Magazine, and Green Growth Knowledge Platform. He has published widely on water security, water resources management, and related issues, and has conducted field research around the world, including Antarctica. He is Founder of Mitidaption, Mark and Focus, and Our Future Water.  ​