In a lead up to the forthcoming International Day of Peace, youth organisation Green Hope conducted an epoch conference cum workshop on "Peace and Sustainabilty.". It was attended by scores of students from different schools and universities, as well representatives from corporates. The day began with a tree planting session, during which Green Hope members planted over 80 saplings.
The conference stressed on the overriding importance of peace in achieving sustainability. SDG #16 ( The United Nationals Sustainable development goal # 16) specifically focuses on "Peace, Justice and Strong Institutions". Yet peace runs like a thread through all 17 of the Goals. Every year on the International Day of Peace, the United Nations calls on the peoples of the world to remember their common humanity and join together to build a future free of strife.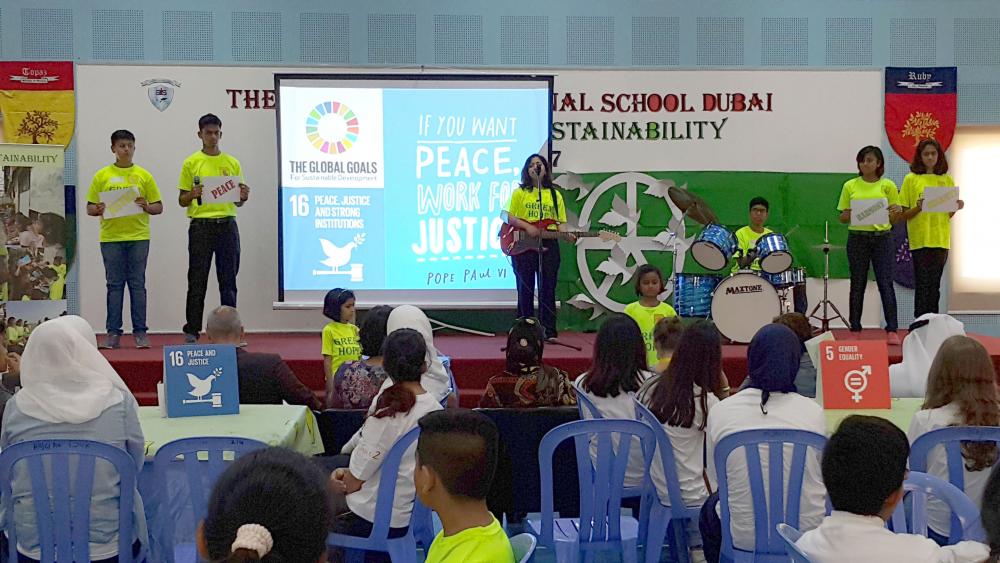 This year's theme – the Sustainable Development Goals: Building Blocks for Peace – highlights how ending poverty, protecting the planet and ensuring broadly shared prosperity all contribute to global harmony.  Green Hope founder/president , 16 year old Kehkashan Basu said "We the youth are the Future Generations and we must take the initiative of breaking these shackles of hatred and bring forth a new order . This is the objective behind our event today , to bring together a diverse section of civil society so that we discuss the ways and means of achieving peace and its profound impact on sustainability. "
The conference, hosted by the Apple International School,  began with a Peace song composed and performed by the Green Hope team after which there were interactive presentations to highlight the critical inter-linkages between peace and the sustainable development goals. The conference attendees were hugely motivated to receive a  video message from  Mr Max T Edkins, the Climate Change Expert at World Bank's Connect4Climate initiative . In his message, Max emphasized climate change being the most fundamental challenge facing the current generation and its intricate linkage with all the sustainable development goals. The audience also received a video message on the conference theme from Mr Jan-Gustav Strandenaes , Senior Advisor on Governance at the Stakeholder Forum.
This was followed by an interactive panel discussion , comprising of an  eminent panel of experts which included Dr. Federica Busa – Director Theme Development Dubai Expo2020, Mr. Stephen King -  Professor at Middlesex University Dubai, Ms Ellen Vroonhof – Program Manager at Netherlands based Kidsrights Foundation, Dr Masumeh Kazmi from the Iranian Salman Farsi school and Ms Panjala Dutta –Principal Apple International School.
The highlight of the conference was a painting competition, wherein the participants used art to convey the theme of Peace and Sustainability. Green Hope believes that peace building begins with conflict resolution and these must  be resolved using a bottom-up approach. Grassroots organizations, as well as local authorities and civil-society representatives, should be the main actors in the conflict resolution process. Thus this conference sought to bring together various stakeholders to determine the pathway to a peaceful and sustainable future.