Women leaders take center stage in a sweeping virtual conference
For many countries around the world, the benchmarks put in place in the Paris Agreement—intended to keep net global warming to 1.5 degrees Celsius and certainly below 2 degrees—have fallen by the wayside in the years since, kicked under the rug amid the continual thrum of politics and bureaucracy. For the Marshall Islands and other low-lying nations, however, sidelining the Paris commitments is simply not an option: achieving them could be the difference between life and death.
The people and government of the Marshall Islands have become known for their unflinching 1.5 to Stay Alive climate campaign, which stresses that if temperature change surpasses 1.5 degrees, let alone 2, rising sea levels would submerge much of their ancestral and current homeland and render their beautiful nation uninhabitable. Given the Marshalls' cultural emphasis on home, legacy, and the bounties of nature, this loss would be especially dire.
The Marshall Islands sit at the helm of a group of similarly threatened countries known collectively as the Climate Vulnerable Forum, or CVF, which aims to unite disparate voices from smaller countries and amplify their concerns for the rest of the world to hear. The group is proactive its own right too, intent on leading by example on the world stage through pioneering sustainability campaigns. Today and tomorrow, the CVF is conducting an ambitious web-based conference called the Virtual Climate Summit in a push to raise awareness of the severity of warming trends and brainstorm next steps in the ongoing battle against climate change.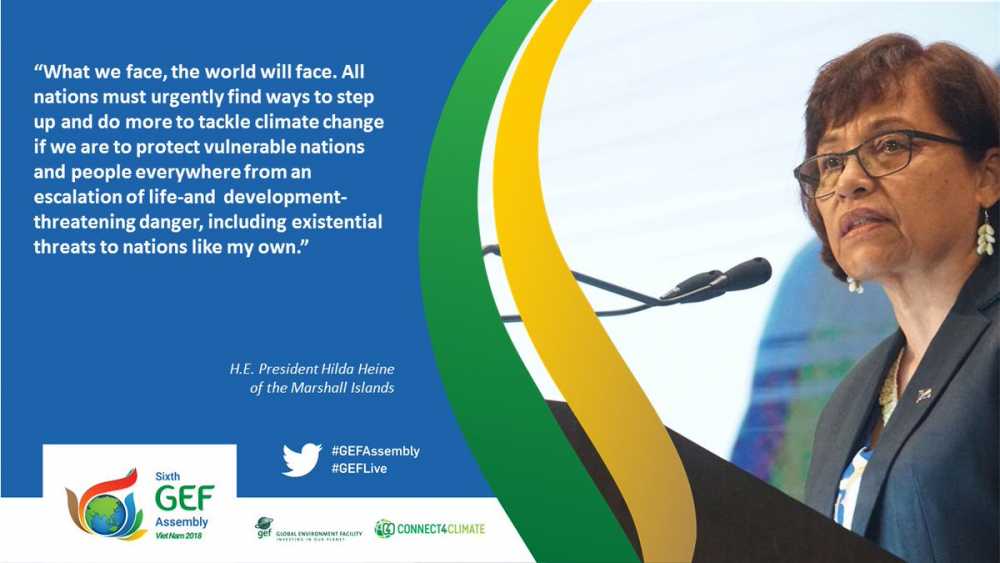 Participants in the discussion will include other imperiled island nations such as Tuvalu, Vanuatu, Timor-Leste, Sri Lanka, and Papua New Guinea as well as mainland countries confronting deadly changes in weather patterns, e.g., Nepal, Vietnam, Sudan, Senegal, and Yemen. Under the leadership of president Hilda Heine, the Marshall Islands have taken special care to include female voices in this dialogue, which will be catalyzed by a volunteer panel of all-female Summit Champions.
This collective of climate change Champions comprises European Climate Foundation CEO Laurence Tubiana, Sustainable Energy for All CEO Rachel Kyte, World Bank Sustainable Development VP Laura Tuck, Global Environment Facility CEO Naoko Ishii, former Irish president Mary Robinson, current Philippine senator Loren Legarda, Oxfam International director Winnie Byanyima, and Greenpeace director Jennifer Morgan. Hailing from all corners of the world, the members of the team will aim to ensure women's perspective on climate change is at the heart of the conference deliberations—where it belongs.
The threats of global warming weigh heaviest on the minds of women, who make up 70% of the world's poor—a group disproportionately threatened by unchecked climate change. Yet women in many countries also have a unique power to make a positive impact, being as they are invaluable contributors to the cultivation and preparation of food and frequent providers of shelter, warmth, water, and clothes within their families.
The Summit hopes to rekindle a sense of urgency around global warming and to empower the world's women to defy recent torpor on the world stage and harness their unsuppressed voices to make a real difference.