In June we launched the #Youth4ClimateLive Series, a youth-focused virtual discussion program building climate ambition in the run-up to next year's Pre-COP26 in Milan and COP26 in Glasgow. Now, we're delighted to reveal that Episode 2, entitled "Driving Sustainable Recovery," will be taking place on July 24 at 10 a.m. EDT / 4 p.m. CEST. You can expect an intergenerational and interactive session featuring an exciting blend of youth leaders and climate advocacy veterans.
Register here to participate!
Once again hosted by the Italian Ministry for Ecological Transition (MITE) in collaboration with our team at Connect4Climate and the Office of the Secretary-General's Envoy on Youth, Episode 2 will analyze sustainable recovery through three key lenses: renewable energy, sustainable mobility, and protecting local ecosystems and biodiversity.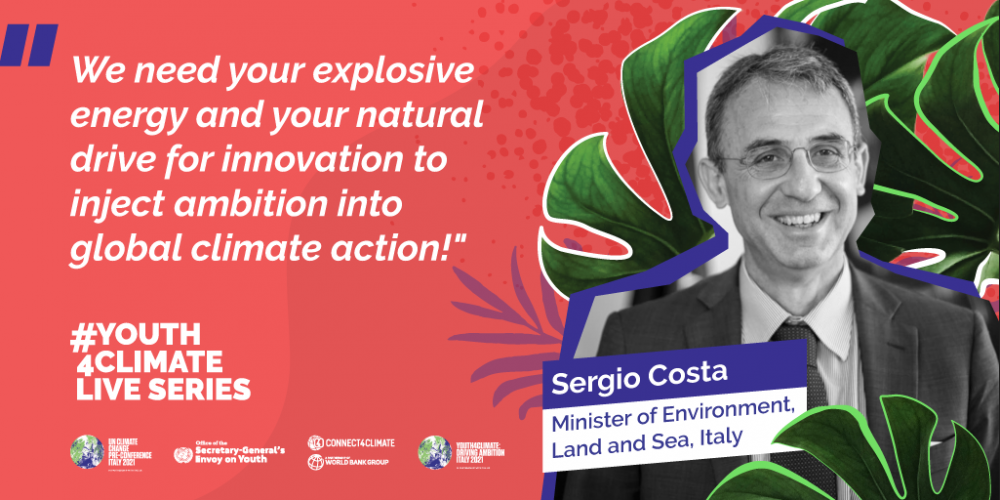 The goals of the Paris Agreement and the 2030 Agreement on Sustainable Development provide a clear blueprint for a resilient future; now is the time to highlight youth experiences and concerns while integrating young people's creativity and ideas into our plans to build back better. We have the chance to emerge from the COVID-19 crisis with a renewed commitment to our planet, and this session is all about figuring out the smartest, most effective ways to ensure that happens!
Driving Sustainable Recovery will build on a similarly-themed World Environment Day event hosted by the Office of the Secretary-General's Youth Envoy and other partners on June 5th. During this discussion, youth from around the world shared their priorities for a green recovery with UN Member States. The UN Secretary-General had previously identified 6 priority actions that UN Member States could take to build back better, including delivering green jobs, ending subsidies for fossil fuels, pricing carbon, and accounting for climate-related risks and opportunities in the global financial system.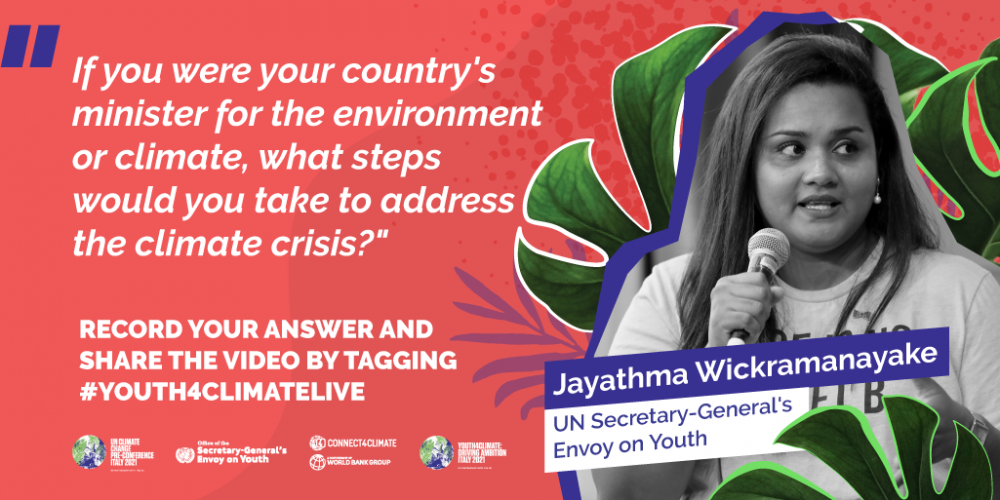 Kicking off July 24th's intergenerational discussion will be UN Development Programme Administrator Achim Steiner and Executive Vice-President, European Commission Frans Timmermans. They will be joined by three young leaders who are implementing solutions on the ground in their countries: Axell Sutton, Co-Chairman of the Latin American Student Energy Summit 2021; Seble Samuel, Co-Founder of Ethiopian urban mobility movement Menged Le Sew ("Streets for the People"); and Jhannel C. Tomlinson, a climate activist from the Caribbean working toward her PhD. Our moderators, youth champions Salina Abraham and Ahmed Badr, will continue to bring their energy and insight to the discussion, ensuring an exciting episode full of audience engagement.
Don't be shy! We can't wait for you to join us on July 24 for this invaluable youth-led brainstorm on ushering sustainability into our urban spaces while ramping up protection of our natural ones. The future of climate ambition is now, and youth are leading the way to a sustainable recovery!