June 9th marks Coral Triangle Day, when ocean lovers from across the Asia Pacific and the rest of the world celebrate the Coral Triangle bioregion - home to more marine species than anywhere else on the planet.
This year, WWF, The Coral Triangle and The Coral Triangle Initiative (CTI-CFF) are running a high profile Instagram contest in a bid to reduce single use plastics which are a huge source of pollution throughout the Coral Triangle.
The 2018 Coral Triangle Day Instagram Campaign focuses on ACTION and PLEDGES. We're inviting people to join the #PLASTICRESISTANCE this Coral Triangle Day and to encourage their family and friends to do the same!
Globally, the plastic pollution problem is coming sharply into focus thanks to sustained campaigns and media coverage. People are increasingly aware of the impacts of plastic on the marine environment and the destructive wastefulness of single use plastics such as straws, coffee cup lids, cotton buds and product packaging. It's time to translate that momentum into real world action and a pledge to change behaviour moving forward!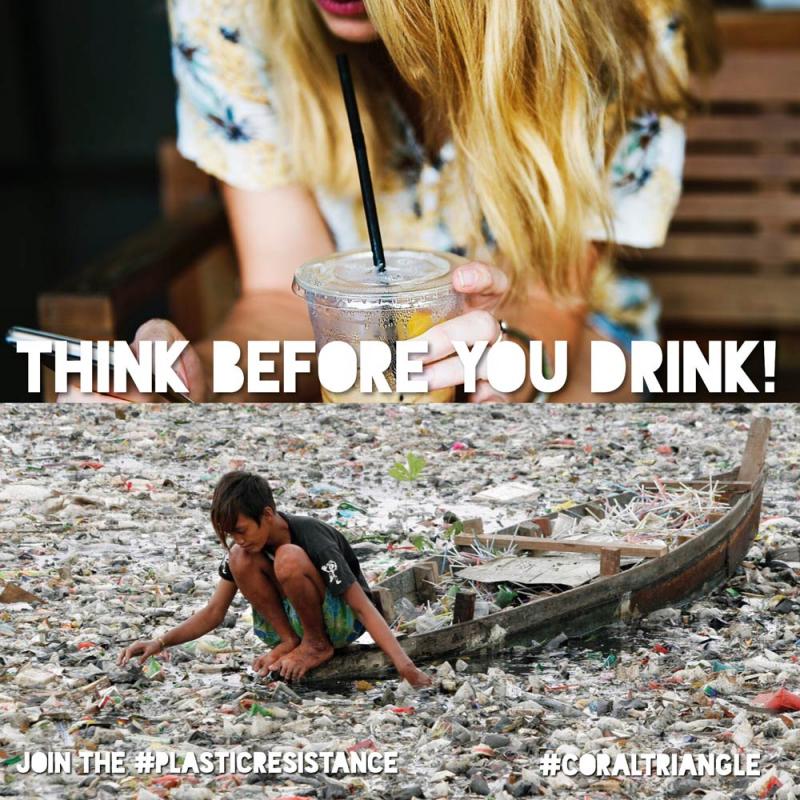 Using the hashtag #PLASTICRESISTANCE and #CORALTRIANGLE, we're asking Instagram users to post images, gifs or videos that demonstrates how they are saying NO to pointless plastics, like bags, straws, coffee cup lids, cotton buds and packaging. We want to know what people are doing personally - as the saying goes, "be the change you want to see."
We're asking contestants to include a simple message explaining in 50 words or fewer how they are breaking up with single use plastics. We also want them to nominate someone to make their own plastic pledge. The three entries judged to most powerfully communicate this message will win prizes including a 7 day dive holiday in Raja Ampat, Indonesia and a 3 day dive holiday in Borneo and a Mares snorkel, mask and fin set.
The Coral Triangle is the global epicentre of marine biodiversity - a bioregion that encompasses the territorial waters of seven countries (Philippines, Indonesia, Malaysia, PNG, Solomon Islands, Timor Leste and Fiji). It is a Mecca for divers and sustains much of the world's appetite for seafood. Yet two Coral Triangle countries – Indonesia and the Philippines – rank second and third only to China when it comes to coastal plastic pollution. Globally, we humans dump around eigh million tonnes of ocean into the ocean each year. And it isn't just coastal communities, as plastic also makes its way out to sea via inland waterways. It is high time we turned the tide on ocean plastics. Last year, the UN launched its Clean Seas campaign as the world unites to end once and for all our toxic relationship with single-use plastics.
Three acclaimed photographers and environmental advocates will judge the contest, based on impact, relevance to the theme and originality. There will be three top prizes as voted by the judges and three additional prizes (Coral Triangle coffee table books) for the three images that receive the most number of likes, (excluding the top 3 prize winners).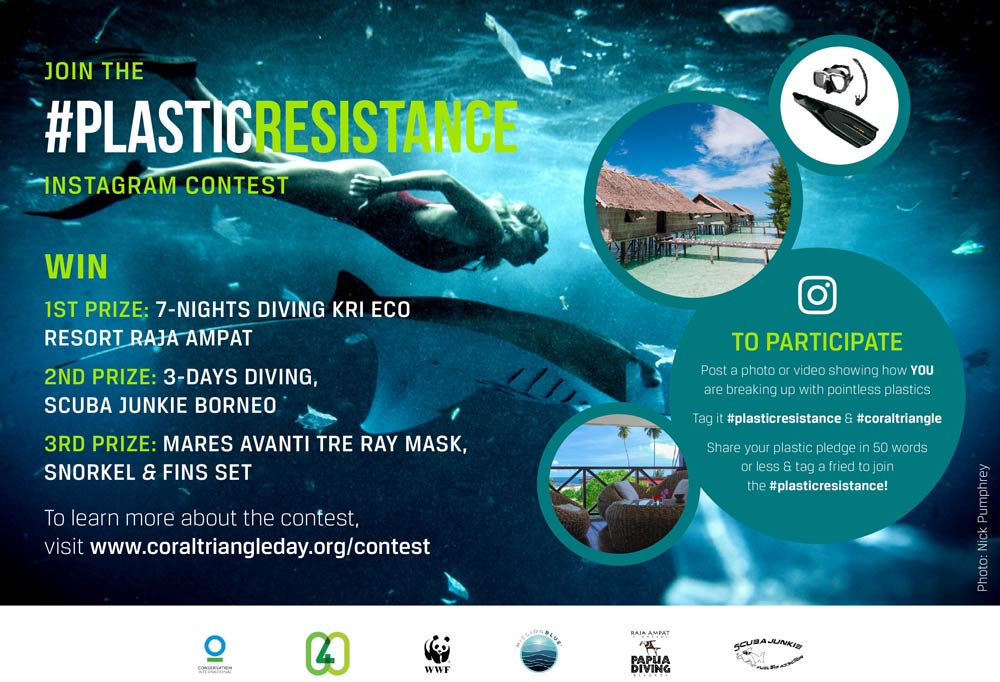 The Coral Triangle Day #PLASTICRESISTANCE contest is working with high profile partners and sponsors including WWF, Conservation International, Mission Blue, Oceana, Matador Network, Papua Diving, Scuba Junkie and Bye- Bye Plastic Bags.
The Coral Triangle is fast emerging as one of the most exciting destinations in the world for nature-based tourism which benefits local communities, ecosystems and tourists alike. Confronting the issue of waste plastic entering the ocean is one way in which all of us as consumers can make a difference, while encouraging companies to rethink how they produce and package products.
More information about the contest: The Coral Triangle Day