GEF Live is a partnership between the Global Environment Facility and the World Bank Group's Connect4Climate global partnership program. The interactive media hub will be in session throughout the 57th GEF Council at the World Bank Group HQ in Washington DC, from December 16-19, 2019. GEF Live is an opportunity for Council participants and invitees to engage in conversation with a global online audience and share ideas and solutions to some of our planet's most urgent environmental problems.
Through Connect4Climate's online platforms, GEF Live will host a series of live-streamed interviews on Facebook and Twitter during the four-day event. The program will include GEF's government partners, agency representatives, civil society leaders, and Global Environment Facility specialists on climate change, oceans, biodiversity, illegal wildlife trade, and more.
You can follow the event on Twitter and Facebook—the latest updates, key moments and the complete live streaming of the four days event—by using the hashtag #GEFLive.
Follow Along LIVE on Facebook Live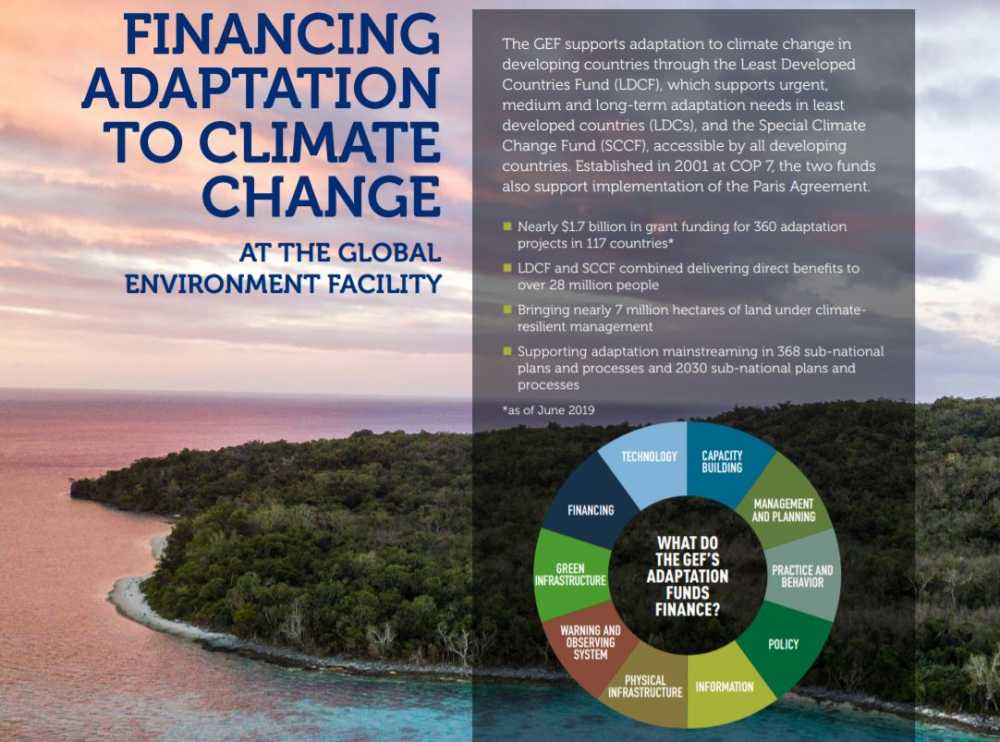 Above graphic courtesy of the GEF's 2019 report "Financing Adaptation to Climate Change." Banner and thumbnail images courtesy of the GEF website.
About the GEF Council
The GEF Council is a semi-annual gathering of the Global Environment Facility's partner agencies and member governments, where participants review and take decisions on policy changes, strategies, and projects and programs.
The Council, the GEF's main governing body, comprises 32 Members appointed by constituencies of GEF member countries. Council Members rotate every three years or until the constituency appoints a new Member.
GEF Consultations with Civil Society
The GEF is organizing a consultation with civil society titled Illegal Wildlife Trade: A Civil Society Organization's perspective.
On December 16, there will be discussions between civil society, GEF Council members, and other stakeholders on the threats posed by illegal wildlife trade. The consultations aim to highlight the critical role of civil society, including rural communities and indigenous peoples, to identify and support solutions along the value chain – from supply to trafficking to demand. There will be two keynote speakers and two roundtable discussions.
This consultation is organized in collaboration with the GEF CSO Network, the GEF Small Grants Programme (SGP), the Indigenous Peoples Advisory Group (IPAG) and the GEF funded Global Wildlife Program (GWP) led by the World Bank.
About the GEF
The Global Environment Facility (GEF) was established on the eve of the 1992 Rio Earth Summit to help tackle our planet's most pressing environmental problems. Since then, the GEF has provided over $19 billion in grants and mobilized an additional $100 billion in co-financing for more than 4,700 projects in 170 countries. Through its Small Grants Programme, the GEF has provided support to nearly 24,000 civil society and community initiatives in 128 countries.
The GEF Partnership recently agreed to a new direction in its work to achieve greater results and help to meet rising challenges.
The GEF is…
A unique partnership of 18 agencies — including United Nations agencies, multilateral development banks, national entities, and international NGOs — working with 170 countries to address the world's most challenging environmental issues. The GEF has a vast network of civil society organizations which work closely with the private sector around the world and receives continuous inputs from an independent evaluation office and a world-class scientific panel.
A financial mechanism for five major international environmental conventions: the United Nations Framework Convention on Climate Change (UNFCCC), the United Nations Convention on Biological Diversity (UNCBD), the Stockholm Convention on Persistent Organic Pollutants (POPs), the United Nations Convention to Combat Desertification (UNCCD), and the Minamata Convention on Mercury.
An innovator and catalyst that supports multi-stakeholder alliances to preserve threatened ecosystems on land and in the oceans build greener cities, boost food security and promote clean energy for a more prosperous, climate-resilient world; leveraging $5.2 in additional financing for every $1 invested.