The G7 today joined the G20, other countries and markets in throwing its weight behind a growing movement to turn the power of the global financial system to sustainable development.
In a communique released at the end of a two-day meeting in Bologna, hosted by Italy, G7 environment ministers – including the US – called increased sustainable financing "fundamental" to the achievement of sustainability and climate goals.
The final statement also saw the G7 pledge continued action on the 2030 Agenda for Sustainable Development, resource efficiency, marine litter, green jobs and climate change. The US backed the final statement, except for the climate action section, which it said it could not sign up to given its withdrawal from the Paris Agreement.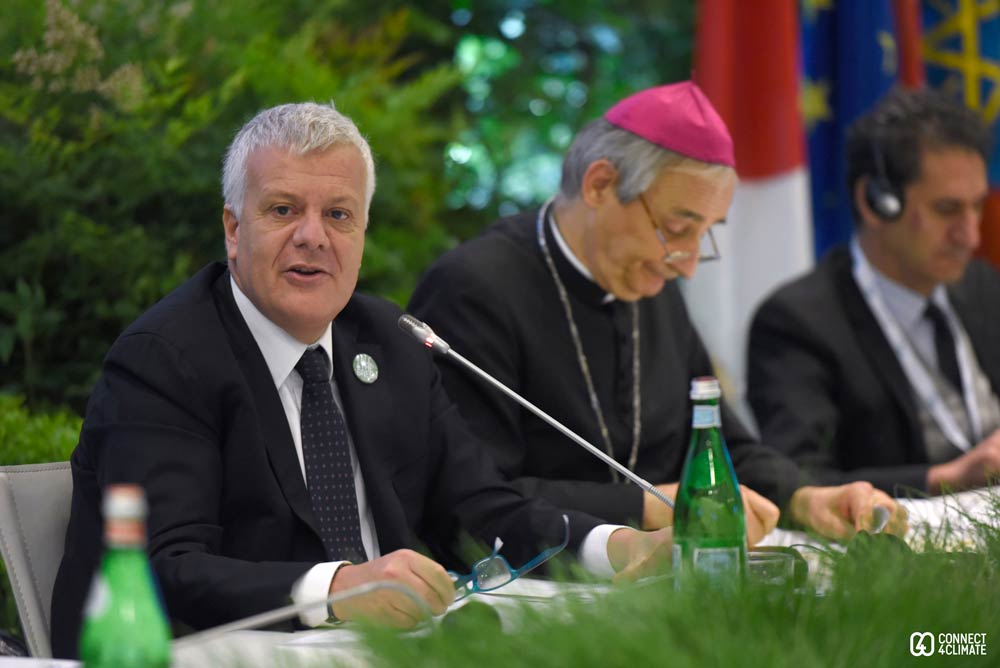 Gian Luca Galletti, Italian Minister of Environment, Land and Sea. Photo Credits: Riccardo Savi/Connect4Climate
"Climate change, the unsustainable management of resources and the pollution of our oceans demand immediate, coordinated action to create a healthy environment capable of supporting our growing populations," said Gian Luca Galletti, Italy's Environment Minister.
"This is why Italy asked the G7, for the first time, to look at how to boost the role of the global financial system in sustainable development, and turn trillions of dollars in capital towards green investments." 
Sustainable finance is a rapidly accelerating global movement. Countries from China to France and the UK have launched initiatives to boost flows of private capital for climate and sustainability. The G20 has set up a green finance study group. The value of investment assets committed to the Principles for Responsible Investment is now over US$73 trillion. 
Meanwhile, the green bond market almost doubled to more than US$80 billion in 2016, and is expected to increase to US$150 billion in 2017. However, despite this impressive growth, green bonds still represent less than 1 per cent of global bond issuance, point to the need for further action.
UN Environment's Inquiry into the Design of a Sustainable Financial System is a prominent champion of the movement, which seeks to unlock the finance needed to deliver on the goals of the 2030 Agenda for Sustainable Development and the Paris Agreement. The Inquiry has supported Italy's G7 presidency over the last year as it explored the potential of sustainable finance.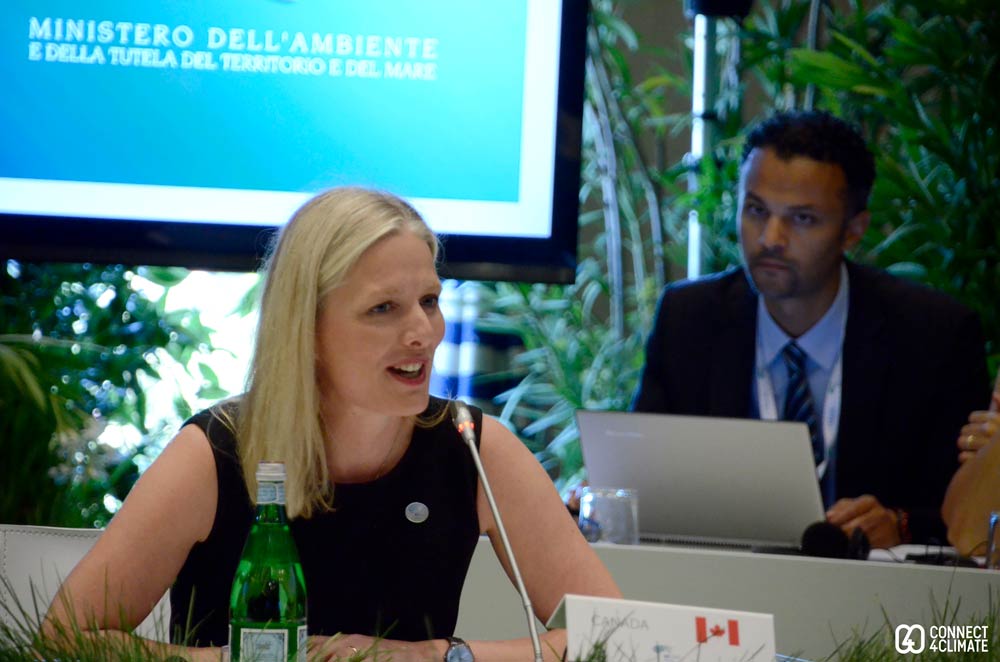 Catherina McKenna, Minister of Environment and Climate Change of Canada. The 2018 G7 Summit will be held at Le Manoir Richelieu in La Malbaie, Quebec. Photo Credits: Max Thabiso Edkins/Connect4Climate
Canada is next in line to take over the G7 Presidency from Italy. Catherine McKenna, Canada's Minister of Environment & Climate Change, said they would continue the work, saying it was clear that "the environment and economy went together", and pointing to how trillions of dollars of financing would create good jobs and grow economies.
According to Nick Robins, Co-Director of the Inquiry, the G7 now has a unique opportunity to quicken the pace of sustainable finance and do just that.
"G7 nations hold the bulk of the world's financial assets and often lead the pack in terms of making environmental and social factors a core aspect of banking, investment and insurance," he said. "We need to take this positive momentum to scale, so that finance supports the transition to a sustainable economy, particularly the needs of entrepreneurs and small businesses."  
Robins presented two reports, commissioned by Italy for the G7 and written by the Inquiry, at the meeting. The reports, the findings of which were endorsed in the final communique, outline strategies to ensure SMEs and financial centres are part of the sustainability solution.
"SMEs are the bedrock of the economy in terms of growth, employment and innovation, but often find it hard to find finance for essential investments in sustainability," said Robins. "What is really exciting is the new range of mechanisms to help close this funding gap." 
SMEs are particularly important in Italy. The Italian economy is dominated by nearly four million SMEs, which make up 95 per cent of all companies.
The big task is to improve access to tailored financial services, both for SMEs wishing to improve their sustainability performance and those providing goods and services for the growing green economy (such as clean-tech pioneers).
UN Environment's first report, Mobilizing Sustainable Finance for SMEs
, outlined practical ways of making progress. 
For example, public finance institutions such as France's BPI are offering low-interest loans to SMEs to improve energy efficiency. Canada's BDC has launched venture capital funds for clean-tech innovators. In the US, state-level green banks are crowding in private capital in California, Connecticut, Hawaii, New Jersey, New York and Rhode Island.
In Germany, the GLS Bank has led a financing partnership for green entrepreneurs. The Borsa Italiana is promoting green "mini-bonds", which enable small businesses to raise capital from investors. Innovations in financial technology can also help through crowdfunding for the green economy, for example, by UK investment firm, Abundance.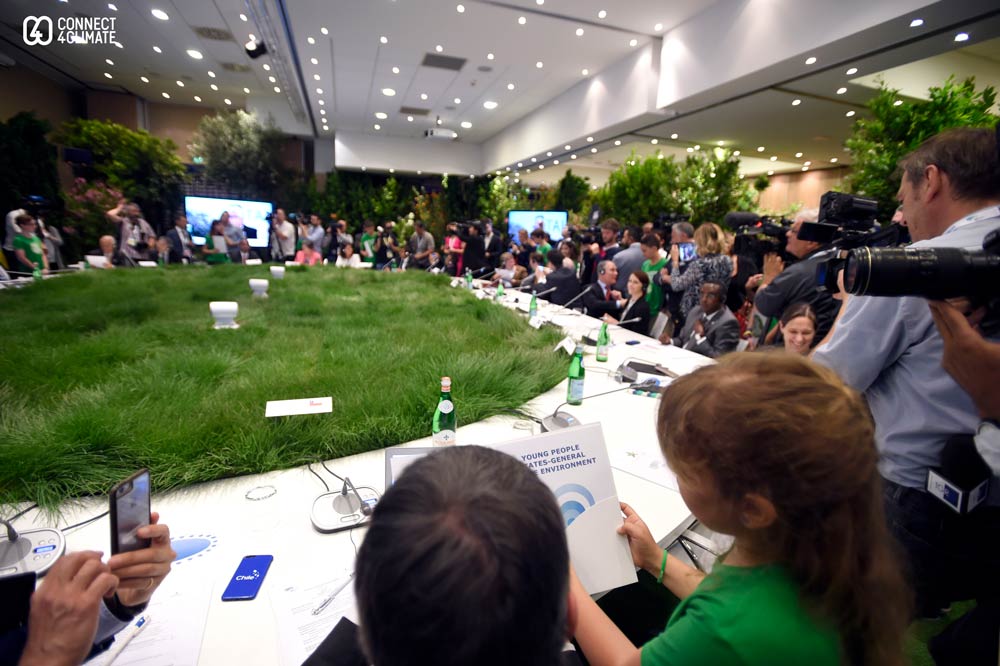 G7 Environment Ministers met in Bologna, Italy, this past weekend. Photo Credits: Riccardo Savi
The Inquiry's Financial Centres for Sustainability report
found that the G7 and other countries could
encourage their financial centres to develop strategies that scale up green and sustainable finance
– including through international cooperation that would create "a race to the top".
"In financial centres, the supply and demand for finance come together and action to connect finance and sustainability becomes tangible." said Robins. "Over the past year, some G7 financial centres (such as Frankfurt, London and Paris) have launched green and sustainable finance initiatives, but there is still huge scope for improvement." 
Environment World Leaders gather for the traditional group picture in Bologna, Italy. Photo Credits: Max Thabiso Edkins/Connect4Climate
Working with UN Environment, Italy's Environment Ministry made the G7 meeting climate neutral, offsetting all greenhouse gas emissions (estimated at around 250 tonnes of carbon dioxide) through the Clean Development Mechanism. The emissions credits used for the meeting support project in Bangladesh (solar energy), Pakistan (renewables) and Rwanda (Fluorescent lamp CFL distribution).