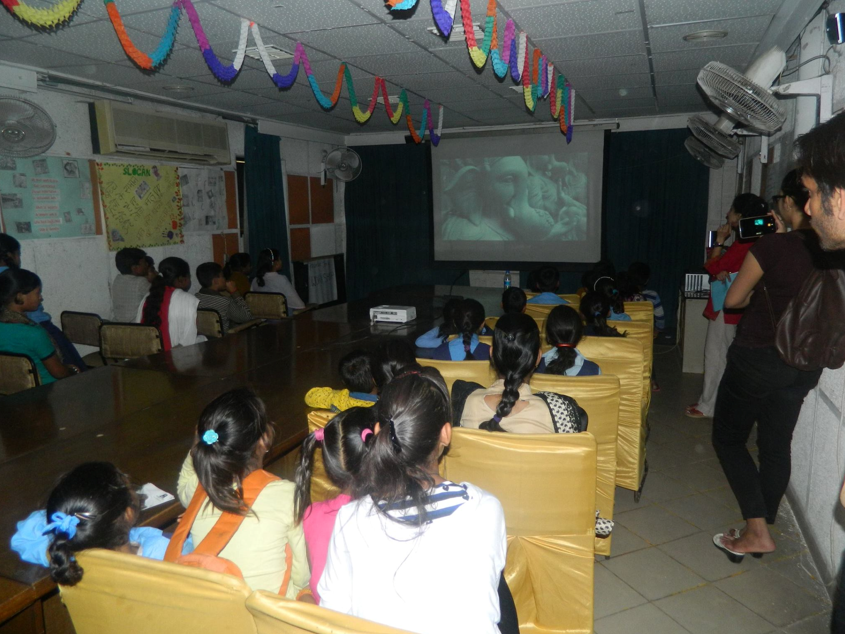 Towards Raising an Environmentally-conscious Generation in India 
1.0 The Background
The importance of educating our children and youth in ensuring a sustainable future for all of us cannot be stressed enough. How else is a future generation of informed, aware, and environmentally-conscious citizens to be created if not through effective educational tools for our children and youth? The Indian Constitution states that it is the responsibility of every citizen to protect the environment. Underscoring the importance of environmental education, in 2003, a Supreme Court judgement made the teaching of environmental studies mandatory for all levels of formal education. Promoting environmental educational tools on a larger platform, in its 57th meeting in December 2002, the United Nations General Assembly proclaimed the UN Decade of Education for Sustainable Development, 2005- 2014  (DESD) 'emphasising that education is an indispensable element for achieving sustainable development'.
Placed in this context, Centre for Environment Communication has been consistently designing and conducting innovative environmental communication programmes employing various media such as films, on-ground communication, live demonstrations, interactive modules,  communication via print and social media etc. These seminal programmes promote behaviour change in children and youth towards environmental sustainability via CEC's five thematic centres.
2.0 Communicating Environment to Children
Children are naturally curious. They are forever full of the what, why, when, where and how of the world around them as most things are a new experience for them. But living as we are in cities where the connect with Nature is limited and oftentimes, children see nothing of it, their curiosity about Nature is stunted. Since they see little of it, they question little and consequently, understand even less about the how our natural ecosystem and our very existence are intertwined. Therefore, there is a need to create for them situations where they can feel the natural experiences in a tactile and emotive way, in a way that their curiosity is piqued. That will be the doorway to establishing a life-long connects with Nature. So, how is this curiosity about Nature to be piqued in the midst of the urban jungle?
3.0 Using Films as a Tool for ESD
CEC believes, based on its multiple experiences, that effectively employing evocative Nature films is a very powerful and impactful tool for ESD. Children are quick to grasp a situation and are able to very quickly think through and work towards solutions. So introducing them to the infinite wonders of nature via films, and thus leading them on to understand the environmental challenges today are a sure way of nurturing environmentally-conscious future citizens.
Films are the most impactful audio-visual medium that sends subliminal messages while creating the atmosphere wherein all senses are immersed in the experience, eliciting an emotional response. A film is thus a magical tool to raise eco-awareness in children. It captures stark realities in a manner that jolts us out of our sense of complacency. The series of film festivals organised by CEC has shown that there is perhaps no better way than films to impress upon our children that "environment" is not a "boring" subject but an interactive living eco-system that responds to our participation in ways that we can touch and see, every day.
CEC has organised a series of film festivals across schools and institutions for children and youth in Delhi and NCR, engaging more than 2000 children and youth in its various events and ongoing programmes. It has also launched its flagship programme, Green Buddies Film Festival, to engage children and youth on a sustained basis towards positive environmental action on a larger platform. 
4.0 CEC Initiatives employing Films as ESD Tools: In Brief
 I. Green Hub Festival 2016 Celebrating Northeast
Presented by: North East Network, Dusty Foot Production, and Centre for Environment Communication
Date: May 13-15, 2016
Venue: Green Hub, Jonak, Kumargaon, Tezpur, Assam
ACTIVITIES:
Films & Makers; Anthology of Shots; In Conversation; Expert Talks & Discussions; Musical Nite & Delightful Cuisine
Films being screened: Manas - Return of the Giants; Walking with the Wolves; Multiple Screening of Films by Green Hub Fellows from different parts of the Northeast.
II. THE ELEPHANT FESTIVAL – Celebrating World Wildlife Day, March 3, 2016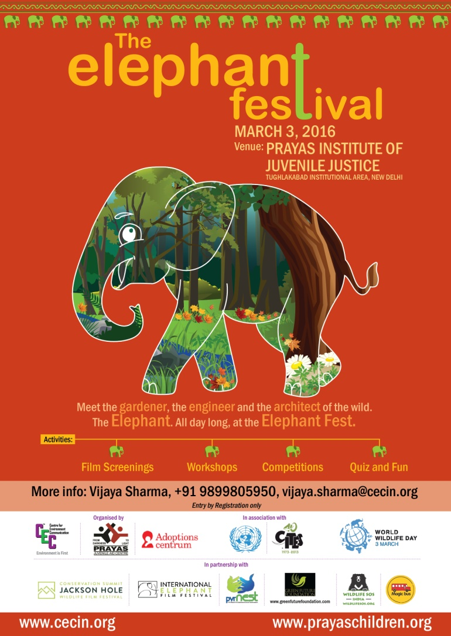 Participants: Children and youth from Prayas Juvenile Aid Centre, Tughlakabad and all its centres in Delhi; PVR Nest: NGO Vidya Foundation
Organised by: Centre for Environment Communication (CEC), Prayas Institute for Juvenile Justice and Adoptionscentrum
Partners: The Jackson Hole Wildlife Film Festival, The International Elephant Film Festival, PVR Nest, Green Future Foundation, Wildlife SOS and Magic Bus; in association with United Nations and CITES to celebrate the World Wildlife Day, March 3, 2016.
Activities: Film screenings; interactive workshop; Quiz and painting competition; Animal Pictionary; On the spot skit presentation on festival theme.
Films screened - 6: The Jungle Gang meets the Elephant by Krishnendu Bose; Elephant Talk 2015: Asian Elephants in the Wild; Elephants Never Forget; On the Right Track, and Living with Giants.
Workshop theme: Understanding the role of the Elephant in the eco-system; Conserving the Elephant: Challenges and solutions
Skit theme: Act for the Elephant
III. CEC CLIMATECONNECT Film Festival in Delhi and NCR
Classes: VII, VIII, IX, X and XI
No. of Activities: 10
Participating Schools: TSMS Faridabad, Lotus Valley School Noida, DPS Gautam Buddh Nagar and Tagore International School
Activities: Film screening/Session with Filmmakers, Interactive Panel Discussions, Expert Talks, A Reality Show, A Climate Change presentation by children of invited schools (one speaker per school – 5 minutes only), A filmmaking competition, a photo exhibition, An Al Gore presentation, A Snake and Ladder Climate Change Game, A Solar Power Cooker Live Demonstration.
Films Screened: Melting Paradise by Vijay Bedi, The Final Tide by Vikram Mishra, Carbon Merchants by Aaradhana Kohli Kapur and Shelter
Expert Talk and Discussion Topics
Impact on Earth of a One-Degree Rise in Temperature
Climate Change: Political Discourses
Climate Change and Me: How I Am Connected to Climate Change
IV. CLIMA FILM FEST
Partners: United Nations Foundation, Good Relations India, Panos South Asia, CPREEC and M.O.P. Vaishnav College and Ennovate Global - CEC partner
In the run-up to the Secretary General Climate Summit at UN headquarters on September 23, Clima Film Fest '14 aimed at creating maximum buzz about the impacts of climate change on our lives. The objective of the festival was to tell people through the medium of films and discourses with the experts about what exactly is climate change, how it is impacting our lives and how one can adapt to it. The festival was also very important in the context of the recent release of Intergovernmental Panel on Climate Change Fifth Assessment Reports. A collection of compelling stories across India, highlighting evidences of the real impacts of and adaptations to climate change, underscored the spectacular festival. 
Issues Explored
Impact of climate change on natural resource-based livelihood in rural India.
Climate change and rising sea levels in the Sunderbans.
Local climate change impacts in Sunderbans in a participatory video.
Landfill gas cleaning and flaring technology.
India: Towards a clean and energy-efficient economy.
Reducing Emissions from deforestation and degradation.
Clean and energy-efficient technology for the small-scale glass industry.
Govt-citizen partnership for sustainable cities.
Towards sustainable habitats by using depleting natural resources to the benefits of all.
Artificial glaciers to beat the drought in high-altitude areas.
Impact on Earth of a one-degree rise in temperature.
Small scale sustainable renewable energy programmes.
Conservation of precious water resources such as wetlands.
The ground reality of climate change and the global scenario.
Expert Discussion Session Topics
Climate Change and the Coasts
Communicating Climate Change: A Panel Discussion on Climate Change and Media
Adaptation to Climate Change for the State of Tamil Nadu
Climate Change and Chennai City
Films Screened
Missing, Where is my Home and The Forest Beautiful by Krishnendu Bose; are we ready to dig in by Saransh Sugandh; Negotiating Justice and Tales Of Gorakhpur: Path Towards A Climate-Resilient Future by Rishu Nigam; Redemption - A Redd + Story From India by Ahona Dutta Gupta; Ring The Changes by Kanishka Singh; Breathe Easy by Aditi Banerjee; Building For A Greener World by Rita Banerji; Ladakh's Artificial Glaciers by Rajendra Srivathsa Kondapalli; Strange Days On Planet Earth - The One Degree Factor by Rob Whittlesey; Lighter Burden, Brighter Future by Sanjay Barnela; Melting Paradise Ajay and Vijay Bedi; Mean Sea Level and Don't Cut My Head Off  by Pradip Saha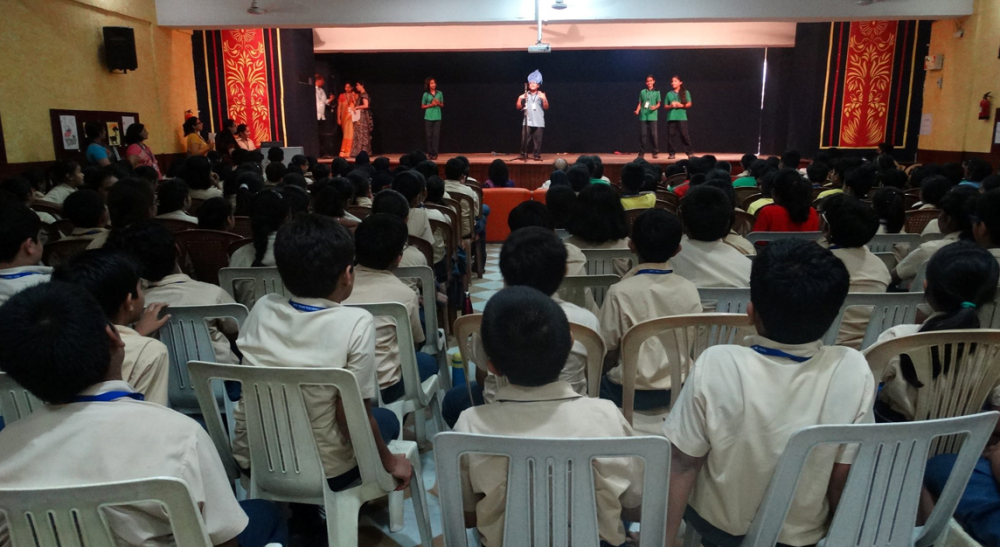 V. COMING SOON: CEC FLAGSHIP INITIATIVE - GREEN BUDDIES FILM FESTIVAL
Green Buddies Film Festival is India's first niche green film festival exclusively for children and youth. It is a unique green festival which provides a stage for the voices of children and youth to be heard on the subject of the environment. For those who are already "green buddies" with the environment, this festival will be a unique opportunity to showcase their efforts via films and other environmental communication tools and formats; for those who are yet to understand the importance of conserving the environment, the festival will be an awakening, an initiation into the subject. The festival is an exclusive Flagship Initiative of the Centre for Environment Communication (CEC).
5.0 About Centre for Environment Communication (CEC)
Centre for Environment Communication (CEC) is committed to raising awareness among children, youth, and adults proactively on environmental issues and promoting action to concretise the awareness. Through a consistent and sustained call for awareness and action, CEC aims to gradually engender behaviour change, at large, towards the environment and make its conservation a part of our daily concerns towards creating a good life. CEC has partnered with UNICEF, DELHI GOVERNMENT, JACKSON HOLE WILDLIFE FILM FESTIVAL, PVR NEST for its various projects. CEC also received support from leading environmental organisations such as Climate Reality and Connect4Climate, University of Stirling, the UK for its various programmes.
Mission: Communicating for Creating Sustainable Societies
Thematic Centres: CEC has established five thematic centres: Climate Change Communication Centre (C4); Biodiversity Communication Centre (BCC); Water, Sanitation and Hygiene Communication Centre (WASHCC); Green Films Centre (GFC), and Corporate Employees Engagement Centre (CEEC)} which strategically spotlight its primary areas of engagement. The Centres seek to influence social, economic and instrumental change on environmental issues at the level of the society and consequently, catalyse appropriate policy interventions by the government.
Media coverage: CEC events have received wide coverage in a national dailies and magazines such as The Hindustan Times, the Times of India, The Hindu, Business Standard, Tribune, Rajasthan Patrika, Jagran, NewsX, and the UN World Wildlife Day events platform, among others.