Given the dire state of the Earth's climate and the mounting frequency of natural disasters, it can be tempting for even the staunchest climate activists to fall into a spirit of pessimism. One way of overcoming these feelings is by celebrating the resilience of communities and countries the world over that are actively fighting for a sustainable future in spite of the many challenges nature has thrown at them.
This theme of resilience in the face of disaster is at the heart of the Global Facility for Disaster Risk and Reduction's ongoing art competition The Art of Resilience, put on in collaboration with the World Bank Art Program. Any artist who has produced work inspired by resilience and feels comfortable sharing it should submit their art—up to 5 pieces in total—for consideration using the instructions found at this link. Submissions will be accepted through May 17.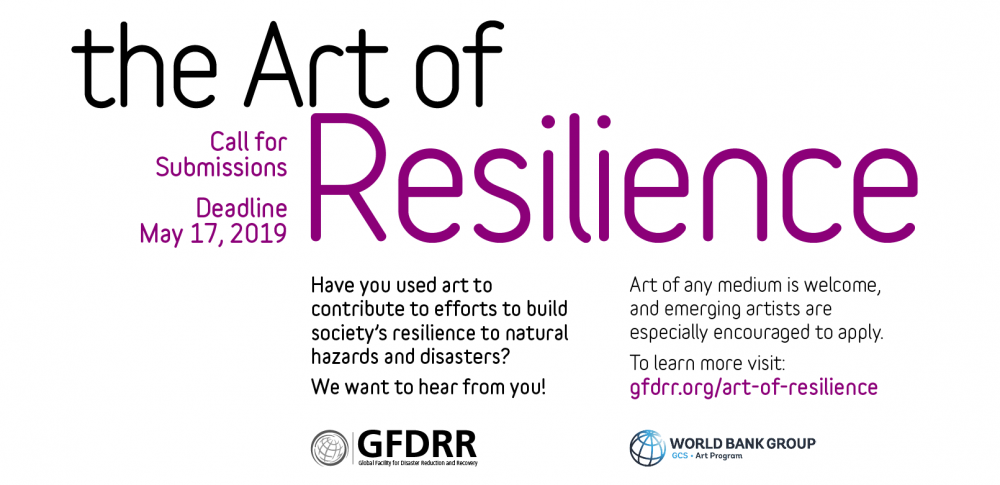 Competition winners will see their art exhibited at World Bank Group Headquarters in Washington, D.C. for three months beginning in October of this year. Their reflections on resilience will be available for viewing by visiting delegates, Bank staff, and members of the public. Later, in 2020, the winning artists' pieces will also feature at the Understanding Risk forum in Singapore, which the artists themselves will all be invited to attend. Lastly, the artworks will be preserved for posterity in a creative online database.
Communicating the necessity of climate action and poverty mitigation is no simple task; art stands alone in its power to bridge disparate communities, remind us of our shared humanity, and inspire the bold, innovative action that the Global Facility for Disaster Risk and Reduction, the World Bank Art Program, and we at Connect4Climate strive to encourage every day.
This competition presents a thrilling opportunity to bring to light moving and inspirational works that will motivate all of us down the path to a better future.