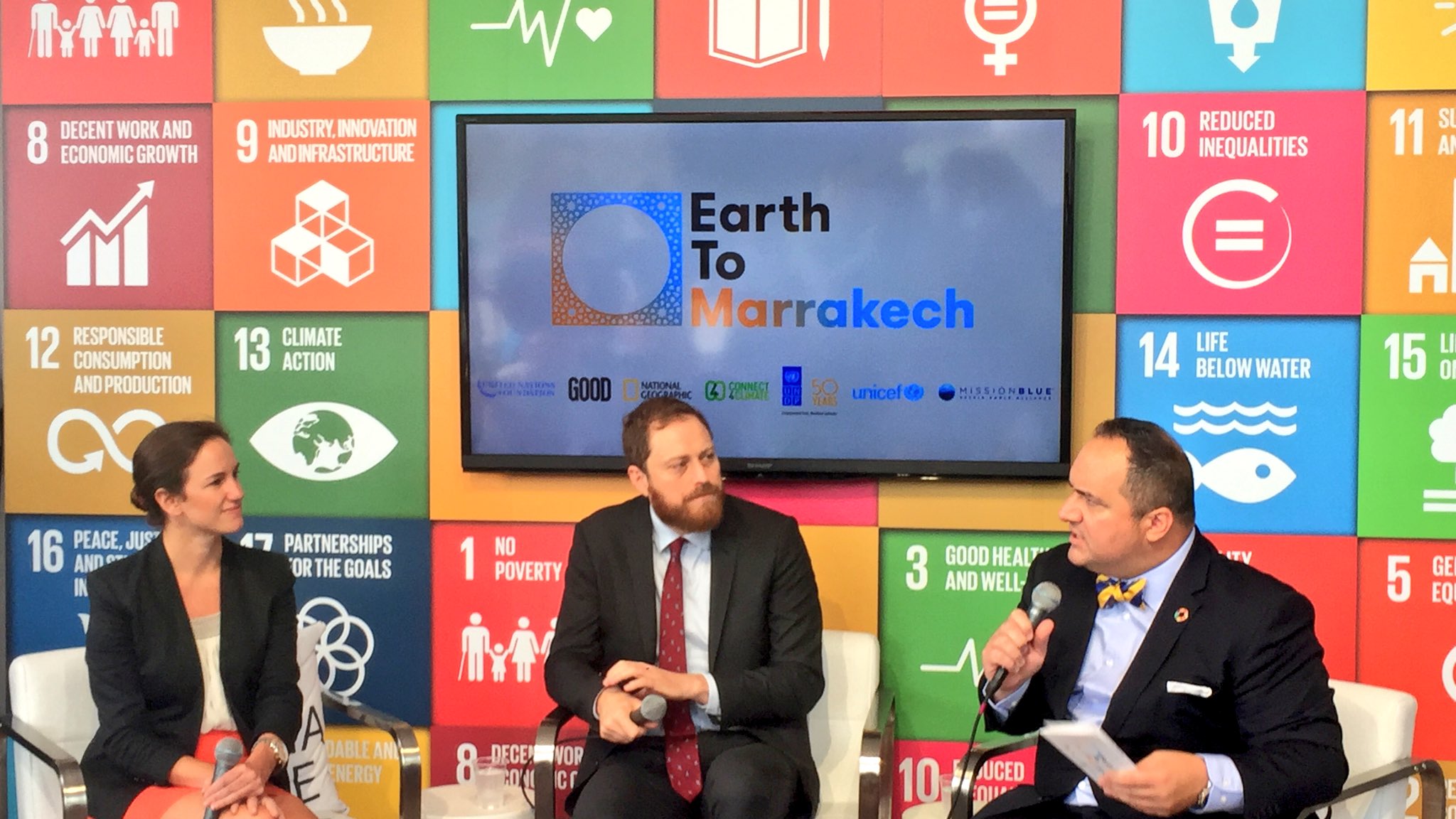 New York, New York - At an event at United Nations headquarters today, the United Nations Foundation and GOOD magazine announced the launch of Earth To Marrakech, a global movement to raise the volume and profile of the discussion around climate action. Earth To Marrakech will cultivate a global climate conversation up to and through COP22, the United Nations climate conference held this year in Morocco November 7-18.
Building off of the momentum of the first-of-its-kind Earth To Paris movement, which helped to galvanize a collective global voice for the adoption of a universal climate agreement, the Earth To Marrakech coalition will unite partners around the world for the first Earth To convening after the adopting and signing of the Paris Agreement on climate change. This historic climate agreement was adopted in Paris and signed in New York. Now, we look to Marrakech, where leaders of government, business, and civil society will meet to discuss how nations can – and must – take action to meet and exceed the commitments they have made for the future of our planet.
Earth To Marrakech will provide the opportunity for cross-sector, solutions-oriented engagement in climate change conversations around COP22; a platform for amplifying the conversation across social and digital media; and a series of activations through inspiring calls to take bold, meaningful action to address climate change.
Experts, advocates, private sector leaders, bloggers, journalists, digital influencers, and civil society leaders will unite around Earth To Marrakech to discuss creative and impactful global solutions to climate change. Participants around the world will take part through multi-language livestreamed video and real-time interactions across multiple social media platforms using the unifying hashtag #EarthToMarrakech. 

Together, we can raise our voices in a collective call to move from words to action on climate change. As leaders prepare to meet in Morocco to discuss our shared future, we're sending a message, from Earth To Marrakech: The world has made climate commitments, and now it's time to act. The time for bold, ambitious climate action is now! 
#EarthToMarrakech event & movement launched in #SDGLive @UN w @unfoundation @good @Connect4Climate @UNDP @UNICEF @MissionBlue pic.twitter.com/sjzjkRzO7k

— Connect4Climate (@Connect4Climate) September 21, 2016
Announcing the launch of the #EarthToMarrakech Global Climate Movement today in the @UN #COP22 #ClimateAction #SDGlive pic.twitter.com/FfZcjEhvR4

— COP22 (@COP22) September 21, 2016
We cannot get complacent on #ClimateAction - @maxschorr at #SDGLive #ParisAgreement event @UN #EarthToMarrakech launch pic.twitter.com/PCQMpGtFBX

— Connect4Climate (@Connect4Climate) September 21, 2016