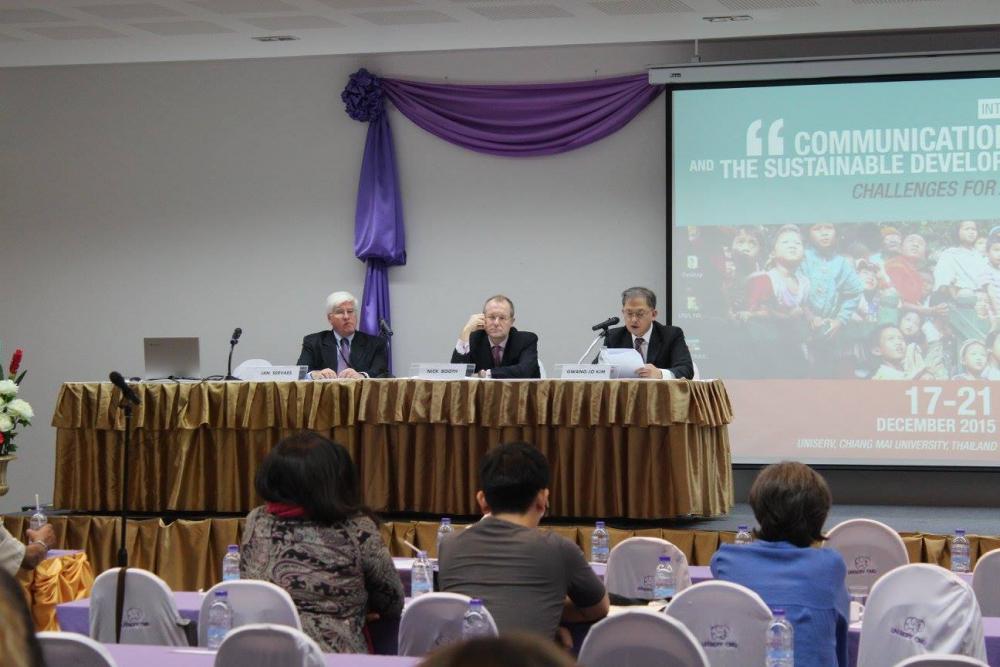 Connect4Climate participated in the international conference on Communication/Culture and The Sustainable Development Goals (CCSDG): Challenges for a New Generation held in Chiang Mai, Thailand, from 17 to 21 December 2015.
The themes of the Sustainable Development Goals and Climate Change is very timely, so soon after the COP 21 in Paris. But, as Prof. Rome Chiranukrom, the Vice President for International Relations and Alumni Affairs at Chiang Mai University, reminded us, the focus on the role and place of communication and culture has added additional value to these themes, which are normally monopolized by economics, engineers and politicians. Prof. Rome warned that "the future of our planet and the peaceful and harmonious survival of us as a human race" are at stake! More than a choice on the basis of technology assessments, economic or political models, this challenge appeals on our moral and ethical values as people.
The "new" problems we face may take years, and in the case of climate change, several generations of the world community to resolve. How do we build consensus and muster the altruistic intent of the present generation to consume less, de-escalate conflict, and subject ourselves to medical research so that future generations who will exist long after we are gone may inherit a habitable planet?
The tried and tested methods of agriculture extension, social mobilization, community participation, and multi-lateral negotiation are unlikely to succeed on their own as these systemic problems grow in their severity and people submit to innate human instincts for self-preservation and compete even more keenly for rapidly dwindling natural resources, ratchet-up violence, resist Hippocratic principles to share limited supplies of vaccines and medicines, hoard energy and water, and close markets to international commerce. We do not have appropriate strategies to begin addressing these "new" and highly complex challenges. That's the challenge the conference participants were challenged to come to grips with in order to formulate realistic and sustainable solutions for future generations.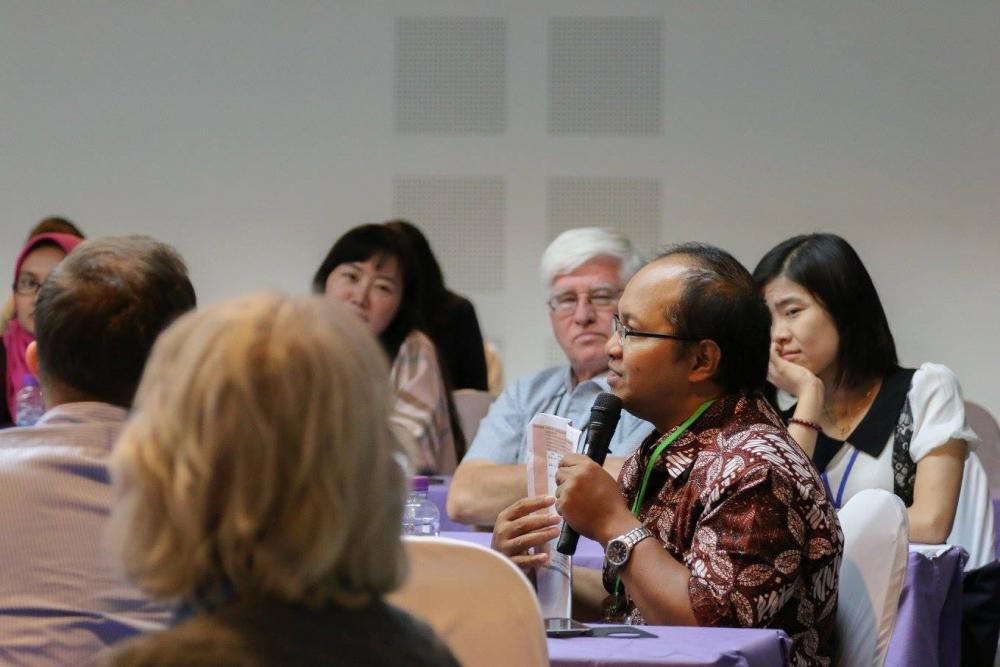 About 150 people had initially expressed an interest in this conference. After the first selection 70 abstracts were invited to be submitted as full papers. Of these 70, 51 were accepted forpresentation during the conference. Covering a wide range of topics, the presentations were organized in three plenary sessions – "Sustainability Redefined," "Strategies for Commons Transition and Sustainable Development" and "Learning the Practice of Rural Development Professionalism: Challenging the Professional 2.0," – and 15 panel sessions ranging from "Mindfulness, Religion and Social Communication" over "Small, slow and big data for Sustainable Development" to "Migration, Ethnicity and Identity," with special case studies on Thailand, Myanmar and China. After further peer review, a selection of the best conference papers will be published either as special issues in academic journals or considered for book series.
In addition, Action4Climate winning films were showcased in one afternoon as well as presentations on "the Mekong Land Forum", "Indigenous People and Communication", "Migrant Workers and Communication", and "Human Trafficking."
About 100 participants, coming from ASEAN and other Asian countries like China, India, the UAE, and Taiwan, in addition to scholars from the US, Canada, Australia, France, Germany, The Netherlands … engaged in lively discussions on the above topics.
The following questions guided the discussions and deliberations:
                     a) How do you make a complex subject like sustainable development or climate change simple and understandable to a general audience?

                     b) What are the main opportunities and challenges you face when trying to communicate to your audiences on the need for sustainability or climate action?

                     c) What is communication for sustainable development, or climate change communication doing right? What is it doing wrong? How can it be more effective?

                     d) What kinds of messages have you used that successfully motivated and engaged people to care about sustainable development or climate change?

                     e) How do we bridge the gap between communication for social change awareness and action?

                     f) How can what you do be scaled up and replicated?

                     g) How do we broaden the discussion and diversify the movement?

                     h) How can we communicate the outcomes of our conference and what needs to happen next
to citizens around the world?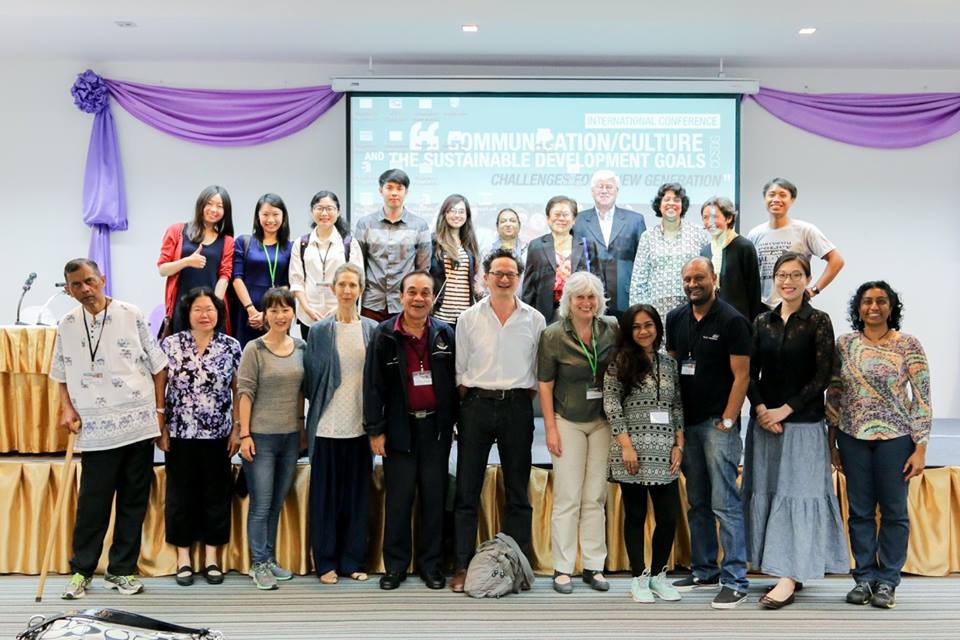 Prof. Jan Servaes presented a set of recommendations for a research/academic agenda for the future of the UN Sustainable Development Goals (2015-2030): https://www.linkedin.com/pulse/start-sustainable-development-goals-academicresearch-agenda-servaes?trk=prof-post
The conference was hosted by the Regional Center for Social Science and Sustainable Development (RCSD) at Chiang Mai University in partnership with the Asian Congress of Mass Communication (ACMC), BGreen Project, Connect4Climate, RMIT Melbourne, Southeast Asia Research Centre (SEARC) and the Department of Media and Communication at City University of Hong Kong, and Wageningen University. Additional support was received from UNESCO's Communication and Information Sector both in Paris and the Bangkok office, and the United Nations Development Programme (UNDP).