The Italian Government, through its Ministry of Environment, signed an agreement with the Ministry of Environment of the Kingdom of Morocco, the host country of COP22 at the end of this year.  The agreement was reached during a bilateral meeting between the Italian Minister of the Environment, Gian Luca Galletti, and his Moroccan counterpart Hakima El Haite.
Galletti said in a statement: "This agreement comes at a crucial moment of the global fight against climate change. While many governments gather in New York to sign the Paris Agreements, Italy reinforces its support of North African states in their transition to a sustainable and inclusive development model. Italy is also contributing to the launch of an economy less dependent on coal."
The agreement is the result of an intense negotiation and it envisions bilateral cooperation on different topics, including governance, integrated management of coastal areas, the prevention of hydrocarbon pollution, the promotion of green production, environmental education for sustainable development, integrated management of solid waste, and the use of economic means to promote sustainable development.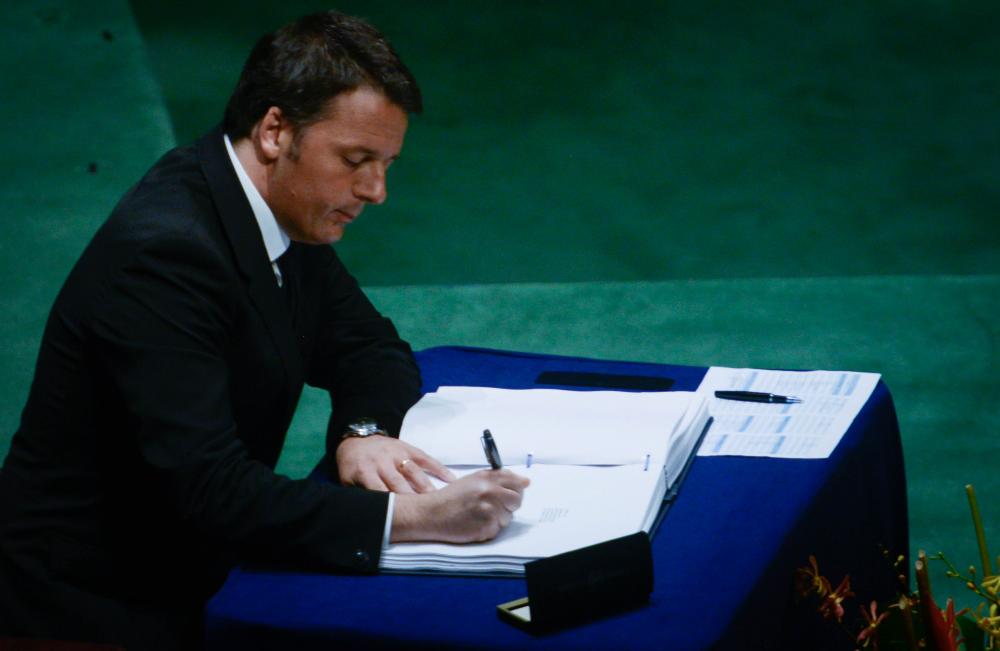 Close perspective of the Prime Minister of Italy Matteo Renzi signing the Paris Agreement at the General Assembly of the United Nations - Photo: Leigh Vogel
On April 22 (International Mother Earth Day) all eyes were on the United Nations (UN) in New York City, US. More than 170 world leaders signed the Paris Agreement on climate change. One of the peak moments of the ceremony was the speech of the Hollywood star and United Nations Messenger of Peace Leonardo DiCaprio: "This is the body that can do all it's needed. The world is watching you."
The signing ceremony marked the first step toward ensuring that the Paris Agreement enters into force as early as possible. Countries will now need to adopt the agreement within their own legal systems, through ratification, acceptance, approval or accession.
The
Paris Agreement
is a universal pact that sets the world on a course to a zero-carbon, resilient, prosperous and fair future. While the Agreement is not enough by itself to solve the problem, it places us clearly on the path to a truly global solution.