clim@ is a competition for innovative businesses or projects in the fields of sustainable energy or resource efficiency that have the power to change current practices through innovative approaches to financing, new business models or novel concepts to raise awareness and mobilize new target groups to take climate action.
Outstanding applicants will be mentored by qualified experts, present their projects at a pitching event in Frankfurt and attend the GGF Sustainable Future Forum in June 2018, a gathering of 200 international stakeholders of the climate finance community organized by the Green for Growth Fund (GGF), where three grand finalists will pitch their projects to receive total EUR 30,000 in awards.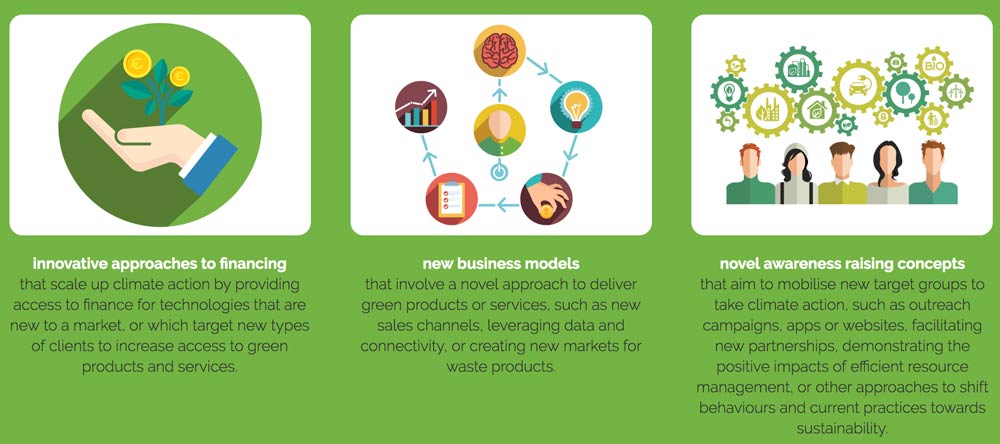 Who can apply?
Applications are open globally for any business or organisation that demonstrates a relevant track record with a business or project in the fields of sustainable energy or resource efficiency, such as: 


​  
established companies


​  
experienced start-ups


​  
non-governmental organizations (NGOs)


​  
universities or research institutes


​  
other relevant organisations
Entries should have a connection to the following themes:


​  
renewable energy solutions

​

​  
energy efficiency/conservation

​

​  
sustainable use of resources: including improved water, waste and material management
The competition welcomes a wide range of entries. If you are unsure, you can also
contact
the GGF team to confirm.
Application deadline: April 15, 2018 (midnight CET)