For promoting the knowledge, awareness, and value of nature, the Miguel Alemán A.C. Foundation honored Cinema Planeta (which for nine years has organized, among other activities, Mexico's environmental Film Festival and the International Film Festival) with the XXII Environment and Ecology "Miguel Alemán Valdés" award.  
During the ceremony, Miguel Alemán Velasco, president of the Foundation, considered this as one of the main example programs that aim to stimulate talent and contribute to the improvement of the environment in the world.
Considering that Mexico's natural resources are one of the main tourist attractions of the country, Alemán Velasco recognized the work of Cinema Planeta A.C., for its commitment towards environmental education and literacy and for its creativity to effectively communicate messages on ecological and sustainability awareness.
"There is an imminent threat to the future of our planet. Ideas are free and no wall can restrain nor limit them, but (Donald) Trump, the president of the United States, puts the planet at risk by wanting to revitalize the coal mining industry in his country. The negative impact of this action will have irreversible repercussions on the environment (…). Cinema Planeta, please, send him a few short films", said Velasco.
The event celebrated the restless work of Cinema Planeta's founders: Gustava M. Ballesté and Eleonora Isunza de Pech, who share "a strong message in favor of reversing the damages caused by climate change", added Alemán Velasco.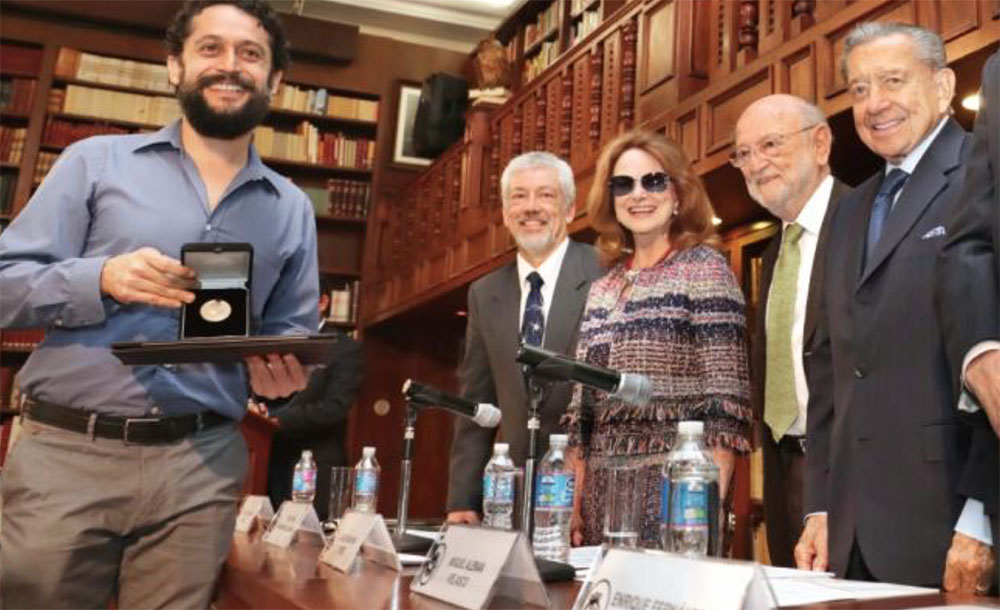 Representing Cinema Planeta, Gustavo M. Ballesté receives the Environment and Ecology "Miguel Alemán Valdés" Award from Miguel Alemán A.C. Foundation. Photo Credits: Juan Boites/El Universal 
Convinced that cinema, art, and science are the best combination to raise awareness of issues of collective interest, Cinema Planeta seeks to emphasize the conservation of Planet Earth.
In this regard, Ballesté mentioned that the initiative was born in 2009, captivating the interest of nine thousand people. "In 2012 we reached the twenty thousand spectators and in 2016 we registered seventy-four thousand attendees to the different activities that we carried out throughout the year, which means that there is interest in these issues."
Cinema Planeta, which is part of the Green Film Network, a network of worldwide environmental festivals, organizes not only Mexico's International Film and Environment Festival, but it is also responsible for cine-debates and tours across the country's twenty-five States".  
According to the co-director of Cinema Planeta, its work does not only consist in exhibiting movies, but this year they took a chance and went the extra mile to produce its own film called "Nahui Ollin, Sol de movimiento" (premiered at FICG32 – Guadalajara International Film Festival – last March), which will be opening the ninth edition of the festival next May 2nd.
José Sarukan, President of the award committee, mentioned the importance and social value of this prize "We are aware of the importance of educating society to care for the environment. This is not a problem of biologists or geographers, or any other related profession, this is a problem concerning everyone", he said.
"Miguel Alemán Valdés" Award was instituted in 1992, as a decision of the member of the foundation, to honor the memory of Miguel Alemán Valdés and to continue with his legacy of social commitment for Mexico.
Its main goal is to encourage the advance of knowledge towards respectfully treating the physical and biological environment of the country, by recognizing the scientific and technological work put into action for the conservation and the sustainable management of the country's natural resources.
Banner Photo Credits to Style by Shockvisual
Cinema Planeta recibe Premio de Ecología y Medio Ambiente "Miguel Alemán Valdés" (en español)
Por promover el conocimiento, la conciencia y el valor de la naturaleza, la Fundación Miguel Alemán A.C. otorgó el XXII Premio de Ecología y Medio Ambiente "Miguel Alemán Valdés" a Cinema Planeta, que desde hace nueve años organiza, entre otras actividades, el Festival Internacional de Cine y Medio Ambiente de México.
En la entrega, el presidente del Patronato de la Fundación, Miguel Alemán Velasco, indicó que este es uno de los principales programas con los que tratan de estimular el talento y contribuir a mejorar el entorno ambiental del mundo.
Tras destacar que las riquezas naturales de México son uno de los principales atractivos turísticos del país, Alemán Velasco reconoció el trabajo de Cinema Planeta A.C. por su contribución a la educación ambiental y su creatividad para comunicar a través de diversas formas, mensajes efectivos sobre conciencia ecológica y sustentabilidad.
"Hay una amenaza inminente al futuro ambiental del planeta. Las ideas son libres ningún muro puede contenerlos ni limitarlos, pero (Donald) Trump, el presidente de Estados Unidos, pone en riesgo al planeta al querer revitalizar la industria minera del carbón en su país, cuyo impacto negativo repercutirá en el ambiente (...) Cinema Planeta envíenle unos cuantos cortometrajes, por favor", expresó.
En el acto se celebró la labor de los directores fundadores del Cinema Planeta: Gustavo M. Ballesté, y Eleonora Isunza de Pech, quienes mediante puestas en marcha comparten "un mensaje profundo en favor de la reversión de los daños que genera el cambio climático", agregó Alemán Velasco.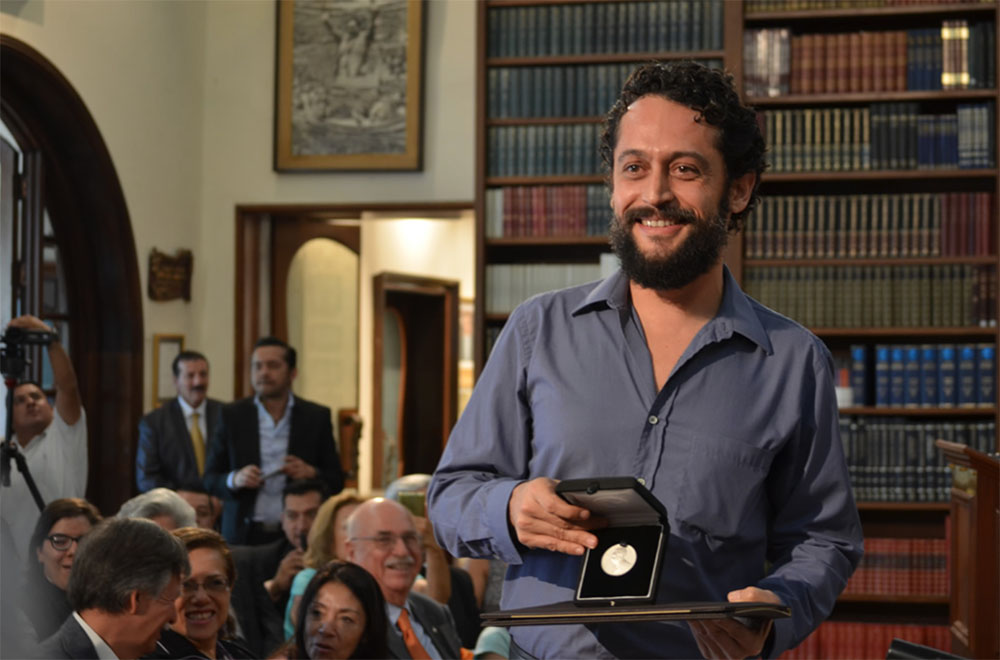 Gustavo M. Ballesté recibe el Premio de Ecología y Medio Ambiente Miguel Alemán Valdés a nombre de Cinema Planeta. Créditos: Style by Shockvisual
Convencidos de que el cine, el arte y la ciencia son la mejor combinación para generar conciencia de temas de interés colectivo, Cinema Planeta busca hacer énfasis en la conservación de la Tierra.
Al respecto, Ballesté refirió que fue en 2009 cuando nació esta iniciativa, generando el interés de 9 mil personas. "En 2012 ya llegábamos a los 20 mil espectadores y apenas en 2016 registramos 74 mil asistentes a las diferentes actividades que realizamos a lo largo del año, lo que significa que sí hay interés por estos temas".
Cinema Planeta, que forma parte de Green Film Network, la red de festivales ambientales de todo el mundo, organiza no sólo el Festival Internacional de Cine y Medio Ambiente de México, sino también cine-debates y tour que se realizan en 25 estados de la República.
De acuerdo con el codirector de Cinema Planeta, su labor no radica en sólo exhibir cintas sino que también se han aventurado a hacer una película "Nahui Ollin, Sol de movimiento", que inaugurará la novena edición del festival, el próximo 2 de mayo en el Parque Ecológico Chapultepec de Cuernavaca, Morelos.
Sobre la importancia de este premio, José Sarukan, presidente del comité que otorga la distinción, compartió que el reconocimiento busca estimular acciones que sensibilicen a la sociedad sobre el efecto que tiene su modo de vida.
"Estamos convencidos de la importancia de educar a la sociedad para cuidar el medio ambiente, porque no es un problema de biólogos o geógrafos, o de alguna profesión cercana, sino es de todo el mundo", señaló.
El premio "Miguel Alemán Valdés" se instituyó en 1992 por decisión de los integrantes de la fundación para honrar con él la memoria del Lic. Miguel Alemán Valdés y para continuar con su legado de compromiso social por México.
Su objetivo es además incentivar el avance del conocimiento para el cuidado del ambiente físico y biológico del país, al reconocer la labor científica y tecnológica puesta en práctica en acciones para la conservación y el manejo sustentable del capital natural del país.