The bus swayed back and forth, traveling down a narrow dirt road with so many potholes that it looked like a WWI battlefield. There was green everywhere, but not from the tall Amazonian trees that you would expect to see here in the heart of Brazil. Instead, huge soy fields lined both sides of the road for a good part of the 9-hour trip. It was hard not to take notice.
Our air conditioning was broken and dust blew in from the open windows as we sped towards the Xingu River, trying to get there before the rain. It was futile. Soon enough, rain was pounding on the old dirt road, turning the golden orange dust into a dark brown mud. At this point, the huge probability of getting stuck in a pothole meant that the driver couldn't slow down. So, we pressed on.
Why were forty people shaking around in the back of an old bus in the middle of the Brazilian Amazon? Because we had all been invited to a meeting called by one the world's most important indigenous leaders: Chief Raoni.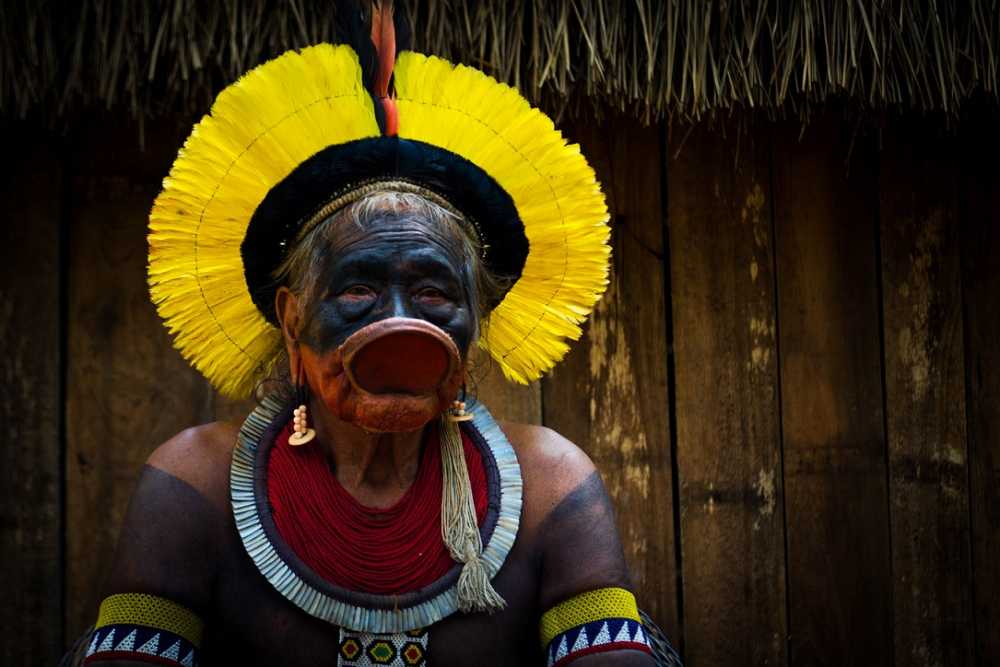 Chief Raoni in ceremonial war paint. (Photo by Rafael Forsetto)
Raoni Metuktire is a 90-year-old indigenous chief of the Mebengokre (Kayapó) people living in the state of Mato Grosso, Brazil. He rose to international fame in the '80s and '90s for his struggle to protect the Amazon and its indigenous population—his face and emblematic lip plate were all over the media of the time. Since then, he has led a quieter life back in his village, deep in the Brazilian Amazon.
Over the past year, however, Raoni has grown more vocal about the suffering of Brazil's indigenous population and environmental destruction in the rainforest. He has gained momentum once again and is drawing everyone's attention to an Amazon plagued by wildfires, logging and mining. His efforts have resulted in a nomination for the 2020 Nobel Peace Prize. If successful, Raoni, an indigenous man, will become Brazil's first Nobel Laureate.
Rampant deforestation has put Brazil's native population in a critical position. In response, Raoni issued a call this January urging indigenous leaders and supporters to meet at Piaraçu village, on the shores of the Xingu River, to debate and prepare a plan of action to present at Brazil's National Congress.  I was one of the few press observers invited to attend—a 9-hour ride on the rickety bus was a small price to pay to witness this event.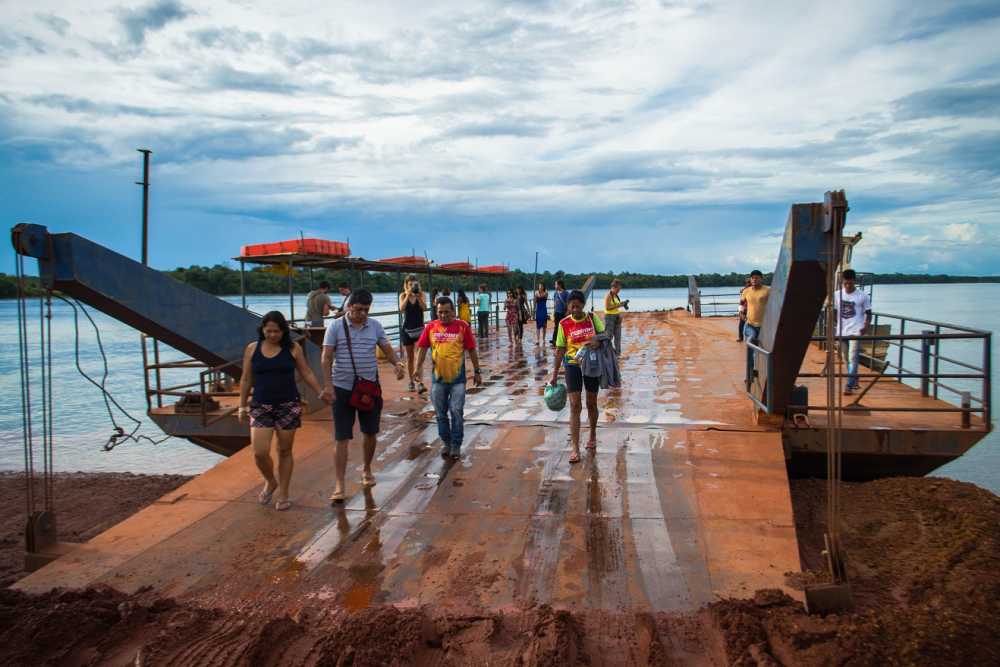 A ferry carried us across the Xingu River. (Photo by Rafael Forsetto)
We finally arrived at the river at about 4 PM. As the ferry floated over to carry our bus across, I noticed boats docking on the other side of the shore. Over 600 indigenous leaders from 47 different tribes had traveled for many hours to be here for the event. You can't ignore a summons from the legendary chief. As a member of the Fulni-ô tribe told me: "when Raoni calls, it's important."
This was my first time in an indigenous village and, of course, I was mesmerized. I wanted to see the sights, talk to the locals and learn about their culture. However, it soon became clear that this was no ordinary day at the village. Never before had this many indigenous leaders gathered in the same place. We were witnessing a historic moment in the fight for the Amazon.
The event started the next day. I made my way to the House of Men, a large structure of wood and hay specially constructed for the debates of the next four days. There, sitting cross-legged on a wicker chair (the seat of honor), was Raoni. A 90-year-old man who could easily be in his 60s. Even when sitting down, he was imposing. Sharp eyes, long white hair, perfect posture. War paint decorated his body. He sat smoking a tobacco pipe, waiting for the crowd to settle in and quiet down. Once everyone was there, he spoke.
 "We're not meeting here to plan a war or conflict," the chief said. "We are here to defend our people, our cause, and our land". Raoni spoke in his native language with a Portuguese interpreter at his side. I wished I could understand Mebengokre, because there's always something that gets lost in translation. Even so, I was transfixed. This man has met with some of the most powerful people in the world, and there he was, a couple of feet away from me, speaking to us just as he spoke to them. It seemed as if it didn't matter whether he was at the Élysée Palace or at a local school—his message remained the same.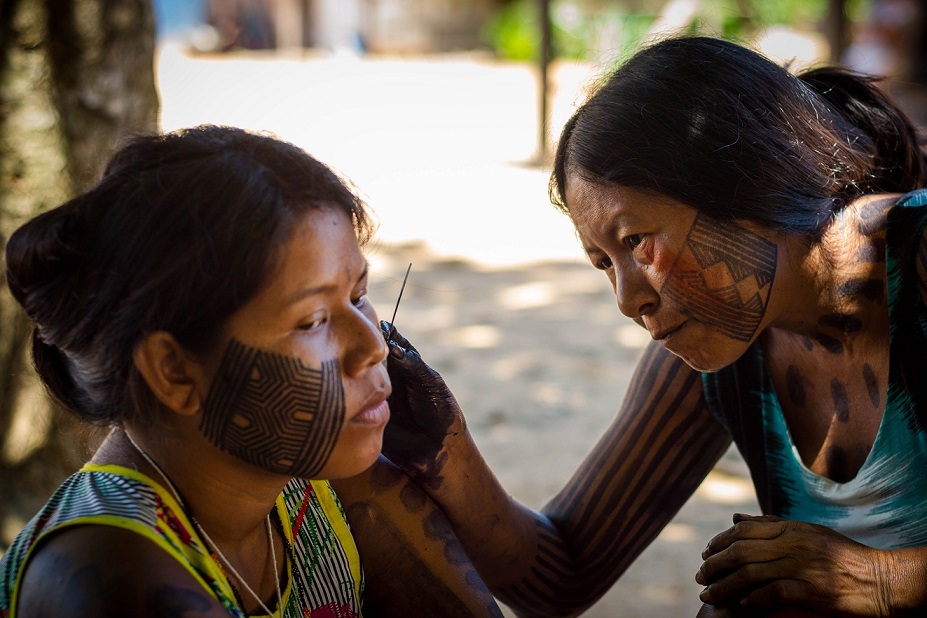 A Mebengokre mother paints the face of her daughter. (Photo by Rafael Forsetto)
The meeting lasted for four days overall, likening itself to official state negotiations. In democratic fashion, all participants who had something to say were free to step up and make their voices heard. The indigenous peoples exercised mutual respect throughout the meeting, guaranteeing that all groups had a chance to speak. But it was the women and youth who really captivated me.
Most of the indigenous tribes represented at this event have patriarchal structures, with a male chief leading the group. However, this didn't deter the women present from sharing their own thoughts—not even slightly. Outspoken and unrelenting in their statements, they made it clear that their mission was the same as everyone else's: to save the Amazon and its peoples from aggressive development policies. When these women spoke, people rushed over to the stage and huddled together to hear their passionate speeches on women's roles in environmental protection. I'd be hard-pressed to name a more inspiring moment than the women's roundtable, which featured indigenous women of all ages sharing their stories and demands for a better tomorrow.
Youth participation was also through the roof. Young people all over the world have been bringing new views to the climate movement, and Brazil's indigenous youth are no different. Organized and highly motivated to make a difference, they demanded a seat at the table to make their voices heard. I was most impressed with their ability to communicate, not just verbally, but through digital and social media as well.
Many of them are part of indigenous news organizations or film collectives that seek to share and reinforce their cultures. What really drew my attention, however, was how they're also already passing on their knowhow and teaching indigenous children and teens how to work media equipment and tell their own stories. You can check out some of these youth leaders' work on Instagram at @midiaindiaoficial and @coletivobeture.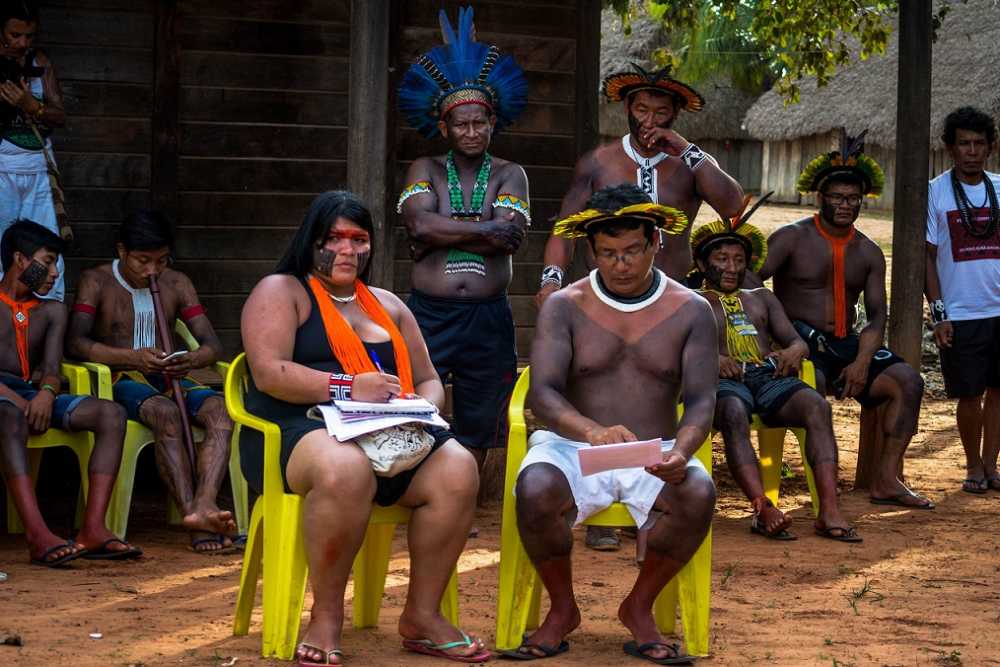 Tribal representatives read the Piraçu Manifesto aloud for the assembled crowd. (Photo by Rafael Forsetto)
As the debates went on, lawyers and volunteers compiled the indigenous demands in a four-page document dubbed the Piaraçu Manifesto. The Manifesto demanded respect, protection and the recognition of Chief Raoni as a spokesperson for the Brazilian indigenous. "We do not accept gold digging, mining, agribusiness and leasing of our lands, we do not accept loggers, illegal fishermen, hydroelectric plants and other projects […] that will impact us in a direct and irreversible way," the document states.
The Piaraçu meeting is now over, but I am honored to have seen it all happen firsthand. I noticed that the indigenous peoples are some of the most engaged participants in the fight to end the climate emergency. By fighting for their home in the Amazon, they're fighting for all of our homes. They are on the frontlines, suffering very real casualties, and it's essential that we stand with them. Let's incorporate the indigenous cause into our climate strikes and raise awareness about their plight. You can help by posting with #raoninobeldapaz2020 #raoninobel #savetheamazon. Chief Raoni's fight is the same as all of ours—a fight for a better future.
Banner and thumbnail images courtesy of Rafael Forsetto.