The 9th competitive CMS VATAVARAN - Asia's largest Environment and Wildlife Film Festival is scheduled for November 2-6, 2017 in New Delhi, India. 
The theme of this edition is "Conservation4Water" with the purpose to invite films and create forums on the inter-connectedness of climate change and water, water struggles in a world dealing with global warming, climate variability, food and health insecurity, biodiversity loss, and environmental damage. The festival and forum will comprise of various programmes with eminent organisations including government, civil societies, corporate, media, institutes, and schools.
Films produced on or after January 01, 2015 are accepted in 13 categories for 21 awards in both national and international sections. All nominated and awarded films will get an added benefit of having their films screened in different parts of India in the travelling editions of CMS VATAVARAN, besides occasions of special screenings in important national and international environmental forums.
Entry guidelines are available on CMS VATAVARAN'S website and the deadline for submitting a film entry is March 22, 2017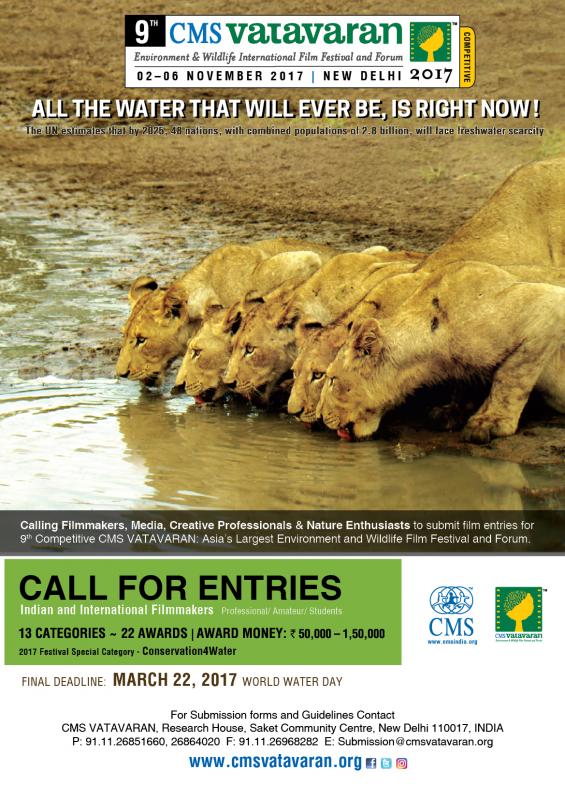 About CMS VATAVARAN
CMS VATAVARAN is a unique initiative of Centre for Media Studies (CMS). In 2002, CMS committed itself to a process animated by a few, really abstract, ideals. Even as the natural world seemed to reach the end of its carrying capacity, environment concerns seemed restricted to a few. CMS took the road less travelled and conceived an innovative idea to address these concerns. The dream was to make environmental concerns a priority through a platform that was not only exciting but also deeply enriching. The aim was to create a platform for practitioners to interact with people to make the entire effort collaboration.
The rich experience of CMS in environmental issues and the urge to go "Beyond Research" sowed the seeds of CMS VATAVARAN – a pioneering international festival of environment and wildlife films. Based on extensive research, this festival (competitive and travelling) was initiated for encouraging environment films and forums that result in perception, practice and policy change.
Today, CMS VATAVARAN festival has become one of the most prestigious film festivals across the globe and has successfully positioned India as a vibrant destination for environment and wildlife filmmaking.
A survey conducted in early 2011 with filmmakers ranked CMS VATAVARAN amongst the top two Environment and Wildlife Film Festivals in the world.