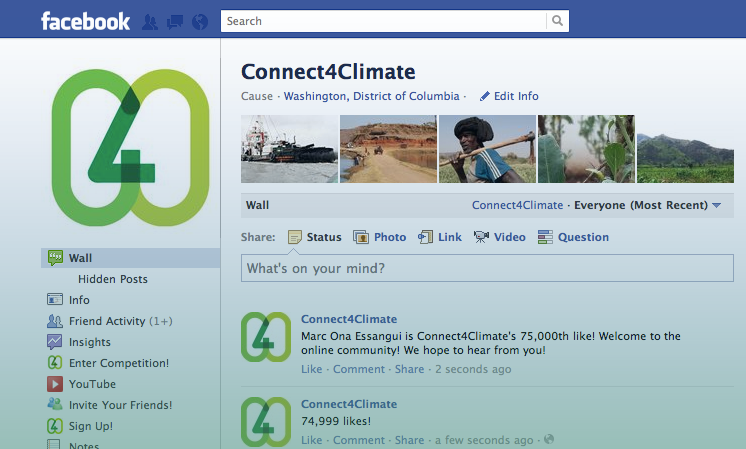 Take a lot at that fancy number on the bottom left. Yes, that's 75,000 fans on our Facebook page as of earlier this afternoon. Crossing the above 75,000 milestone was not an easy task, and we couldn't have done it without the dedicated participation of all of our partners. More than 100 partner organizations make Connect4Climate what it is today. From the World Bank all the way down to individuals like Maurice Kirya. 
Of course, behind the scenes is the tireless team C4C manning the keyboard to keep all of your engaged and passionate about climate change.
Our quest for climate change global domination continues. OK, we are really just looking for you to engage and perhaps along the way, together, as a team, we'll come up with some sustainable solutions. So please invite your friends and join us for this global conversation!
Here are some interesting user data we have collected so far on our 75,000 fans:
1.   On average, there are just over 100 posts about our page per day
2.   Males 11-17 make up a large majority of our visitors (where are you ladies?)
3.   Indonesia, Egypt, Bangladesh, Algeria, and Pakistan round out the top 5 countries from which your followers live (That's quite the global spread!)