Learn
|
Communication
|
Education
Connect4Climate, CRED webinar: the recap
The world demands a global movement to tackle climate change. Civil society, media and advertising companies that stand arm-in-arm with world leaders to enlarge the climate movement.
As a follow on to last year's joint seminar on creative industries, Connect4Climate/Columbia University Center for Research on Environmental Decisions (CRED) held a webinar on May 19 on the real role of creative, media and entertainment and advertising industries in addressing climate change awareness. The issue was set to a panel of climate organization leaders, that included: Elke Weber, from CRED, who facilitated the panel discussion, Kenneth Berlin, CEO of Climate Reality Project, Connect4Climate's Program Manager Lucia Grenna, and David Astley from The Media Alliance.
"We need all possible partnerships. We need more and better campaigns", said Lucia Grenna. The Connect4Climate Program Manager presented the Fiat Lux projection at the Vatican as an outstanding example of how creativity is an effective platform to reach and engage a global audience. Over the webinar, Lucia Grenna highlighted the importance of organizations, private sector, governments and civil society working together in the pursue of a common goal.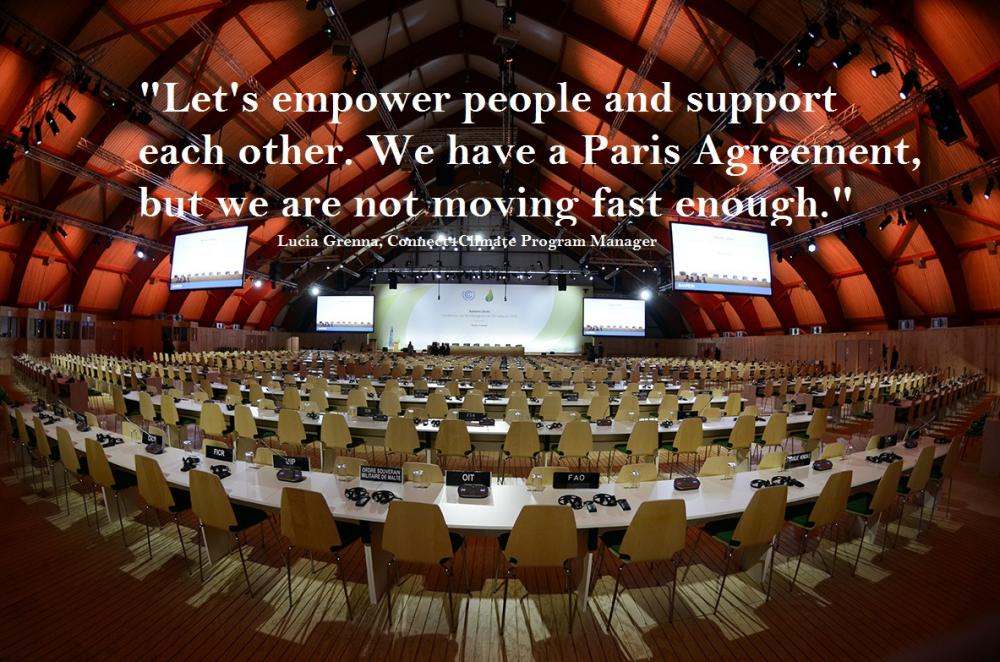 "There's no international enforcement of the #ParisAgreement. We need to monitor the countries", referred Kenneth Berlin President and CEO, The Climate Reality Project.
During the webinar, Kenneth Berlin unveiled the 24 Hours of Reality program for 2016, a global show that gives voice to leaders, musicians, innovators and influencers across world time zones. Hear the online discussion to know what is being prepared for this year's edition. For David Astley it is crucial to reach international celebrities, "because they have a big influence in people", said the Executive Chairman of The Media Alliance. David Astley emphasized the work that the multi-sector partnership organization is doing across Asia raising awareness on climate change, underlining the need of better informed media. On the words of the executive chairman, to tackle climate change, journalists need to be capable to write more knowledgeable and deep stories on how climate change is affecting the region and which solutions are already in place for a more sustainable future. 
"It still a need to bring professionals to Asia to inform media about climate change, for better and impact content", informed David Astley.
The climate leaders discussion on how to engage global creative, media, entertainment and advertising in climate advocacy was summarized by Elke Weber: "action and activation are necessary. One reinforces the other".