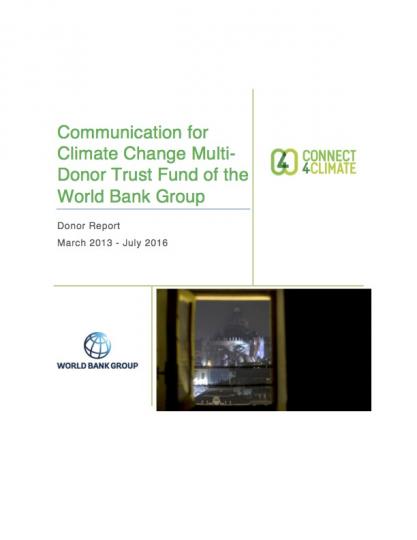 Learn
|
Communication
|
C4C News
This report concerns activities of the World Bank Group (WBG) Communication for Climate Change Multi-Donor Trust Fund (MDTF) from March 2013 through July 2016 (Financial Years 2014, 2015 & 2016).
The overall aim of the Communication for Climate Change MDTF is to complement World Bank-financed operations and initiatives on climate change, by advancing the theory and practice of communication for development in support of climate change awareness.
The main objectives of the MDTF are to:
Raise awareness about climate change and its impacts at various levels: public at large, private sector, and policy and decision-makers
Promote commitment among the public, private sector and policy-makers to take action
Build coalitions for further advocacy efforts
The Communication for Climate Change MDTF grew its reach and impact over the past three years. Many successful activities were completed under each of the three components of the MDTF: Support to Operations, Research and Capacity Building and Advocacy and Fund Leveraging.
From having launched with a photo and video competition targeting African youth in 2011, to running global youth competitions, to building a knowledge network of more than 400 partners, to supporting World Bank operations across the African continent, to organizing high-profile and mass public outreach events that reached a potential audience of 4.4 billion during the UNFCCC COP21 in 2015, the MDTF has grown to be an influential program advocating for climate action to end poverty and promoting climate solutions through diverse and creative means to help promote shared prosperity.
The MDTF complements the World Bank Group (WBG) Strategy to achieve its twin goals to end extreme poverty and promote shared prosperity by building effective and strategic partnerships with the private sector, civil society and foundations focused on climate change. Below are some highlights from each component of the MDTF.