Solomon W. Jagwe is a Ugandan animator with over 15 years experience in the digital arts. He has spent the last couple of years working on an animated film that tells the story of a Mountain Gorilla on a quest to survive. With production of the film still in progress, C4C caught up with Mr. Jagwe over Skype to gain a little more information on his very personal project of using film to engage youth in Uganda and on the continent about the importance of conservation.
Why did you choose to use film as a medium to get your message across?
I chose to use film to deliver the story of Galiwango, because when I was growing up as a kid back in Uganda, the only way that I heard folk tales about wildlife, was through kerosene lamp-lit evenings in the village, with my grandmother. When my grandmother passed away, I realized that, those stories of Wango (leopard), Wakayima (Hare), and Waguludene (Elephant) had most certainly gone to the grave with her, except for what I had in my memory. I figured that the surest way to save that rich heritage of oral tradition, was to carry on the torch and use a medium that was rapidly being accessed all over the world through the web and in movie theaters.
And considering the fact that we the youth are the future consumers and leaders of tomorrow, I had to find a method that would appeal to that demographic. That's why I chose the 3D animated approach. I have been working in this industry since 1998. I have worked for the US defense industry for over 12 years as an animator, and 3D artist, created content for video games, military simulations, cinematics and scenario based training.
Having worked within military circles for that length of time, I developed a soft spot for men and women who lay down their lives to protect and preserve freedom. That experience shaped the way I look at Park Rangers. I see them as the front-line, unsung heroes in the global effort to protect endangered wildlife and the conservation of the habitats they live in. In the Galiwango film, I show the tremendous responsibility the rangers have in fending off Illegal charcoal traders and poachers. There is a war being waged against the forests in Africa (and in South America) where the forests in the Congo Basin and Amazon Basin are threatened by logging and deforestation that is feeding the illegal charcoal trade, especially in the Congo.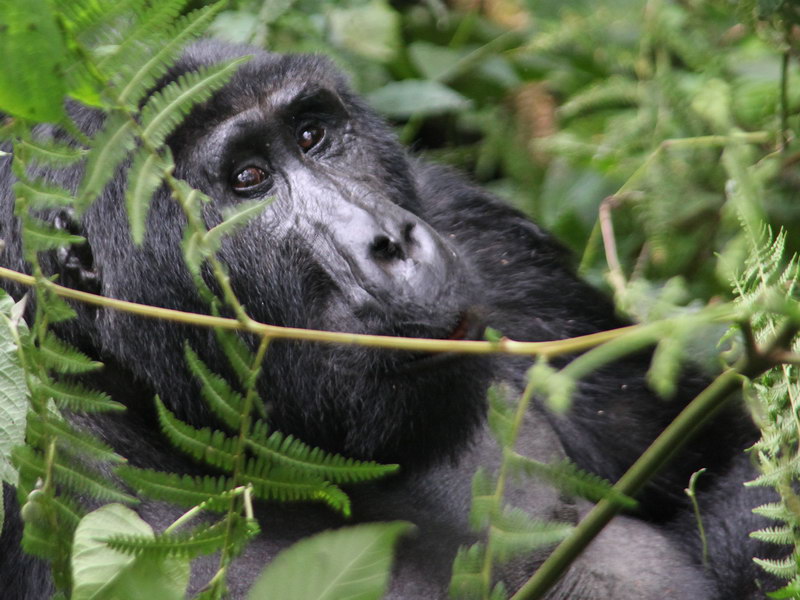 Without the forest cover, the endangered wildlife is stripped bare of its protective habitat and source of food and accommodation. This also opens up the habitats to squatters as communities build closer and closer to the habitat shared by the mountain gorillas and other endangered wildlife. [ Some photos of my mountain gorilla tracking trip to Bwindi to see the Nshongi mountain gorilla group, and to gather reference material for the Galiwango Film ]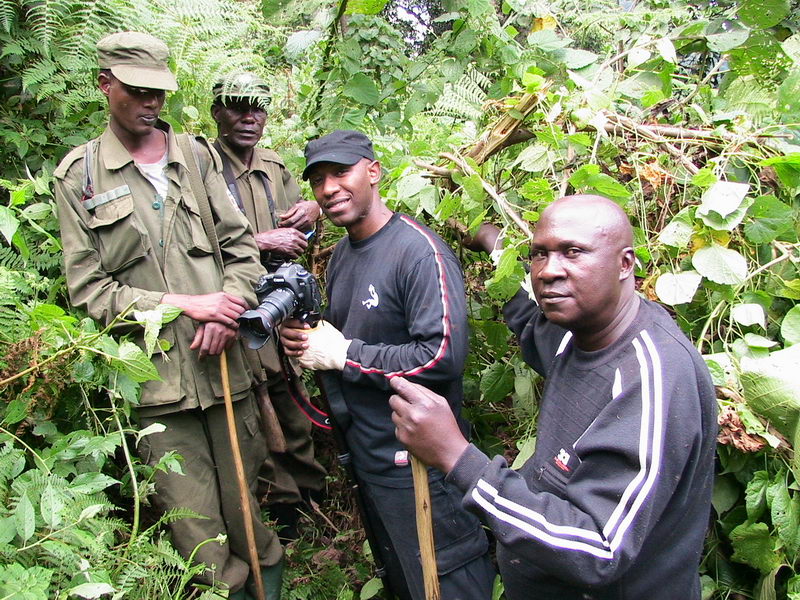 After the tracking, I sat down with 4 rangers and interviewed them about their experience of protecting the Bwindi forest and the mountain gorillas, plus all the other  endangered wildlife. It was an eye opening experience. I met a ranger called Sgt Major. Benjamin Bayenda, an old man who has been serving as a ranger for 24 years. His dedication to the conservation effort inspired me greatly. I promised him that I would share his story and do my best to let the world know about the challenges and triumphs of the rangers. 
Statistics show that 78% of Uganda's population is 30 years and below, and 51% are 15 and below, which means that future Rangers are going to have to come from that demographic. Rangers like Sgt. Major Benjamin are going to have to retire at some point, and its going to be us the youth to carry on that noble torch.  So the way I see it, is that the sooner we educate the youth to develop an endearment to the plight of the endangered wildlife and future of our environment, the better prepared they will be when that calling takes root in their hearts.  I have made it a personal crusade to educate the youth for as long as I have breath.
You have decided to make this a very personal project, it is very unusual given your background to switch to environmental education? What drives you?
My drive to this effort didn't start yesterday, I have been a wildlife advocate since I was a kid. The subject matter is drawn from my longstanding fascination with nature and wild life as a whole. I have always loved studying wild animals, birds and fish. I remember how I used to skip lunch, while in boarding school, and spend that time reading Encarta encyclopedias filled with beautiful images of creatures from all over the world.
Mountain gorillas captured my imagination not only because of their immense size and grace but also by the alarming rate at which they were disappearing from the face of the planet. It was quite sobering and rather saddening to think that these awesome creatures might not be around for future generations to appreciate.
Like my late grandmother, I wanted to tell stories about the struggles and triumphs of these endangered great apes, and shed a light on the struggles and triumphs of the men and women working had to protect them. I tell the story from a captured gorilla's point of view. I weave into the tale a human element of  redemption, interaction with technology, war and humor.
Do you think Uganda's youth and Africa's youth in general are capable of rising to the occasion and putting the environment and the causes of climate change as central issues critical to their future?
I am an ardent optimistic and believer, that there are others like me out there. Young women and men who have a heart for the conservation and preservation of our environment. Through social media, I have been able to reach out and share this message, and I see the numbers rising on the Mountain Gorilla conservationCause Group and the Galiwango Film Facebook page I created with a combined total of 7,218 members/fans. That's why I can answer yes, I do believe the youth are capable of rising to the occasion.
Ever since I shared the Galiwango film project with the public, I have received a number of inquiries from youth in Uganda and Congo on how they can get involved and how they contribute to groups like the Batwa tribe, a forest people that were displaced from Bwindi, a habitat they shared with the mountain gorillas. I am also reaching out to other young leaders like Rica Rwigambwa, who is the head of the tourism and wildlife in Rwanda. She is a young lady who is dedicated to the evironmental protection effort and the conservation of endangered wildlife.
How will you measure impact of the film when it is done? What's next for you after the film?
The impact of the film will be measured in the number of schools I will be able to visit, and the number of workshops I will do as a continued effort to spread the word. My goal is to take it to as many schools as possible to sow that same seed that was sown in my life. Investment in education is a priceless effort and the impact is often made manifest when those children grow up.
Tangible impact will be in the continued contribution to a Ranger Fund, which can already be seen by the donations people are making through the Galiwango Cause Group I set up and the Comic Book based on the film that I wrote and illustrated. That money goes to providing a rehabilitation center for gorillas rescued from poachers, through the Dr. Dian Fossey Gorilla Fund. They also fund ranger patrols that help disable traps in the forests, fend off poachers and illegal charcoal producers.  I donate $5 dollars from every comic book purchased to the conservation effort.
I also believe that there will be an increase in contribution of youth to the effort to help disadvantaged forest people like the Batwa, and raising awareness to the cultural heritage projects like the Batwa Experience Trailin Bwindi, where the natives share the value of protecting a Forest habitat they shared with the mountain gorillas.
To learn more about the film visit the website. http://www.galiwango.com/