Architecture surrounds us. We spend most of our time living in man-made surroundings and artificial landscapes. Therefore, we feel there is immense hidden impact architecture can make. Seen from this angle, architecture becomes a powerful social tool to significantly raise human living conditions and living standards with the objectives of sustainability, equality, dignity, and humanity.
Our aim is to reduce the gap between universities, professional associations, and those working in the field of architecture. We focus mainly on the topics of global architecture and sustainability, and are predominantly engaged in social projects in the non-profit sector.
Our current project, the Nkɔsoɔ House (which means "growth"), started as a submission to an architectural design competition offered by a partner organization, the Nka Foundation. The concept of the competition was to reinvent the African Mud Hut in the Ashanti Region of Ghana. Our response focuses on demonstrating the forgotten potential of using earth for construction. We want to create a showcase for the grandeur of mud construction, to combat the stigma of mud as a poor building material, and to bring dignity back to ecological, vernacular design.
According to the U.S. Environmental Protection Agency, buildings are responsible for 38% of all human greenhouse gas emissions, more than any other industry.  As such, we as architects, feel it is important to rethink our current construction practices and create a movement of change to alter how we build and therefore, how we live.
Low-carbon buildings, such as ours, are designed specifically with the reduction of greenhouse gases in mind. This refers not just to emissions during construction (including the transportation and manufacture of materials), but also during its use (heating, cooling, waste management), during renovations and repairs, and when the building needs to be demolished (the reuse, recycling of its materials).
The Nkɔsoɔ House will be built by hand using mud and earth found at on site, combined with other materials such as wood for framing, and metal roofing purchased from local vendors from the area. This reduces reliance on fossil fuels for long-distance transportation and heavy machinery during construction. For cooling, the building uses, thermal mass, shading and natural ventilation, and once the house is no longer in use, the bulk of the building materials can either be reused or returned safely back to the earth.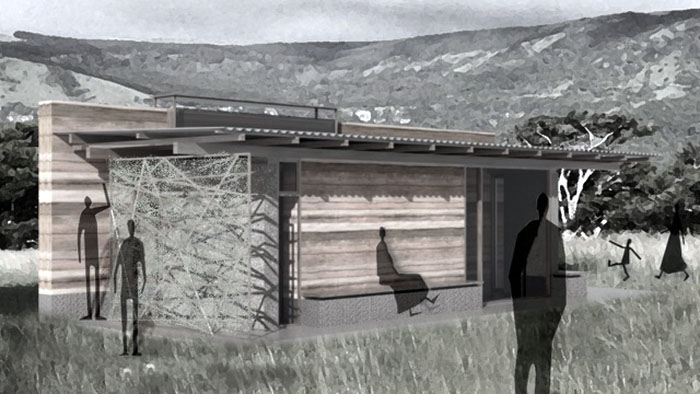 The Ashanti Region has a long history of earthen construction, but this tradition is getting lost due to a misconception of the material and lack of skilled tradesmen. A declining knowledge of sturdy, earth construction often leads to poorly built buildings which further tarnish the image of earth as the valuable material it can be. Although it is estimated that nearly half of the population of the world lives in buildings constructed from earth, it still carries a stigma associated with it - that it is a fragile material, meant only for poor, rural communities. It is easily recognizable to see in many rural areas - as villagers increase their incomes, their housing types change from simple earthen structures, to fired brick or concrete block. Also visible, is the toll this takes on their surrounding communities: most tellingly deforestation and pollution.
By means of an international workshop to build the Nkɔsoɔ House, we are attempting to stimulate the local architecture and the local economy by providing a case study house for capacity building in the local community. Bringing together people from different countries, cultures, levels of knowledge, and backgrounds, we strive to provide a platform to create international experiences and to build a network (both professional and non-professional) beyond borders.
We aim to raise awareness of two types of low energy intensive building techniques: rammed earth and sun dried adobe brick. Rammed earth construction involves compressing a mixture of damp clay, sand, and gravel into a removable formwork. The mixture is poured in to the formwork in layers and then compacted using manual or machine driven tampers. Adobe, one of the earliest known materials used all over the world, refers to a mixture of earth (sand, silt, and clay) and an organic fiber such as straw. Generally, the mixture is pressed into a brick form and then out in the sun to dry. We will be using a manually powered compression block machine to form our bricks. This will help keep the bricks uniform in size and almost doubles their compression strength.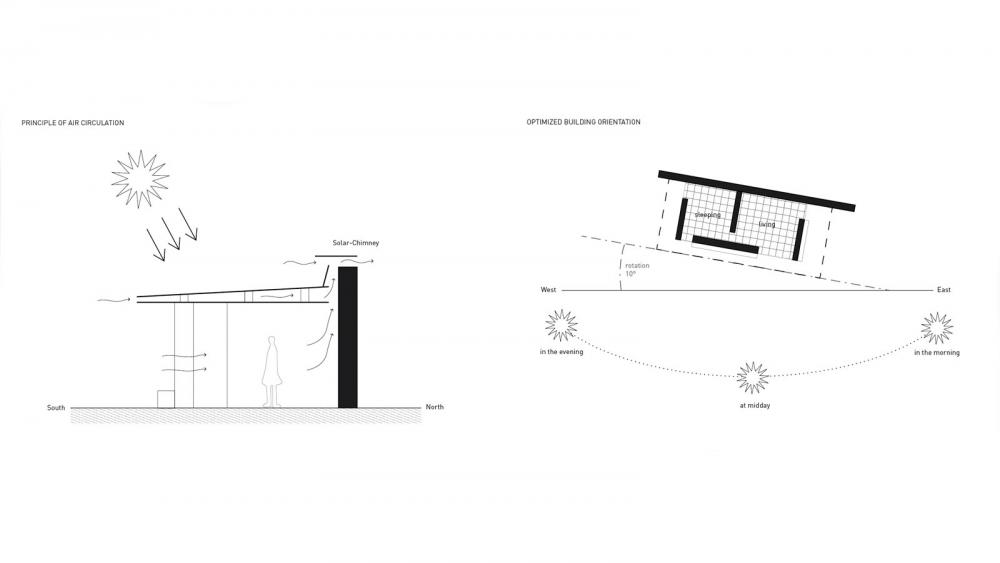 In addition to using low energy construction techniques, we have optimized our design for the local climate using building orientation, shading, wall construction that uses the solar chimney effect, and a double layer roof design that allows for increased air circulation. Rammed earth construction has the benefit of high thermal mass (it absorbs heat during the day and releases it at night) to help cool the building, and can effectively control humidity.
Our workshop will have an impact on several levels:
Economically, it highlight local community building materials and building techniques at hand that allow for improved living standards without huge financial investments.
Ecologically, the case study house embodies a model building constructed out of local, natural, and renewable materials. By optimizing the building layout for the climatic context, it helps to reduce energy consumption and increase interior comfort.
Socially, the case study house translates traditional building techniques into contemporary architecture giving people dignity and vision, by negating the stigma of mud as a building material for the poor.
Combining international participants and involving members of the local community, the workshop helps to bring people together and fosters international understanding, as well as sharing ideas and knowledge about modern earthen construction techniques.
Taken as a whole, the project on hand embodies a comprehensive sustainability approach providing a social, ecological and economical response to local needs and local potentials.
RAUMGESCHICHTEN e.V. is a newly formed, non-profit organization working in the field of international urbanism and social architecture. We are a group of 10 members of various educational backgrounds from Germany, Egypt, India, and USA who all share a strong commitment to sustainable global architecture.
To learn more about our project, visit our blog at http://raumgeschichten.blogspot.de/. If you'd like to help support our project financially, please go to www.betterplace.org/p31124