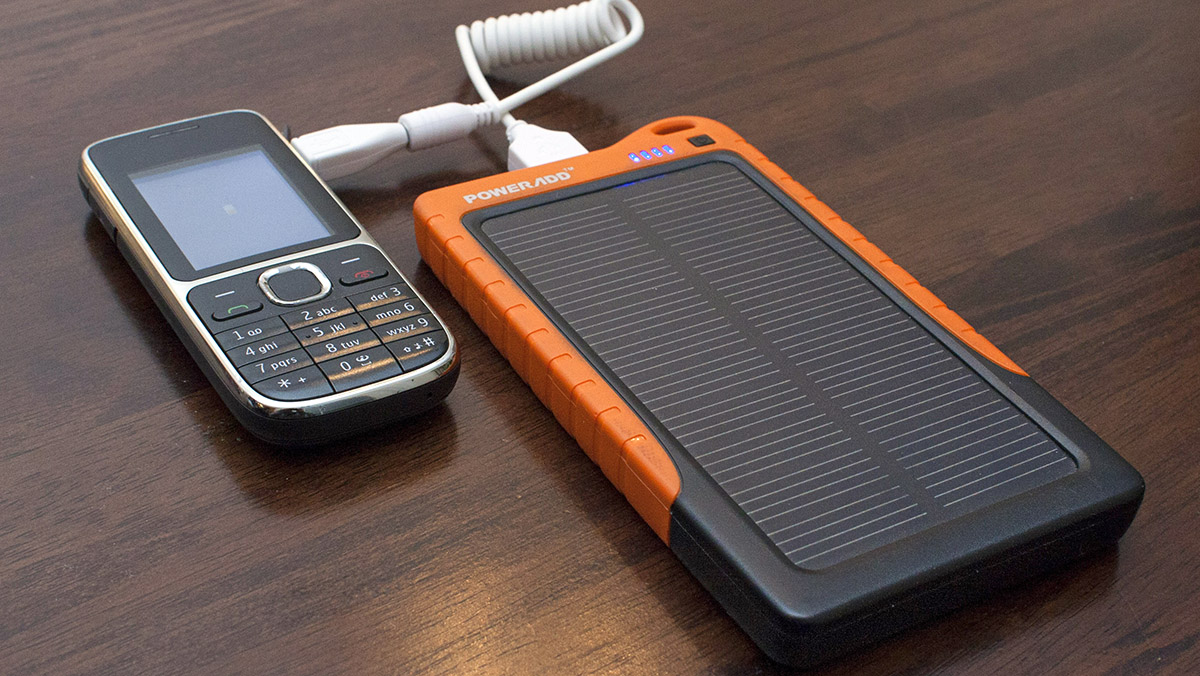 Solar power is becoming an increasingly attractive and sustainable energy option around the world, and one without the environmental costs. Many have the misconception that photovoltaic (aka solar) power is a less effective source of power and beneficial only for environmental reasons, but that is simply not the case. Besides replacing dirty energy, which contributes to pollution and may add to the World Health Organization's statistic that one in eight deaths are related to pollution, photovoltaics also provide real economic value. Using photovoltaic and energy efficient technologies in developing nations is ideal for many other reasons: the portability of photovoltaic setups, the high value provided by many low-power consuming devices, and the increasing affordability of photovoltaics.
Recently one of the world's largest renewable energy companies, SunEdison, announced plans to bring electricity to 20 million people in the developing world by 2020. While the goal is notably ambitious, what makes it unique is their plan to use micro-grid solar-power. Instead of using large central power plants and extending the existing grids out to more rural areas, SunEdison is building small solar installations in each of the targeted communities. This saves on the immense cost of stretching and maintaining power grids, and enables areas outside of grid range to have access to electricity.
SunEdison offers a good example, a path governments and investors would be wise to follow. Currently in many developing nations, the only widely available and portable power sources are gasoline-fueled generators. Not only are generators expensive to purchase and operate, but they emit carbon monoxide. They are often run inside homes to prevent theft or because of inclement weather, making carbon monoxide-related deaths common. Furthermore, kerosene lanterns used for lighting also are expensive to run, and pose their own health risks.
Although photovoltaic installations and solar lanterns can sometimes cost more initially, they almost always easily pay for themselves with savings on fuel costs. While grid-based power can be a reasonable alternative in urban areas, it lacks portability to rural areas, which more often need electricity. Often the main grid is too far away to extend for a reasonable cost, and conventional power plants operate on such a large scale that they're not affordable to a single community.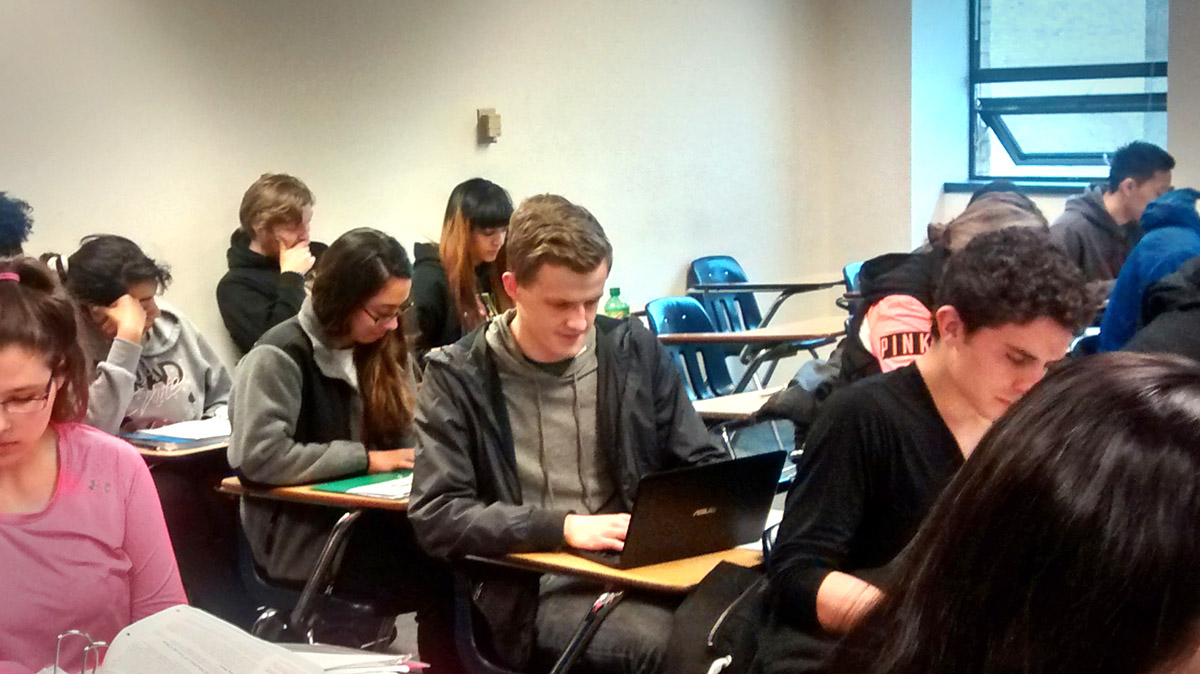 Mark Schellhase in class at Montgomery College
One key element to any strategy for stimulating economies through solar power is targeting the most valuable power needs, and using energy-efficient technologies. Fortunately, the most significant needs are already ones that either consume little power by nature, or have energy conserving options available. These would include cellphones, laptops, and lights. Cellphones have already had an amazing impact in emerging economies around the world. They enable commerce and communication in ways that were previously impossible for many. They can also serve as a gateway to Internet access, which opens up other possibilities.
After hearing an outspoken critic of photovoltaic usage claim that a $100 solar panel couldn't achieve more than powering a lightbulb for a couple hours, I was curious to see what I could accomplish with even less money. I decided to purchase a $20 solar charger with a built in battery, and use it to charge my phone for a couple weeks. I was surprised to learn that by charging the solar chargers internal battery in the day, and plugging my phone into it at night, I could easily use it as my everyday phone charger. If this type of charger was made available throughout developing nations, people would have a reliable and cheap way to charge cell phones.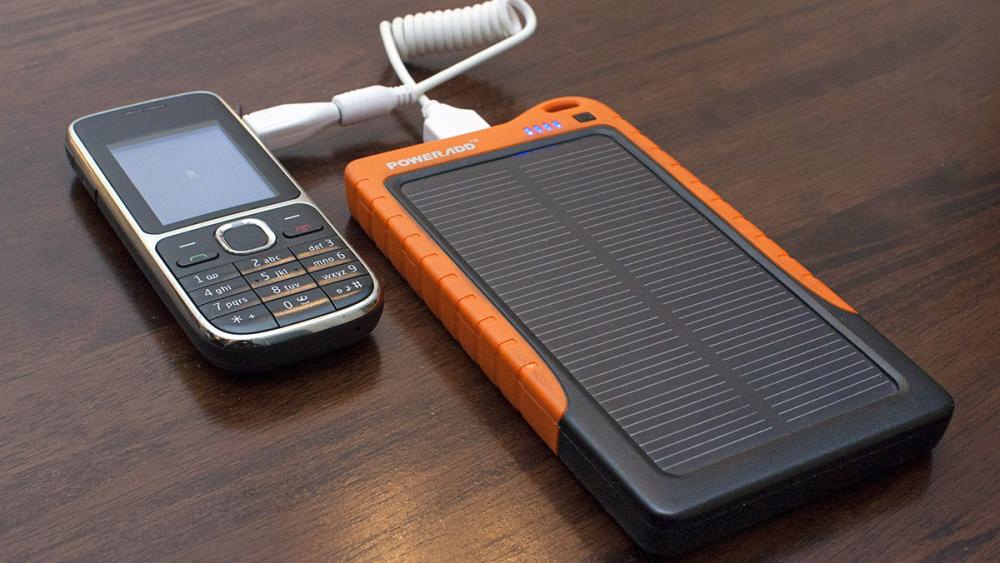 Mark Schellhase decided to buy a solar charger for his phone
Mobile phones have already been instrumental in promoting economic growth in developing nations by facilitating mobile banking, remote transactions, and the efficient exchange of information. Enabling more people to use them is the next logical step in continuing a great thing. It's also important to promote energy-saving alternatives to more electricity-intensive devices. A lower-end solar setup might only be able to power incandescent bulbs for a couple hours, but with LED bulbs that demand a fifth of the power, the need for power completely changes. Developing nations have the chance to beat their wealthier counterparts to a place where everyone ultimately needs to be—a low-energy consumption model of electricity with long-term sustainability.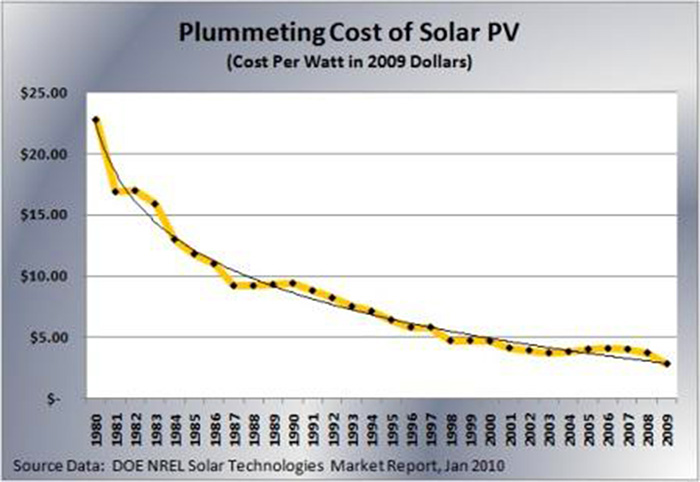 Solar prices have dropped over teh last 30 years
Lastly, it is important for governments, investors, and policymakers to remember that photovoltaics are rapidly decreasing in cost. The cost per watt of photovoltaic unit is less than a hundredth of what it was in 1977, and the price is dropping every year.
The portability and the ongoing reductions in price have an economic case for using photovoltaics, even apart from its clear environmental benefits. It's time to stop thinking of solar power as only an  environmentally sensitive option, and start accepting it as a player in the fight for economic advancement, and sustainable power for all.
Mark Schellhase is pursuing a degree in Computer Science at Montgomery College, in Rockville, Maryland, currently enrolled in the Introduction to Sociology class. Interested in finding technological solutions to social problems, he co-founded an organization working to create a system for educational delivery in the developing world. In his free time, he loves roasting and brewing coffee.