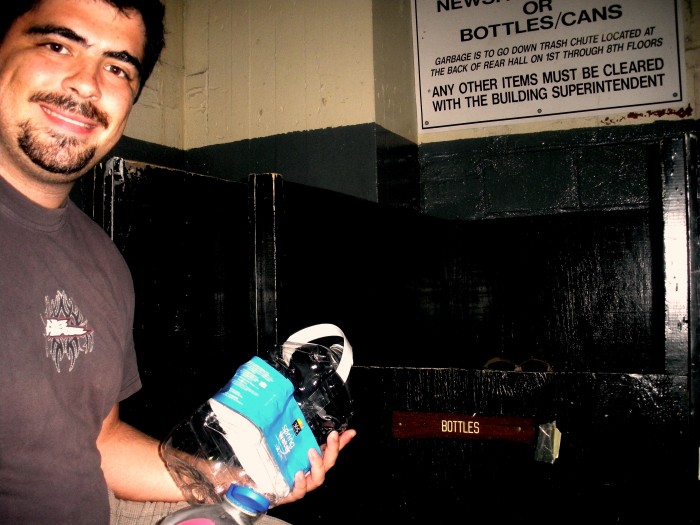 Gerardo saving the environment, one recycled bottle at a time
For me, working for Connect4Climate is not just about coming into the office every day at 9am and get out at 6pm. This is not that kind of job that once you are at home you feel "disconnected" from what you did all day: working for the environment means that I embrace the belief that every gesture can make the difference in mitigating my footprint on the planet.
How can I sensitize people if I'm the first to act in the wrong way?
Mahatma Gandhi said, "be the change you want to see in the world." What a perfect statement to synthesize my vision of the role that every citizen has to defend our mother earth!
More than fifteen years ago, I started to reduce my footprint recycling my household waste, but let me tell you something:  this habit wasn't an "innate" part of my behavior, it wasn't part of my "childhood manners" that my parents taught me.

I was born in a small coastal town in the South of Italy called Salerno, which is actually one of the top Italian recycling cities.
Fifteen years ago it wasn't so, my region suffered from huge waste management problems. This led my region to several collapses of the entire waste system (do you remember Naples invaded by trash?). I imagine "yes".
People didn't have the tools or the knowledge to "enter" into the recycling habit until Salerno's city council financed a massive infrastructure plan to open new recycling centers and empower people through some capillary communication and awareness programs.
After that even my Grandma (90 years old) shouted at me "this bottle goes to the plastic bin and this goes to compost bin, idiot!"

 Those radical changes that I experienced prove that if you give to the people the right tools, they'll understand "WHY" they need to change behavior.
After all these years, even if I'm living in another continent, for me it is impossible not to recycle my trash!
It became an automatism, a good one.

I have no doubt that informing and empowering people to action in their everyday life is the key to protect our children's future.

We do not need to wait for another law to pass or for another high profile ONU meeting, the planet needs your every day actions!
I invite you to start today.