At C4C we want to make your voices heard by the key actors in climate change policy. With that goal in mind, we set out to have a presence at COP17 in Durban, through participating in or hosting five interactive events that would allow us to showcase your messages on climate change issues and actions. The variety in scope of C4C's events in Durban helped to amplify the voices of our community amongst both current and potential partner organizations as well as youth delegates who were active at the conference. Having events both in and outside of the security perimeter meant that audiences for the C4C events included both accredited delegation members as well as press, NGOs, academics, private sector, and concerned individuals. You can find more information on each of our events at COP17 below.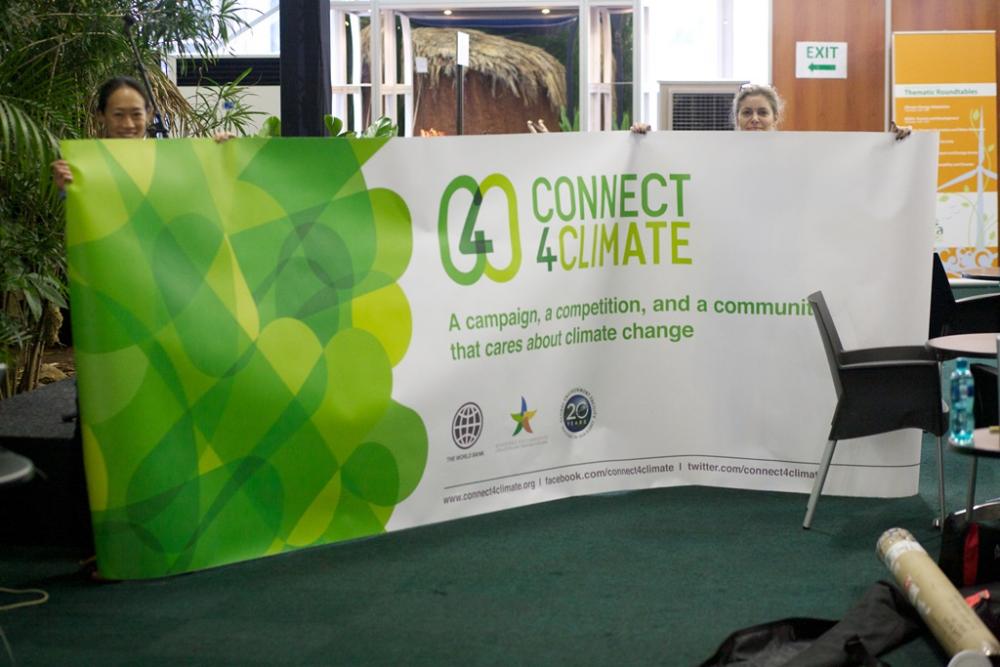 C4C delegates unfurling a banner in the Africa Pavilion at COP17.
Climate Change Communications Day
Hosted jointly by C4C partners Internews and IIED on December 1, 2011 at the Southern Sun Elengani Hotel, Climate Change Communications Day was the first ever full-day public forum on communicating climate issues organized by and for journalists at an international climate summit. Panelists and presenters at the event explored innovative ways to explain the science and challenges of climate change, including using religion, films, business, and technology to make climate change stories more relevant to local communities. A session on how to use online games to explain the complicated subject proved especially popular.
Journalists at the event emphasized the need to scale down their reference frames – to turn this global issue into local stories by humanizing them. In discussions that reflected both traditional tensions and the rapid changes sweeping the media field, journalists debated to what extent they should allow advocacy into their reporting. There was, however, a general agreement that the mainstream media has failed to convey the urgency of the situation.
More than 170 participants attended Climate Communications Day, which was organized by Internews' Earth Journalism Network (EJN) and the International Institute for Environment and Development (IIED). Among the journalists attending were the 19 Climate Change Media Partnership (CCMP) Fellows from 15 countries brought to the UNFCCC COP17 Climate Summit in Durban.
Climate Communications Day concluded with a closing panel on the role of governments and multilateral institutions, with a focus on Article 6 of the UNFCCC which enjoins member states to "promote and facilitate… public awareness programmes on climate change and its effects." C4C Program Manager Lucia Grenna participated on the panel and presented the Connect4Climate initiative as a new model for listening and amplifying voices from the local level to a global audience in an effort to communicate climate stories in a more meaningful way.
C4C, the World Bank, and the Italian Ministry of Environment were recognized as sponsors of the event, with logo recognition on collateral materials provided to the participating journalists. C4C banners were on display in the main hall of the gathering.
Climate Change Awareness Raising and Education: Youth and Climate Change- A Prerequisite for Action
Hosted on Thursday, December 1, from 6:30-8:00pm, at the Durban Exhibition Centre Indwe River Room, this official UN side event opened with a screening of a brief video message from UNESCO Goodwill Ambassador for Peace and Reconciliation, award-winning actor Forest Whitaker. His message included a one-minute description of Connect4Climate and a call to action for people to join the conversation and the C4C community. Passionate presentations from eleven youth panelists followed in front of a sizable audience of roughly 400.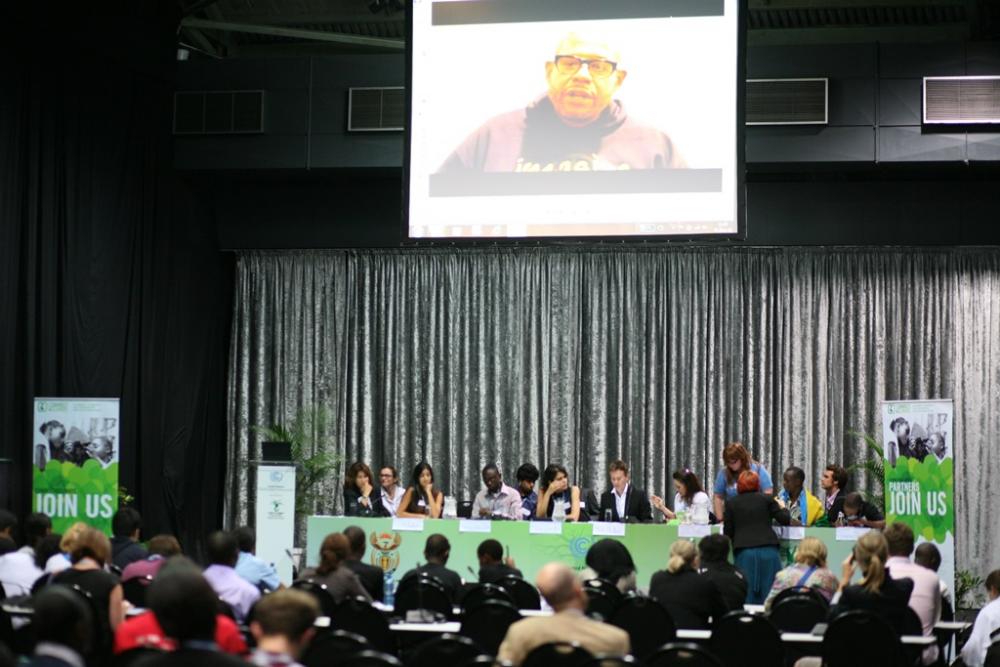 Delegates at the event watch UNESCO Goodwill Ambassador for Peace and Reconciliation, Forest Whitaker's call to action.
Two C4C photo and video competition winners, Alphonse Karenzi from Rwanda and Max Thabiso Edkins from South Africa, participated in this interactive discussion moderated by UNEP Spokesperson Nick Nuttall. Youth representatives from various environmental organizations—including the UNEP Tunza youth program, UNICEF climate ambassadors, a university professor involved in academic networks promoting climate change education, and C4C's social media strategist discussed the role of education and training programmes in raising youth awareness and action on climate change. Panelists shared personal testimonies about climate actions they were leading and an active discussion with questions from the audience followed.
C4C Smart-Crowding4Climate Change 2.0/Partners Meeting
Held on Friday, December 2, from 5:30-7:30pm, in the Rio Conventions Pavilion/Climate Change Response Expo, this informal gathering was billed as a "call for partners, new and old, to brainstorm about the way forward for the C4C initiative and the best way to engage the C4C community to create positive change." Participants were invited to gather for an open discussion on climate change communications and the strategies, successes, and challenges of using social media to drive grassroots participation.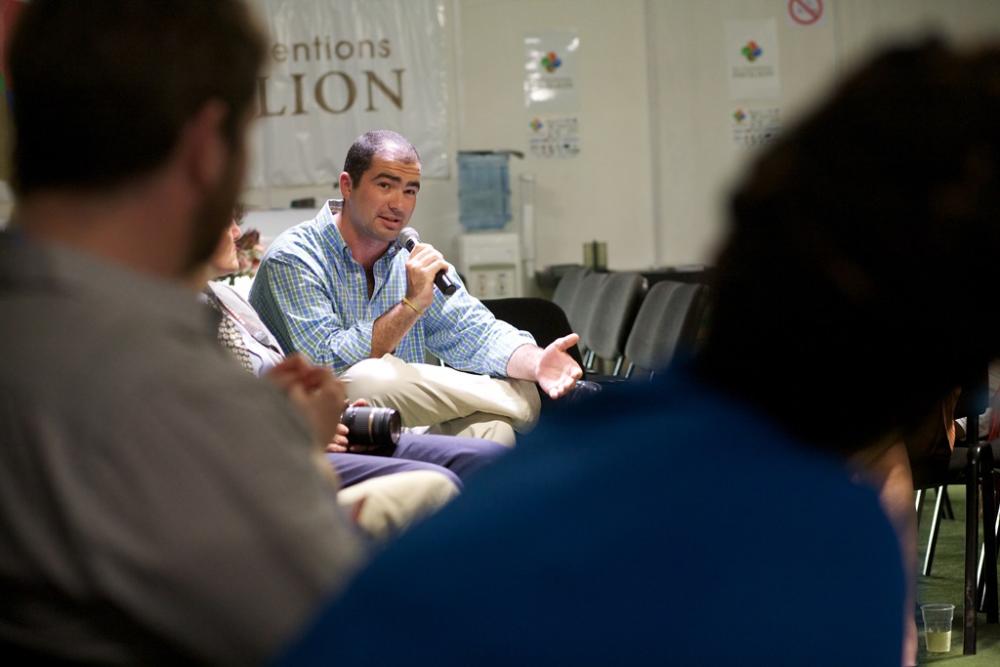 Stuart R. Campo, Innovative programming specialist at UNICEF Madagascar, provides his feedback on engaging youth and climate change at the event.
Attendance was approximately 25 people, allowing for an open and creative session. The C4C team met several key partners, including UNICEF and UN Women, for the first time in person and established good contacts for new partnerships, including representatives from Panos, IIED, and the University of Massachusetts at Boston.
Project Manager Lucia Grenna gave a brief presentation on the C4C initiative and then steered the meeting towards a more informal brainstorming session amongst the participants. Current and potential C4C partners shared communications stories from their respective organizations and their ideas for future collaboration and strategies for C4C's way forward. Several key ideas emerged.
In brainstorming about the next C4C competition that could serve as a catalyst for engaging new voices in the climate dialogue, Mike Shanahan from IIED suggested tapping into the knowledge of "his 94 year-old grandmother who has lived through 94 winters and 94 summers…" This idea of cross-generational conversations with 'green grandmas' and perhaps creating videos, radio pieces, or blogposts out of these that communicate climate messages is one that C4C plans to explore.
A music/music video competition was also discussed, as was the potential for C4C to evolve into a "green Craig's list" where a global marketplace could be established to help individuals and organizations in need of goods, services, and expertise to help scale-up climate change projects that work and drive change to connect with those able to help.
The session concluded with participants looking towards future collaboration and the potential of C4C's growing community to make meaningful contributions towards the climate change communication process in the run-up to Rio+20 and COP 18 in Qatar.
Connect4Climate COP17 press conference
The C4C press conference in Durban took place on Monday, December 5, from 4:30-5:00pm in the Yellowwood Press Room at the International Conference Center. Lana Wong gave an overview of the C4C initiative and photo/video competition, followed by a preview of the 54 winning images. An announcement about the C4C awards event that evening was also made to the journalists present. Although journalists physically present in the press room were few, the press conference was live-streamed and received significant media pick-up. The outreach of the press release—which focused on the announcement of the C4C winners, the entries from every country on the African continent, and the growth of the C4C community—was considerable, and generated more than 150 news and blog publications on Connect4Climate.
The two C4C winners present in Durban also made brief remarks at the press conference. Alphonse Karenzi from Rwanda, the 2nd place winner in the Energy category for 18-24 year olds, explained the story behind his winning image of village women using eco-cookstoves and spoke about the youth volunteer organization that he founded, the Sustaining Rwanda Youth Organization. Max Thabiso Edkins from South Africa, the C4C Special Prize Winner for a photo depicting a rural women's group performing a community theatre piece on climate change and a video entitled, 'The World Has Malaria,' spoke about his work with Resource Africa UK. Edkins utilizes participatory theatre and film to engage indigenous groups throughout Africa in sensitizing communities about climate change. Edkins underlined how important and exciting the C4C initiative is for local African communities and organizations who are in need of a platform where their voices can be heard and brought to a global audience.
The webcast of the press conference as well as a slideshow of the winning images from the C4C competition were featured on the World Bank's Climate Change page.
C4C Awards Ceremony and Cocktail Reception

Rachel Kyte tweeted about our event, "Not the #WorldBank you used to know. Noise violations at @Connect4Climate tonight celebrating African youth's creative energy #COP17."
The C4C awards reception was hosted on Monday, December 5, from 6:00-8:00pm, in the Africa Pavilion. As evidenced by World Bank Vice President Rachel Kyte's tweet about the event, the C4C Awards Event was a well attended, lively event with standing room only in the social area of the Africa Pavilion- accommodating approximately 200 people. Guets gathered to watch an exciting display of C4C images on 13 plasma screens that surrounded the live rainforest built within the Africa Pavilion as well as on 2 larger screens brought in for the awards presentation.
The evening started with a brief icebreaker from Ella Bella, a UNEP Tunza Youth Ambassador from South Africa who led the crowd in a chant of, "We connect, we connect, we connect4climate!" CNN anchor Robyn Curnow proceeded with an introduction to the C4C evening and passed the microphone to Andrew Steer, World Bank Special Envoy for Climate Change, who gave an energetic speech about the need for young African voices to be heard and included in the global climate change dialogue. Monique Barbut, CEO and Chairperson of the GEF, and H.E. Tumusiime Rhoda Peace, Commissioner for Rural Economy and Agriculture at the African Union, then made their remarks, both continuing with the theme of the power of youth to create social change and celebrating the images and stories that had been submitted to the C4C competition by young people from all over the African continent.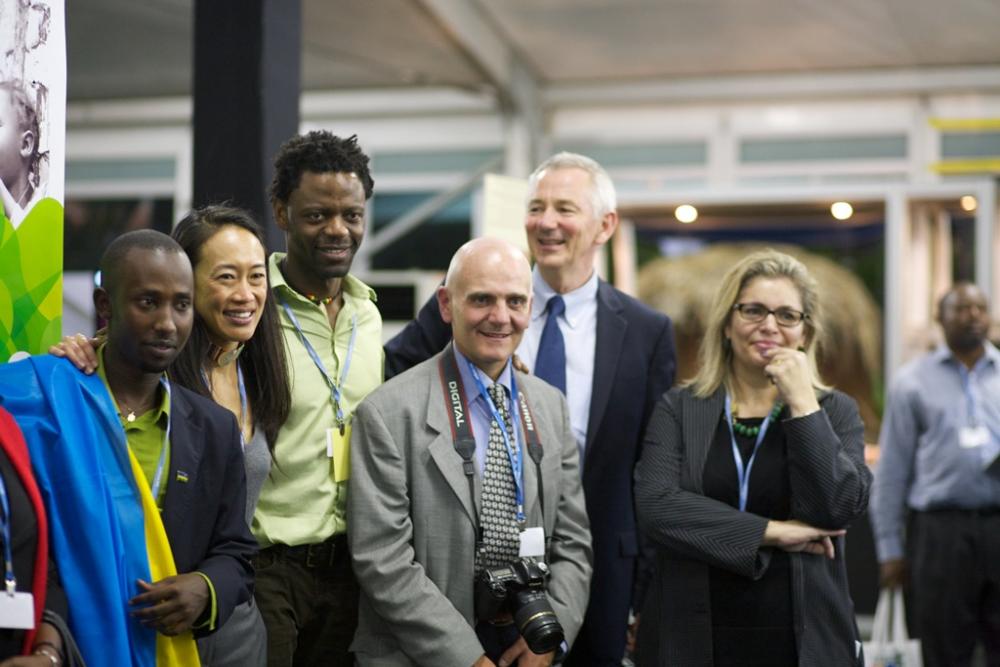 Alphonse Karenzi, Lana Wong, TMS Ruge, Luigi Buscemi, Andrew Steer, and Lucia Grenna at the event.
CNN's Robyn Curnow proceeded to announce the 54 winners of the competition, which were shown on one of the larger screens in the space, and video messages from the winners were shown on a second screen. Guests who took the time to listen to personal video messages from the young African winners were duly impressed and moved. Seeing the faces of the photographers and filmmakers behind the images made the event and the massive outreach of the C4C initiative 'real' and gave the audience a sense of the creative energy of Africa's youth.
C4C competition winner Alphonse Karenzi and Luigi Buscemi, a professor from Liceo Marconi high school in Asmara (from which three students won first prizes) were present to receive their C4C prizes- solar backpacks and cameras- from Andrew Steer while their winning images were shown on screen.
The evening closed with a screening of a selection of the winning C4C videos, including "Me and My Bike", a catchy Kenyan rap video about the use of bikes as a sustainable means of transport. C4C Special Prizewinner Max Thabiso Edkins' video, "The World Has Malaria" was also shown. Max collected his solar backpack and gave brief remarks, highlighting the power of participatory photography, video, and theatre to communicate critical climate messages in indigenous communities. CNN Anchor Robyn Curnow closed the ceremony, and the reception to celebrate the winners continued with a broad mix of representatives from country delegations, media, NGOs, international organizations, academia, and youth ambassadors.