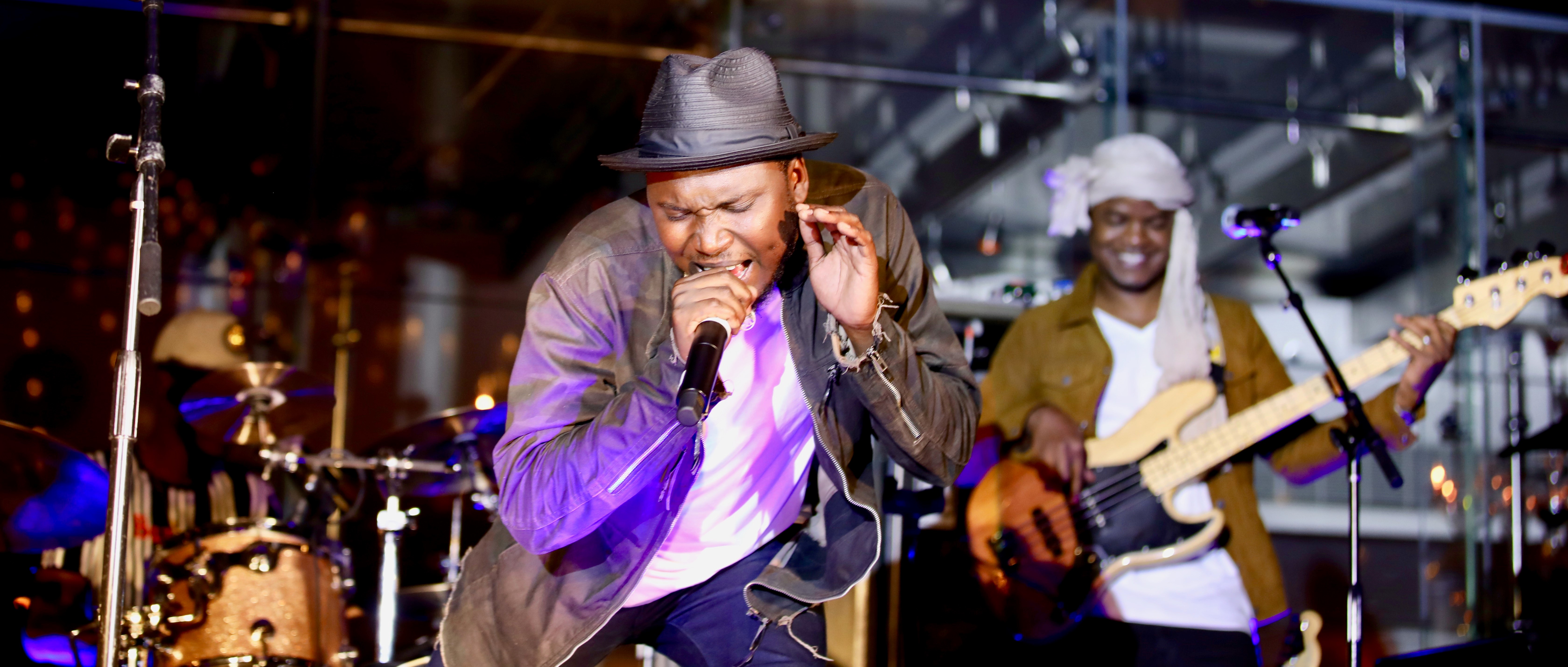 The Music4Climate initiative draws upon interest in climate change among musicians and songwriters.
What is more universal than music? Songs speak to our souls; they tell stories, they share sorrows and messages of hope. When musicians act to share their thoughts on climate change, they make their voices heard through melodies and harmonies - and bring people together in a way no other medium can.
Since the beginning, Connect4Climate has been engaging the music industry to use spread the climate message. In 2011, in partnership with
Artists Project Earth
, we launched the successful
Rhythms Del Mundo: Africa CD
that brought to life creative mixes of established and African artists.
With
MTV
we managed to feature some of the songs on
Times Square
, and in 2012 we hosted the
Voices4Climate
competition, also for music videos. It received over 1000 entries from all around the world and the prize ceremony at the World Bank,
Right Here Right Now
, was a compelling call by youth for climate action. At the
Global Citizen 2015 Earth Day
musicians came together with politicians and influencers to call for climate action in front of the White House in Washington DC.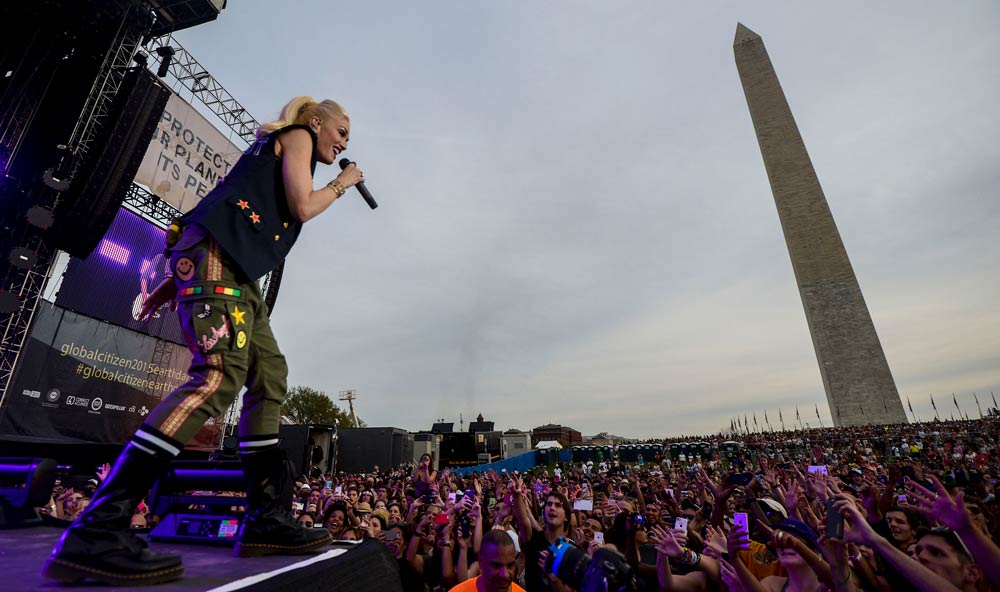 No Doubt performed on the National Mall in Washington D.C. for the Global Citizen 2015 Earth Day. Photo Credit: Leigh Vogel / Connect4Climate
Remembering Mandela EP
Working with partner APE the memory of Nelson Mandela is being celebrated. One year after the death of the great man known to all who loved him as Madiba, Artists Project Earth, and Connect4Climate is proud to honor and celebrate his incredible life with our new fund-raising EP – Remember Mandela – featuring Rokia Traore, Mumford & Sons and Amy Winehouse.
Madiba showed us through his own example that we can 'be the change we want to see in the world.' Sometimes, when it seems the odds are stacked against us, it is all too easy to give up the fight for a better world, but as Madiba told us, "It always seems impossible until it is done."
This is why Madiba is still such a shining light for the world. When we look at the myriad injustices being perpetrated on people and planet in the name of progress or economic wealth, it seems impossible to stem the tide of destruction – but Madiba reminds us through his own life journey, that the impossible is possible! We can reverse devastating climate change if we act now; we can clean up the oceans and conserve endangered species if we act now; we can provide renewable energy, clean development, and meaningful work for all – if we ACT NOW.
.@NelsonMandela Inspiring #COP20 Leadership "Make Our World a Sustainable Source" - #Madiba http://t.co/7lW3QBMQb7 pic.twitter.com/dFqZhp4n9m

— Connect4Climate (@Connect4Climate) December 7, 2014
Madiba is our enduring inspiration! As he said, "Let us stand together to make of our world a sustainable source for the future" and as our homage to him, we will continue to raise awareness of climate change and its impacts on earth, oceans, and people through the medium of music and the arts.
All funds raised from the sale of this EP will be divided between the Nelson Mandela Children's Fund and also APE's Climate Change Disaster Relief Programmes. Please help support this great cause.
Rhythms Del Mundo: Africa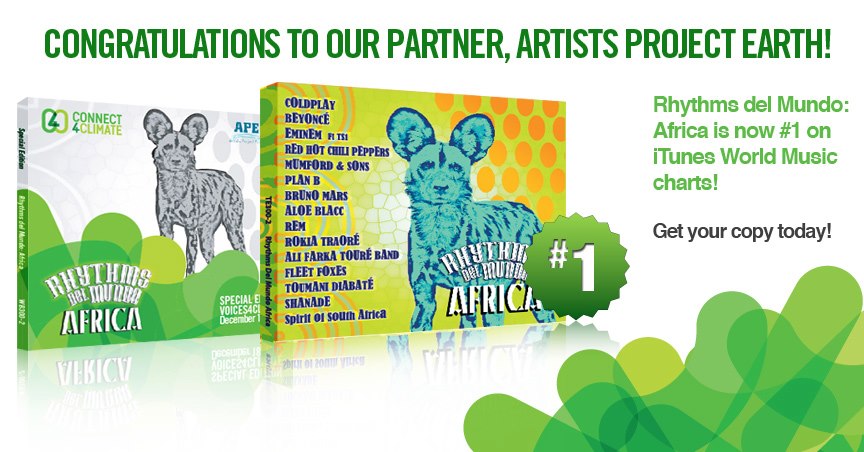 Rhythms del Mundo: Africa features striking remixes of popular tracks by Coldplay, Beyonce, Fleet Foxes, Red Hot Chili Peppers, and more – each remixed to address the issues related to climate change. The album reached #1 on iTunes World album charts just six days after its November 20th release. For a sample, watch the Africa remix music video for Coldplay's Viva La Vida below.
APE is another key addition to Connect4Climate's growing coalition of knowledge partners, helping amplify youth voices engaged in the climate conversation around the world. This partnership helps extend the Connect4Climate platform to a whole new audience around the world – and, most importantly, we hope it will allow your voices for climate to be heard on an even larger scale.
It seemed like a natural evolution for APE and Connect4Climate to join forces to show what young people can do when they're not afraid to stand-up and say, "Enough is enough – our lives should not be destroyed by climate change!"
Eminem and Connect4Climate take Times Square
Amid the mad rush of holiday shoppers, street hawkers, and gridlock traffic in New York City's Times Square, something very special happened on December 18, 2012.
On two huge screens flanking the Viacom Building at 1515 Broadway, Connect4Climate's 25-second video played every two minutes throughout the day above the thousands of people who walk and ride through this world-famous intersection every day.
The video opens with a quote from World Bank President Jim Yong Kim and features a musical collaboration between American rap star Eminem and Kenyan hip hop group TS1, who created "Me and My Bike," winner of Connect4Climate's video competition in 2011.
"We cannot address climate change without reaching out to broader audiences. We have to go beyond business as usual and be creative, bold and inclusive: Connect4Climate does just that. Its focus on youth, behavioral change, and creating unusual partnerships has helped us reach and listen to new and diverse voices," says Jim Yong Kim.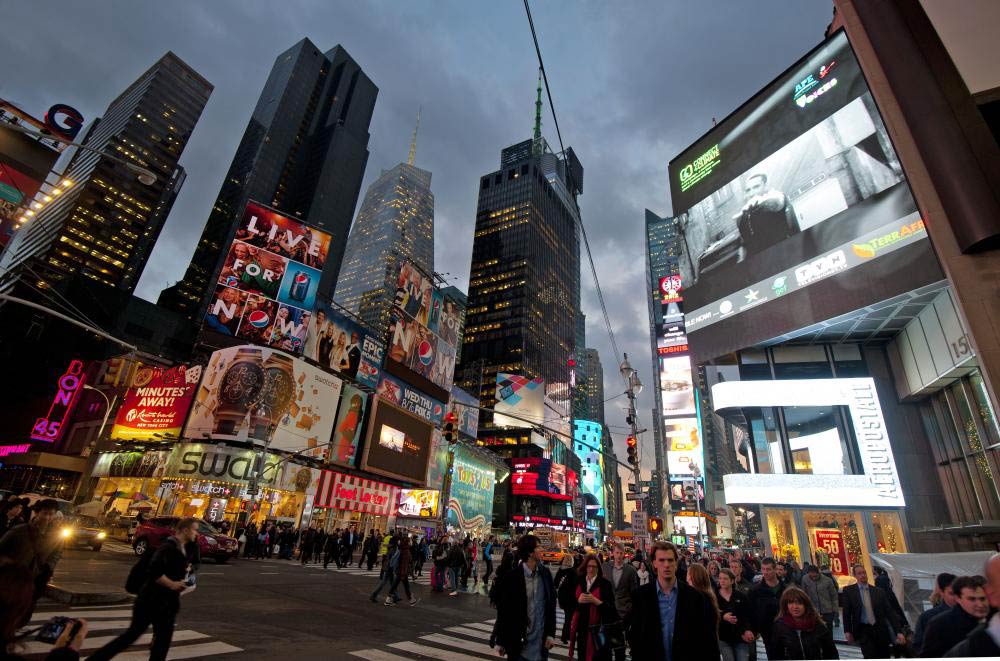 Connect4Climate video featuring Eminem and Kenyan hip hop group TS1 appears in Times Square on December 18th. Photo: Leigh Vogel / Connect4Climate