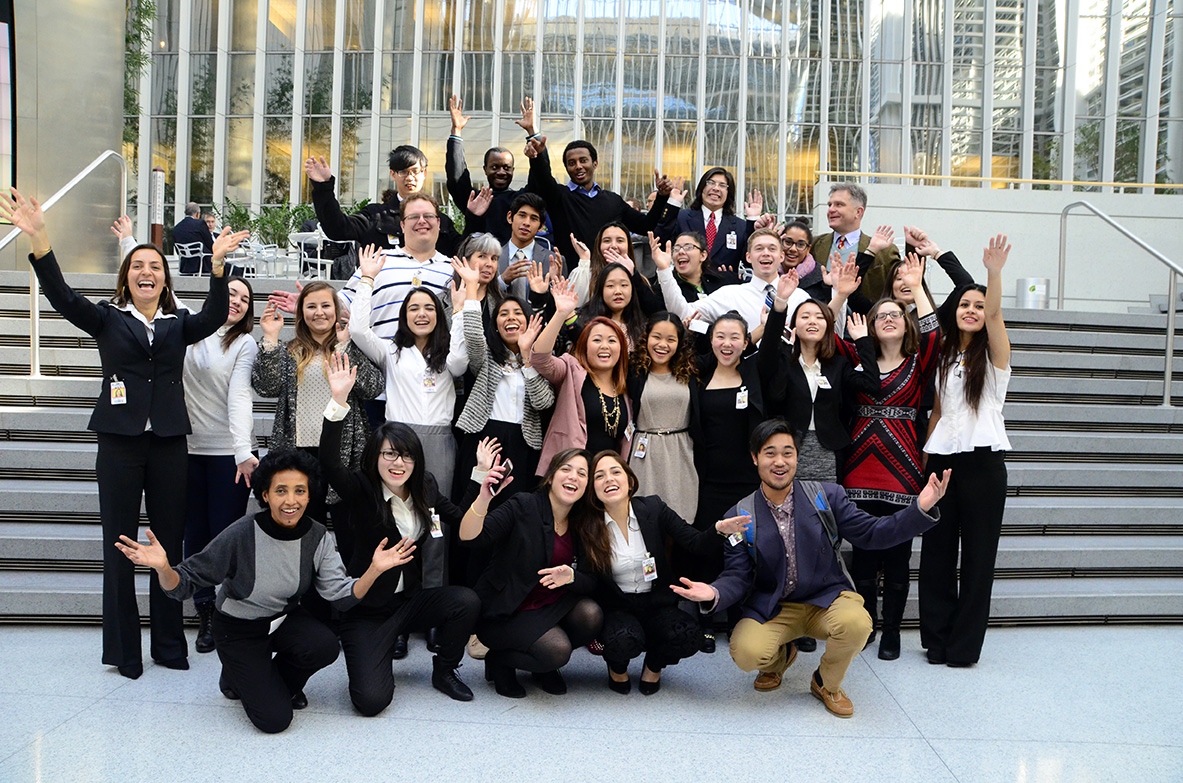 I stood in front of about 30 college students from several universities on the East Coast of the United States, talking about how Connect4Climate can be a unique platform—especially the world's youth—to help tackle climate change. As I looked around the room at the energetic, intelligence faces representing some 20 countries, I am reminded more than ever how absolutely essential youthful vision is to energizing world leaders to form and implement any agreement we get from COP 21 in Paris later this year. Change comes from the ground up, and I believe many of the answers will come from the young. After all, it is their future.
"Industries base their choices on consumers; it boils down to individual action," I told them. "We can harness a level of global intelligence, particularly with young people who have a fresh look and can make changes."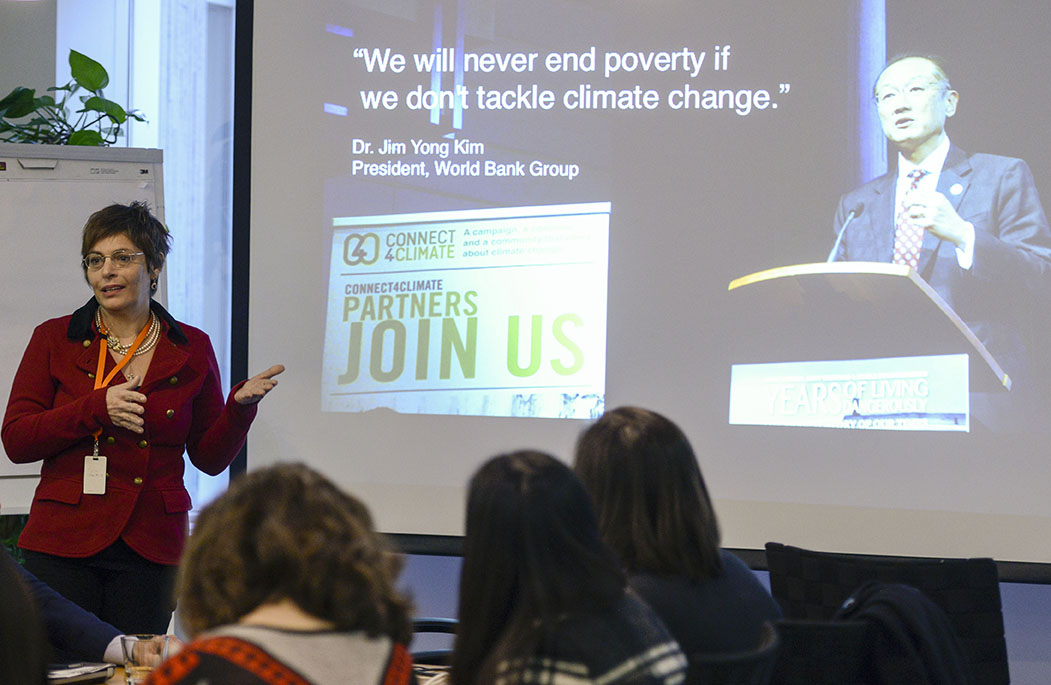 Lucia Grenna presents to 30 students. Credit: Leigh Vogel
The students weren't shy about expressing their views—hands sprang up throughout the workshop, peppering me with questions. They were genuinely curious about how to implement renewable energy in developing countries and if climate change was the #1 reason countries are in poverty. They wanted to know what could be done about the wastes from fossil fuels and how climate change contributed to a country's poverty.
These are exactly the kinds of questions that should be raised on a global platform, and I was heartened to hear them.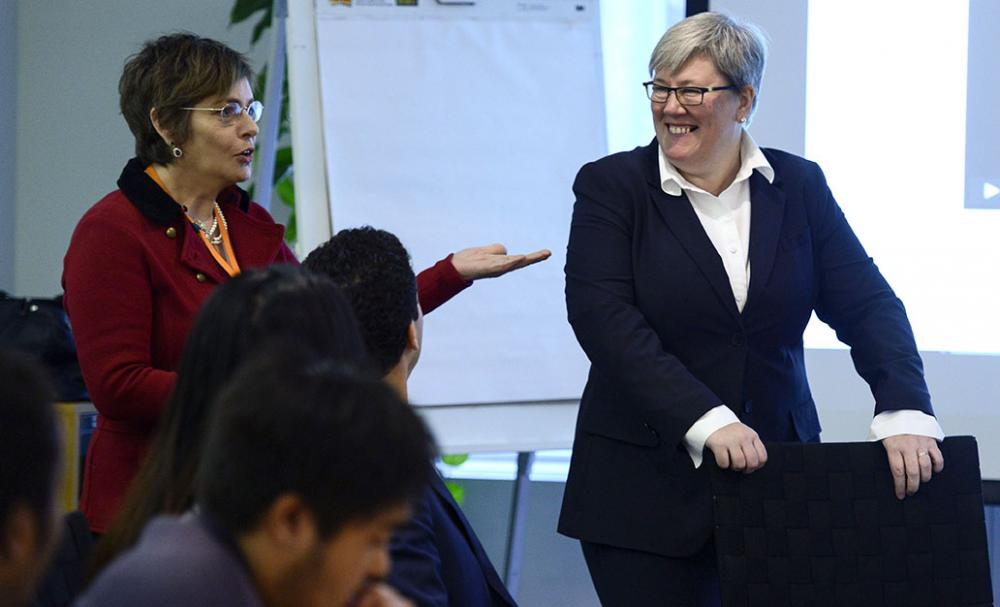 Lucia Grenna introduces World Bank Group Vice President and Special Envoy for Climate Change, Rachel Kyte. Credit: Leigh Vogel
On my heels came perhaps one of the world's most effective spokespeople for the climate change movement, World Bank Group Vice President and Special Envoy for Climate Change, Rachel Kyte. No one summarizes the global climate quandary better than Rachel and coherently explains what needs to be done. "We've never had this set of challenges before. If we continue to pollute like we are, we'll warm the planet to a degree that we've all agreed isn't safe," she told the crowd.
She then charged the group with The Challenge. "We have to find a way to grow, and met the needs of the people today. We have to grow with less carbon. By the time you're in your 50s, 60s, or 70s, we need to have zero net emission. This means emitting no pollution into atmosphere that can't be sequestered by the planet or technology."
How could our group of students help achieve this? Well, we asked them! (And we got their promises on camera).
Many pledged to recycle (or keep recycling). Many promised to turn out the lights. A handful said they'd take cold showers (and it's bone-chilling January, no less). One student said he would make sure his friends put recycling in recycling bins and trash in trash cans.
Another pledged to use more natural resources; another promised to drive an electric car. One student said her commitment to climate was being vegan. We heard simple but effective acts: Use few water bottles! Put your car in neutral at red lights! Unplug electric cords around the house! Carpool more!
These actions may seem small, but it's exactly here—at the individual level—that the world changes, and I, for one, am inspired to see the level of enthusiasm generated by a group of college students in one single morning.
What's your Action4Climate? Tell us!
We also challenged the students to advise us on ways we can grow our Sport4Climate campaign, which started in 2014 at the World Cup and ended with pledges and support from high-profile athletes to spread the word on climate change. The students offered thoughtful and possible ideas about how we could further engage athletes, their coaches, and their sponsors on climate change, impressing us, once again, with their ingenuity.
Do you have ideas for our Sport4Climate initiative? Tell us.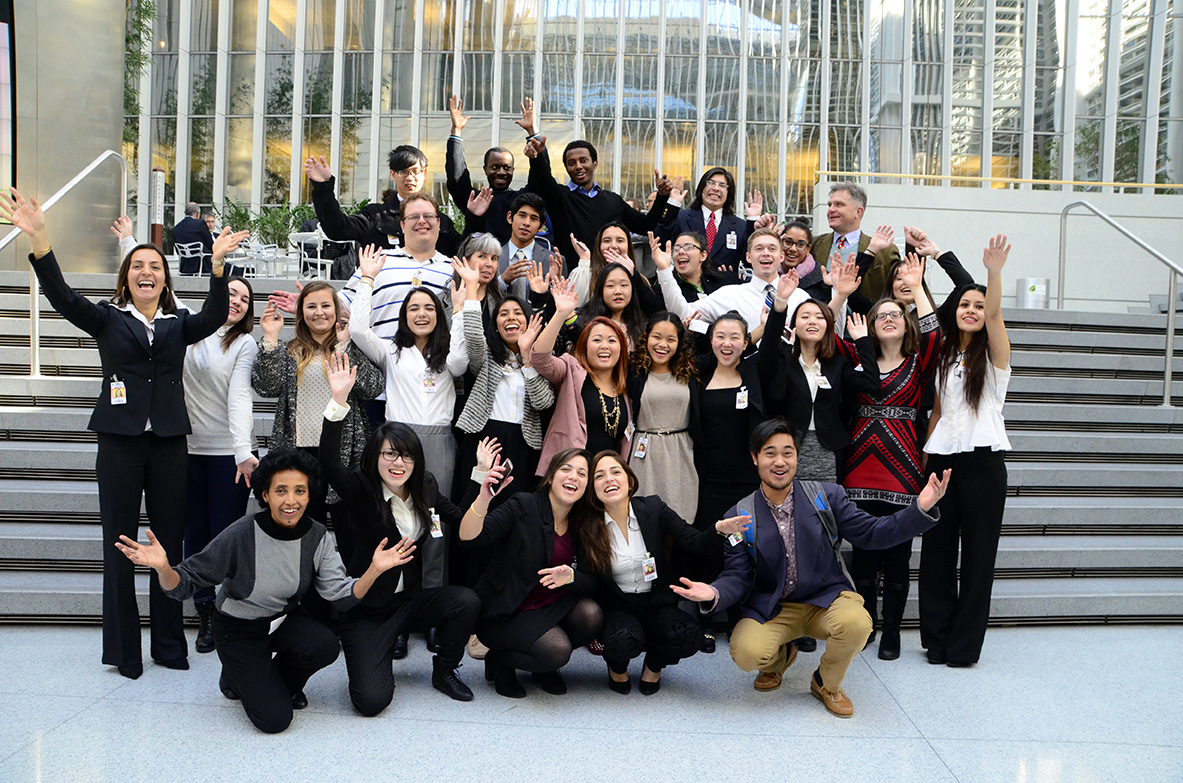 Students at the World Bank for the #Sport4Climate workshop. Credit: Max Thabiso Edkins