Before the COVID-19 crisis, tourism was one of the most important commercial activities, with over 1,4 billion international tourists worldwide linked to over 10% of all employment and accounting for 10.4% of the global economy's GDP in 2019. Yet tourism creates more than jobs and sources of income. Our decades of observation and analysis have shown that tourism comes with many negative side effects, such as strains on water and traffic systems, increased rental prices, and adverse climate impacts.
At the same time, tourism fosters much-needed international cultural exchange and understanding. When properly implemented, it can drive positive social transformation, economic benefits, and more, furthering the UN's Sustainable Development Goals (as the UN itself explicitly acknowledges). Tourism 4.0 is an initiative paving the way to sustainable tourism through the use of approaches from the realms of the Internet of Things, big data, artificial intelligence, and more.
Reimagining an Industry
In 2018, the initiative grew into the Tourism 4.0 Partnership, the first of its kind in Slovenia. Now, Tourism 4.0 represents a consortium of industrial organizations, universities, and top research organizations working at the nexus of tourism and information technology as well as ministries, municipal associations and tourism service providers—over 170 partners in all. Uniting these disparate entities is a commitment to rethinking the tourism industry with sustainability in mind.
Tourism 4.0 makes local inhabitants and their quality of life the number one focus, with all other stakeholders orbiting around them. Within this framework, Tourism 4.0 has developed an analytical approach supporting sustainable planning and development, whose profits and data outputs are always shared in part directly with the communities in question.
Currently, six core projects co-funded by the EU or by Slovenia's Ministry of Education and Sport and Ministry of Economic Development and Technology are in operation. Some of them involve universities and tech companies and are concerned primarily with research, while others are centered on the largest tourism service providers in the Black Sea and Danube regions dedicated to validation and deployment of the latest technologies. All of these projects have at their heart an emphasis on forming new partnerships and driving stronger sustainability standards.
Measuring the impacts of tourism
The Tourism Impact Model (TIM) is an award-winning tool using real data to create an objective picture of the impact of tourism in a given part of the world. It helpfully synthesizes measurements of tourism's impacts on different facets of society, from environment and economy to local culture. One of the more unusual parameters feeding into TIM is collaboration, a metric of communication and cooperation between key local stakeholders in the tourism ecosystem: local government, local residents, national government, civil society organizations and tourism service providers. By enabling nuanced modeling of the effects of distinct approaches to tourism, TIM allows for data-driven strategic planning aligned with the UN Sustainable Development Goals.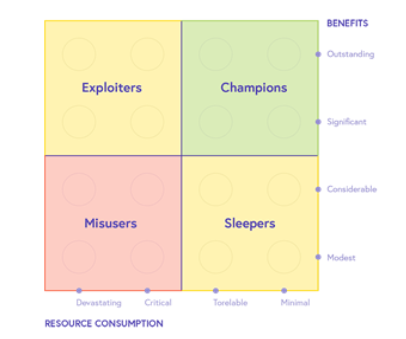 The results of a given TIM analysis on regional impacts of tourism are presented using the TIM Destination Character Chart (TIM DCC). TIM DCC is a visualization tool that uses the values of 300+TIM indicators to situate a particular tourism operation within the matrix below. Based on resource consumption (X-axis) and socioeconomic benefits (Y-axis), the TIM DCC assigns the assessee to one of four categories: Sleepers (low consumption, low benefit), Misusers (high consumption, low benefit), Exploiters (high consumption, high benefit), or Champions (low consumption, high benefit). The goal, of course, is to transition tourist economies around the world out of the high-consumption categories and into the Champions category.
Information is power: this data can give tourist economies around the world the insights they need to take their approaches to tourism in sustainable new directions. Tourism 4.0 tracks changes in the data over time, using vector visualizations to illustrate the transitions of tourism economies from one cell to another, which means that those making changes on the ground can get timely feedback on the impacts their actions are having. Given the amount of data Tourism 4.0 has to work with in a particular region of the world, of course, the results may need to be taken with a grain of salt, which is why these findings are always accompanied by a "Data Accuracy Level" assessment based on the statistical strength of the data set in question.
Looking forward
Given that testing of TIM only began in late 2020, there is a while to go yet before we'll have robust data sets around the globe and be able to track trends and draw sound conclusions on what works and what doesn't in driving sustainability in tourist economies. As the initiative continues to evolve, we will be able to draw on a wider range of sensors and other data collection technologies and implement TIM in more regions of the world. Initial results are promising, and we are excited to broaden and deepen the rollout of this tool moving forward.
So far, TIM has been tested in just over 30 tourism destinations, six of which within the T4.0 Black Sea project co-founded by the European Maritime and Fisheries Fund (EMFF), to demonstrate the potential of data for tourism development in that area.
The preliminary results show that all destinations assessed so far occupy the Sleeper quadrant, which is generally in line with the importance of tourism in the local contexts in question.
From a purely economic perspective, one might expect these results to be better, but the TIM DCC integrates data on economy, environment, culture and collaboration, painting a more holistic picture and better reflecting on-the-ground realities. TIM emphasizes environmental factors in particular—pollution, carbon footprint, water + waste management, etc.—so achieving Champion status is no small task.
As we get a stronger idea of the strengths and weaknesses of each tourism hotspot over the coming months and years, we will be better able to help them transform into Champions of sustainability. Working together, we can achieve bold new models of tourism befitting the green future we all need.
Banner + thumbnail images by Dan Novac, Pixabay; all others by Tourism 4.0. Join the Tourism 4.0 Partnership for free at https://tourism4-0.org/t4-0-partnership.