"No ocean…no blue…no green…no life…no us"  
A warning from the Ocean Elder and long time 'Sage', Dr. Sylvia Earle encapsulates the feeling and focus of everyone during the Sustainable Development Goals (SDG) Media Zone – simultaneously being hosted during events in New York and Bologna, Italy. The partner hubs connected the Ocean Conference at the United Nations headquarters and the All4TheGreen week, in the lead-up to the G7 Environment Ministers' Meeting in the northern Italian city.
The world has to act now  - it has to come to understand and move quickly on the devastation we are causing to the oceans without realizing it. "The biggest problem facing the ocean…. look into the mirror", Sylvia reminded us. 
Legendary ocean researcher Sylvia Earle, Mission Blue, calling for all the ministers of the environment to "think blue, think ocean."
Despite all our vast resources, we still have to be reminded that for every breath we take we should be thanking the oceans. Sting wasn't there, but the likes of Cody Simpson, Adrian Grenier, Alexandra Richards and Sir Richard Branson were!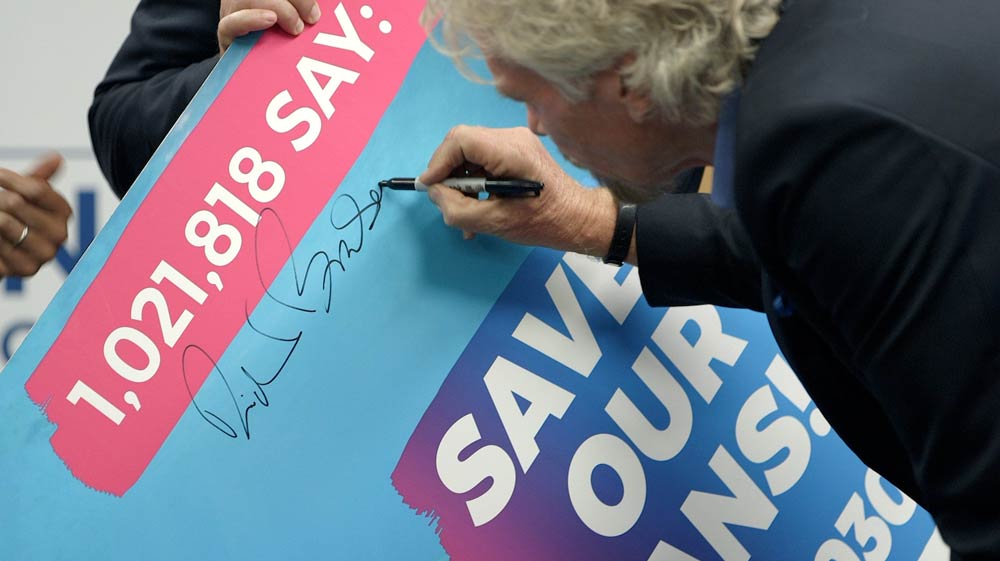 Sir Richard Branson delivered over 1 million signatures urging governments to protect 30 percent of the ocean by 2030. Photo Credits: Kaia Rose
The Ocean Conference focused on how to advance the implementation of Sustainable Development Goal 14, which called for efforts to conserve and sustainably use the oceans, seas and marine resources.
Cody Simpson affirms that we have to make changes and be aware because "we all do belong to this planet."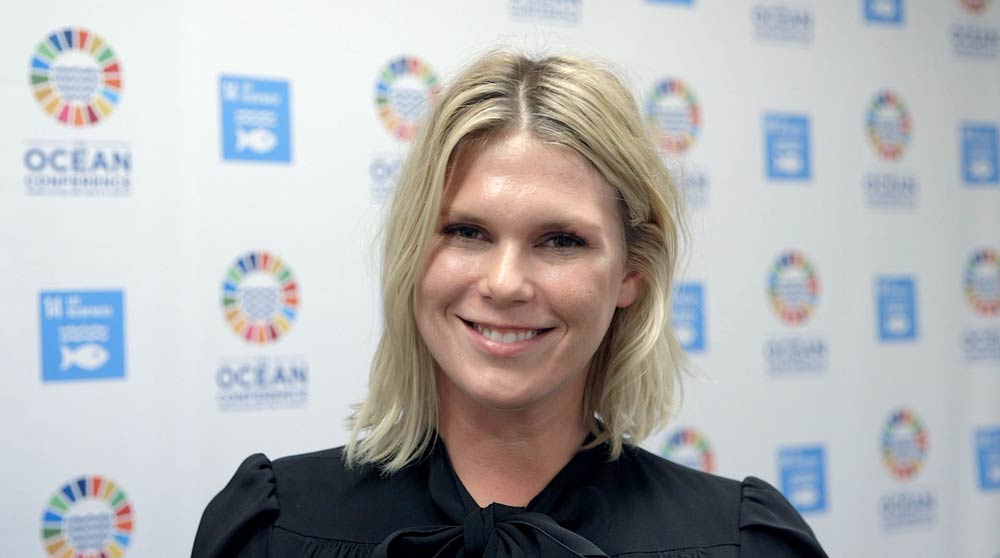 Alexandra Richards showed her commitment to #SaveOurOceans. Photo Credits: Kaia Rose
Adrian Grenier talks about his will to fight for climate change at the Ocean Conference in New York.
Although housed in a stuffy, windowless and cramped room in the monolithic United Nations matchbox, the SDGDMZ has nevertheless managed to breathe life into a wealth of ideas for action and injected endless enthusiasm into
more than 40 sessions debating ocean issues
, giving voice to major ideas for action as we move forward. It welcomed editors, bloggers, delegates and influencers to communicate innovations, partnerships, and discussions as a call to action for humanity.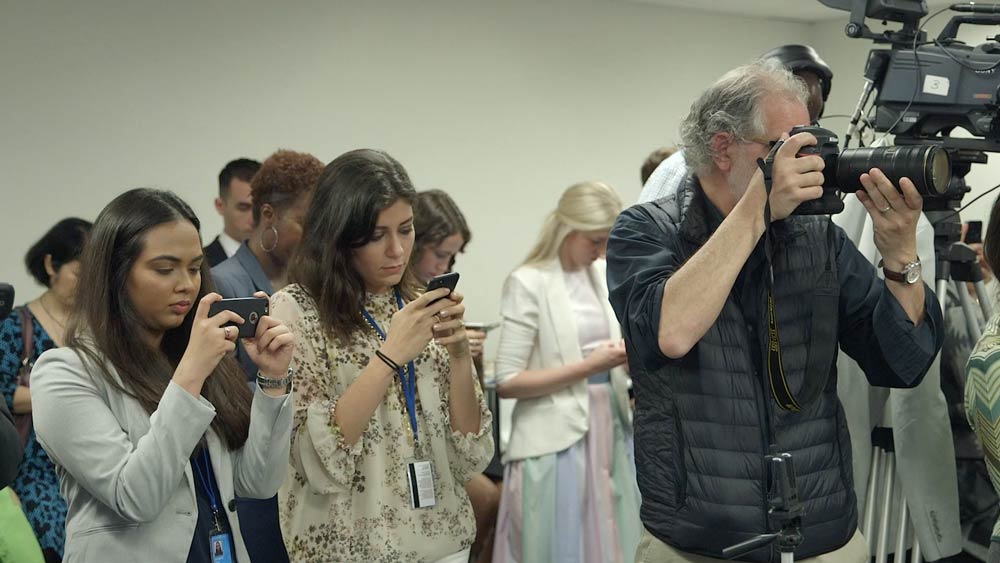 The SDG Digital Media Zones allured the media but also bloggers and photographers. Photo Credits: Kaia Rose
Complementary to the United Nations Oceans Conference, many scientists, young people, businesspeople, politicians, and activists dropped by to speak to the world and to link up live with the Digital Media Zone in Bologna, Italy.
The G7 Environment Ministers, in Bologna, discussed the importance of continued support for the Paris Agreement. The All4TheGreen week hosts a range of side events raising awareness about the importance to protect our environment.
Starting the partner programme with a live link for the official opening of both events, on 5 June, the SDG Media Zones continued their collaboration the following day with a conversation led by the Italian Minister of Environment Gian Luca Galletti.

In the following days, joint panels touched on pressing environmental issues. The highlight was a panel between the President of Palau in New York and two environmental scientists in Bologna, discussing causes and impact of rising sea levels and the way forward. Moreover, this live link between New York and Bologna announced Probal Rashid, from Bangladesh, as the #All4TheGreen Photo4Climate Contest Special Blue Prize winner.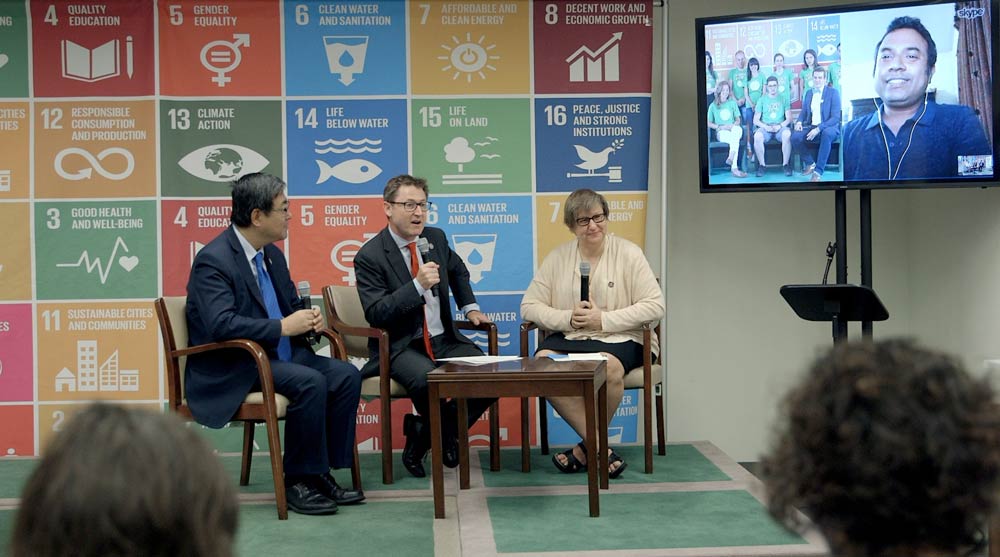 Probal Rashid shares why he decided to participate in the #All4TheGreen Photo4Climate Contest Special Blue Prize live from Bangladesh. Photo Credits: Kaia Rose

"I have been documenting the impact of climate change in my country, Bangladesh, over the last years. It's a great honor to win this competition, and I hope it will create more awareness on this issue", said Probal Rashid during the announcement of the winner, on June 8th, World Oceans Day. "Rainwater is the primary source of drinking water due to sea level rise," informed the winner. "Sometimes people have to travel long distances to collect drinking water," he added.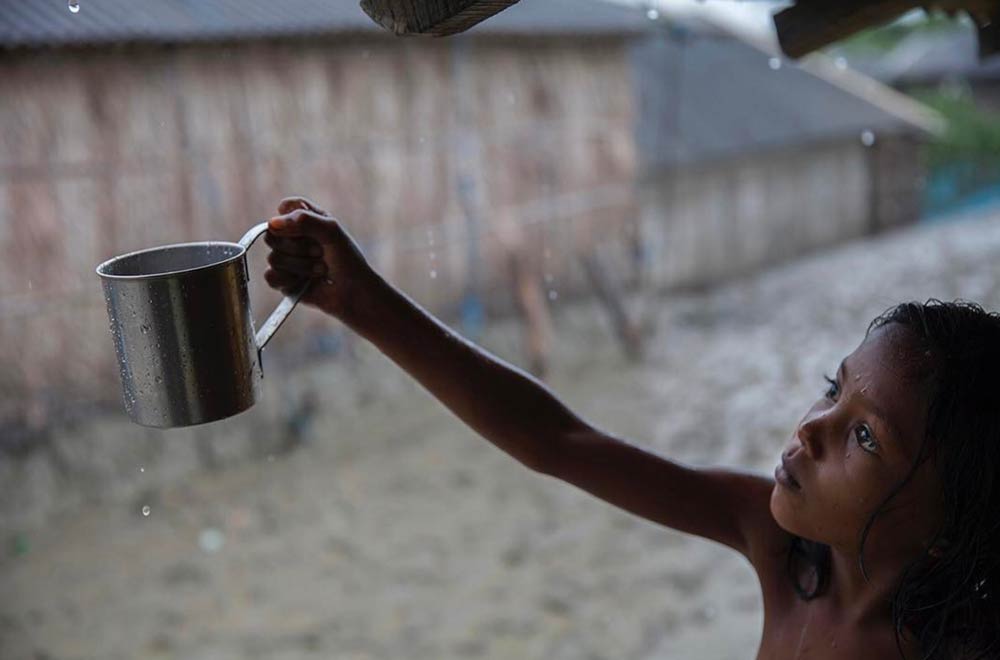 Rashid's photo portrays how water stress is affecting individuals in his community. 
Another live link between SDG Media Zones in New York and Bologna focused on a fruitful conversation between Racing Extinction's Academy Award-Winner film director Louie Psihoyos and Dan Thomas, Spokesperson for the President of the United Nations General Assembly, in New York, and between Andrea Braccialarghe, Managing Director America, Building Energy, and Lucia Grenna, Connect4Climate's Program Manager, in Bologna.

Building Energy powered the largest outdoor screen in Europe with solar energy. The screen set up at Piazza Maggiore hosted an excellent selection of movies for every night during the #All4TheGreen week.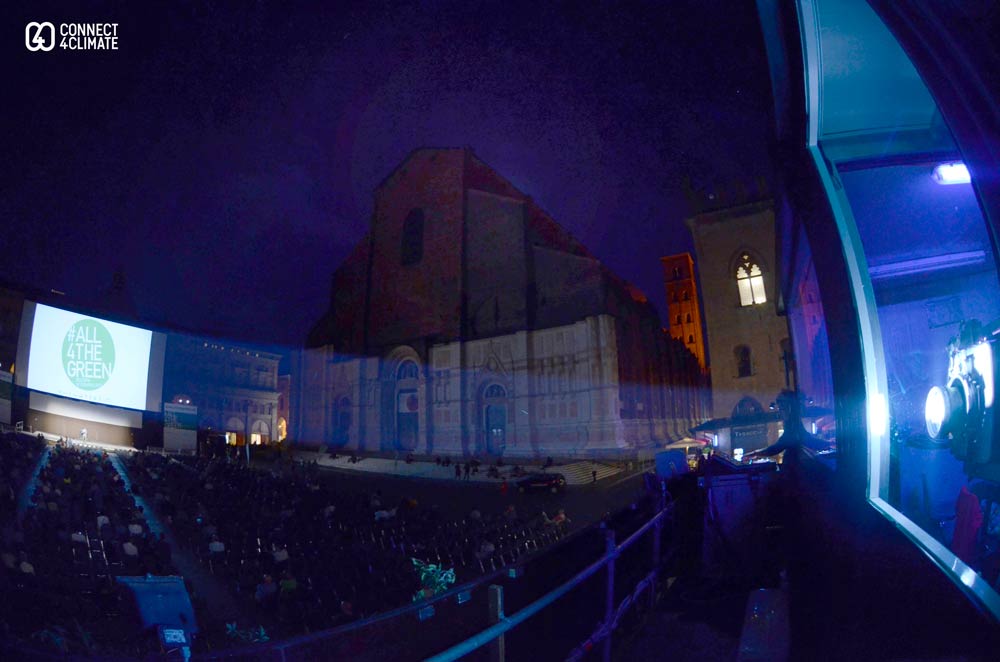 Photo Credits: Max Thabiso Edkins/Connect4Climate
The All4TheGreen week in Bologna (June 5-12) covered a broad range of climate and environmental topics that make up the SDGs. It also focused on city-level solutions, mitigation actions, adaptation efforts, private sector participation, global engagement and interfaith dialogues.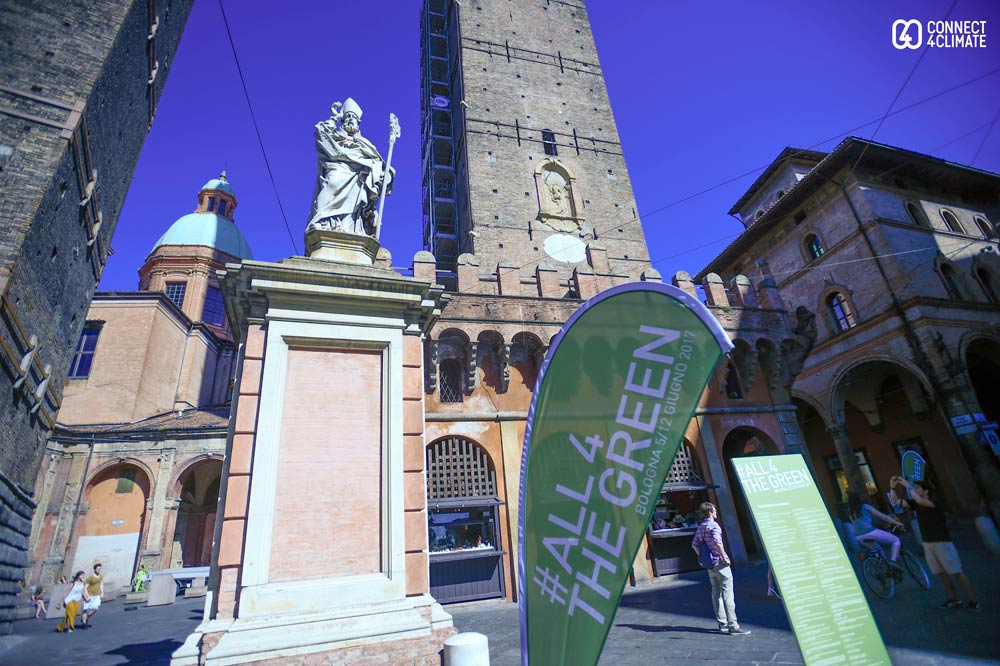 Bologna, the capital of the Environment with #All4TheGreen. Photo Credits: Riccardo Savi
#SDGLive invites the online global community to join the conversation of cross-sector, solutions-oriented engagement in Bologna (#All4TheGreen) and New York (#SaveOurOcean)
"Plastic, plastic everywhere – the albatross about our necks"
The plastic consume was one of the major rallying cries for action during the week, highlighting how plastics are killing our whales, our seabirds, our coral – and yes, us. Sir Richard Branson, another Ocean Elder, reminded us how plastic is suffocating our coral and Erik Solheim emphasized the tragedy of the whale washed up recently with 300 plastic bags in its stomach, letting alone the numerous seabirds who take their last breath ingesting plastic by mistake. Action is being taken, especially by young people doing what they can. Adrian Grenier reminded that we can all make a very simple start, follow his Strawless Initiative and stop using single use plastic straws. Nevertheless, two young girls, Melati and Isabel from Bali told us how they started "Bye Bye Plastics" to prove that we all can clean up our beaches if we have the will to. So the overriding message was that not only do politicians and governments have to do much more but that we all have to follow the lead of young activists like Adrian and Melati and do it by ourselves.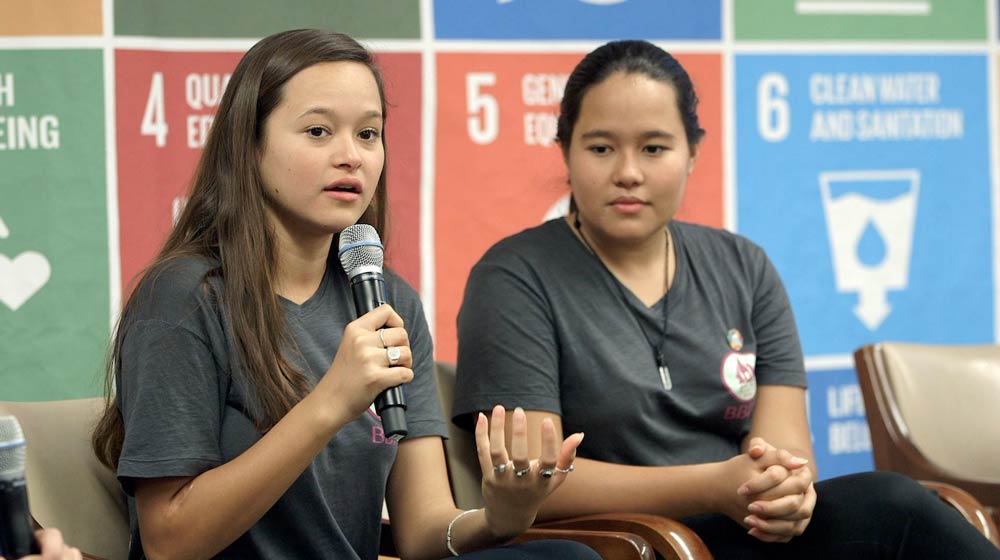 Melati and Isabel from Bali shared how they started Bye Bye Plastics to an engaged audience. Photo Credits: Kaia Rose.
"More awareness, more action - we know more about the surface of the moon than we do about the seabed"
Of course, there are many other appalling examples of the state we have let our oceans get into – unsustainable fishing, habitat loss, oil and chemical pollution, invasive species and acidification to name just a few more. Scientists are accelerating the accumulation of information and formulation of solutions. There was a spectacular video from Ocean Alliance's 'snotbot' drones that collect vital data from the spray of whales and fascinating evidence from Dell Computers efforts to identify plastic "hotspots". Governments and international institutions are also acting on what they know. The Tuna 2020 Traceability Declaration to stop illegal tuna fishing from coming to market was announced by the World Economic Forum and Presidents and Ministers from Fiji, Palau, Kiribati and the Maldives explained the practical help they are already getting to preserve their customs and way of life in the oceans. 
Dominic Waughray, Senior Director and Head of Environmental Initiatives of the World Economic Forum, holds the Tuna 2020 Traceability Declaration. Photo Credits: Kaia Rose
"We may be only 25% of the population, but we are 100% of the future"
How pertinent was the slogan of "Bye Bye Plastic's" Melati and Isabel Wijsen, and the most encouraging factor of the week was indeed the deep concern shown and total commitment given to action by young people on environment issues.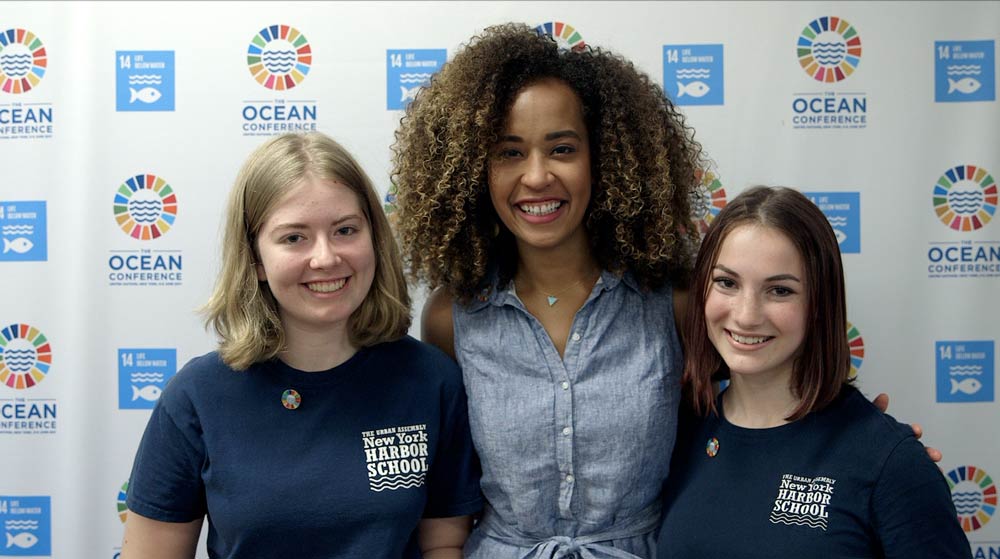 The Billion Oyster Project in New York. Photo Credits: Kaia Rose
Alexandra Richards, Keith's daughter, explained Project Zero's call to put 30% of the ocean under protection by 2030, and students from the Billion Oyster Project in New York showed how their work reseeding the city's waterways with oysters is already improving water quality dramatically. But there were also eloquent and powerful messages given by the many children not yet in their teens present with organizations such as Sea Youth Rise Up, One More Generation, and Heirs to Our Oceans.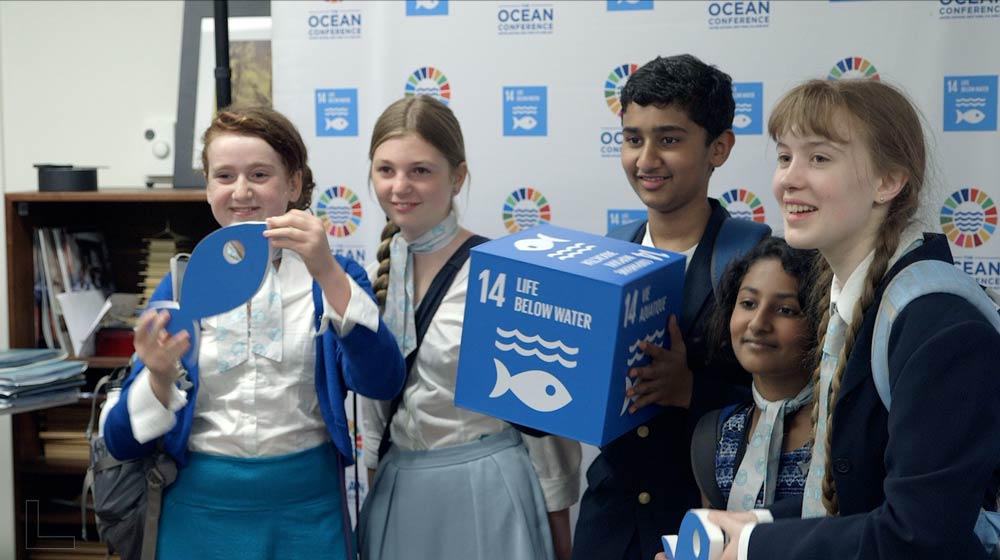 Members of the youth organization Heirs to Our Oceans hold the SDG 14 cube firmly. Photo Credits: Kaia Rose
As Sylvia Earle often insists "We want no child left dry."
Banner and thumbnail photos credits to Dany Oliveira/Connect4Climate