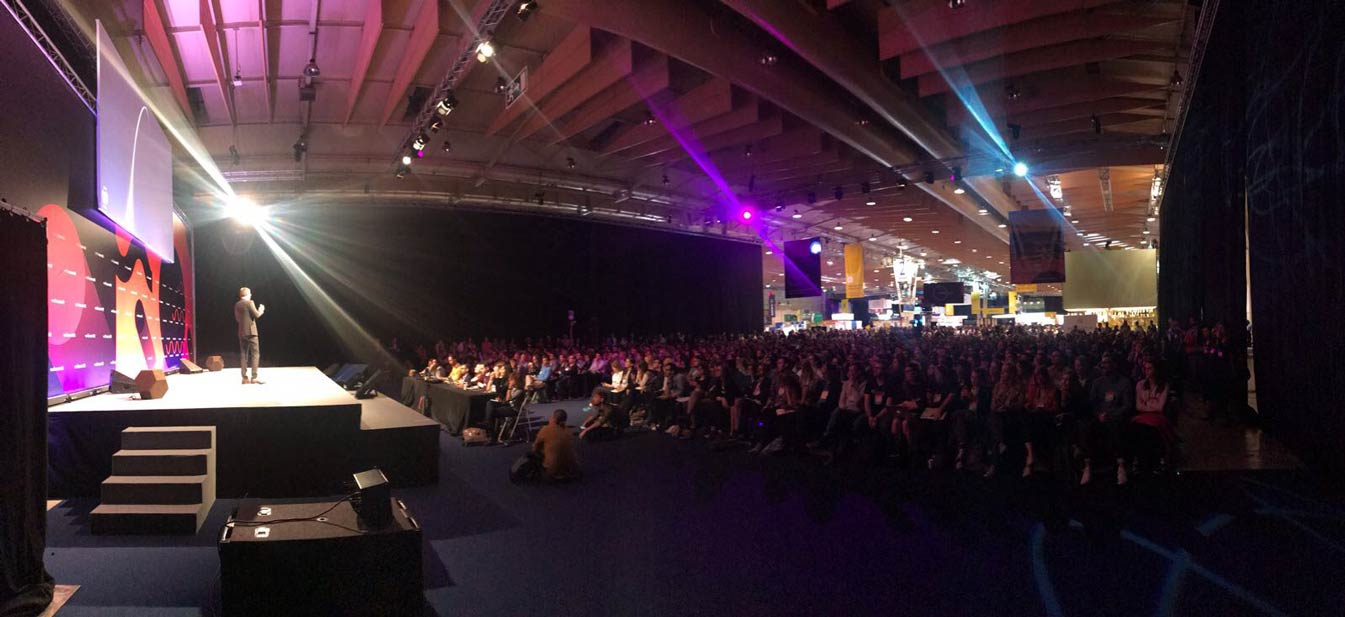 Speech as presented by Max Edkins on November 7, 2017:
Good morning everybody, welcome. What an amazing crowd, what an amazing stage.
Thank you for joining us and welcome to the Planet:Tech stage of the Web Summit. This is the stage where leading innovative startups, where big businesses and where influencers come together to put a spotlight on the technologies and innovations to solve some of our greatest environmental challenges.
This is the stage where you will hear about the future, the new economy that we are working together to build.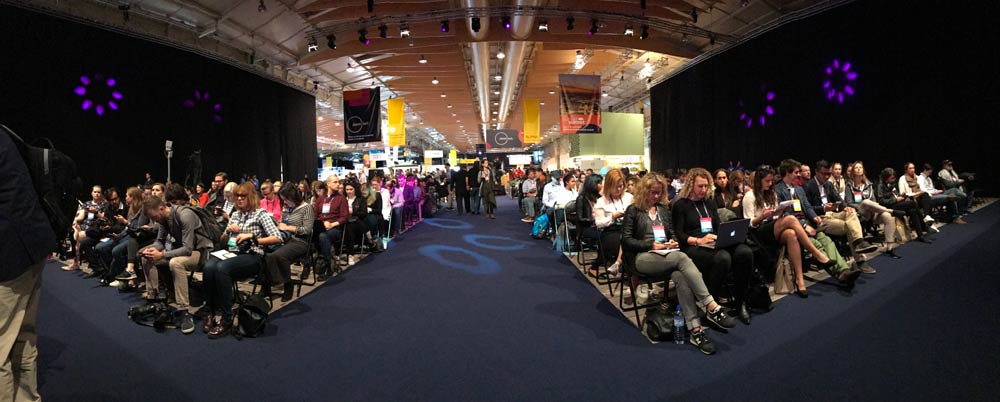 A crowded audience to learn more from the leading startups, business giants, and influencers from the fields of sustainability, environmental tech, and more. Photo Credits: Daniel Pinto Lopes/Connect4Climate
As you all know climate change is real, we are seeing the impacts, we have more extreme storms. Yesterday, at the climate change conference in Bonn, the COP23 conference, the World Meteorological Organization announced its latest findings, and 2017 is set to be the warmest year on record. The last five years have been the warmest on record, and this is affecting our whole climate sphere, we are seeing the impacts.
But we are the generation that can solve it, we have the technologies in our hands, the digital solutions that we can implement. So really, this is our opportunity, the business opportunity of our lifetime, to develop and innovate climate and environmental solutions. That is what we are bringing to the Planet:Tech stage today.
Just to put a number to it, the IFC, which is part of the World Bank Group, highlighted that the investment opportunity in climate solutions until 20300 is US $23 trillion just in emerging economies. That is a huge business opportunity, and you can be part of it.
I was at the opening of the climate conference yesterday and the message is that we are uniting for climate action, we are coming together further and faster. So, with that let's have an introduction video from Sheryl Sandberg, COO of Facebook.
You heard it from Facebook, technology is helping us deal with the climate impacts that we are feeling today. It is technology also that is helping us reduce our global emissions curve to build a low-carbon resilient economy, the economy that we need for our future. You are part of that. So, as you feel inspired by our speakers today please engage with them, message them through the App, engage online with hashtag #PlanetTech and help us build that Planet:Tech economy, the economy that will solve our big environmental solutions.
I am sure you will be inspired by the speakers today. They are the ones, using solutions and technology to drive profits, the big brands that are decarbonizing their carbon footprints, and they are the innovators and technologies that are helping us live a sustainable lifestyle and reversing our plastic pollution.
Banner: Another panorama of Planet: tech stage at the Web Summit in Lisbon. Photo Credits: Max Thabiso Edkins/Connect4Climate
Thumbnail Photo Credits: Daniel Pinto Lopes/Connect4Climate