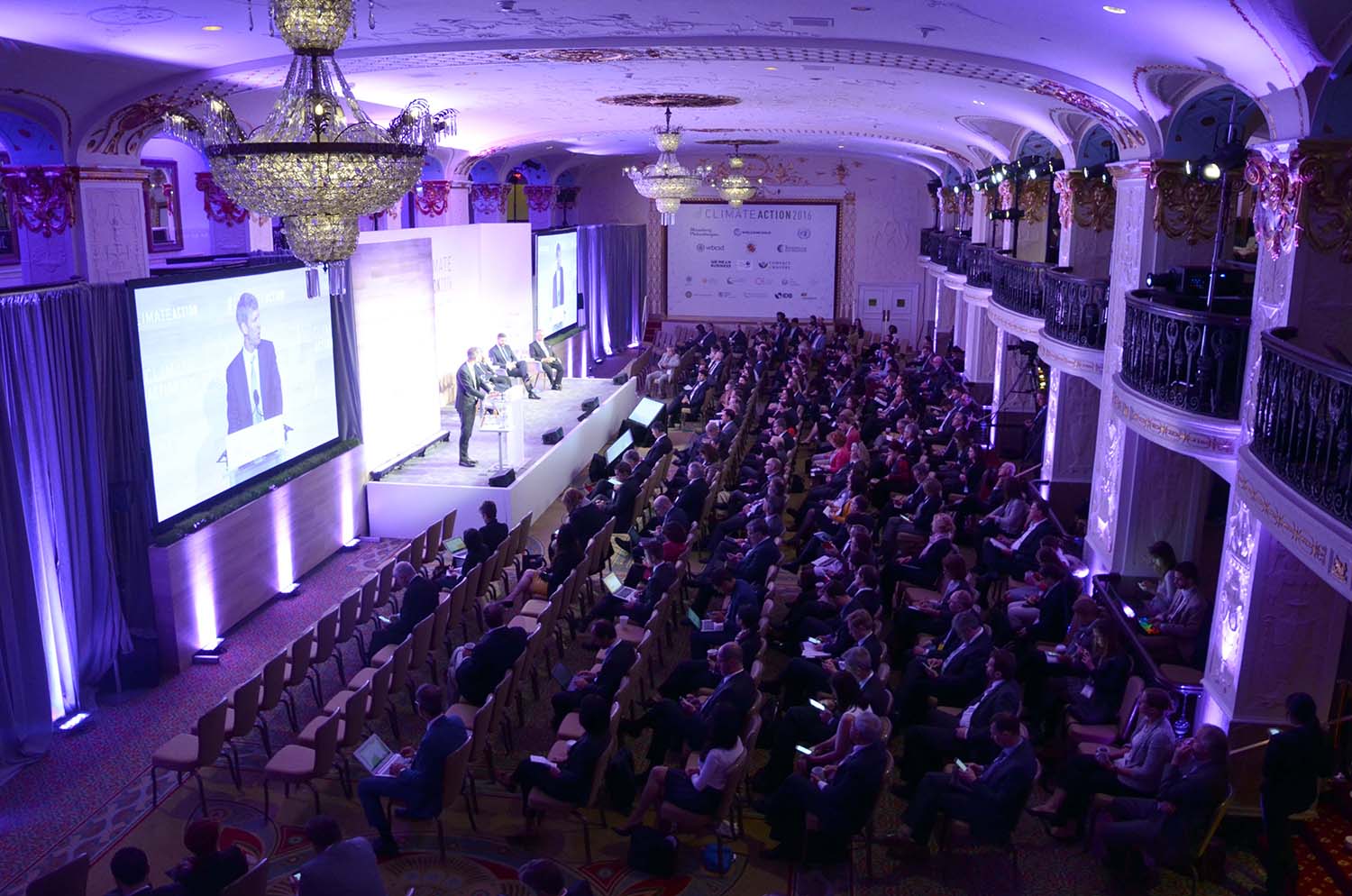 The Paris Agreement was signed by more than 170 countries in New York City on Earth Day 2016. That historical moment was just the begginig of a path to implement ambitious climate action. What are the next steps? The Climate Action Summit 2016, held in Washington D.C. on 5-6 May is gathering mayors and governors, academia, business leaders and world leaders to discuss one of the most defining issues of our time.
The overaching message coming out of the first day is that "Now is the time to Act on climate change!" As Al Gore said: "We wil win this, but does matter how long it takes us to win." Over the first day, a inspiring and robust speakers panel assumed that a multi-sector response is a key component of the solution toward a more sustainable future.
Connect4Climate is in the midst of the Summit, with a strong presence at the People's Haus, the digital media hub that opens the climate dialogue to a wide and engaging audience. 
We have putted together a recap of yesterday's sessions.
Highlited tweets:
We need policy changes that will drive down the cost of renewable #energy. -@JimKim_WBG | #ClimateAction pic.twitter.com/bguoxD3jUR

— World Bank (@WorldBank) May 5, 2016
"No nation can walk alone. Together we can build the world we want for our children" @UN_Spokesperson #ClimateAction pic.twitter.com/GMral4MZ8j

— Connect4Climate (@Connect4Climate) May 5, 2016
.@RoyalSegolene "My goal is to ratify the #ParisAgreement before the end of 2016." #ClimateAction @CA2016Summit pic.twitter.com/bYimrAPbNx

— Connect4Climate (@Connect4Climate) May 5, 2016
"We are going to win win this, but it does matter how long it will takes us to win" - @algore at #ClimateAction pic.twitter.com/zOEl5YuRer

— Connect4Climate (@Connect4Climate) May 5, 2016
"We have to explain ppl how serious it is. #Climatechange is world's greatest threat" @MikeBloomberg #ClimateAction pic.twitter.com/PLvJD6JM8w

— Connect4Climate (@Connect4Climate) May 5, 2016
"Youth are immersed In sustainable development, because they're better prepared" - @RoyalSegolene #ClimateActionhttps://t.co/F6R2qJNRML

— Connect4Climate (@Connect4Climate) May 5, 2016
"You will be the generation that will change politics. Young people can bring hope" @HakimaElHaite #Youth4Climate pic.twitter.com/mEqR7VqI8E

— Connect4Climate (@Connect4Climate) May 5, 2016
"Youth, this [#climatechange] is your issue. Young people are the main actors" @JeffDSachs #ClimateAction pic.twitter.com/YHMc06ADIm

— Connect4Climate (@Connect4Climate) May 5, 2016
"The role of all civil society is to continue pressuring governments." @lykketoft interviewed by us @ #ClimateAction pic.twitter.com/7qQfTf7qsH

— Connect4Climate (@Connect4Climate) May 5, 2016
"We need to be much more aggressive and invest in people." @Kathleenedn @EarthDayNetwork #ClimateAction pic.twitter.com/sVni82Aiio

— Connect4Climate (@Connect4Climate) May 5, 2016
"We have to make sure this generation will not loose the climate war" - Mayor Ahmeti, Kosovo at #ClimateAction pic.twitter.com/AHVcUoyD8t

— Connect4Climate (@Connect4Climate) May 5, 2016
"We have committed to provide energy to 10M people that do not have energy until 2020" @EnelGroup #ClimateAction pic.twitter.com/Za8W3JuFcH

— Connect4Climate (@Connect4Climate) May 5, 2016
.@HakimaElHaite avec l'équipe @Connect4Climate prêts à #climatechange! #ClimateAction pic.twitter.com/1T4MnnjOZ1

— HElHaiteCop22 (@HElHaiteCop22) May 5, 2016
Take a look at our Flickr album