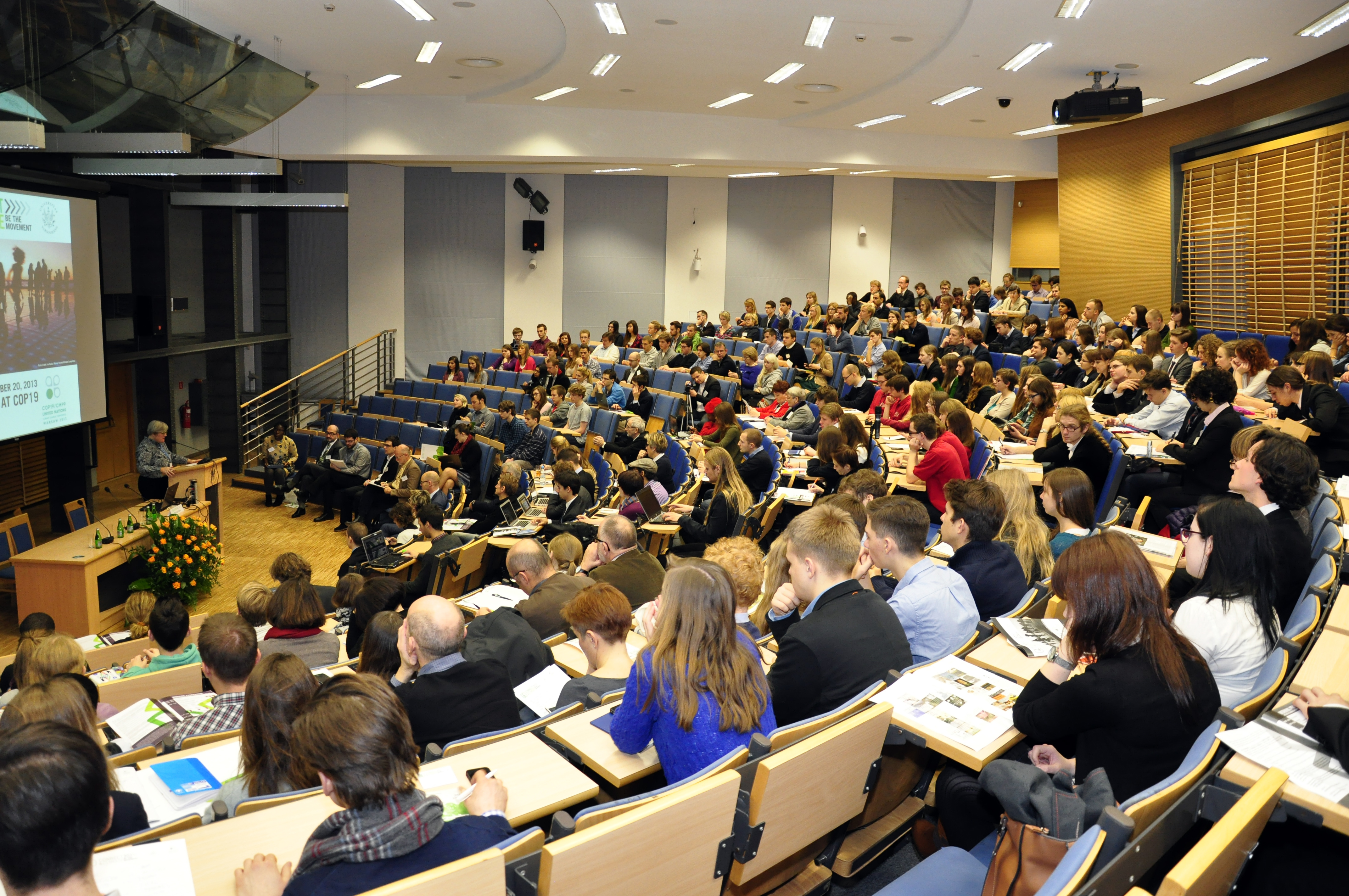 Overview
The Be The Movement Workshop highlights include: More than 500 participants; 50 countries represented; major Polish cities represented; 5 workgroups; 10 case study presentations; Panel discussion with Kelly Rigg, Jamie Henn, Wael Hmaidan, David Cadman; Speeches by Corrado Clini, Yvo De Boer, Nick Nuttall, Stefan Maad, Prof. Andrzej Lisowski, Prof. Alojzy Nowark, Prof. Zbigniew Kundzewicz; and a Youth Pledge
Eliza Anyangwe
Global Development Professionals Network, The Guardian
"A lot of effort is spent on trying to tell people that climate change is happening, but not very much on on trying to give the people [...] a sense of what they can do."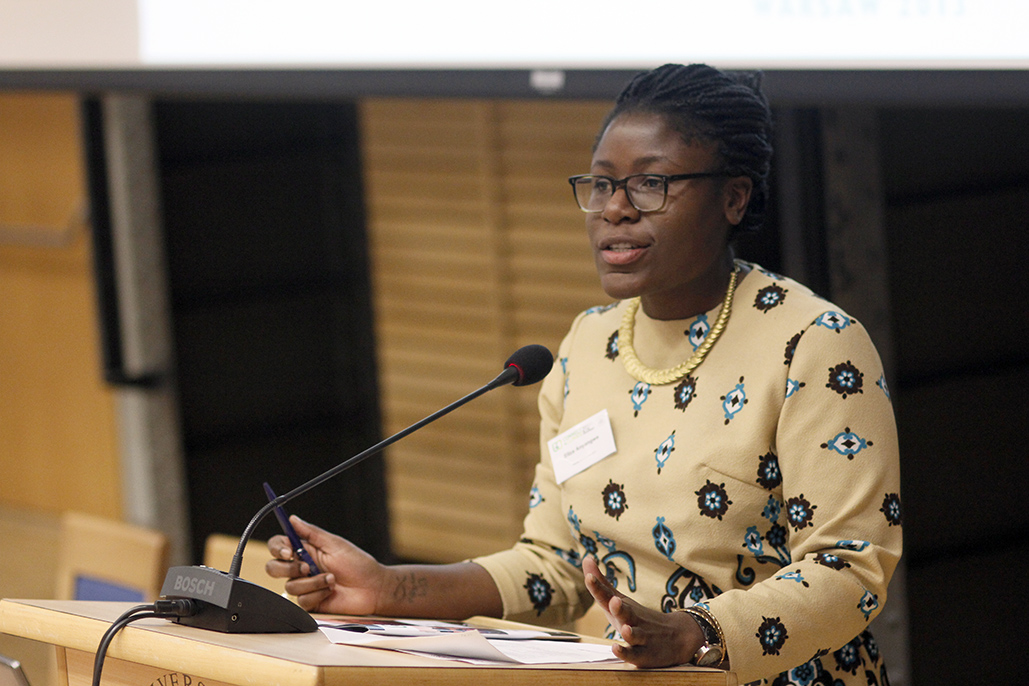 Cameroon-born Eliza Anyangwe is a London-based writer. By day she manages content for the Guardian's Global Development Professionals Network and spends the rest of her time documenting Africa's representation in the media and in the arts through her blog "Product Of My Past." She is also one of the organizers of Africa Gathering, London.
In the past, Anyangwe has been a social entrepreneur, promoting sustainability in fashion; the West African cotton project officer for the environmental NGO PAN UK; a writer on development issues for the Guardian Katine Project and jack-of-all-trades during an internship at Action Against Hunger UK. She has a voracious appetite for knowledge with special interest in ICT4D, social media and governance, media and development, Africa and the fashion industry, and of course, illustrated novels.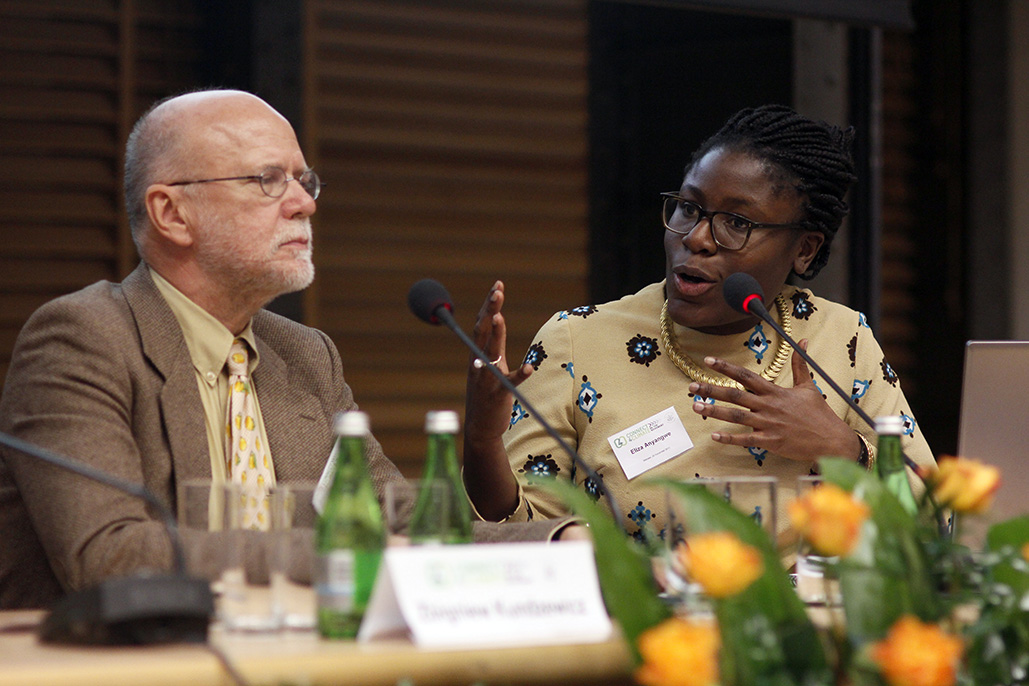 Peter Bakker (via video message)
President of the World Business Council for Sustainable Development (WBCSD)
"Your generation needs to step up, dream big, find solutions, and add them to Action2020."
Peter Bakker joined the WBCSD in January 2012 after having been involved as a member for a number of years in his role as CEO of TNT NV, the Netherlands based holding company of TNT Express and Royal TNT Post. Peter is a respected leader in corporate responsibility. He is the recipient of Clinton Global Citizen Award in 2009 and the SAM Sustainability Leadership Award in 2010, and is a UN WFP Ambassador Against Hunger. In addition to his role at the WBCSD, Peter is the Chairman of War Child Netherlands; a Co-Chair in the Sustainable Development Solutions Network (SDSN-LN); Council member for China Council for International Cooperation (CCICED); and Deputy Chairman for International Integrated Reporting Council (IIRC). Peter holds a master's degree in Business Economics from the Erasmus University Rotterdam and a Bachelor Degree in Business Administration from the HTS Alkmaar.
Geoff Barnard
Knowledge Management Strategy Advisor- Climate & Development Knowledge Network (CDKN)
"We are wasting time when time is so precious right now."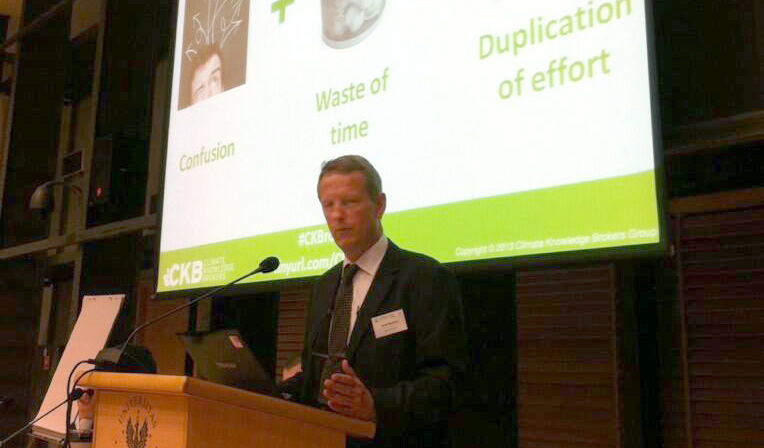 Geoff Barnard helped develop CDKN's approach to communications as leader of its knowledge management team. He now plays an advisory role, focusing particularly on learning, and CDKN's work with think tanks and other knowledge brokers. He is closely involved in the Climate Knowledge Brokers Group, and chairs the Steering Group that coordinates its events and activities.
Prof. Krzysztof Blazejczyk
Head of Climatology, University of Warsaw
"How do we transfer knowledge from researchers to journalists with the most simple but not trivial way?"
Krzysztof Blazejczyk is a professor of Earth Sciences and head of the Department of Climatology at the University of Warsaw. He is an expert in climatology, climate change impacts and human bioclimatology. His research deals with human influences on climate and the consequences of climate change on humans as individuals and on society at large. His special interests are the relationships between climate and human health as well as urban climate issues.
David Cadman
President ICLEI Local Governments for Sustainability
"Time is not on our side. It's time to get angry, it's time to say we want a future."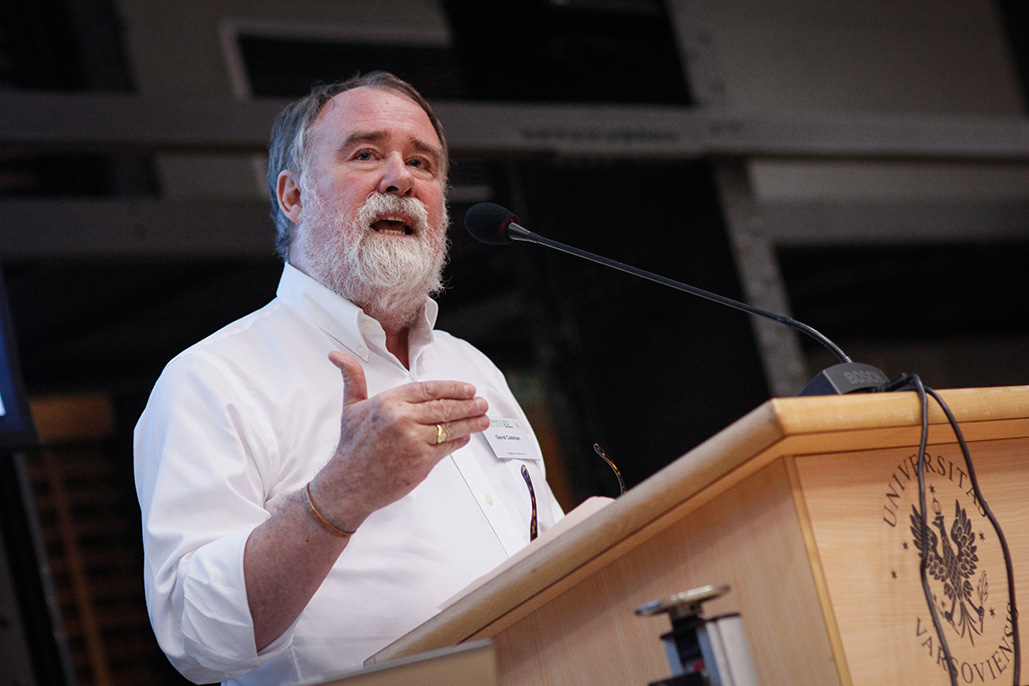 David Cadman is a former Vancouver city councillor, social and environmental activist, and a member of the Coalition of Progressive Electors. Cadman studied at the University of the South in Tennessee and got a master's in international development in Geneva. He also attended the Sorbonne. Cadman spent several years in Tanzania and Kenya developing literacy programs. Back in his native Canada, he worked for the Social Planning and Research Council of British Columbia and the Greater Vancouver Regional District as communications director. He has served as president of the Society Promoting Environmental Conservation. Since 2007, Cadman is President of the international organization 'ICLEI - Local Governments for Sustainability' an international organization of nearly 1,000 local governments that have made a commitment to sustainability. He heads ICLEI's executive committee, representing the organization to other international bodies.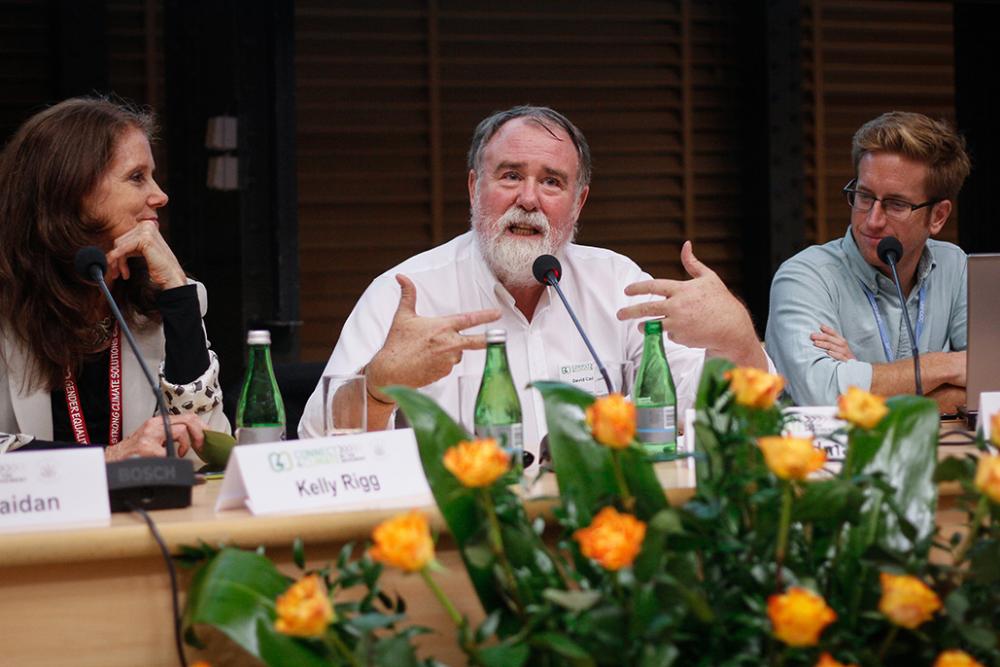 Bruce Campbell
Program Director, Climate Change Agriculture and Food Security (CCFAS)
"What is a climate smart village? It's about new technologies, it's about climate information services, it's about local knowledge and institutions and it is about village development plans."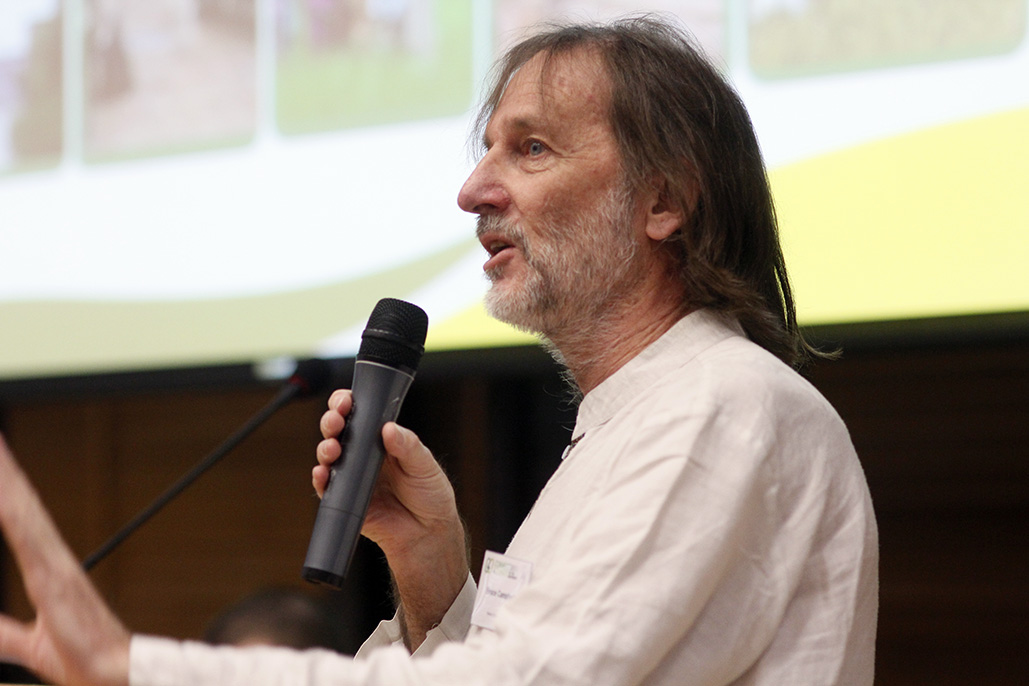 Bruce Campbell is a specialist in inter-disciplinary work, championing new approaches to doing applied research on natural resource management. In 2009, he became Director of the newly-established CGIAR Challenge Program on Climate Change at the University of Copenhagen, and in 2011 Director of its successor, the CGIAR Research Program on Climate Change, Agriculture and Food Security (CCAFS). Campbell is a staff member of the International Centre for Tropical Agriculture (CIAT). For two decades, he focused on social-ecological systems in southern Africa, during which he served as the inaugural Director of the Institute of Environmental Studies, University of Zimbabwe. He serves on several editorial boards, and is a scientific committee member of PECS, the ICSU Program on Ecosystem Change and Society. He has published over 100 peer-reviewed articles and more than a dozen books. He holds degrees in ecology from Cape Town (B.Sc. Hons.), Minnesota (M.Sc.) and Utrecht (Ph.D.) Universities.
Corrado Clini
Director General Italian Ministry of Environment, Land and Sea
"Connect4Climate is working in order to build a global movement to raise awareness and demand action against climate change."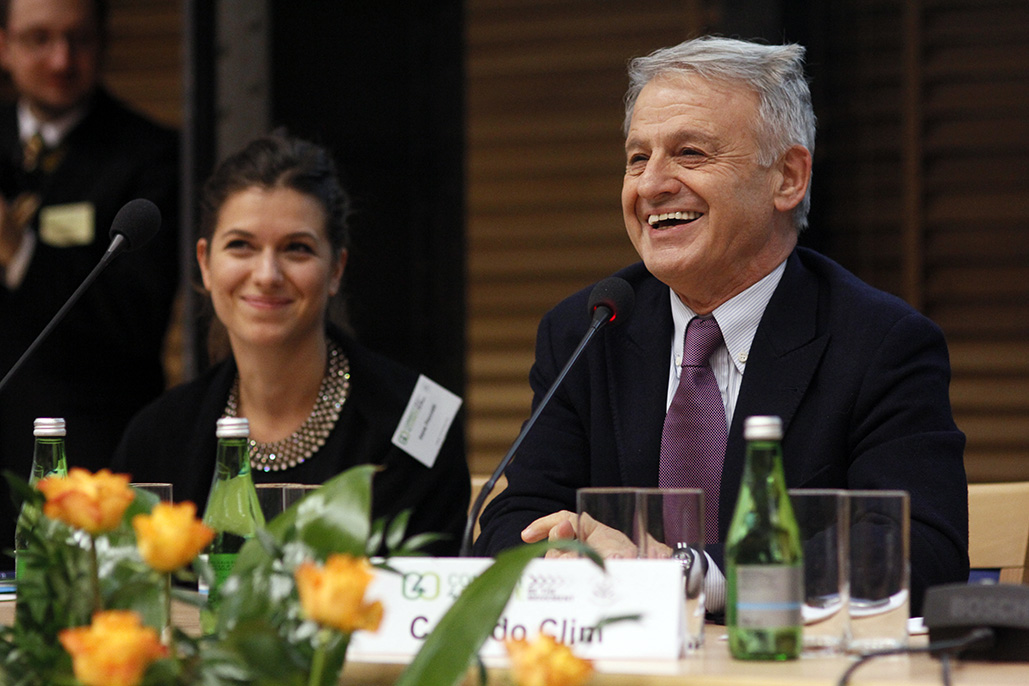 Clini was the director of the department of environmental protection and industrial medicine in Venice-Porto Marghera in the 1980s. He became the director general of the Italian environment ministry in the 1990s and was appointed Minister for a period of two years (2011-2013), after which he regained the position of Director General. From 2000 to 2001 he served as co-chairman of the G8 task force on renewable energy. He was also co-chairman of the European environmental and health committee of the United Nations economic commission for Europe. Clini also worked as a visiting professor at the Department for Environmental Sciences and Engineering of Tshingua University (Beijing) and at Harvard's Kennedy School of Government.
Marion Davis
Communications Manager, Stockholm Environment Institute (SEI)
"Adaptation is a learning process, climate change, everything we are doing, we are learning so it will get better."

Marion Davis handles communications for SEI's Reducing Climate Risk theme – including editing, writing support, online materials, social media, outreach, media relations, and internal communications. She also manages communications for SEI-US and works closely with SEI headquarters on global communications. Davis joined SEI-US in February 2010, initially managing editing and communications for the Climate Economics Group. She came to SEI with more than 15 years' experience in journalism and public relations, mostly focusing on domestic public-policy issues in the U.S. Born and raised in Costa Rica, she is fluent in Spanish and English and also speaks German and French. Davis has a B.A. in English and history from Georgetown University and an M.S. in print journalism from Columbia University's Graduate School of Journalism.

Yvo De Boer
KPMG's Special Global Advisor on Climate Change and Sustainability
"There is a massive fear to be a first mover, to begin, to drive that change."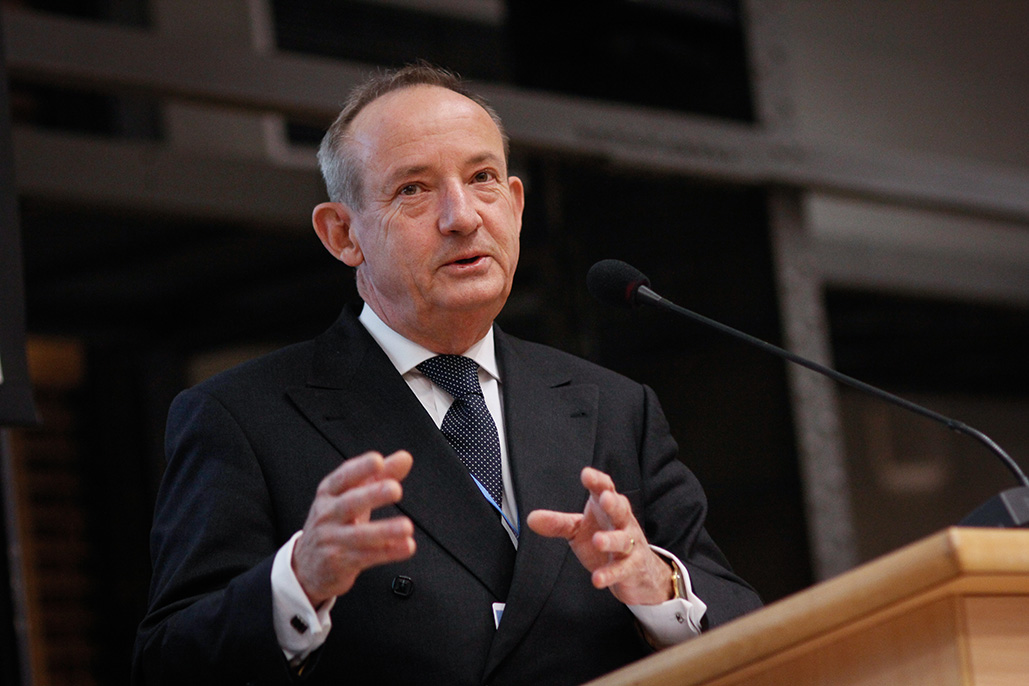 Yvo de Boer (born June 12, 1954) was appointed by then Secretary-General Kofi Annan, Executive Secretary of the United Nations Framework Convention on Climate Change from 4 September 2006 to 1 July 2010. He resigned in 2010 to join KPMG as its Special Global Advisor, Climate Change and Sustainability and global ambassador. In 2011, he was appointed to chair the World Economic Forum's Global Agenda Council on Climate Change. Alongside his work for KPMG, de Boer is currently a Professional Fellow at the University of Maastricht and is a certified mediator. He is a Member of the Board of the Centre for Clean Air Policy, a Council Member of the World Business Council on Sustainable Development (and co-chair of the taskforce on Climate and Energy), a member of the Green Growth Leaders, a member of the Capital Markets Climate Initiative steering group (established by UK Climate Minister Greg Barker), a Board Member of the Carbon Markets International Association, a member of the International Advisory Group of the Rotterdam Climate Initiative, as well as a Board member of the Carbon Markets International Association. Mr. de Boer received a knighthood from her Majesty the Queen of the Netherlands in 2009 and the Dutch Climate Award in 2010.
Lucia Grenna
Senior Communication Officer & Programme Manager Connect4Climate, World Bank
"There is no risk in being environmentally friends, and no risk in doing the right thing, but a huge risk to ignore what could happen."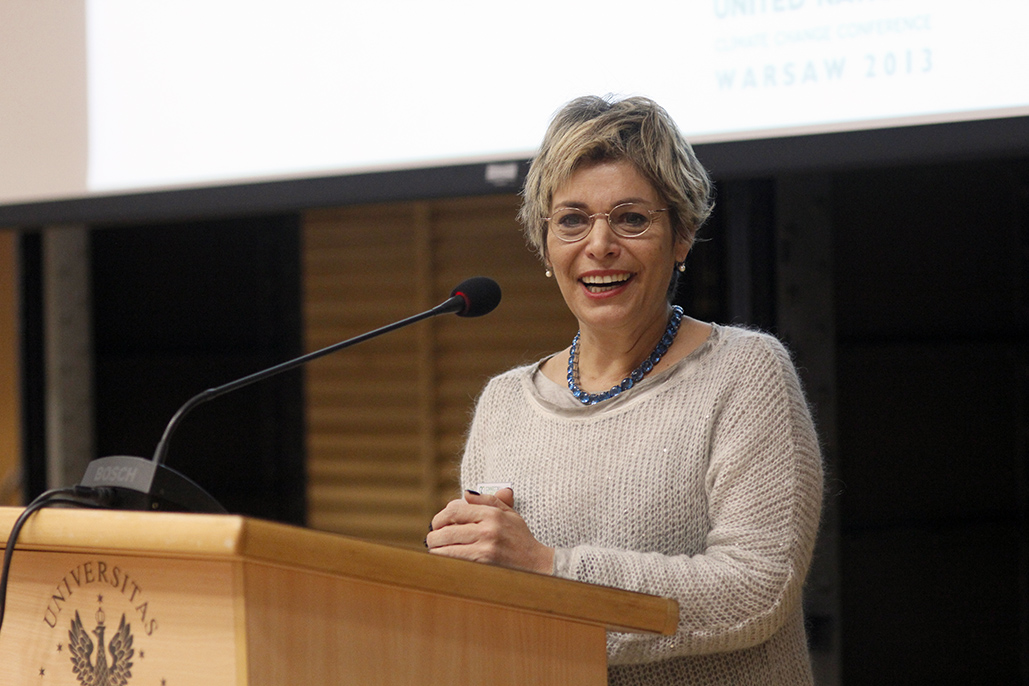 Lucia Grenna heads the unit specializing in Communication for Climate Change at the World Bank operational communication division, where she has been working since 1999. She is the author of several articles and publications on communication for development. She was the task manager for the First World Congress on Communication for Development (WCCD, Rome 2006) that brought together for the first time more than 800 communication professionals engaged in development initiatives, policy- and decision-making, NGOs, community representatives, and academics from around the world to discuss how to mainstream development communication into development policies and practice. Prior to joining the World Bank, she worked as a journalist in print and electronic media and produced hundreds of interviews on issues related to economic and social development. Mrs. Grenna also produced and marketed several multinational movies and documentaries, and was a team member of the World Bank/CNN Millennial campaign. In addition, Mrs. Grenna has worked with the private sector, UN agencies and European Union. An Italian national, she speaks English, Italian and Spanish.
Dr. Sepo Hachigonta
Program Manager: Climate Change, FANRPAN, African Climate
"We believe knowledge lies with the people."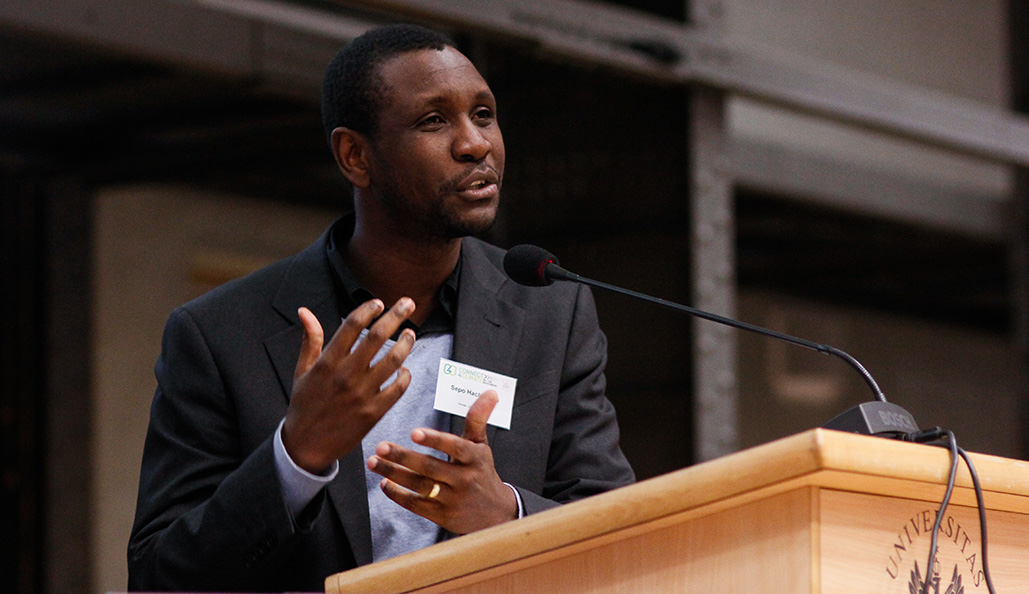 Sepo Hachigonta is responsible for coordinating FANRPAN's climate change projects including adaptation and mitigation. Since 2008, Hachigonta has been part of a team that runs training workshops on the use of climate information for policy development. The training is facilitated by University of Cape Town (UCT) in collaboration with United Nations Framework for Climate Change Convention (UNFCCC). Hachigonta holds an MSc and a PhD in Environmental Science from UCT. He also holds a BSc in Physics and Electronics from the University of Zambia.
Jamie Henn
Strategy and Communications Director and Co-Founder, 350.org
"We need to be a bit more like the world that we want to create. Instead of one big coal plant we want distributed solar panels. Instead of one campaign we want many campaigns that work together and are interconnected and create power together."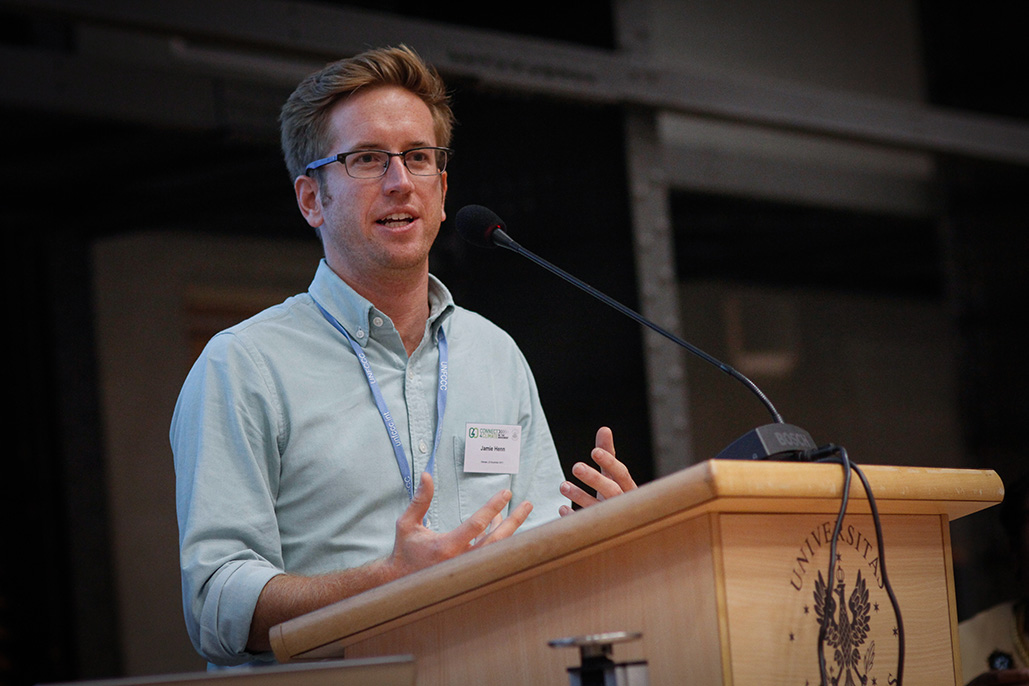 Jamie Henn is the co-founder and Communications Director for 350.org, which grew from a group of six college friends and the writer Bill McKibben into one of the largest climate change campaigns in the world. The campaign now has over 40 staff members working on six continents and nearly a million supporters. Henn plays a key role in creating 350.org's strategy, coordinating its political advocacy, and helping the organization grow. Under his leadership as communications director, 350.org  has been featured in front page coverage in the New York Times, the Washington Post, CNN, NBC, ABC, PBS, BBC, Guardian and Le Monde. Aside from his 350.org activities he is the co-author of "Fight Global Warming Now" and "The Next Eco-Warriors" and a regular speaker at environmental conferences and events.
Wael Hmaidan
Director Climate Action Network (CAN)
"Key for success is not IQ, not anything related to discipline, but it is grit, which is having the courage to stand up and continue with full motivation and dedication to achieve something."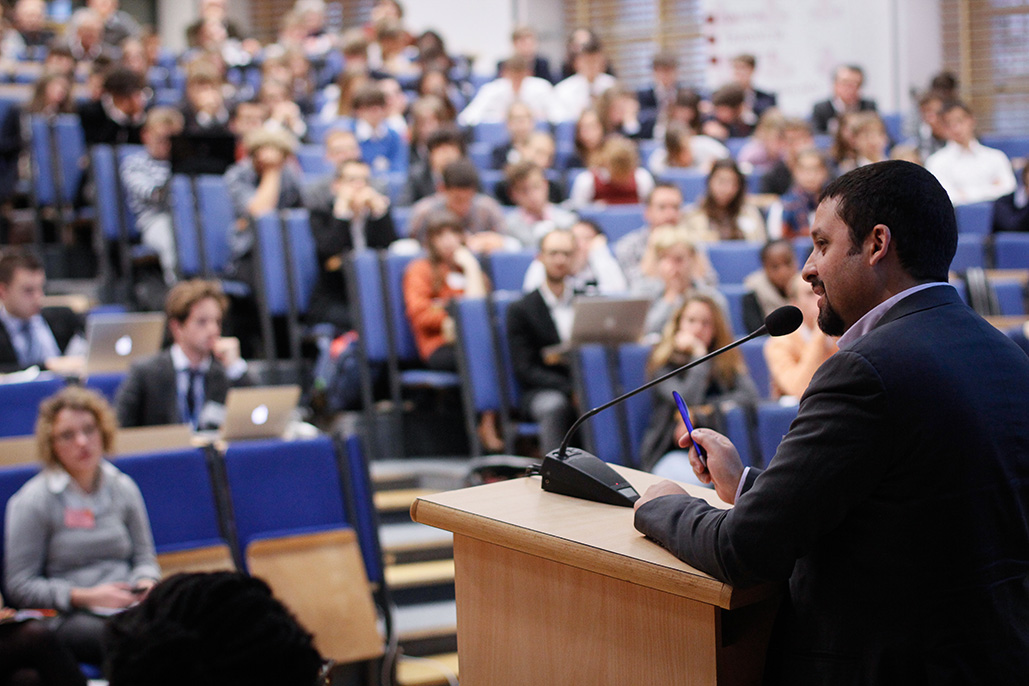 Wael Hmaidan is director of CAN – International. A social entrepreneur, in 2007 he founded IndyACT, a Lebanon-based organization that has spread throughout the Arab World and Europe. He has more than 16 years of experience in NGO management and environmental campaigning in a number of NGOs. He began as the Greenpeace campaigner for the Arab World, helping establish the energy and marine reserves campaign in the region. Through IndyACT's climate campaign, Hmaidan has been able to influence Arab climate policy and raise the profile of climate change among the region's public and governments. He served as one of Lebanon's lead negotiators in the UNFCCC. Hmaidan considers himself as a global citizen and whenever possible, works tn strengthen civil society in the Arab region, especially after the Arab spring. He holds an Executive MBA degree from INSEAD.
Michelle Kovacevic
CIFOR
"Communications can be building awareness, motivation, self-belief, knowledge and skills."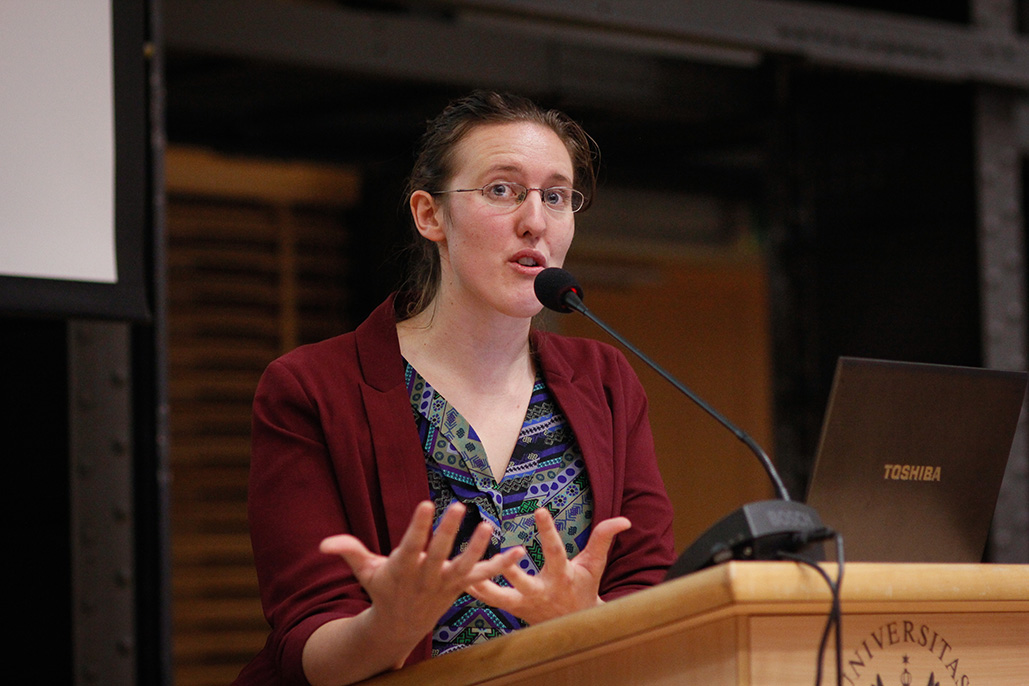 Michelle is a science communicator with an honours degree in neuroscience from the University Of Melbourne, Australia. She has experience across many science communication platforms including magazines, radio, presenting (to students, policymakers and practitioners), corporate PR, academia and capacity building. Michelle is currently the editor of the Forests News blog and coordinates CIFOR's multilingual social media channels.
Prof. Zbigniew Kundzewicz
Potsdam Institute for Climate Impact, Research Portal
"In Poland the inconvenient truth is very inconvenient because we sit on a lot of coal. […] The renewable that we can use is biomass."
 
Prof. Zbigniew Kundzewicz, a professor of Earth Sciences, is a corresponding member of the Polish Academy of Sciences; Head of the Laboratory of Climate and Water Resources in the Institute for Agricultural and Forest Environment, Polish Academy of Sciences, Poznań (RCAFE PAS), and a Senior Scientist in the Potsdam Institute for Climate Impact Research (PIK) in Germany. He was lead author of Chapter 13 (Europe) in the Intergovernmental Panel on Climate Change (IPCC)'s WG2 TAR (Climate Change - Impacts, Adaptation, and Vulnerabilities) and of Chapter 3 (Freshwater resources and their management) in IPCC's WG2 AR4. He also was lead author of IPCC's Technical Paper on Climate Change and Water and of Chapter 4 of the IPCC Special Report on Extremes. He was part of the inner circle of the IPCC, which was awarded the 2007 Nobel Peace Prize. He is also a member of the Advisory Board on the Environment (including Climate Change) of the European Union's Seventh Framework Program. Prof. Kundzewicz holds the position of Editor-in-Chief of the scientific bi-monthly "Hydrological Sciences Journal" (Wallingford, Oxfordshire, UK) and is a member of editorial boards of several scientific journals. He has authored 387 publications.
Rachel Kyte
Vice President Sustainable Development Network, World Bank
"We believe we can't solve climate change without poverty and we can't solve poverty without climate change. These two are inextricably linked and they are the moral challenge of this generation."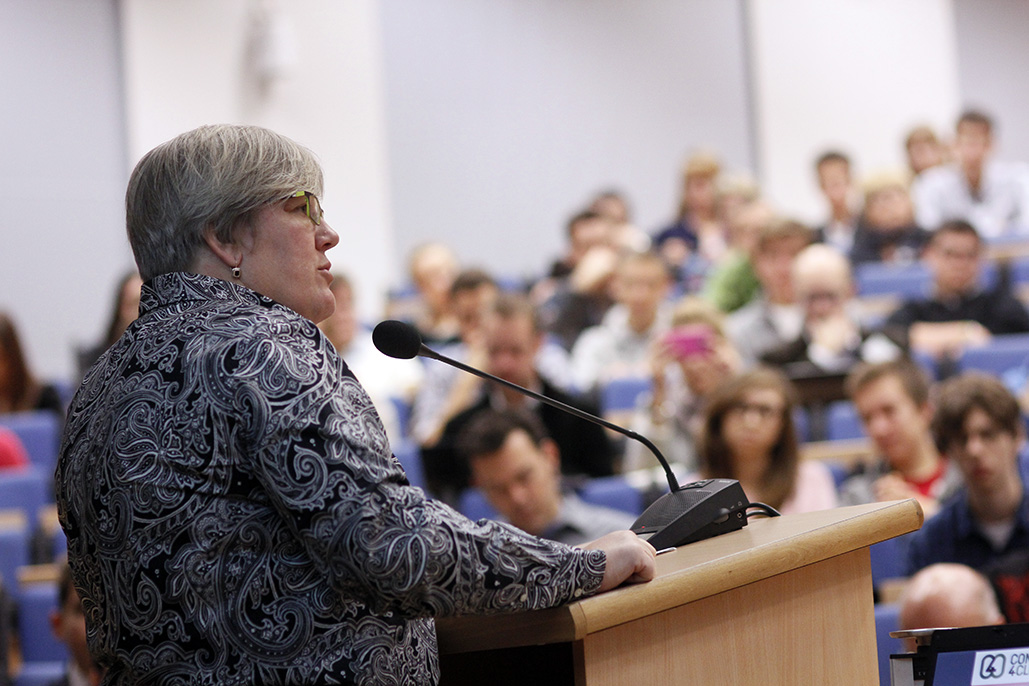 Rachel Kyte became Vice President of Sustainable Development at the World Bank in September, 2011. As such, she has overall responsibilities for the organization's global work in agriculture, environment, energy, infrastructure, urban, and social development, along with global public goods issues in those areas. Prior to her appointment, she was the International Finance Corporation's (IFC) Vice President for Business Advisory Services and a member of IFC's Management Team. Prior to joining the IFC, Ms. Kyte was a member of the management team of the World Conservation Union—IUCN. She has held elected positions in Europe, and founded and led non-government organizations focusing on women, the environment, health, and rights. Ms. Kyte holds a Master of Arts in International Relations from the Fletcher School of Law and Diplomacy, and a Bachelor of Arts in politics and history from the University of London.
Prof. Andrzej Lisowski
Dean, University of Warsaw
"Now the traditional technocratic approach from above does not hold the monopoly on resolving contemporary problems. Climate dialogue, effective communication, raising awareness about climate change are necessary components of human activity."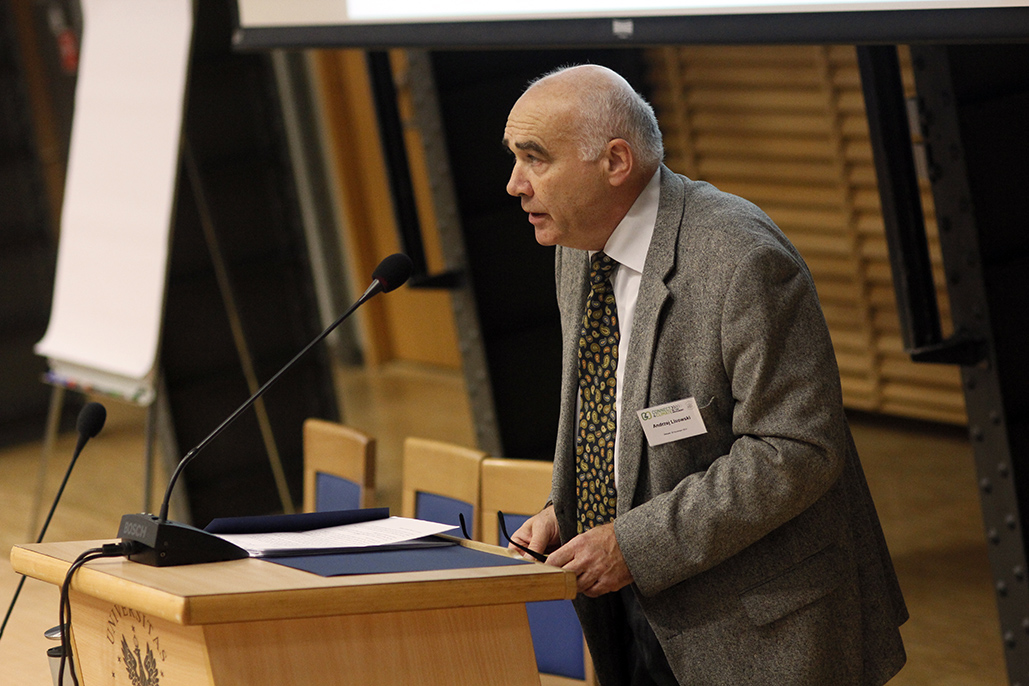 Andrzej Lisowski is Dean of the Faculty of Geography and Regional Studies and head of the Department of Urban Geography and Urban Planning at the University of Warsaw. A professor of Earth Sciences, he is an expert in social and urban geography. His research deals with relationships between geography and social sciences as well as with social problems associated with large agglomerations. He has a special interest in perceptions of environmental disasters.
Antonio Navarra
President, Euro-Mediterranean Center on Climate
"We need to present policies as immediate benefits […] We need to find ways to represent future generations in the democratic process."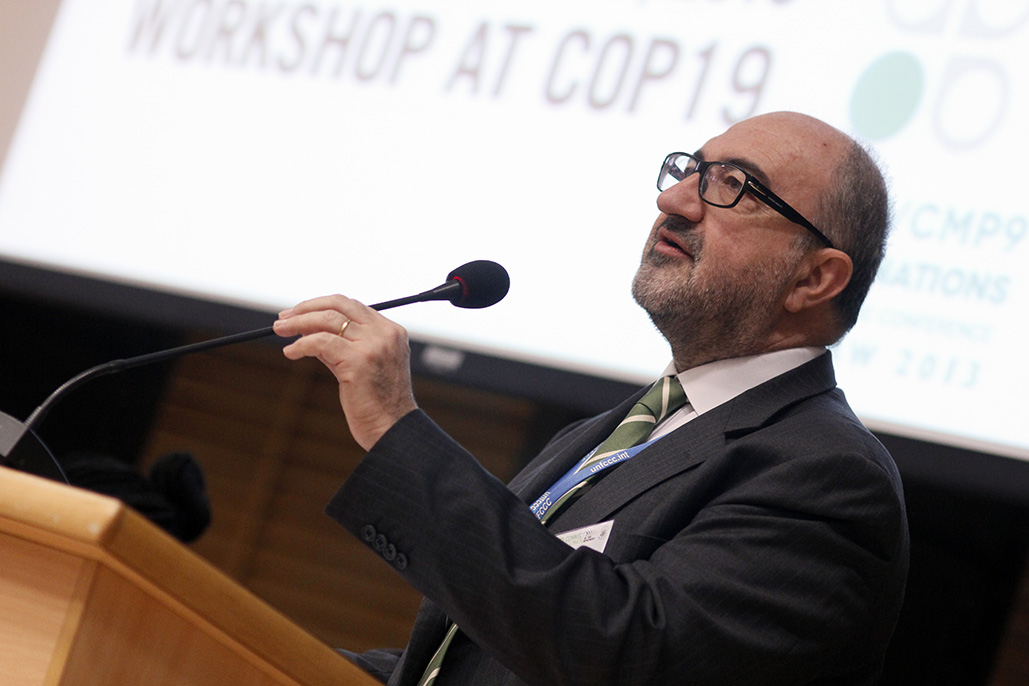 Antonio Navarra is Dirigente di Ricerca of the National Institute of Geophysics and Volcanology, where he has also been a member of its Consiglio Direttivo. He is a member of the National Institute of Astrophysics; an Affiliate Scientist of the National Center for Atmospheric Research in the US, and a member of the Scientific Advisory Committee of the Asia-Pacific Climate Center in South Korea. He has been active in the investigation of the dynamical mechanisms that control climate on a global scale, with a special focus on the natural climatic variability of the atmosphere-ocean system on interannual to decadal or centennial scale. The broad aims of his research are to understand the principal modes of climate variability and to simulate future climate scenarios. Dr. Navarra teaches in the "Climate Change Science and Management" doctorate program at Ca' Foscari University in Venice. He has published more than 90 articles in international peer-reviewed journals and edited or written numerous books. He got his degree in physics from Bologna and holds a doctorate from Princeton University's Geophysical Fluid Dynamics Laboratory.
Prof. Alojzy Nowak
Vice President of the University of Warsaw
"People all over the world have already forgotten that they have to think about the future, they have to think about the nations, they have to think about young people."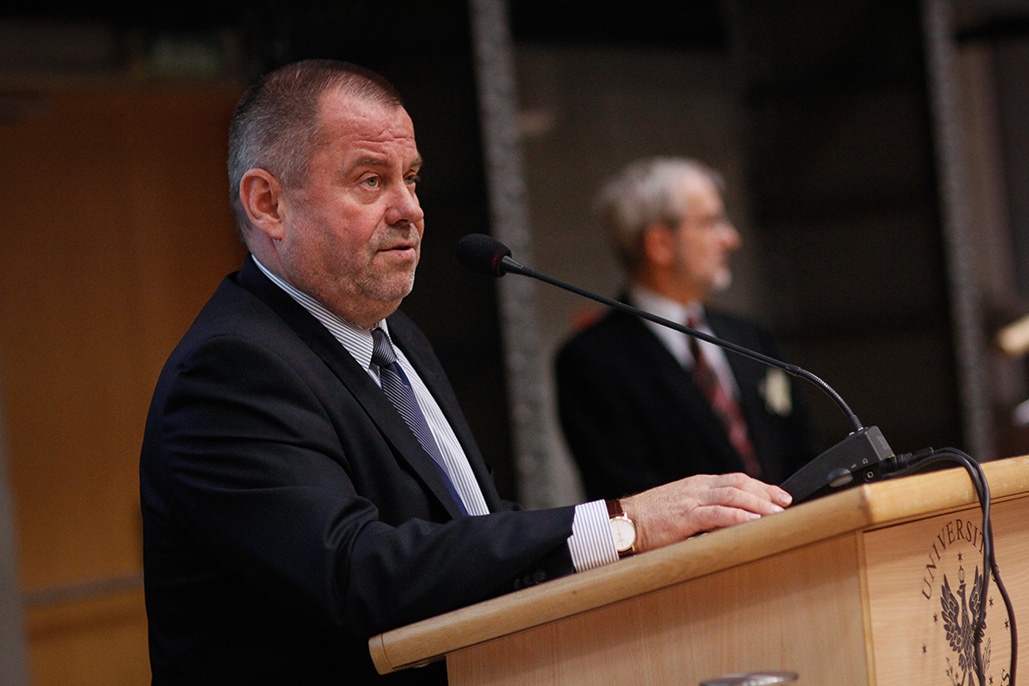 Alojzy Nowak is a professor of economic sciences. He studied at renowned universities in Great Britain, USA, Germany and France. For many years he was Dean of the Faculty of Management and recently became Vice President of the University of Warsaw. He serves as economic adviser to many banks and companies as well as the Polish government. He is an author or co-author of many research papers and books on the economy, human resources and business management.
Irene Peccetti
Special Project Manager at Cruciani
"We imagined a bracelet, which can be a symbol for the movement [...] in order to improve and to spread a message and improve the awareness all around the world about climate change."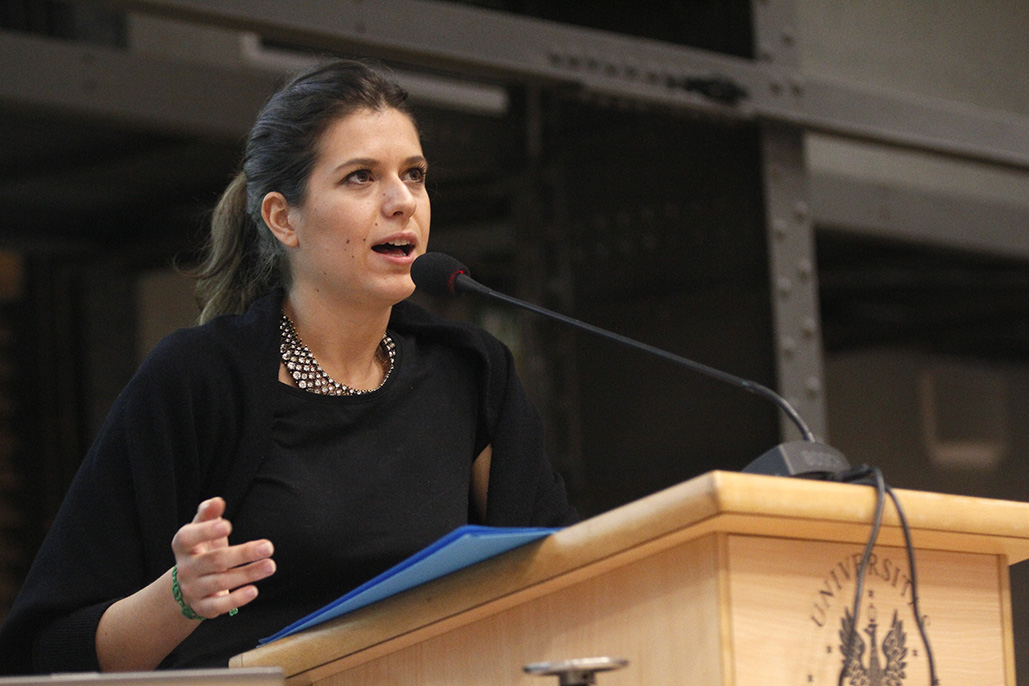 Irene Peccetti collaborated with the Cermes Institute at Bocconi University in Milan before finishing her Master's in commercial marketing strategies. She worked in marketing with Danone Baby Nutrition and then relocated back to Perugia, the "Green Heart of Italy." There, she works as a Special Project Manager for Cruciani, which specializes in cashmere clothing and is a world leader in the production of Macrame lace accessories.
Nick Nuttall
Director of the Division of Communications and Public Information, UNEP
"We need to change rules of the game. The rules are not working in favor of climate change."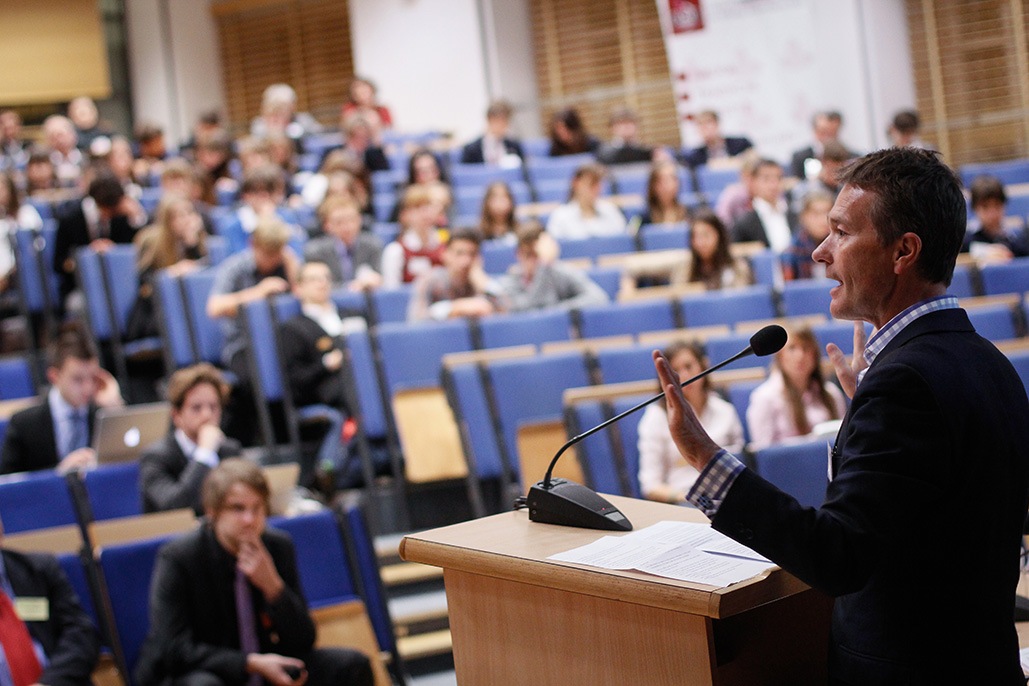 Nick Nuttall is Communications Director and Spokesperson for the UN Environment Programme headquartered in Nairobi, Kenya. He is also the spokesperson, principal speechwriter and creative writer for UN Under-Secretary General and UNEP Executive Director, Achim Steiner. Nuttall joined UNEP in 2001 working for former UNEP Executive Director and former German Minister of the Environment Klaus Toepfer. He is credited with collaborating with Toepfer to develop the UNEP theme "Environment for Development." Before joining UNEP, he was the Environment and Technology Correspondent at The Times from 1989 and before that worked for various newspapers and magazines including The Daily Telegraph; The Independent; the Evening Standard, the London Evening News,  and Woman and Cosmopolitan.
Kelly Rigg
Executive Director, Global Call for Climate Action (GCCA)
"We need a full spectrum of people involved, mobilize people who are passionate already and get them to take stronger action."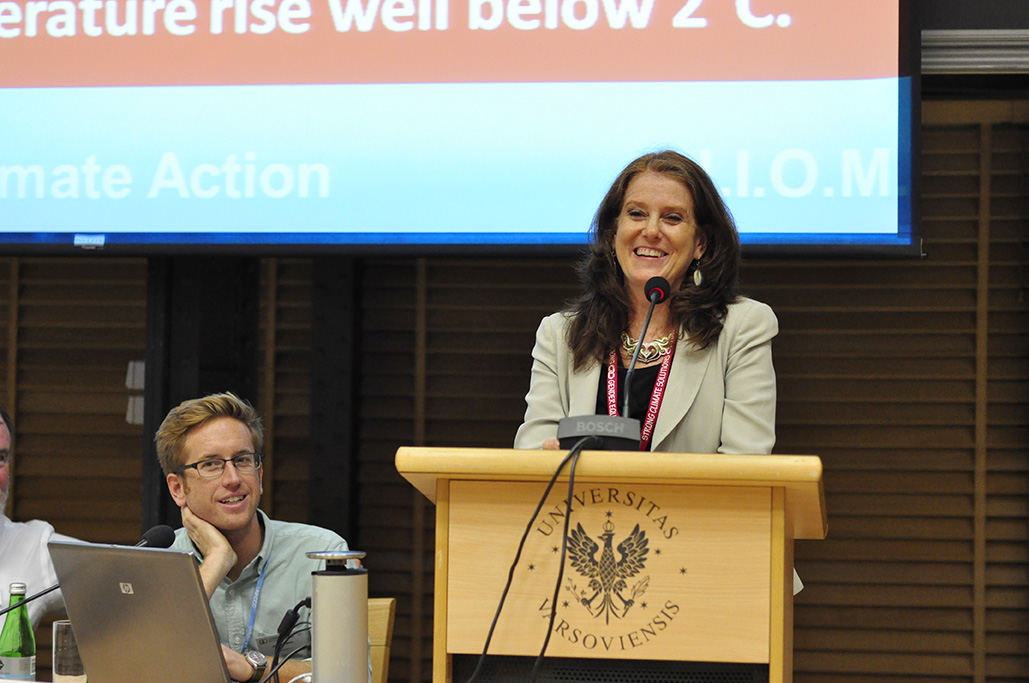 Kelly Rigg is Executive Director of the Global Call for Climate Action (GCCA), a world-wide alliance of more than 300 organizations collaborating under the banner of the "TckTckTck Campaign." She has been leading international campaigns on climate, energy, oceans, and Antarctica for nearly 30 years. She was a senior campaign director for Greenpeace International and a founder of the Varda Group consultancy providing campaign and strategic advice to a wide range of NGOs. Much of her campaigning has been aimed at achieving strong results from international fora. From 2004 to 2009, she coordinated the Deep Sea Conservation Coalition, an alliance of more than 60 NGOs worldwide, working to achieve a UN General Assembly moratorium on high seas bottom trawling. She led Greenpeace International's campaign on climate and renewable energy at the 2002 World Summit on Sustainable Development, and the international campaign to save Antarctica from 1986-1990. She has been with the GCCA since 2009.
Jean-Pierre Roux
Communications Officer, MAPS Program / CDKN Africa, South South North
"We emphasize the development first approach, with climate co-benefits."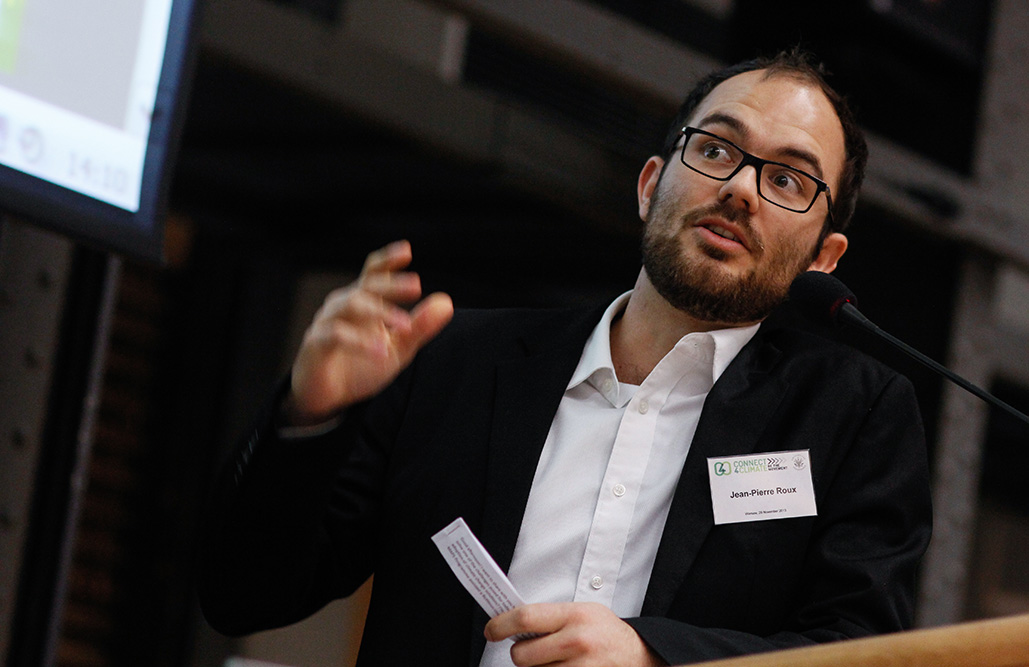 Jean-Pierre Roux provides knowledge management support for MAPS and CDKN. His research interests lie in South African energy policy and understanding how networks of expertise emerge to solve techno-social issues like climate change through technically rigorous and politically legitimate processes. His interests are broadly centered around sustainable development, novel public engagement methodologies, South African energy policy and integrated resource planning, and understanding techno-social networks, that is, the interface between policy-makers, their enlisted experts, and the public--from which environmental policy emerges. He holds an Honors Bachelors in Philosophy from the University of Cape Town and a Masters in Environmental Policy from Oxford.
Prof. Arno Scharl
Head of New Media Technology at MODUL University, Vienna
"The Media Watch on climate change aggregates and processes climate information [...] We track the evolution of trends and the goal is also to shared meaning and understand how others perceive climate change."  

Arno Scharl heads the Department of New Media Technology at MODUL University Vienna. Prior to this appointment, he held professorships at Graz University of Technology and the University of Western Australia, and the position of a Key Researcher at the Austrian Competence Center for Knowledge Management. Scharl completed his doctoral research at the Vienna University of Economics and Business, and also holds a PhD and MSc from the University of Vienna, Department of Sports Physiology. Returning from fellowships at the University of California at Berkeley and Curtin University of Technology (funded by an Erwin Schrödinger Research Grant of the Austrian Science Fund), he submitted his habilitation on "Evolutionary Web Development" to the Vienna University of Economics and Business, for which he was awarded the venia docendi and the Senator Wilhelm Wilfling Award in 2000. Mr. Scharl edited two books in Springer's Advanced Information and Knowledge Processing Series on "The Geospatial Web" and "Environmental Online Communication." He also founded the ECO research Network and served as co-chair of the 20th International Conference on Informatics for Environmental Protection. His current research interests focus on text mining, integrating semantic and geospatial Web technology, media monitoring, virtual communities and computer-mediated collaboration.
Camilla Torpe
Event Manager at LEGO
"Our vision from LEGO is to develop the builders of tomorrow and empowering children to build what they want to see in their future."
 
Camilla Torpe is event manager for LEGO, the world-renowned children's toy company. The Sweden-born Torpe began working for the LEGO Group in 1976 when she was a waitress in LEGOLAND Park. After raising three children with her Danish husband, she returned to the LEGO Group and has worked there for the past 23 years. Two of her recent events included "LEGO Build the Change" and the "LEGO Inside Tour."
Moritz Weigel
United Nations Framework Convention on Climate Change (UNFCCC)
"Education is key to bring about urgently needed changes in the way we think and act for building low emission and climate resilient societies."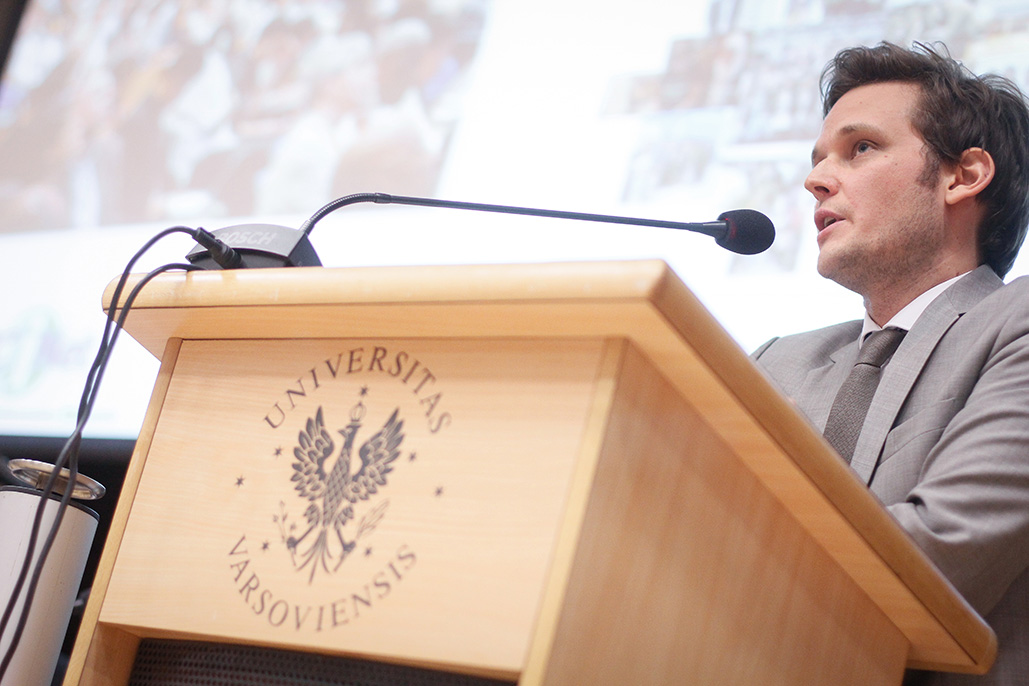 Moritz Weigel held a Pecha Kucha talk on the United Nations Alliance on Climate Change Education, Training and Public Awareness activities at the Connect4Climate Be The Movement Workshop in Warsaw, 20 November 2013.
Moritz Weigel is an Associate Programme at the United Nations Framework Convention on Climate Change.
"Education and awareness are absolutely key for bringing about the fundamental changes in the way we think and act that we need for building a sustainable future for all of us."
Michael Williams
Chief Communications & Public Affairs - World Meteorological Organization (WMO)
"Human influence on the climate is clear."
Michael Williams gave a Pecha Kucha talk on the latest IPCC report at the Conenct4Climate Be The Movement Workshop in Warsaw, 20 November 2013.
Michael is the Chief of Communications and Public Affairs at the World Meteorological Organization.
"Human influence on the climate is clear."