What word comes to mind when you think of "cities"? Busy? And when you think of "forests"? Peaceful? What if cities could be something different?
To date, cities have largely been problematic for the environment. They occupy just two percent of the world's land. However, they account for over 60 percent of global energy consumption, 70 percent of greenhouse gas emissions and 70 percent of global waste. Because of their historical impact on air quality, fresh water, natural resources and energy, the current growth of cities and megacities is a worrying trend. In 1990, there were 10 mega cities with more than 10 million inhabitants. In 2014, there were 28 mega cities. Today, over 50 percent of the global population lives in cities and by 2050 that number will rise to 70 percent.
But cities don't have to be this way.  New strategies and technologies are emerging every day to make cities a cleaner, safer, nicer place to live, both for the benefit of the environment and for the humans who make them their home.
How 7 cities are harnessing the power of urban trees: 
1. Using parks to preserve biodiversity - In 2015, the City of Johannesburg in South Africa united all of its parks under one management in order to reduce confusion about areas of responsibility and ensure a set of common standards. This new agency's goal is to build and maintain more parks with existing funds. Parks, trees and well-managed forests in and around cities help to counteract the impact that growing cities have on habitat loss. Instead, parks and forests maintain and increase biodiversity by providing habitats, food and protection for many plants and animals.
2. Boosting happiness with urban trees - In 2010, Vancouver, Canada adopted a bold strategy called "Green Vancouver," an initiative to reduce the city's environmental footprint. With ten goals, including green buildings, energy efficient transportation, zero waste, clean water and air, the city of Vancouver also highlighted the importance of access to nature. The strategy aimed to ensure that, by 2020, every person will live within a five-minute walk of a park, greenway or other green space, pushing the municipality to plant an additional 150 000 urban trees between 2010 and 2020. By 2014, the city had already planted 37 000 trees. Studies show that trees boost happiness and reduce stress levels. Incorporating them in cityscapes makes neighborhoods more liveable places and improves the well-being of its inhabitants.
3. Cooling cities naturally - In May 2013, the European Commission promoted the use of green infrastructure, which it defines as "a network of spaces with public or private agricultural or landscaped natural vegetation." In response, Barcelona, Spain created a Green Infrastructure and Biodiversity Plan, where green corridors connect green urban spaces such as forests, parks and vegetable gardens. Green spaces within a city and strategic placement of trees in urban areas can cool the air by up to 8 degrees Celsius, reducing the need for air conditioning by 30 percent.
4. Removing pollutants from the air with urban forests– Arnhem, Netherlands implemented urban forests as part of its new "Green Agenda." The municipal government, along with NGOs and experts, helped to develop and define the implementation of green infrastructure in the city. Urban trees are important parts of a city's infrastructure because they serve as effective air filters, removing harmful pollutants in the air. They also store carbon which helps mitigate the impacts of climate change in and around urban areas.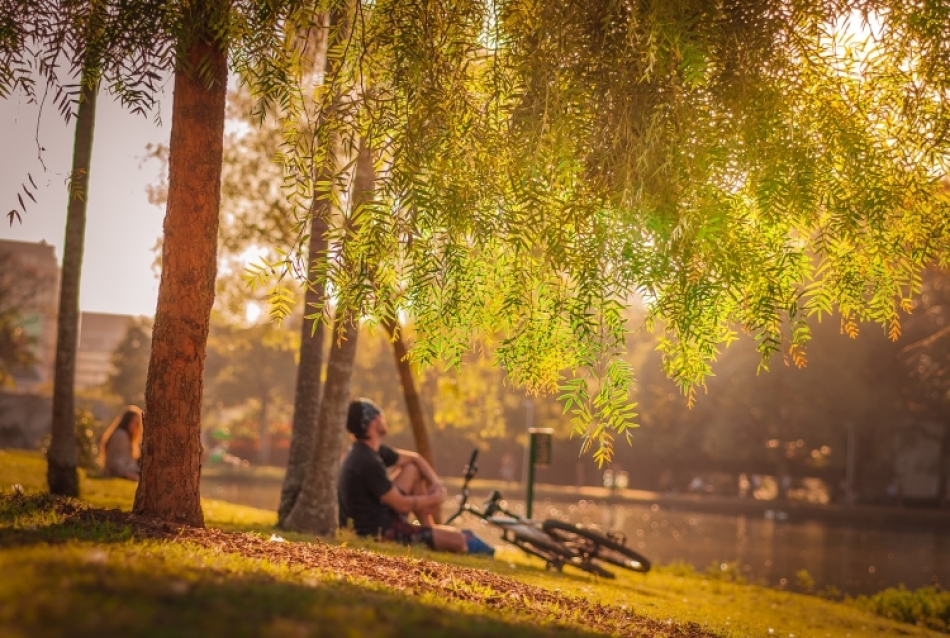 5. Promoting healthy lifestyles with green spaces- In 2004, China's State Forestry Administration officially launched the "National Forest City" programme with both strong national policy support and successful local community involvement. It had two main goals: planting trees and "growing green minds" among its citizens. To acquire the status of a national forest city, a city must meet 38 standards and indicators in the areas of administration and organization, management and forest development. By 2015, more than 170 cities and 12 provinces were actively involved the National Forest City programme. Tree cover in these urban communities had increased to 40 percent or more, up from less than 10 percent in 1981. Nine cities on the Pearl River Delta in South China will become the country's first national forest city cluster which should be completed by 2020. Urban green spaces, including forests, encourage active and healthy lifestyles, improve mental health, prevent disease and provide a place for people to socialize.
6. Planting trees that provide food and medicine for local populations -In the Arabian Peninsula in general and the Gulf countries, such as the United Arab Emirates and Sultanate of Oman, in particular, palm trees are specifically bred, grown and planted on streets to produce dates for public consumption as "sadaqua", which means charity. In Abu Dhabi, for instance, several million palms were grown to line avenues for passersby to pick; the rest is harvested by municipalities. Similarly, in many homesteads in Sudanese cities, date palms are planted to produce fruits that will be consumed at home or offered to guests at Ramadan and other important occasions. Along with many other benefits, trees can also provide local populations with fruits, nuts and leaves as food or medicines for use in the home or as a source of income.
7. Creating planted forests to reduce pressure on natural forests - Dhaka has a population of more than 14 million people and a poverty rate of 30.5 percent. In 2006, FAO analysed the contribution of urban forests to the livelihoods of poor people in the city and found that urban forestry can increase their quality of life by providing, for example, employment in nurseries and other forest-related industries. Most of the poor in Dhaka lack access to city services, such as electricity and safe drinking water; urban forestry can help fill the needs gap by supplying wood fuel and helping purify water. Wood fuel sourced from urban trees and planted forests on the outskirts of cities provides renewable energy for cooking and heating and reduces the pressure on natural forests. These forests also help to filter and regulate water, contributing to high-quality freshwater supplies for millions of people.
Urban trees and sustainable cities aren't just environmental choices. There are also many economic benefits of urban trees and forests. In the city of London, it is estimated that trees help save GBP 260 million every year in buildings' energy costs. Forests in cities and surrounding areas generate tourism, create tens of thousands of jobs and advance city beautification schemes, building dynamic, energetic and prosperous green economies.
For whatever the reason, and there are many, urban forests should be a part of how we rethink our current and future cities. The environment and the city dwellers of the future will thank us.
Banner image courtesy of Jeff Gunn. Thumbnail from the FAO's original article.