The human rights nonprofit Amnesty International is well known for its support of humanitarian causes around the globe; its ambitious goals include ensuring the rights of refugees and abolishing the practice of torture. In today's world, climate change, too, has become a human rights issue, with more and more displaced each year by rising sea levels and increasingly intense natural disasters—a situation with the potential to grow exponentially worse absent swift and decisive action in line with the Paris Agreement of 2015.  As Amnesty International's Secretary-General Kumi Naidoo said on Monday at George Washington University, "The right to a liveable planet is essentially Article Zero of our basic human rights as a people."
In recognition of the ongoing climate crisis and the amazing work youth activists around the world have been doing to raise awareness of it and spur concrete action, Amnesty chose to confer this year's prestigious Ambassador of Conscience Award on School Strike for Climate founder Greta Thunberg and the regional leaders of the international #FridaysForFuture movement that her efforts in Sweden galvanized.
"All around the world, Amnesty is gathering to lift up these inspiring young climate activists who are ringing the alarm bell," Amnesty USA Executive Director Margaret Huang stated at the awards ceremony Monday evening.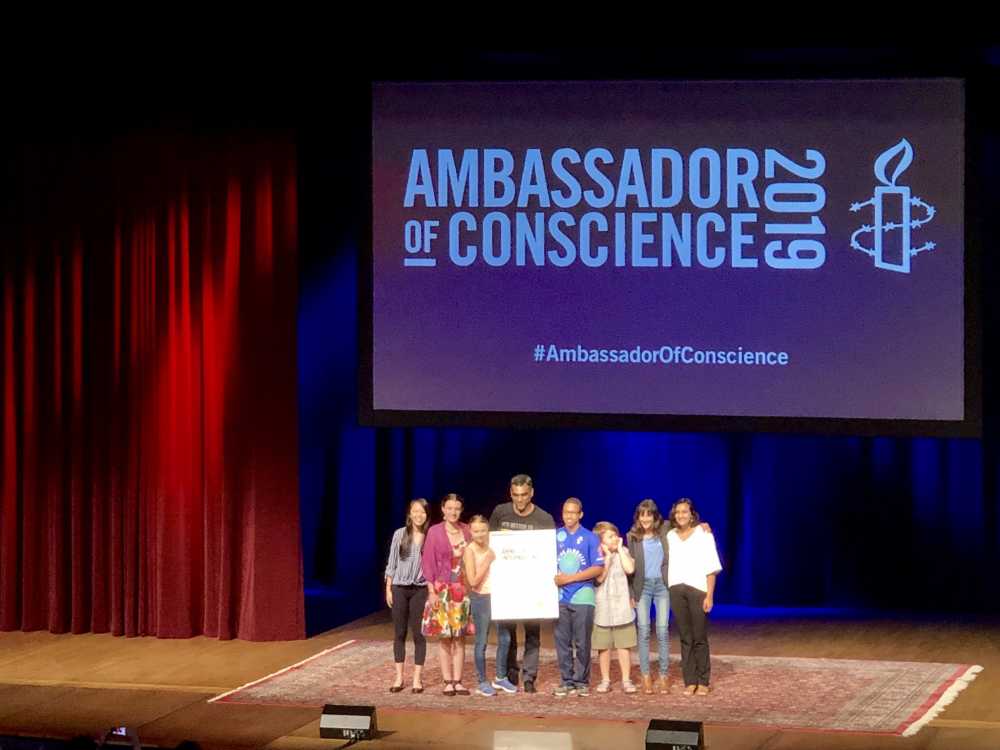 Two other young advocates of climate action, Takota Iron Eyes (16) and Ramona Sarsgaard (12), made it abundantly clear in their speeches why Thunberg and the #FridaysForFuture team were deserving of Amnesty's highest honor. "At 16, I am worried about what it would look like if I want to have kids," Iron Eyes candidly told the audience, her frustration at the lack of action on the part of older generations apparent. Sarsgaard echoed this sentiment, saying that "A child should not have to have this responsibility. But in order to make change, we cannot pretend that everything is okay."
Thunberg has always maintained that it should not be the job of children to fix problems created and subsequently neglected by their parents. Her activism and that of the overarching #FridaysForFuture campaign is grounded in the use of public demonstrations to illustrate the gravity of the situation on the world stage and bring about transformative policy changes in government and industry.
"Right now, I think an awakening is taking place," Thunberg asserted in her acceptance speech. "Activism works. So what I'm telling you now to do is act. See you on the streets."