The global fashion industry came to COP23 to tell of its efforts to cut out the waste and greenhouse gas emissions in its production, supply and customer behavior which have played a significant part in the linked problems of climate change and sustainability.
Watch how the fashion industry supports the Paris Agreement
The event at this year's UN Climate Change Conference left the human models at home to shine a spotlight instead on business models and environmentally sound practices that can ensure the transition towards a cleaner, sustainable future, including making fibers from orange juice production.
The fashion sector represents an annual global turnover of around 160 billion euros. It produces 60 million tonnes of garments a year, which could reach 100 million by 2030, and employs 60 million people around the world, mainly in developing countries.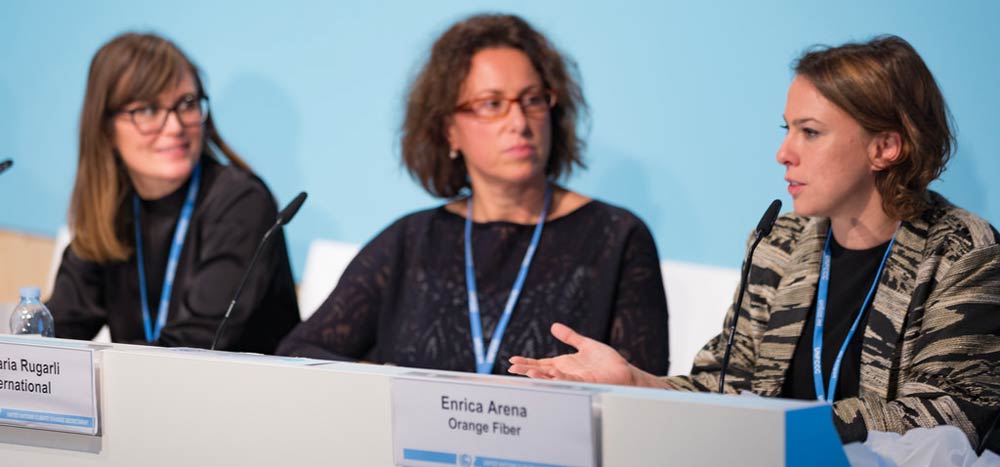 Photo Credit: UNFCCC
Moderating the event, Costa Rican fashion designer Mitchell de La O outlined efforts to design and promote a new low carbon and sustainable system for fashion production and consumption.
Brands are adopting various climate and sustainability approaches, including by measuring their climate impact and looking beyond the first tier of suppliers, integrating sustainability in core business practices, making efforts to bring transparency to the supply chain and applying a variety of innovative solutions.
Mitchell de La O, Costa Rican fashion designer 
Swedish brand Filippa K's sustainability expert Elin Larsson shared insights on how resource intensive garment making is. The production of 1 kilo of cotton requires 3,000 liters of water and 1 kilo of chemicals, creating 16 kilos of CO2 and half a kilo of waste. In Sweden, on average each person throws away 13 kilos of garments a year, of which 8 kilos ends up as waste – yet at least 60% could be reusable.  
Vanessa Rothschild, the Sustainability Expert at the H&M Group, said the group's strategy was to be 100% run on renewable energy by 2040 with an entirely circular production model, where the by-product of one industry serves the objective of another.
The panelists also discussed how industry players are developing and adopting new tools to lower the carbon footprint of the industry. For example, Filippa K has created a way to classify fiber for weaving according to a set sustainability degree (its biological/organic source, ability to be repaired and recycled or even being of a recycled nature already).
Orange Fiber's innovation, developed in partnership with the Polytechnic University of Milan, uses by-products from citrus juice production to produce a sustainable textile. Enrica Arena, one of the two original entrepreneurs, works at the end of orange juice production to retrieve the waste of the chain, and extract from it the cellulose that helps to create the necessary textile fiber.
Filippa K said it was also essential to involve customers in campaigns. For example, Elin Larsson presented the "7 pieces is all you need" campaign, where 18 different looks were created from the same seven pieces to prevent over-consumption of their products.
Another campaign is to tell people there is no need to over-wash clothes, which quickly breaks down the fibers, as well as to remind them that clothes can be mended, instead of thrown away. 
Banner and thumbnail photo credit to UNFCCC