Every year, thousands of campaigners, businessmen, diplomats and everything inbetween descend upon New York City for Climate Week. In recent years, the week has carried particular significance as it coincided with United Nations General Assembly meetings where climate change was a top agenda item. This year, while the UN focused heavily on a number of other issues including the global migration crisis, the discussions of Climate Week focused on a wide range of issues that lie under the vast climate umbrella.
Shifting investments away from fossil fuels and towards the renewables was one topic. Figuring out the best ways to deploy solar power to the developing world as soon as possible was brought up in other venues. Making sure countries hold true to their commitments of Paris was the focus of many events, while working with Wall Street to figure out how to get fossil fuel companies to disclose their carbon risks was another common topic of the many discussions taking place in New York City during the third week of September. Of course, the topics were all connected by climate change, but there was another connection running through all these event: storytelling.
Everyone has a story to tell when it comes to climate change, and getting those stories out to the masses is clearly a priority for those calling for climate action. There's a real story for everyone: from the investors on Wall Street to the families putting solar panels on rooftops near Main Street.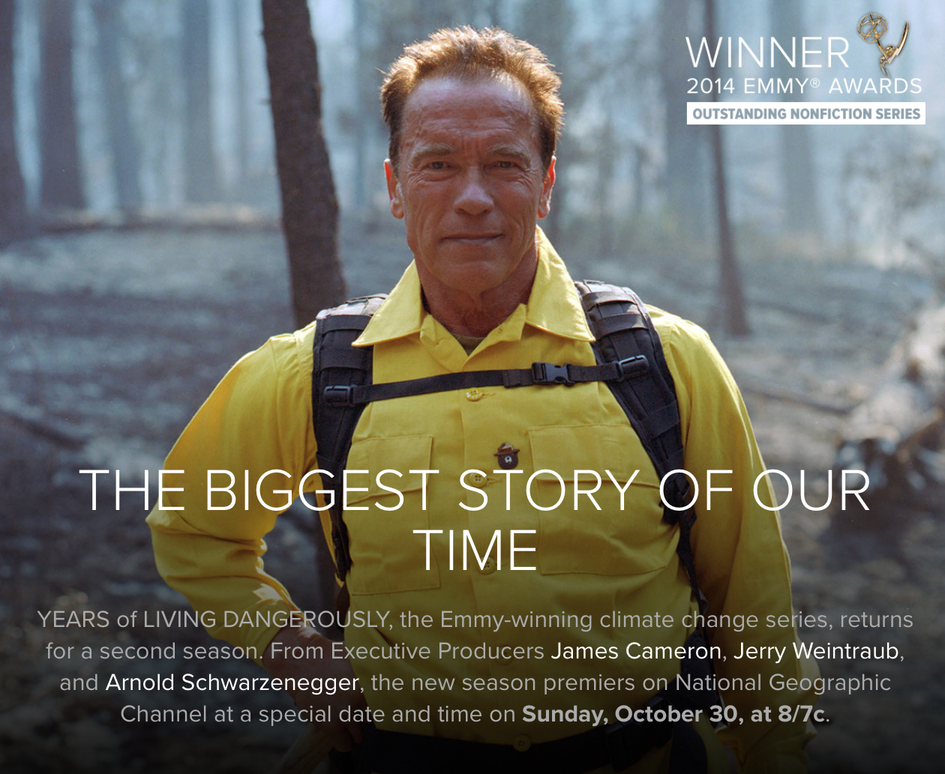 Image credit: Years of Living Dangerously
Nowhere was the power of climate storytelling on bigger display during Climate Week than during a screening of season two of National Geographic's Years of Living Dangerously series at the Museum of Natural History. As far as celebrity power and the environmental movement go this was a pretty solid showing as former Governor Arnold Schwarzenegger spoke ahead of the screening to a crowd he brought to laughter a number of times -a crowd that included both prominent environmentalists and superstars like Tom Brady and Gisele Bundchen.
Bundchen and Schwarzenegger are among the hosts for each of the episodes in the Years of Living Dangerously Series. During the screening the two stories on display were David Letterman's journey to India and Saturday Night Lives Cecily Strong's expose on politicians working to hold back the solar industry in Nevada and Florida.  Letterman's journey was funny, as expected, but it was quite revealing of the intertwined infrastructure and development challenges India faces. When it publically airs, this episode will be Letterman's first television appearance since retiring from the Late Show with David Letterman. He now has a beard, which plays a prominent role in the episode. While Letterman used his typical wit to tell his story, SNL's Cecily Strong took on a surprisingly serious tone during her episode documenting the tricks individuals are still willing to play despite their climate implications. Both episodes were powerful and both left the audience intrigued for more. They were good stories.
But the storytelling wasn't just restricted to celebrities. Throughout Climate Week events focused on the narrative. When Bank of America announced it plans to go carbon-neutral; reduce location-based emissions by 50%, energy use by 40% and water use by 45% in its operations across the globe - all by the same 2020 deadline," Andrew Pleper explained how building on previous commitments has to be part of the business story for taking climate action. "Together we can accelerate the transition to a more sustainable and low-carbon economy," said Pleper during the opening ceremony of Climate Week. Former United States Environmental Protection Agency Administrator and current Apple Vice President of Environmental Policy and Social Issues picked up on Pleper's line when Apple announced it too would be joining the RE 100 campaign and would be making significant investments in solar energy. "We have to be the ripple on the pond. We can't just be 100% renewable energy, we have to bring others with us," said Jackson. Even when real steps are being taken, it seems they are all coming with real narratives.
Over the last several years, progress in climate policy has clearly coincided with concerted efforts to make the issue more relatable. Climate change is a security issue, and over the last several years you have seen countless military personnel tell their climate stories. Climate change is a health issue and the stories of moms fighting for cleaner air or safer neighborhoods are permeating throughout the movement. Pope Francis' climate messages, starting to gain traction a bit more than a year ago, created a religious narrative for those seeking to get involved, while those living on the front lines of climate impacts are increasingly making headlines. It's all about the story.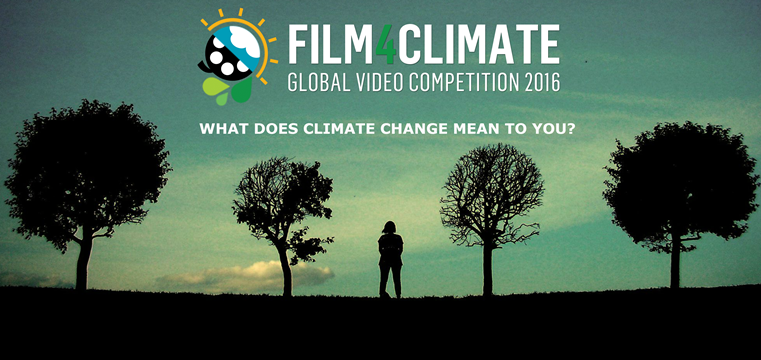 Connect4Climate invited filmmakers between the ages of 14-35 years old from all over the world to share their climate stories on video.
Storytelling is the backbone of our Fim4Climate global video contest. When the Connect4Climate team of the World Bank decided to launch a film competition with numerous partners, rewarding those telling the best climate stories in a number of categories, the idea was to encourage more story telling, gather a diversity of perspectives and provide another venue for spreading these very real experiences.
As September drew to a close so to did the submissions for entries in the Film4Climate contest. With more than 860 entries from more than 150 countries it is becoming clear the demand for climate stories is being met with a steady supply. So while 2016 may not be known as the year the world reached a historic climate agreement like we had in 2015, perhaps it is the year of the climate story. If the last few weeks are any indication there are still plenty more to tell.