Pacific Voices in Unison at COP23 #Uniting4Climate
Pacific Voices in Unison​ 

To empower Pacific youths to demonstrate to the world how they are building resilience to climate change through Pacific solutions, the Fijian Minister for Women, Children and Poverty Alleviation chaired the side event Pacific Voices in Unison.
Youths from six Pacific Island Countries showcased compelling documentaries and perform in unison to bring to life their journeys of resilience. In the true talanoa spirit, Fijian and German High-Level and Youth Representatives empower the Pacific Youths and Islanders.
Speakers:


Anne Dunn
, Fiji's Ambassador for Climate Change and Environment, Miss Pacific


Broderick Menke
, Climate Change Activist & Environmental Studies Major, Republic of the Marshall Islands (RMI)


Eddy Maliliu
, Resilience Program Officer at CARE Vanuatu, Vanuatu


Iulah Pitamama
, Fisheries Officer in Choiseul Province, Solomon Islands


Kaboua John
, Agriculture Extension Officer on Abaiang, Ministry of Lands, Environment and Agricultural Development, Kiribati


Samantha Kwan
, Marine Conservation Officer of the Samoan Ministry of Natural Resources and Environment & President of the Youth Climate Action Network of Samoa


Hon. Dr. Gerd Müller
, German Minister for Economic Development and Cooperation (BMZ) (tbc)


 Representative of Jugendbündnis Zukunftsenergie (Youth Alliance for Future Energy) (tbc)


Hon. Mereseini Vuniwaqa
, Fijian Minister for Women, Children and Poverty Alleviation
This side event was hosted by the Fijian COP 23 Secretariat and organized by the Pacific Community (SPC)/GIZ Coping with Climate Change in the Pacific Island Region' Programme (CCCPIR) - facilitated by the GIZ 'Global Program on Loss & Damage', implemented on behalf of the Federal German Ministry for Economic Cooperation and Development (BMZ).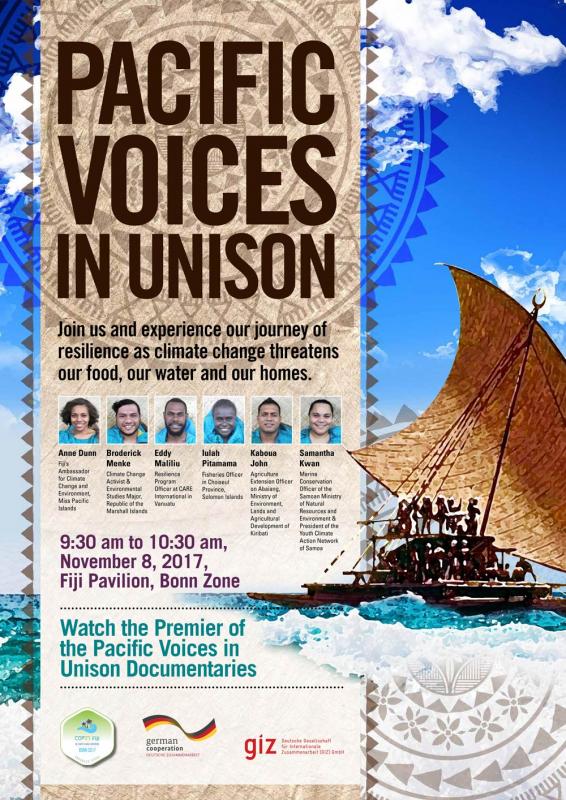 About COP23:
At the UN Climate Change Conference this year (COP23, from 6 to 17 November) nations of the world will meet to advance the aims and ambitions of the Paris Agreement and achieve progress on its implementation guidelines.
The conference, officially referred as COP 23/ CMP 13/ CMA 1-2, take place in Bonn, Germany, hosted by the secretariat of the UN Framework Convention on Climate Change (UNFCCC), and presided over by Fiji. The UNFCCC secretariat and the Government of Fiji are closely working with the Government of Germany, the State of North Rhine-Westphalia and the City of Bonn to ensure a dynamic and successful Conference.