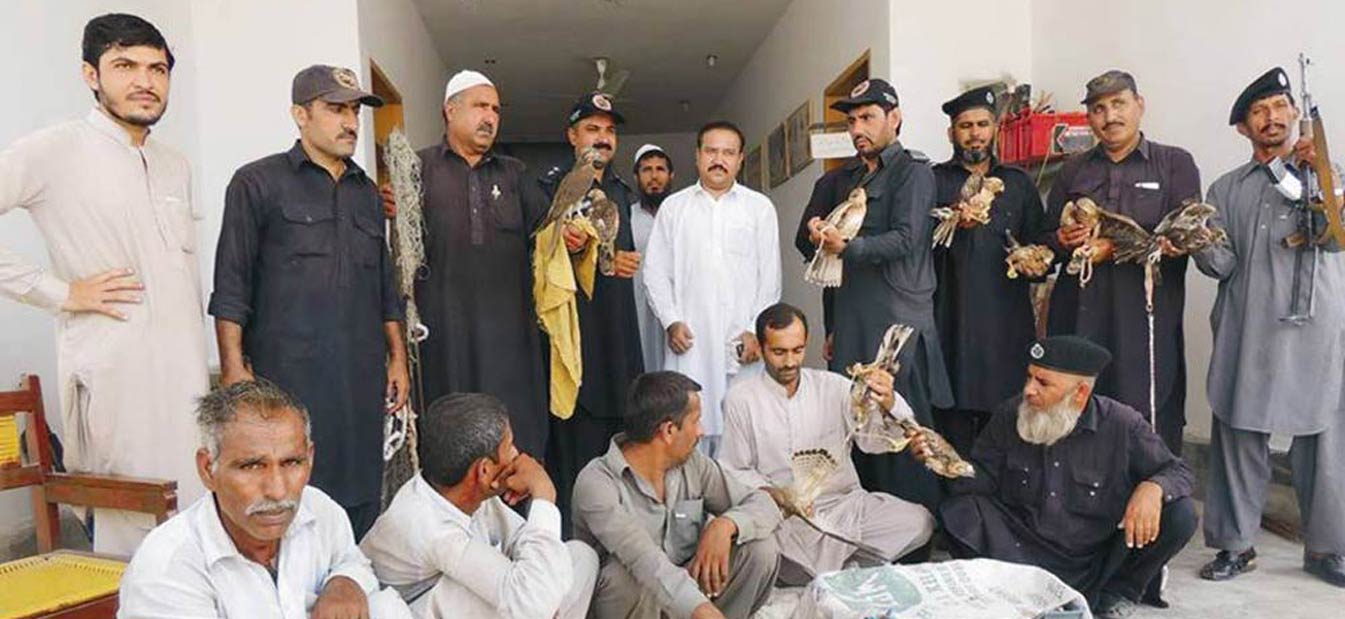 Wildlife, an integral part of environment facing increasing threats in several ways in Khyber Pakhtunkhwa province of Pakistan.
Khyber Pakhtunkhwa Wildlife
department detailed that the hushed green and arid parts of the province habitat of 98 different types of mammals, 464 kinds of birds have beautiful fine feathers, 55 kind of vertebrate, and 500 to 600 plants.
Muhammad Niaz, deputy Forest Conservator, shared that recent upswing in the climatic changes has largely put the biodiversity of the region under severe threat of endangering.
He said that poaching and hunting for the food and adventure and variations in the seasons forcing species towards life-threatening challenges. The major portion of the glaciers located in the north of Pakistan on the way of rapid recession due to excessive Carbon dioxide emission.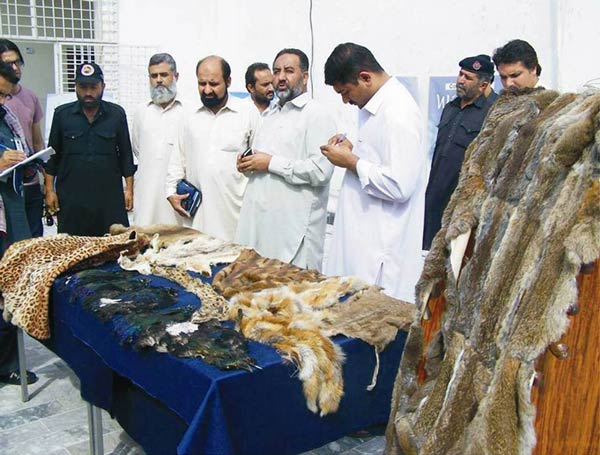 Under the supervision of chief conservator Khyber Pakhtunkhwa, a team of wildlife force recovered skins of the protected animals from local markets
The recommendations of Climate Change Policy 2016 has declared KP the most vulnerable province of Pakistan as the temperature of the province between1980 and 2015 saw an unprecedented boom.
Unsustainable population expansion and large-scale utilization of nature driving a huge number of wildlife species to the realm of endangering condition across the globe he said.
Unfortunately, wildlife species of the most affected province coincided with the horror and challenges of new environment, climatic changes which directly affecting their reproduction cycle.
"Distribution and Status of Wildlife of Khyber Pakhtunkhwa" booklet available in the library of the department categorized species including Snow Leopards, Brown Bears, Indian Pangolins, Monal Pheasants, Snow Partridges and See-See Partridges have become rare.
Striped Hyaena, Desert Cat, and Black Partridge have entered the stage of vulnerability and near threatened.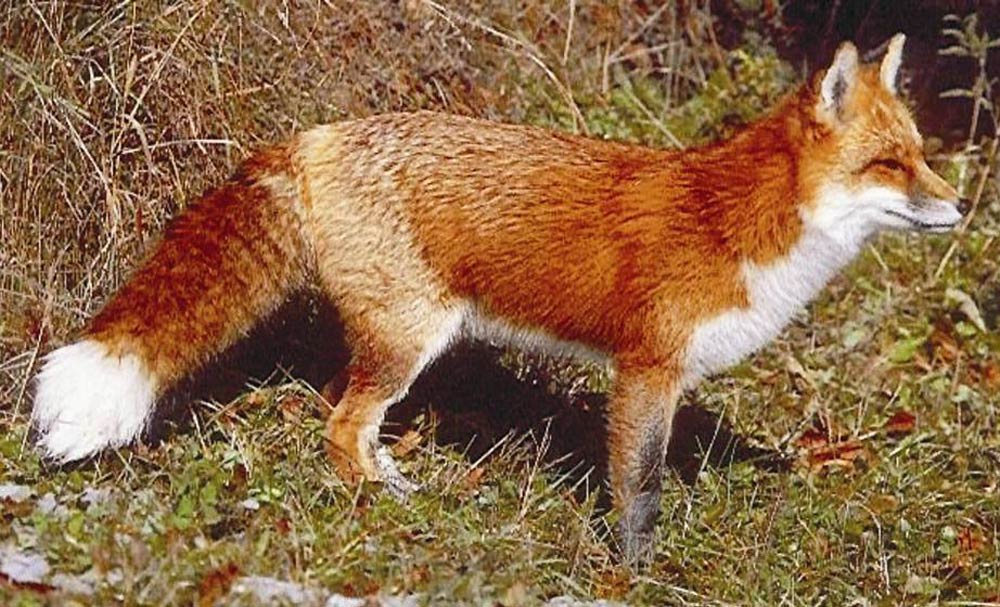 Red Fox under Khyber Pakhtunkhwa wildlife protection in Deosai National Park located in Abbotabbad
Wolf, Common Leopard, Black Bear, Grey Languor, Himalayan Ibex, Goral, Chinkara, Urial, Barking Deer, Musk Deer, Western Horned Tragopan, Kalij Pheasant are also those animals and birds species becoming uncommon.
Species of Indus delta such as Saker Falcon and Hog Deer are also suffering habitat lost and have endangered because of dames' construction activities in the regions.
When it comes to the adaptation measure Muhammad Niaz, who is also in-charge of wildlife protection awareness program of KP said, the department concern has taken climate change adaptation to protect the species up to some extent. He said the force of wildlife searching arrest the people involved in the hunting of protected animals for skin business.
There are around 200 wildlife nature clubs in the northern region of the province where the officials of the department under the awareness program promote the culture of species protection through awareness sessions to students, Niaz added.
Urial, under the conservation threat of habitat loss, an uncommon species found in different game reserve of Khyber Pakhtunkhwa
Additionally, the government of the province has reserved 14 percent of land through In-situ and Ex-situ conservation practices.
As per the information taken from the department the land consist of six National Parks, three Wildlife Sanctuaries, 38 Public Game Reserves, 105 community and private Game reserves, two Wildlife Refuge, seven wildlife Parks reserved for conservation and protection of wildlife species. There are 11 peasantries/aviaries, 15 breeding enclosures in the province.
"Numbers of the Markhor, a national animal of Pakistan have observed increase from 600 to 2500 through a successful mechanism of conservations and preservation" Niaz revealed. 
Assistant Director, Climate Change Cell (CCC) of Khyber Pakhtunkhwa Afsar Khan, said during a survey taken to formulate first-ever climate change policy that wildlife species such as Markhor, Snow Leopard, Wolf and Ducks under the negative impact of climatic changes in the province.
The statement of the policy noted that during the last two and three decades biodiversity loss has reached to an alarming situation and Siberian Crane, Snow leopard, Wolf, Ducks and Markhor are those species under severs biotic pressure.
However, Muhammad Adnan, Assistant Prof, at Zoology Department University of Peshawar (UoP) who had recently completed his PhD from the UK said that conservation and preservation of wildlife species facing extinction, endangering and vulnerability required highly consummate professional skills.
He said universities in Pakistan unlike the developed nation, offer very limited space to study related to wildlife and therefore, the province and country lack of researchers to study wildlife species and practitioners to put conservation and protection in practice in face current environment full of carbon gases.
"To gain access to habitats of wildlife to study their behavior, feeding and reproduction cycle needs resources" he added.
He said the provincial wildlife department should take an ambitious step with lines department for climate compatible development, adding the implementation of the climate change policy in letter and spirit is the need of the hour to protect our species in mountains, desert and water.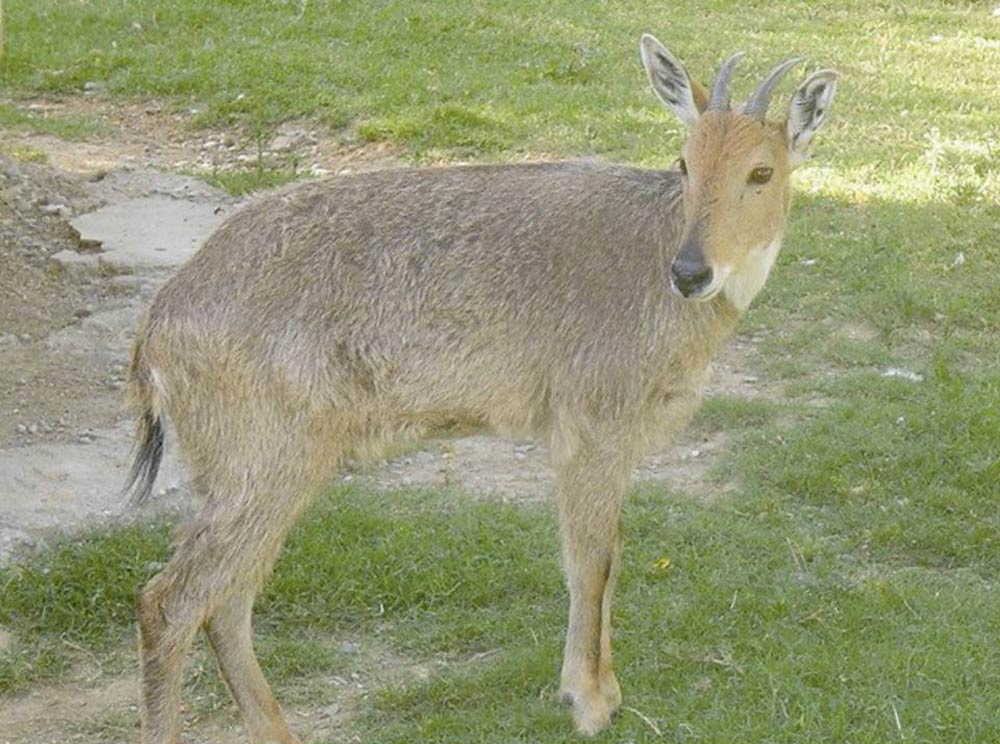 Goral found in district Swat hilly area of Khyber Pakhtunkhwa recently become uncommon
It has also been mentioned that owning to robust environmental degradation and speedy urbanization our planet has lost half of its wildlife in the past 40 years.
ABOUT THE AUTHOR:
Javed Khan
is a Pakistan based Journalist, who covers environment, climate change and its policy related development. He works at Daily Pakhtunkhwa Bulletin as a senior staff reporter. Javed previously worked at The Frontier Post and Daily Times. Before launching his journalism career, Javed earned a master degree in English literature and linguistics from National University of Modern Languages (NUML).
Banner photo: Wildlife force of Khyber Khyber Paktunkwa recovered birds species from hunters in arid region of the provinces