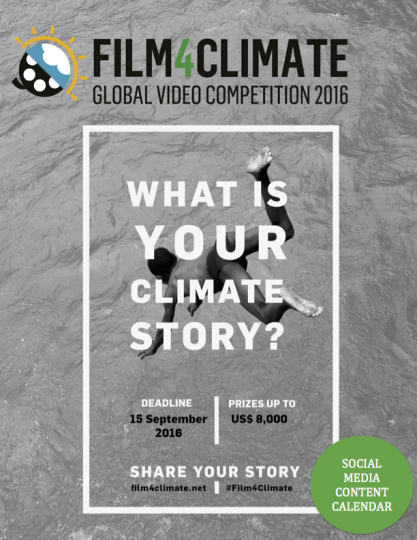 Film4Climate
|
Learn
|
Youth4Climate
|
Education
|
C4C News
The Film4Climate Global Video Competition is the centerpiece of the Connect4Climate initiative to promote sustainability in the creative industries through active engagement with young people in finding solutions to climate change.
The winners, selected by a jury chaired by Bernardo Bertolucci, and including other preeminent directors, producers, writers and political leaders, will be announced at a high-profile awards ceremony at the United Nations COP22 Climate Summit in Marrakesh, Morocco in November.
The winning entries will receive cash prizes of $8,000, $5,000, and $2,000 for first, second and third place in each of two categories: an under one-minute Public Service Advertisement (PSA) or a Short Film up to five minutes.
The competition will be open for submissions through September 15.
ARTICLE: http://bit.ly/261oIVe
COMPETITION WEBSITE: http://bit.ly/1UIbSj2
HASHTAG: #FILM4CLIMATE or #Film4Climate­
TEASER: https://vimeo.com/172022574
DOWNLOAD VISUALS: http://ow.ly/ePjf3018T5W
COMPETITION CALENDAR
July 15th – 2 months left
August 15th – 1 month left
September 1st – 2 weeks left
September 8th – 1 week left
September 12th – 3 days left
September 13th – 2 days left
September 14th – 1 day left
September 15th – Deadline