Despite being major centres, it is not a given that decisions made in New York and Paris reverberate in villages in Bangladesh, in boardrooms in Bogota and in the city hall of Vancouver. But that's exactly what needs to happen this Autumn when world leaders meet at two major summits in those cities. There, they will set a course for the future by signing two agreements to deal with the interlinked challenges facing us - poverty, inequality and climate change.
What these summits must signal is the speeding up of the seismic shift underway in the underpinnings of our economy - from reliance on polluting fossil fuels to a future powered by 100% sustainable renewable energy.
Why? Because the latest climate science warns us that we cannot do otherwise. And because 100% renewable energy is what communities are rolling out in order to beat back poverty as these technologies can provide sustainable energy access where coal, oil and gas have failed for the last century.
Sustainable energy can improve health by reducing pollution, it can improve education, create jobs and kickstart industries in minor economies. You don't need to take our word for it - listen to Marajina, from Bangladesh - one of the many real climate leaders who aren't waiting to get started.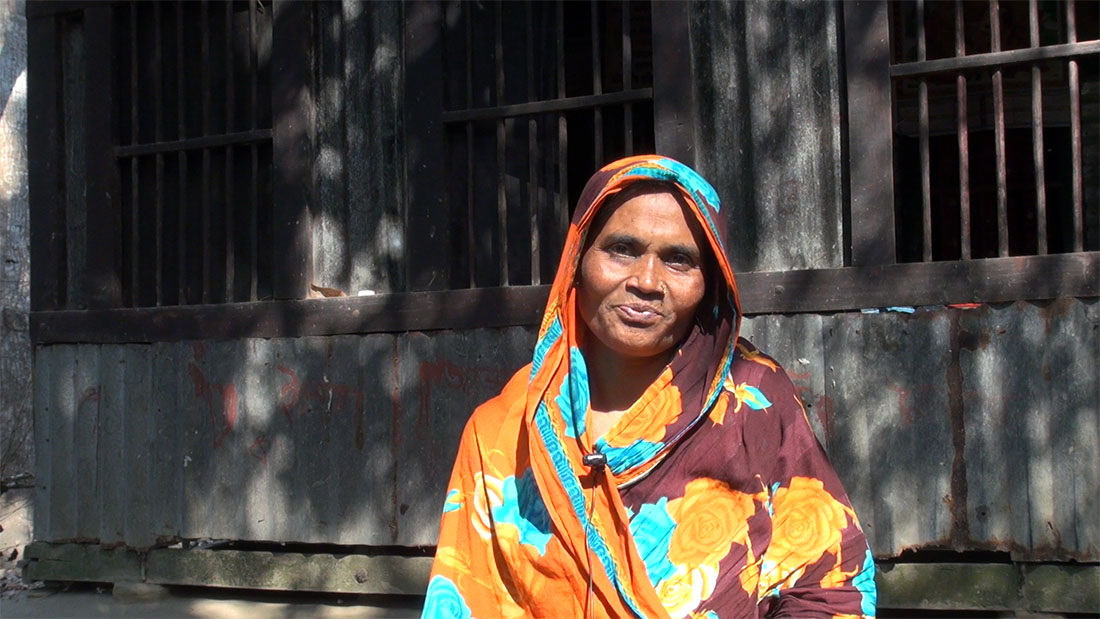 Marajina Begnum from Bangladesh Credit: Helena Wright
She faced energy poverty, which is a lack of reliable energy access as do 2.2 billion other people around the world. This problem was exacerbating gender inequality in her village, with women unable to walk safely down unlit streets, but then she harnessed the power of renewable energy and lit the way for her daughters, now and in the future.
What's not evident from Marjina's story is that this kind of action will also, eventually, limit the climate impacts these communities are projected to experience, the kind of impacts that are stripping away the hard won development gains made in recent years. They're already dealing with rising seas infiltrating arable land which is itself impacting on the availability of food, and are doing what they can to build resilience, but without comprehensive coordinated global action to phase in 100% renewable energy by 2050 fairly, it will get much much worse. 
But luckily clean renewable energy is where the smart money is going - wind, solar and other technologies have never provided more bang for our buck as prices drop while effectiveness rises. This shift has happened as it becomes clear investments made today in fossil fuel infrastructure under the guise of development is a mirage painted by an industry in the throes of structural decline.
Why sell poorer countries a pup we've already abandoned, especially when investments made today will never be used for their full life cycle because science says that in order to keep global warming below 2°C we must leave more than 80% of fossil fuel reserves in the ground? 
We need to make this transition fair - richer countries have to help poorer ones to leapfrog the mistakes they made. Investing in 100% renewable energy is the fairest way to do that, making that the sharpest tool in our shed. The job of our politicians is to enshrine the power of renewables into the new global agreement by committing to a long term goal for phasing out of fossil fuel emissions as soon as possible.
We're counting on world leaders to see the light and do as others have done and invest in a bright future powered by renewables.
See projects that are going 100% renewable
Marjina Begum / Khulna District, Bangladesh - Villager who catalysed local communities around 100% renewable homes to boost energy access and improve womens rights.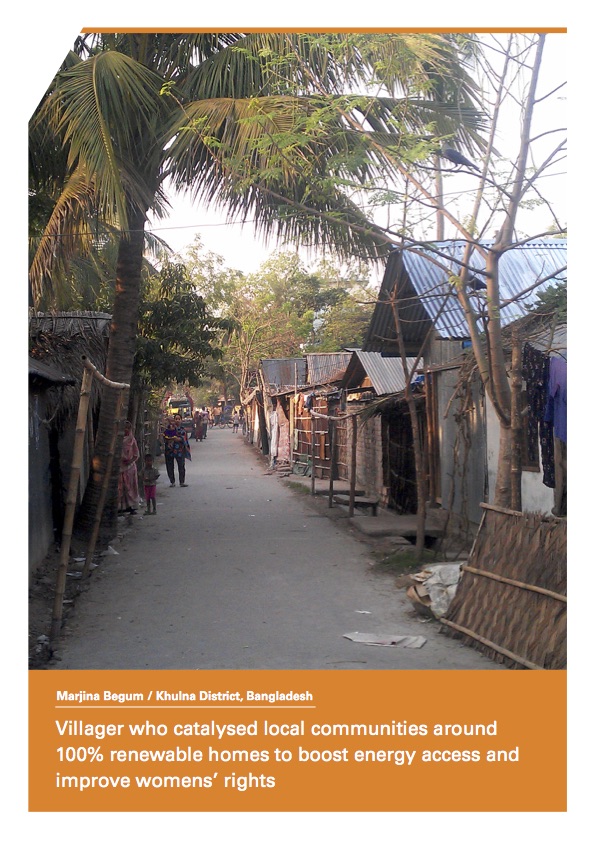 Denise Restoule / Dokis First Nation, Canada - Chief who led her First Nations Community to a 100% renewable reality that stands to benefit their culture, identity and economy.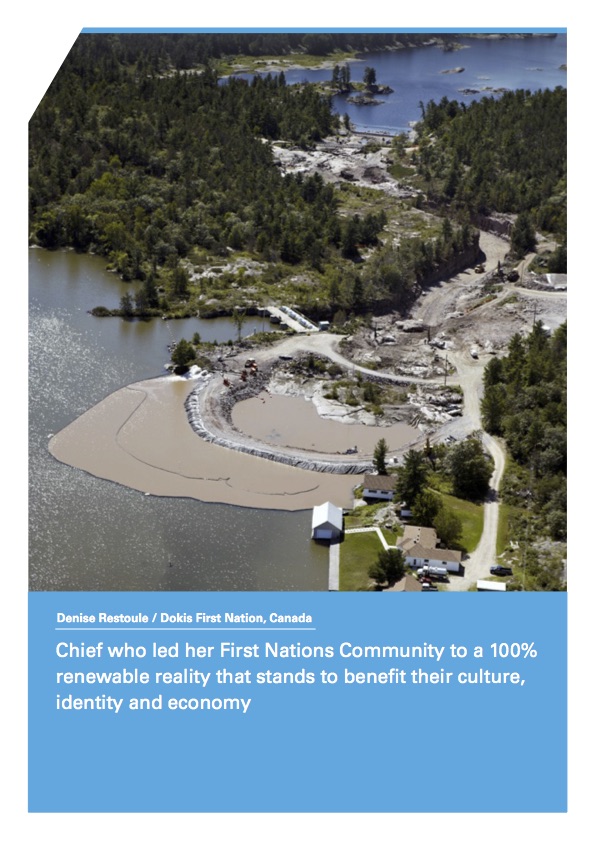 Sulis Setiawati / Island of Sumba, Indonesia - Islander who has helped bring a diverse range of local, national and international stakeholders to agreement over the 100% renewable vision for Sumba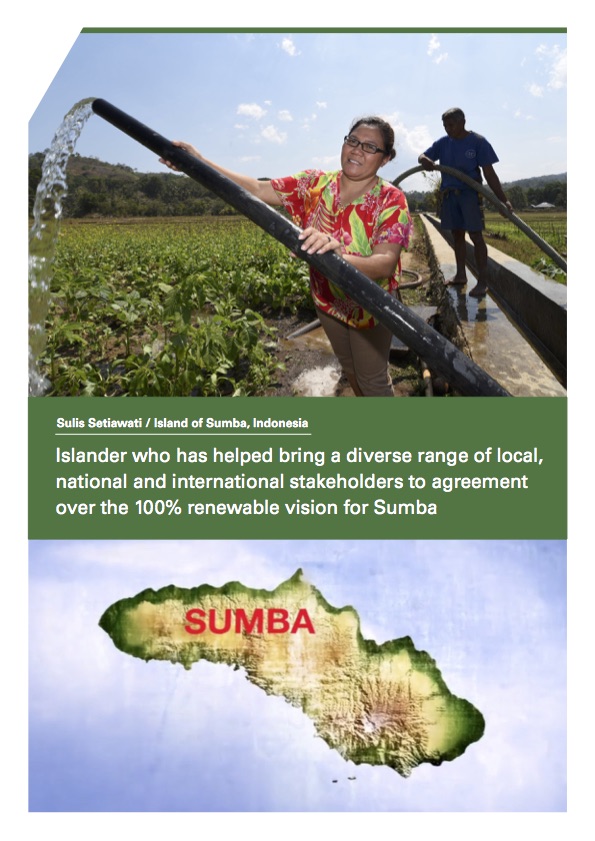 Godfrey Kime / Kasese, Uganda - Mayor of a major Ugandan city who has instigated and oversees an ambitious 100% renewable project for the city and the surrounding district.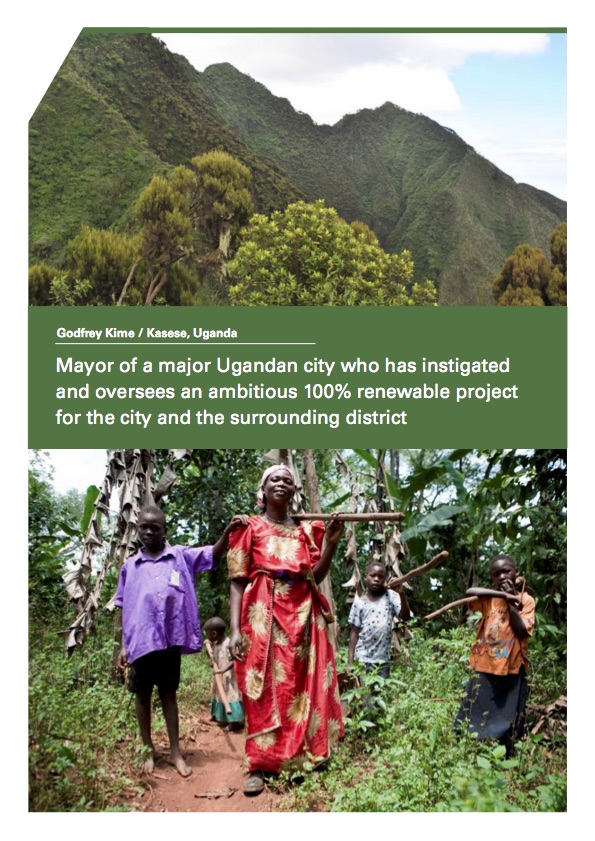 Larry Cantwell / East Hampton, USA - Town Supervisor who rallied a town to secure its energy future and economy by setting out to go 100% renewable.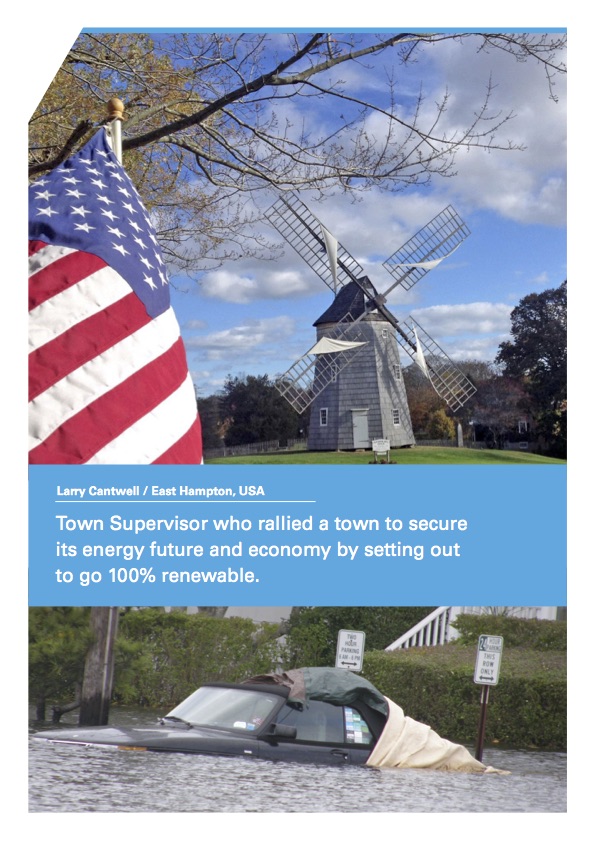 Steve Howard / The Hague, Netherlands - Chief Sustainability Officer of Ikea Group who has overseen a period of massive investment in renewable energy and support for climate vulnerable communities - including a plan to go 100% renewable as a business.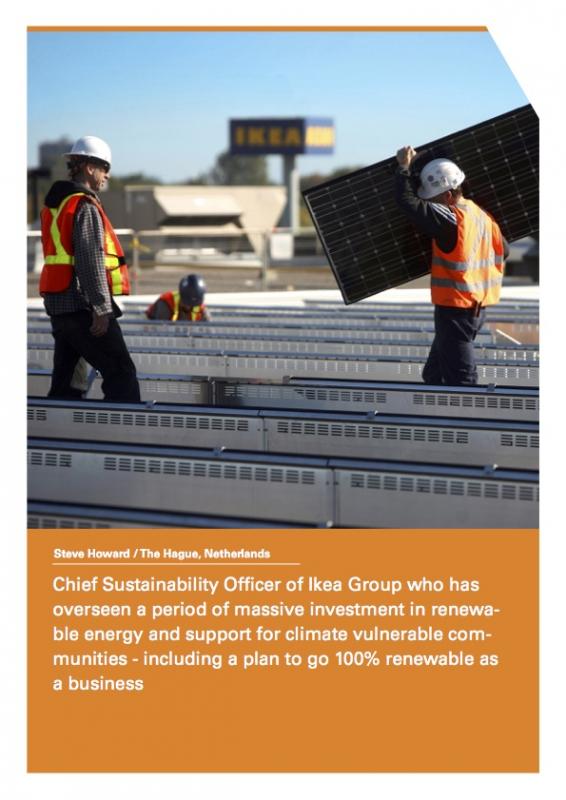 This series of projects have been compiled by Bread for the World, the Climate Action Network,World Future Council, Climate Nexus and other partners.