The private sector has a huge responsibility in working to slow climate change, but what's its role in developing policies? Recently an innovative report by UNEP, WRI, WWF, Ceres and CDP was released, providing guidelines to companies in best using their influence to shape good climate policies. The "Guide for Responsible Corporate Engagement in Climate Policy", which was developed based on interviews with more than 75 leading companies, policymakers and investors, is intended to compel businesses to identify, align and report their actions towards climate policies in order to bring transparency and accountability. 
Since there has been much inconsistency in companies' sustainability commitments and their lobbying actions, CDP has recently called on corporations to disclose their climate lobbying positions. The Guide for Responsible Corporate Engagement in Climate Policy can help in managing and reporting influences on climate policy to make sure that proposed sustainability commitments are linked with lobbying actions.
This guide is innovative and inspiring; by helping companies take responsibility and subtly calling them out for working against climate policies, we find a way to incorporate corporations into the conversation without making them seem like the enemy. It is true that corporate influences have presented a major obstacle to the climate policy process, but private sector participation is necessary to establish a low-carbon economy. The UN Global Compact reports that "only 30% of leading companies have aligned their lobbying with their corporate responsibility commitments", but with more pressure to ensure transparency and accountability, there will be a stronger business for consistency.
At COP19, business leaders and government officials came together to learn about this new guide at the Caring for the Climate Business Forum at the UNFCCC in Poland.  Other business forums at the UNFCCC this year, like the Climate Solutions 2013, help the private and public sector work together to find solutions and be able to come up with a global climate agreement in 2015. At the UNFCCC's Business, Industry & NGOs Day, Christina Figueres stressed that "we must hear loudly and clearly that the private sector is willing to participate in markets, increase efficiency, capture technology gains and produce low-carbon products" for an international agreement.
So it seems that we are entering a new paradigm, one in which governments and the public are holding the private sector accountable in their actions towards climate policy. Many companies understand the risks involved in not addressing climate change; in the US, we recently saw the Business for Innovative Climate & Energy Policy stressing that action on the national level needs to happen. Although many are criticizing corporations for holding COP19 hostage, we must stop labeling companies as the bad guys, and start thinking of how they will be able to help in establishing a new regime of progressive climate policy and a low-carbon economy.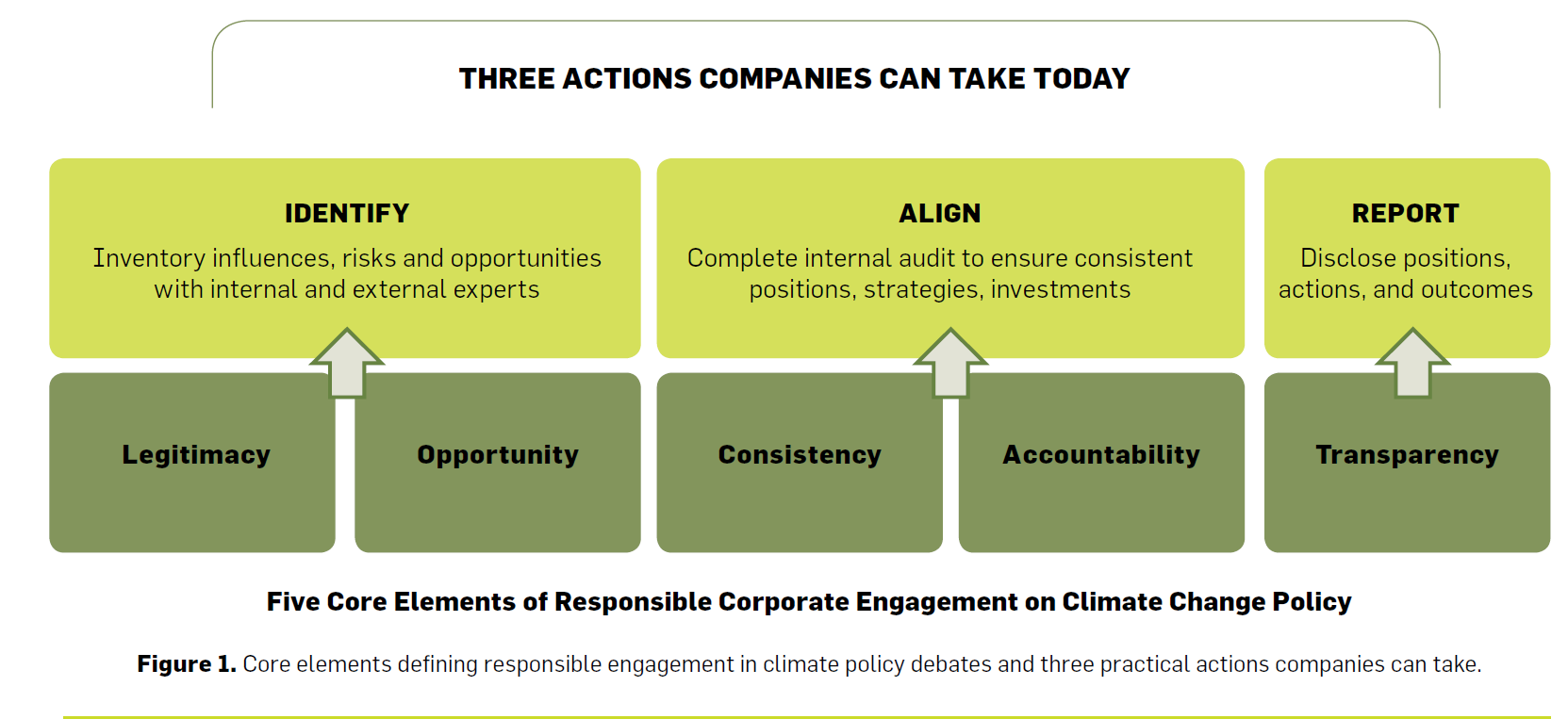 Source: WRI 2013