Given our increasingly complex and dynamic world, cities need to be continuously innovating in order to solve pressing social and environmental problems. Many cities worldwide are growing rapidly, and by 2050 it is estimated that 70 percent of the world's population will live in urban areas. This dramatic trend is greatly affecting natural resource availability—including access to clean drinking water—waste management, transport, and other aspects of modern cities.
Furthermore, climate change is placing additional stress on urban environments. Increasingly extreme weather events, shifting resource availability, and rising sea levels are all testing the resilience of growing urban populations. Climate change presents a different challenge in every location—for example, in a small island nation, floods are a concern; in California, it's drought.
The combination of climate change and an increasingly urbanizing global population requires city officials, urban planners, and members of the private sector to find innovative approaches to efficient resource management, while simultaneously reducing greenhouse gas emissions and opening the door to new green technologies.
EcoCity Lego
Urban centers around the globe may be repositories of carbon emissions, but they're also great opportunities. How can we turn brown cities into oases of green? Connect4Climate features climate solutions in urban environment, spreading their partner's knowledge and engaging in events on urban-related issues.
Jakarta Urban Challenge
The Jakarta Urban Challenge was a USD $20,000 contest launched by the New Cities Foundation and Connect4Climate in March 2015 in order to champion effective solutions to Jakarta's mobility problems while building a lasting legacy beyond the New Cities Summit. As Jakarta grows, mobility is becoming increasingly challenging while congestion is worsening, an issue that many large metropolises face. The Challenge was designed to find local solutions to improve mobility in Jakarta, one of the world's most congested cities.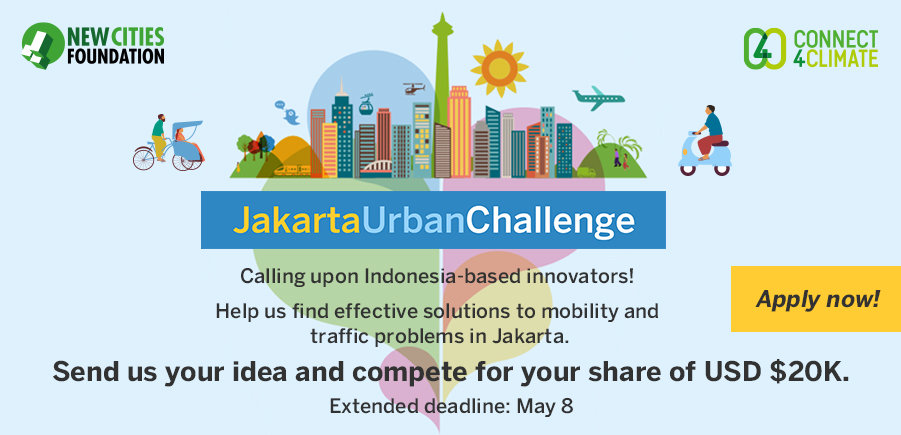 In total, 226 applications were received between March 16 and May 8, 2015. Applicants had to be aged between 18 and 35 years old and either based in Indonesia or Indonesians living abroad. Individuals or teams of up to five people could also apply. 
The finalists were selected for their outstanding responses to the Challenge criteria, which called upon young Indonesia-based innovators to come up with a new solution for their city that demonstrates the capacity to improve traffic congestion, reduce greenhouse gas emissions, reduce air pollution and/or improve transport safety and accessibility in the city.
Three outstanding project ideas came out of the Jakarta Urban Challenge. The three finalists were:
           1. Cyclist Urban System: A plan to create dedicated "cyclist hubs" across Jakarta, where cyclists can park their bikes, get dressed, buy refreshments, repair their bikes, obtain first aid assistance and route information, and eventually, rent bikes.
           2. Jalan Aman (Safe Passage): A mobile application that focuses on the safety of female commuters, allowing users to share their location, report incidences of assault and access information on safe transportation options from other users.
           3. Squee Mobile App: A mobile application that aims to unify pedestrians and cyclists to map the safest pathways around the city, encouraging more sustainable methods of transport.
The first place title was awarded to "Squee" by a panel of industry experts (see the judging panel below).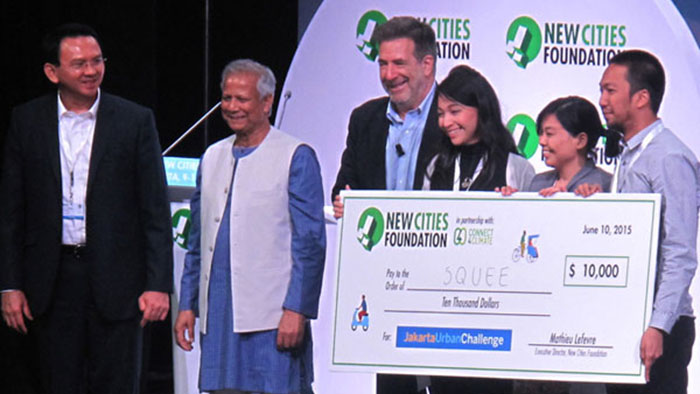 Squee Mobile App winning the Jakarta Urban Challenge, with Governor Ahok of Jakarta, Muhammad Yunus of Grameen Bank and John Rossant of New Cities Foundation.
Due to an astounding number of excellent applications the New Cities Foundation and Connect4Climate also recognized five semi-finalists for the Challenge:
           1. WeWalk: A mobile game aimed at encouraging Jakartans to move around by foot. Users are given challenges and can accumulate points and obtain rewards for different ranges of walked distances.
           2. Working Proxy: An online platform enabling people to find remote office locations in close proximity to their neighborhood, helping workers avoid long commutes. The platform also incorporates ride-sharing options, further alleviating congestion.
           3. Project Karta: A one-stop solution app integrating Jakarta's public facilities, events, transportation services and e-commerce to reduce traffic and pollution. The app helps users find the most effective commuting options by integrating all existing transportation apps.
           4. Jampang: A mobile and web application that provides daily guidance for Jakartan commuters. It offers information on all possible transport options, as well as details on weather, arrival times and calories burned when choosing different modes of transport.
           5. CekPolusi.org: A website that provides real-time information on pollution in Jakarta through monitoring stations located in nine locations across the city. Users can learn about the air quality in their area as well as the impact of particular pollutants.
These five semi-finalists were invited to attend the New Cities Summit in Jakarta.
The Judging Panel included:
             Ke Fang, Lead Urban Transport Specialist, The World Bank Group
             Sarwo Handayani, Head of Governor's team for Development Acceleration, City of Jakarta
             John Rossant, Chairman, New Cities Foundation
             Sutanto Soehodho, Jakarta's Deputy Governor for Industry, Trade, and Transportation
             Neli Triana, Senior Editor/Deputy Head of Metropolitan Desk, Kompas Muda
             Muhammad Yunus, Nobel Peace Prize recipient and Founder, Grameen Bank
Download the press release on the finalists and competition.