In our work at Youth Climate Lab (YCL) over the past year, we've heard a number of discussions take place around COVID-19 recovery and youth. Even so, we've seen little action on the part of institutions and governments towards the just and climate-resilient futures we know young people deserve. At the same time, we've found that young people spend so much time trying to get seats at decision-making tables, that once we finally get there, we lack the context and the skills to advocate for ambitious change.
Youth, especially from vulnerable communities, have been disproportionately affected by the COVID-19 pandemic. We are overwhelmed as a result of facing unprecedented levels of precarity in employment, education, financial security, and physical and mental health. In addition to dealing with a global pandemic and an economic crisis, youth shoulder the responsibility of climate adaptation and mitigation. Youth are outraged that climate inaction continues to pervade decision-making spaces, including in regards to a green and just recovery from COVID-19. However, youth are optimistic and understand that we have a once-in-a-generation opportunity for transformative change with the potential to radically shift skills-building, policy, and finance, and elevate the role of youth – while tackling the climate emergency.
Because of this, YCL partnered with Connect4Climate to design and deliver a session for Innovate4Climate's Young Climate Innovators program. Our workshop equipped young people with knowledge about the current state of play on youth, climate action, and COVID-19 recovery, and sparked creative discussion around existing barriers and effective solutions – all with the goal that they would feel prepared to engage with decision-makers throughout the rest of the conference, and in their own work going forward.
Takeaways—High-Level
Both bottom-up and top-down approaches are needed to take action at the scale and scope that we need.

However, individualization limits the community organization and mobilization that is possible. The focus on personal responsibility and profit must shift towards centring wellbeing, designing systemic interventions, and implementing measures of accountability. 

Youth must be actively included in decision-making processes to: 

inform the whole of economy/government/institution strategies;

prevent the silo-ing of "youth" or "green" policies; and,

break down barriers to additional youth involvement. 

Comprehensive climate education, including basic knowledge of climate change, awareness of the social and economic benefits of climate solutions, policy literacy, and opportunities to engage with climate work, policies, and investment are critical. 

A shift in how individuals and institutions view and value youth, our lived experiences, and our contributions is foundational to achieving anything.
Takeaways—Skills
Barriers*
Lack of lobbying, climate-work, and networking experience limits youth engagement in community organizations and career development opportunities

Countries in an economic crisis, bureaucratic roadblocks, corruption, resource-dependent economies, and profit-focused governments can slow progress towards transformative change 

Systemic bias within financial sector and a mismatch in the understanding of systems, needs, and how they relate to youth slows financial investments in green industries and limits jobs and skill-development opportunities for youth
Solutions
Lead by example for other members in your community

Provide individual coaching, apprenticeships, and capacity-building projects and workshops for youth, particularly for sector-specific skills 

Re-train of institutional decision-makers to improve understanding of interconnected and systemic issues

Collaboration between youth networks, institutions, and governments to develop synergies (re: reskilling/upskilling) between climate action and sustainable solutions
*Barriers to investment in sustainable & green jobs for young people.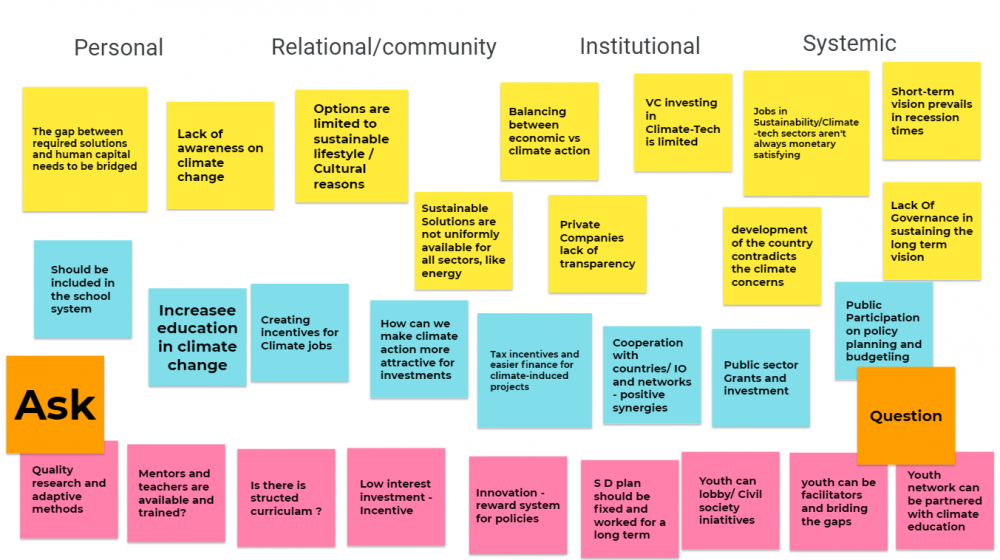 Takeaways—Policy
Barriers*
Entry in climate work often requires climate work experience, yet youth lack basic policy literacy

Lack of transparency and accessibility in policy-making processes makes these spaces difficult to infiltrate and access

Lack of trust in youth to make decisions, hold knowledge, and understand solutions
Solutions
Contextualize and address the individual needs of each community 

Strengthen Indigenous, climate and polluter policies and divest from fossil fuels to increase the demand for and economic incentives towards skill-development, climate jobs, and educational reform

Increase public-private partnerships to create funding for more opportunities for youth to pitch ideas to the government

Policy literacy programs (e.g., student government) which give youth practice and confidence in policy-making

Place more youth in decision-making bodies and surround them with the support, knowledge, skills, and connections they need
*Barriers to investment in policy innovation & meaningful opportunities for youth to engage in policy.
Takeaways—Finance
Barriers*
Inaccessibility of financing, networking, and entrepreneurship education

High interest rate loans and limited buckets of financing

Unnecessary and difficult financial application processes

Lack of social capital and connections

Perception that climate solutions don't have quick returns on investment (climate finance requires patient capital)

Ageism and cultural perceptions about youth impede access to financial education and capital to innovate climate solutions 
Solutions
International & multilateral institutions need more innovative and flexible mechanisms to lend money, as well as lowered taxation towards youth

Foster relationships & partnerships between financial and academic institutions to educate investors and the public on the benefits of green solutions to climate change

Create training & mentorship programs between politicians and young people to encourage young people to become elected officials 

Increase awareness and education on the power of mobilizing youth in financial investment spaces 

Offer free educational resources and mentorship programming for youth to build skills (e.g. job entry skills, networking tips, business plan support) 

Shift public common sense to value lived experience as well as financial training
*Barriers to investment in youth-led climate solutions.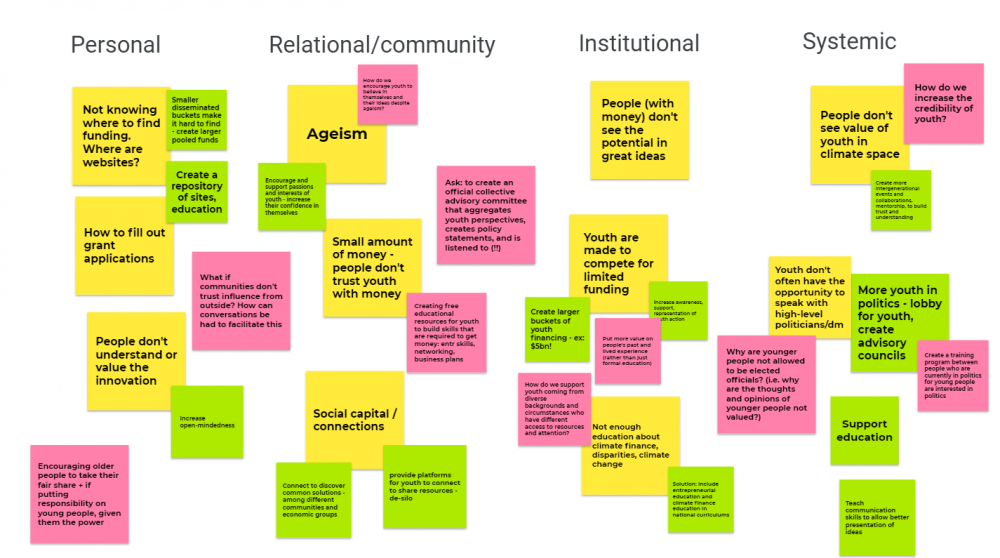 Conclusion
We wrapped our session by encouraging participants to ground themselves in their own realities. Many of us are feeling overwhelmed, outraged, and optimistic right now, but we are most effective as advocates when we bring our full selves to the table – and use these feelings to guide how we innovate and transform the world.
We're grateful to all of the Young Climate Innovators participants who attended our session, and to our team of YCL staff and external facilitators who guided us through the discussions outlined here – your enthusiasm and insights have made this whole process exciting! Thanks as well to Connect4Climate for partnering with us, and to the Innovate4Climate team for hosting us.
Youth Climate Lab is a youth-for-youth global organization focused on transformative climate action. We design, pilot and scale projects to enable young people to build the just, climate-resilient futures they deserve.
Brynna Kagawa-Visentin (YCL Youth Financing Specialist) is an intersectional climate justice educator, facilitator, and thought leader whose work focuses on advocating for healthy ecosystems and communities. Naia Lee (YCL Communications Coordinator) is a facilitator, designer, and organizer who uses her passions for creating empathy, sharing stories, and scaling local action to contextualize the need for climate justice.