This believes Spencer Sharp, filmmaker, and producer of "Three Seconds," first prize short-film winner of the Film4Climate Global Video Competition. On the Connect4Climate Facebook live Q&A, live on Tuesday, April 4th, Spencer Sharp expressed his point of view on climate change, and on the power that cinema has to tackle this issue.
"As long as you have a good message you can create a great movie," Sharp advised, reminding the audience of the power of social media to raise awareness. The young filmmaker is certain that climate change is a matter that interests and concerns youth around the world. He also explained that he filmed 'Three Seconds' in order to create a motivational video focused on the impacts of global warming.
"You can do a film, but if it doesn't mean anything, if it doesn't have an inspirational message or some moral, it doesn't fill your soul", declared Spencer Sharp.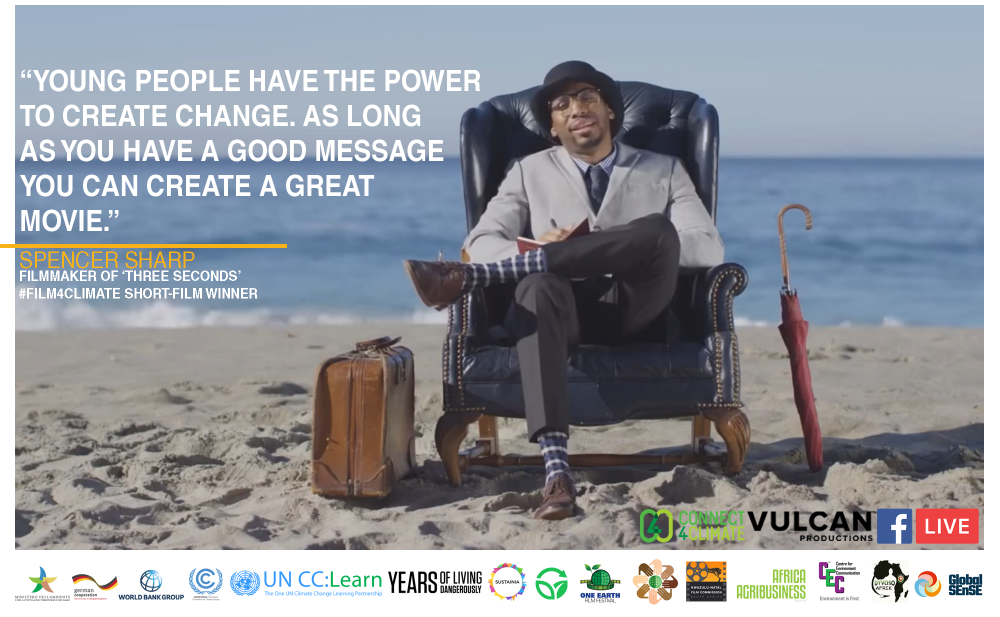 According to the Film4Climate Competition winner, cinema has the capacity to alter mentalities and actions: "Always try to make films that have a message" he declared. "Don't make it too political. Don't force a message. Make it appeal to everyone."
In this live discussion, climate change is considered the greatest threat to future generations. "They're the ones who will have to live through it. The future is really in their [young people] hands, and it's exciting to see what they are doing," revealed Spencer Sharp, who believes that "Young people have the power to create change."
"The biggest thing you can do is cutting out beef. Beef alone is a huge contributor to greenhouse gases", he advised. The filmmaker finished his Facebook live stream video with a message to those listening worldwide: "We are polluting our planet; animals are going extinct. We have to move away from coal and really start investing in renewable energy. Do something."
Recap the Facebook Live Q&A
Watch "Three Seconds" (winning video)