Before I left home, I wasn't sure what to expect from my trip to Montreal for the fifteenth Conference of the Parties to the UN Convention on Biological Diversity, a.k.a. COP15. I had attended research conferences and was no stranger to international travel, but policy and government were spheres rather foreign to me.
What I did know very well going in was this: we live on a planet with reefs, forests, rivers, prairies, jungles, deserts, ice caps, and more. Each part of the biosphere is unique, and preserving that diversity – the focus of the conference – is of the utmost importance.
My name is Avery, and I'm a university student in the United States. I traveled to COP15 with Reserva: The Youth Land Trust, an entirely youth-led conservation organization amplifying global youth voices in the conservation space. We hoped to showcase our efforts, demonstrate the power of youth-led solutions, and champion youth inclusion in policymaking. I also helped Connect4Climate, a Reserva partner, with content creation for social media.
As a citizen of the Cherokee Nation, a Native American tribe that survived European colonization and remains active to this day, I brought to the conference a unique perspective on biodiversity and its importance.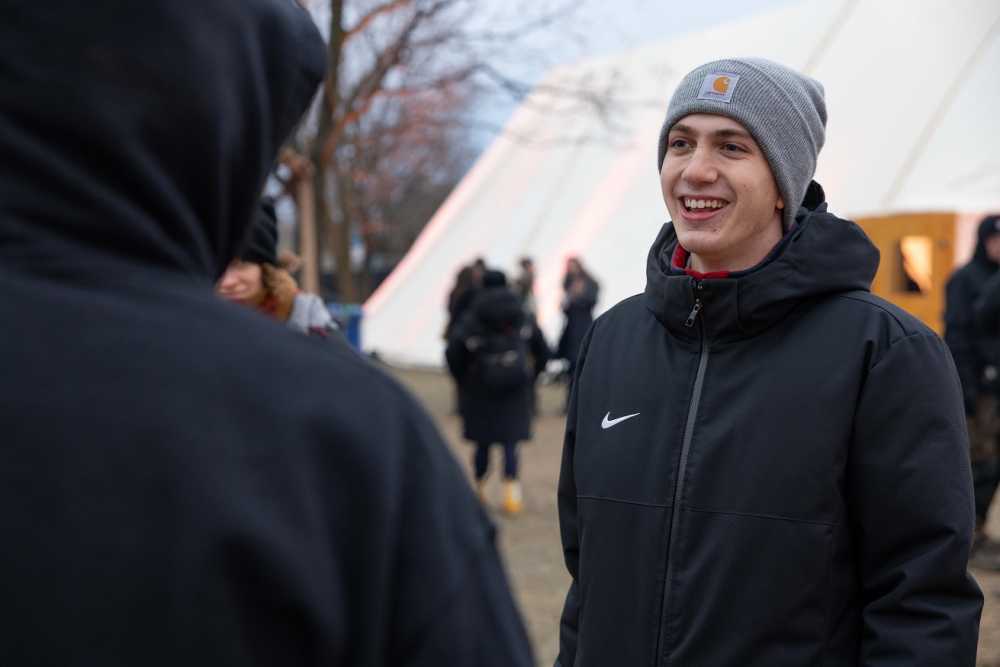 Avery discusses indigenous perspectives with the ceremonial firekeeper at the Indigenous Village.
During my time at COP15, I met with a variety of attendees, but especially other youth and indigenous delegates. I remember a conversation I had with the firekeeper of the UN-sponsored Indigenous Village, Don Barnaby – a First Nation Mi'kmaq. We talked about how important it was to have our voices included in the conservation discourse. Barnaby was hopeful that, working together, we all could find more collaborative solutions to the complex conservation issues posed by biodiversity loss and climate change. He shared stories and knowledge from his own life on the depletion of natural resources in Canada. When he commended me for traveling to Montreal to advocate for indigenous people, and especially indigenous youth, it meant a lot.
Central to the philosophy of the Cherokee – and many other indigenous peoples – is the idea that we exist intertwined with the natural world around us. This relationship is critical, as indigenous peoples have sustained themselves with the resources and diversity of nature for centuries. We recognize nature and her varied and unique components as extensions of our own selves and societies. Without those resources, not only would we not exist, but we likely would never have gained the knowledge to exist in the first place. Knowledge from the natural world is a key component in indigenous value systems. But it is a bridge to others as well.
Many appreciate biodiversity for the scientific value held within. Plant life could yield medicinal compounds, say, while a lizard's unique scales might help architects cool houses. Speakers at COP15 were frequently sharing impactful stories of how nature had made life better for humans in this way. But there were other views on offer too. Participants in the conference advocated for protecting nature for economic reasons, ecological reasons, religious reasons, humanitarian reasons, and for the simple intrinsic reason that it is the right thing to do.
I found discussing these different viewpoints impactful and inspiring. Our global population recently crossed eight billion, and each individual brings their own set of values and opinions to the table. As we come together to protect the natural world, then, it is vital that we understand multiple ways of advocating for this beautiful planet and all its diversity. By internalizing all of these newfound arguments for action, I could feel myself becoming a more confident conservationist.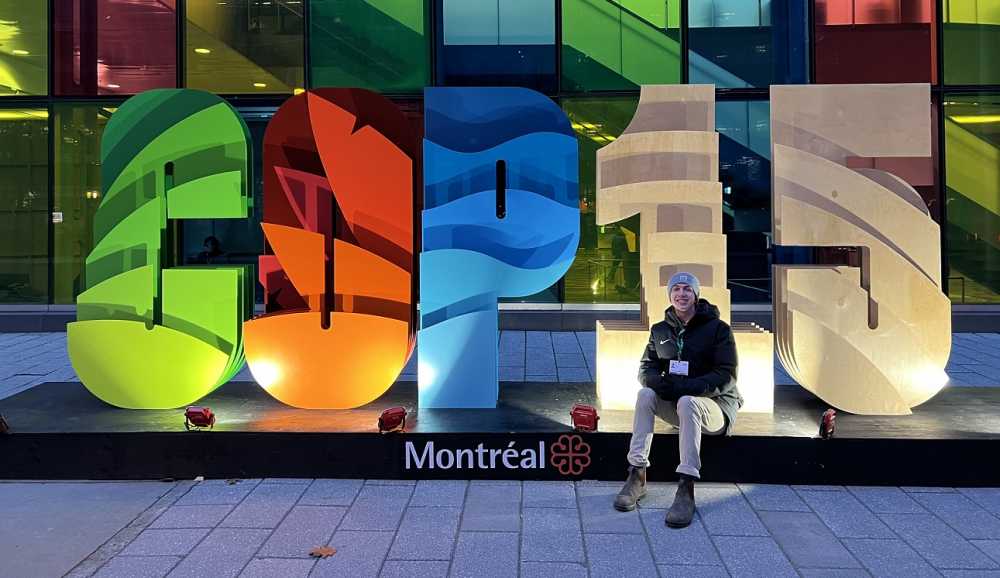 Avery poses outside the COP15 venue in Montreal.
As my self-assurance grew, I found I was able to offer many insights and points during breakout sessions. I shared my advice on getting money to indigenous groups, and I enjoyed questioning corporate executives and NGOs on their relationships with indigenous peoples. I consider myself experienced in indigenous partnership and reciprocity, and I drew on this background to ask bold questions. Wherever these topics were absent, I did my best to surface them and advocate for my people. And while I was often met with pushback or unclear answers, my hope is I was able to plant seeds for folks to consider not just whether to work with or listen to indigenous peoples, but how to do so in the most effective and respectful manner possible.
My time at COP15 also gave me insight into the complexity of international policymaking. Moving from words to action is always the end goal, but if you don't begin with the right language, I realized, you'll never achieve the consensus needed to start taking tangible steps.
The centerpiece of discussion at COP15 was the Global Biodiversity Framework (GBF), a roadmap for action on biodiversity meant to reflect the collective commitment of all parties.
At first I couldn't understand all the linguistic nitpicking of the negotiations around the GBF. Were questions of "an" vs. "the" really all that important when discussing a document about the future of our planet? But as the negotiations went on, I began to appreciate the Herculean effort of all involved to reach something all the national governments could agree on. It became apparent to me that these delegates do care – very much – and were exerting their diplomatic skills to the full to find solutions that everyone could get behind. I began to appreciate in earnest for the first time the role of policymakers in cementing the commitments needed to address crises and stand up for the natural world.
Avery watches as delegates amend the draft Global Biodiversity Framework.
Still, as time wore on, I wondered if the delegates would be able to agree and ratify the GBF in time.
I had to depart before COP15 concluded, but I was overjoyed when I saw from home that the COP had approved the GBF! While not a legally binding contract, it is a meaningful public promise: a commitment by world leaders to take action for the conservation of nature and its precious diversity. With this shared vision articulated, it is my hope that more governments, organizations, and individuals can now join forces to create real on-the-ground impact.
I wanted to attend COP15 as an advocate for both indigenous communities and youth, and I do believe I faithfully represented my people. I did my part to shape COP15 – but the conference also shaped me. It helped me appreciate the many disparate viewpoints justifying action to protect biodiversity, and it impressed upon me the vital role negotiators play in taking all those perspectives into consideration and finding precious common ground.
Avery Tilley is a co-founder of Branching Out, a company offering customizable grafted fruit trees with a commitment to advancing sustainability and agricultural education. Double-majoring in Fisheries & Wildlife and Molecular Genetics & Genomics at Michigan State University, Avery is passionate about conserving wildlife and helping indigenous students succeed in higher education.