The seventh session of the #YouthForClimateLive Series, which aired on December 11, 2020, made clear that the best way to tackle climate change is through innovation. Everyone has the potential to find and implement creative solutions, as the climate champions on this episode's varied panel proved with their discussion.
Kicking off the session was John Frank, Microsoft's Vice President for UN Affairs. Frank emphasized how innovation is shaping Microsoft's approach to climate action and laid out the software giant's strategy for going carbon-negative by 2030. This involves embracing green energy across Microsoft data centers and reducing the carbon footprints of its products. "Across the company, everybody has a role to play in achieving these goals", he said, confirming that teamwork is always essential.
Later on, High Level Climate Champion Gonzalo Muñoz, shared his thoughts about the role of non-party stakeholders and members of the private sector in mitigating greenhouse gas emissions. "As an entrepreneur myself, it is impossible for me to imagine that we will solve this crisis without the very active engagement of the private sector and all the non-party stakeholders," said Muñoz. He noted that failing to commit to zero-emissions targets within the private sector sends a message of disinterest to policymakers.
We also heard from exceptional #Youth4Climate leaders Andrea Beye, Bethelhem Dejene Abebe and Arthur Kay. They explained to us how they've been implementing innovative solutions to build circular cities and sustainable businesses offering high-quality products and services. From laboratories for food innovation to novel eco-friendly paper-making processes, we got to hear about a wide range of solutions befitting diverse contexts.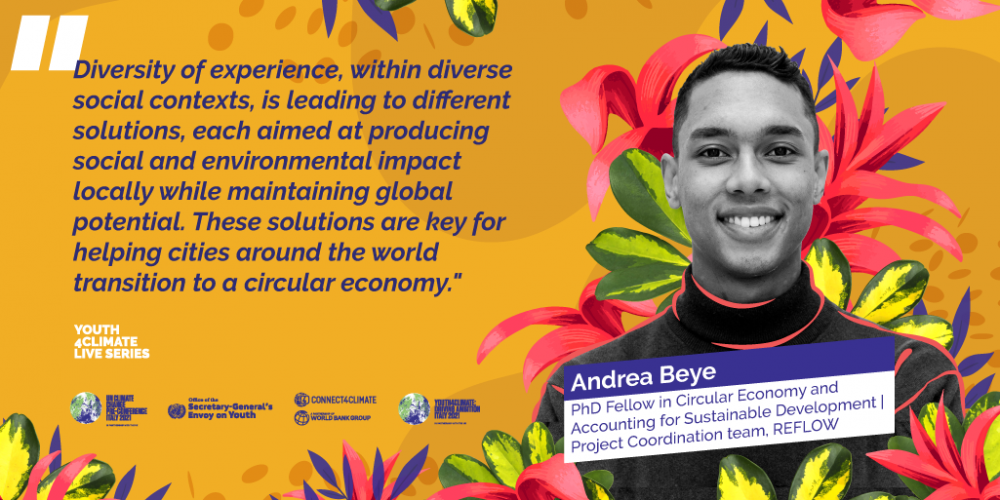 Want to learn more? Here are some of my key takeaways from the episode:
Innovation Plays a Crucial Role in Driving Sustainability
"Diversity of locally based and globally connected solutions is key for helping cities in the world in their transition toward a circular economy," said Andrea Beye, a PhD fellow in Circular Economy and Accounting for Sustainable Development and a member of the REFLOW project's coordination team.
Innovation is crucial to driving sustainability and to creating solutions to tackle and adapt to climate change. Multidisciplinary researchers and entrepreneurs with different social backgrounds all have distinct skill sets to leverage in the fight to protect our planet. Action at the local level paves the way for change at the global level.
Cooperation and Knowledge Sharing Are Key
In the words of John Frank, "We want to learn together, and also to share our knowledge with smaller companies, because we know that people have the ambition but not necessarily the knowledge" to make a difference.
This statement emphasizes that climate change affects us all, and that, in order to overcome it, we have to contribute to solutions together. This is why knowledge sharing in the private sector is key to catalyzing innovative solutions.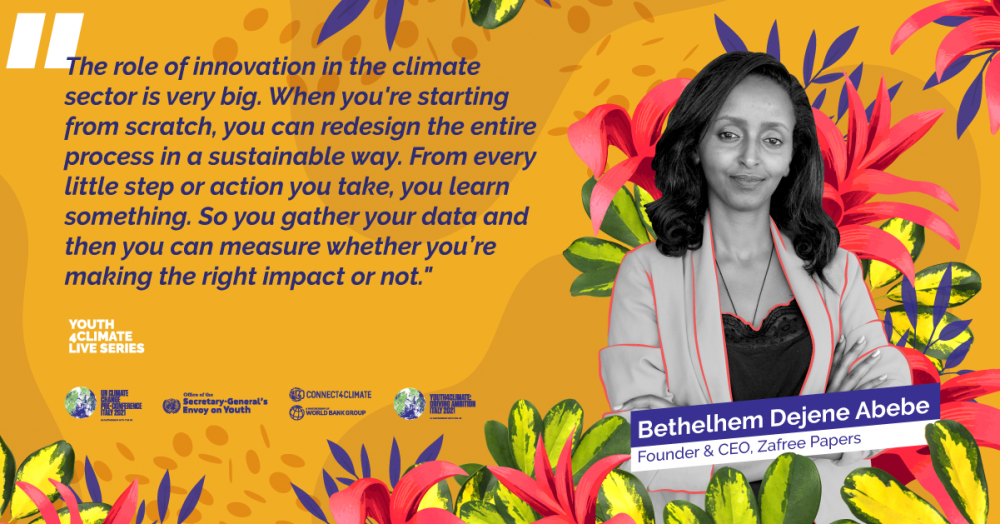 Innovation and Growth Can (and Should) Go Hand-in-Hand
Bethelhem Dejene Abede, CEO of Zafree Papers, added that your business still needs to be financially viable as it innovates—you need to make sure that the customer is willing to buy the innovation you have to offer. The challenge facing climate champions in the start-up space  is to guarantee that the services and products they provide are innovative and sustainable while also ensuring people will be willing to pay for it.
Fortunately, as I concluded in my own master's thesis onCircular Economy in Green Businesses in Colombia, being a circular business helps to achieve profitability for the company, because it reduces costs and increases overall efficiency.
This episode made clear that  we need innovation to develop sustainably and win our battle with climate change . Moreover, serious challenges require serious cooperation, and governments, businesses and individuals all have parts to play in the transition to a fairer and more sustainable world. Spaces that incentivize and facilitate knowledge sharing, innovation and entrepreneurship are essential if we're to achieve sustainable development and robust resilience to climate change.
Sign up for the next episode of #Youth4ClimateLive, "Driving Adaptation and Resilience," at youth4climate.live/register.