Business, governments all need to act for sustainability
The last few years have seen an unprecedented shift in the way national and international governmental institutions, as well as the business community and representatives of civil society, consider sustainable development.
The disruptive effects of climate change, growing economic disparities within and across countries, recent migration crises, persistent poverty, and lack of access to adequate basic resources have generated a growing sense of urgency, calling for a global effort to balance growth in a more inclusive and balanced manner.
Against this background, the year 2015 has seen the establishment of a milestone in the global commitment to sustainable development.
The role played by business is not limited to providing financial support and specific skills to projects that tackle sustainability issues, but companies can also be game-changers by actively providing innovative solutions for sustainable development challenges. At the UNFCCC climate conference, COP21, in Paris we witnessed much more visible support for climate solutions from the business community.
The involvement of business in the new Agenda will imply the emergence of radically different models of the business enterprise. Connect4Climate works to encourage business leadership and innovation for climate solutions.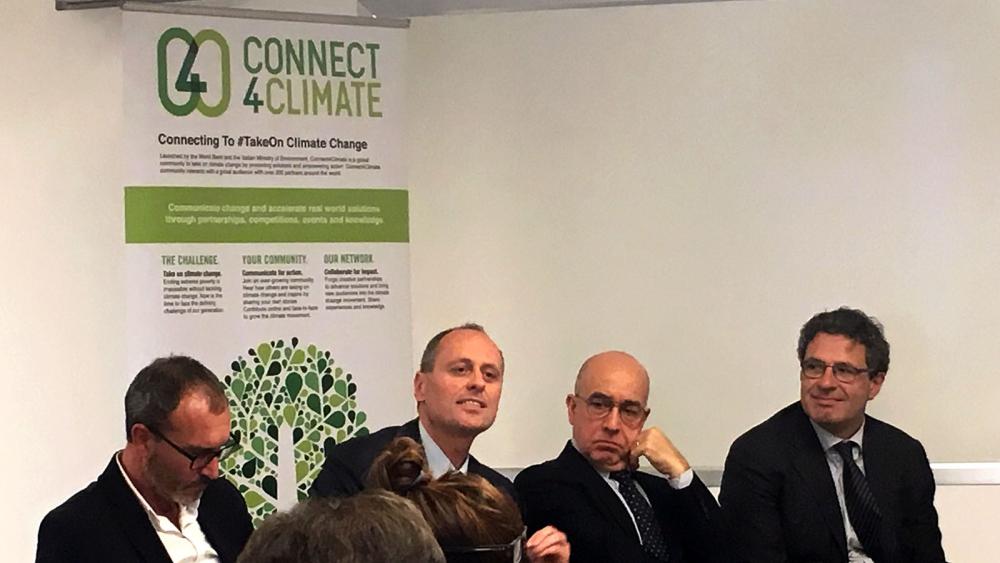 Workshop participants discuss role of businesses and goverments for sustainability: Massimo Favilli, Max Falcone, Claudio Puliti and Marco Frey
Workshop at Milan-Bocconi University
A workshop bringing together industry, government and academic leaders was organized on 28 January to present the results three years of research on collaboration between governments, international organizations and corporates for a more sustainable economy.
The participants debated key questions related to the organizational change and learning challenges that companies face when they attempt to make sense of, and manage, sustainability issues as well as rapidly evolving stakeholder expectations in corporate behavior.
The main focus of the discussion addressed: How do firms learn to integrate and manage sustainability and climate change issues in their business model?
Keynote opening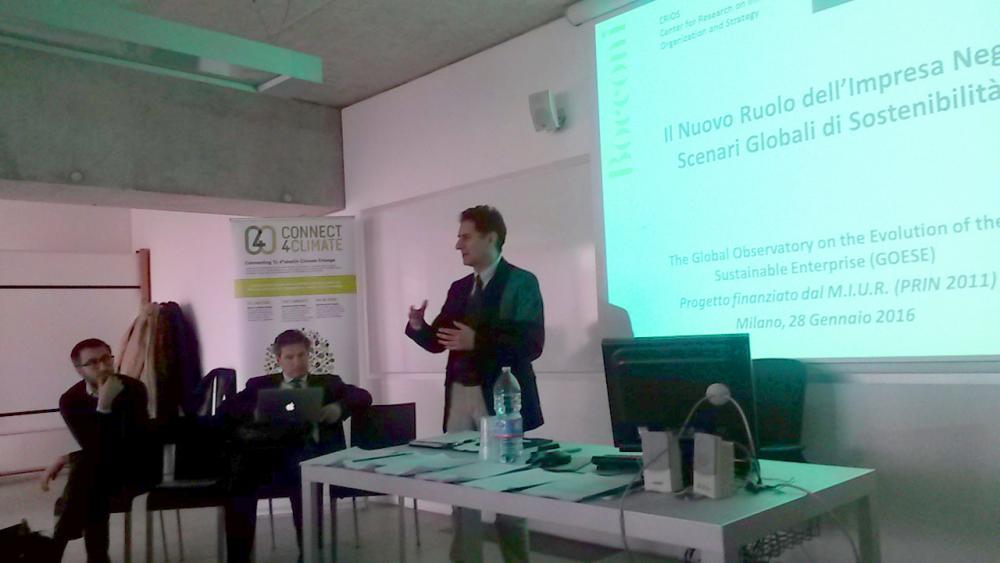 Francesco La Camera addresses the workshop. Photo Credit: Max Falcone
Francesco La Camera, Director General of the Italian Ministry of the Environment, Land and Sea, opened the workshop explaining the strategic role of governments in the future. He emphasized that sustainability and climate change issues will be the focal point of every country in the future:"In 2016 a Nation cannot play any international role without a clear sustainability strategy."
He stressed that both financial tools and education in support of advancing climate and sustainability solutions were necessary requirements to help address the future challenges. "We need specific financial tools based on sustainability issues: two days ago China and UK agreed on a common investment find for sustainability projects," said Mr. La Camera
Workshop Highlights
Mr. La Camera's speech was followed by interventions from universities, corporates and international organizations.
From academia the main take away messages included that we have to act as think-tanks to provide operational tools to the management through dedicated observatories and indicators. Stefano Gardi, Director of Sustainable Development Department at Italcementi said: "It's impossible to be really sustainable if the human resources managers don't reorganize incentives and career patterns considering sustainability achievements."
Companies that are takings sustainability and climate targets seriously are also considered great places to work: "Carbon neutral companies have always a higher ranking for internal climate and employees satisfaction. Being sustainable means being more effective and profitable."
Maria Cristina Papetti, Head of Sustainability Projects and Practice Sharing at Enel emphasized that "we don't distinguish anymore between sustainability goals and profit goals; Creating Shared Values and innovating through sustainability is our mission."
Similarly, laudio Puliti, Head of CSR and Sustainability at ACEA noted: "public companies can be sustainable if they engage territories and citizens in strategic decisions. As the main Italian public company providing water; we are a B Corporation."
Speaking about Unicoop, Massimo Favilli, Director of political relations, emphasized the need for sustainability to continue operations, "we were born in 1945 for mutualistic collaboration: our participatory business strategy must be based on sustainability."
Maurizio Zollo, Sustainability and Strategy Professor of Università Bocconi, concluded: "Delivering on the UN Agenda 2030 will require the business sector to complete its transition from sustainability as a stakeholder engagement exercise to redesigning the firm in all its core functions to integrate the contributions of all stakeholders. None of the Sustainable Development Goals and the COP21 targets will be reached without a profound innovation and change effort by the private sector. The question is how to facilitate and reduce the risks connected to the effort. The collaboration of institutions, civil society and academia will be necessary and, hopefully, well appreciated in this respect."