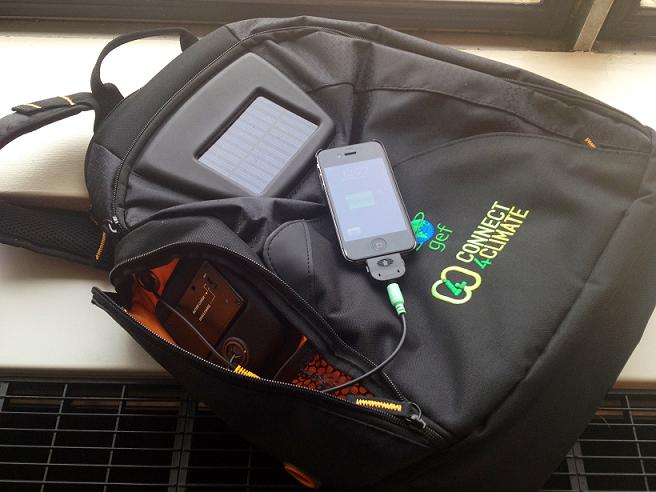 We are excited to announce the winner of the second week of our competition: Cristina Sinziana Buliga in Romania! Cristina submitted a fantastic poem about reducing her water use. Her new solar backpack will be in the mail shortly!
Cristina's entry:
So I am a human being, but being after all
All day through the city, citing my mom
"Life's exhausting, but beautiful hun'".
"I am not in the jungle!" But I'm juggling the urban.
So after I'm huffin' and puffin' through the traffic,
Trafficking pleasures of dreams of trees blossomin',
I arrive home, as mom said, exhausted
And all I want is a bath, "I must have it!"
I enter the bath tub, dirty and all,
And when to turn on the water, I think to myself
I deserve this, but what about them?
So I finish my day with a 5 minute shower
Cause for me, every single day is Earth Hour.
Cristina's thoughts on the weekly competition and her entry:
It was an interesting opportunity to express my feelings towards the environment and my impact on it. I am actually in my second year of Master studies in sustainable development, having graduated Environmental Sciences (I am 23 years old). Apart from my academic background, I am very close to the environment issues and how people relate to them. This is why C4C competition was attractive to me. I totally support your initiative and I do hope many people will get involved and that you will find out that many more are very determined to greening their lives.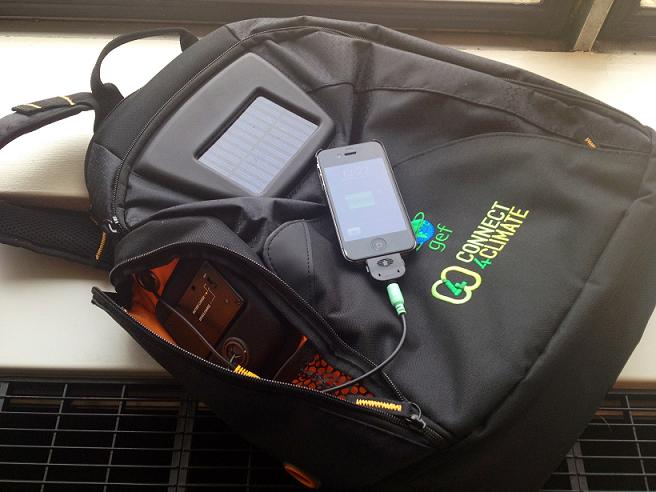 The prize for next week's competition--phone not included!
Thank you to all of our entrants. We truly enjoyed hearing how you green your life, and we hope you will share more stories with us this week for another chance to win a solar backpack! (The backpack has a small solar panel, stores energy, and comes with a variety of adapters, so you can charge your electronics anywhere!) If you're new to the competition, here's how to enter:
Tweet @connect4climate the link to your original photos, videos, poems, music, blogs, essays (500 words or less), or photos of visual art (including paintings, drawings, sculptures, digital art, etc.) including the hashtag  #thegreenlife in the body of the tweet or submit via email to c4c@worldbank.org (essays in the body of the email, links to your YouTube video, blogpost entry, etc., attach photos, video, or music files).
Submissions must show or describe personal actions the entrant takes to lessen his/her impact on the environment and live a greener life. Innovation, imagination, and creativity are highly encouraged!
The full rules of the competition are available here. You can submit a new entry every week for more chances to win!