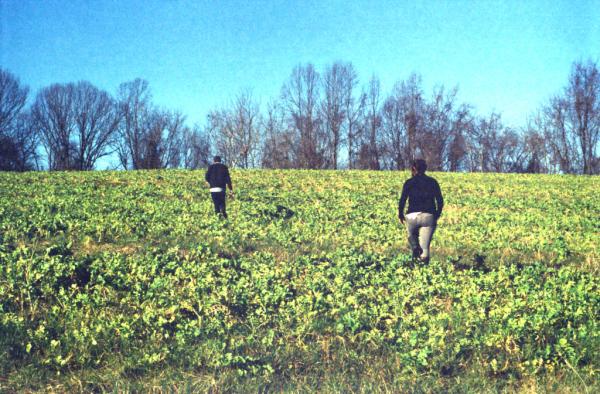 We are excited to announce the winner of the fourth week of our competition: Tara Whitsitt in New York! Tara shared this photo and caption about cover crops in Maryland:
@connect4climate Edith and James picking cover crop radishes in Maryland last November. I pine for #thegreenlife twitter.com/tarawhitsitt/s…

— Tara Whitsitt (@tarawhitsitt) March 28, 2012
Cover crops are planted to increase agricultural outputs by improving soil quality, attracting beneficial organisms, and reducing harmful organisms--all by using natural systems that have the least impact on the surrounding environment! According to this FAO document, "Growing cover crops is one of the best practices for improving organic matter levels and, hence, soil quality."
Thank you to all of our entrants. We truly enjoyed hearing how you green your life, and we hope you will share more stories with us this week for another chance to win a Muse Portable DVD Player! If you're new to the competition, here's how to enter:
Tweet @connect4climate the link to your original photos, videos, poems, music, blogs, essays (500 words or less), or photos of visual art (including paintings, drawings, sculptures, digital art, etc.) including the hashtag  #thegreenlife in the body of the tweet or submit via email to c4c@worldbank.org (essays in the body of the email, links to your YouTube video, blogpost entry, etc., attach photos, video, or music files).

Submissions must show or describe personal actions the entrant takes to lessen his/her impact on the environment and live a greener life. Innovation, imagination, and creativity are highly encouraged!
The full rules of the competition are available here. You can submit a new entry every week for more chances to win!